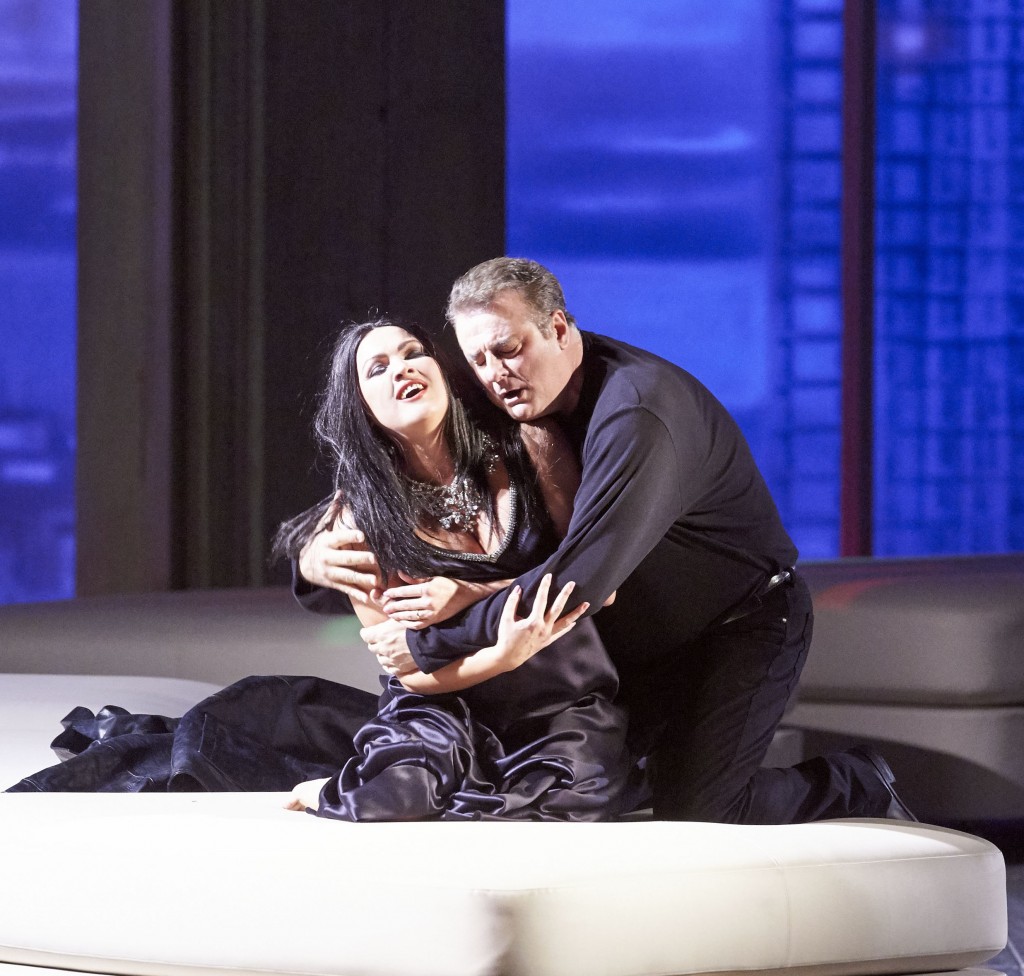 Department store windows! Shoppers with designer bags promenading. In Robert Carsen's production at Vienna State Opera, Des Grieux (Marcello Giordani), Puccini's student, appears as a cameraman photographing the street scene, who falls in love with Manon. Her brother Lescaut (David Pershall) is, in the plot , supposed to be taking her to a convent. Improbable in this staging where chorus break into a dance routine celebrating youth. Welcome beautiful evening! Giordani, in Grieux's muse, exalts, gloriously sung, youth is our nature, hope is our goddess.
Manon, Anna Netrebko, in a white midi trench-coat, and cute white cap, is carrying a suitcase. An older man, the banker Geronte, (Wolfgang Bankl) observes her. Wearing a glitter-blue skirt, she's hardly the novice -and Netrebko is rather older -but in Carsen's radical updating, we have to suspend disbelief. It does rather confuse, but at least musically, the line up of singers is very special indeed- not least Netrebko and Giordani- and Marco Armiliato, conducting Vienna State Opera Orchestra and Chorus, is peerless in Puccini.
Netrebko in her chic, is approached . 'Beautiful young woman; allow me.' Her face is new to him: his heart feels an unusual beat, Giordani sings. At daybreak she's going into a nunnery! No she mustn't go; her fate is under another star altogether. Together they will overcome fate. Netrebko is enchanting, both in terrific voice.
In Giordani's aria, Donna non vidi mai, Grieux's never seen a woman like her before, her name Manon Lescaut, indelible in his deepest heaven, Giordani effuses, his tenor a joy, but powerful.
Wolfgang Bankl's Geronte, bald and corpulent, in a grey business suit, has real authority, (in the role since 2005.)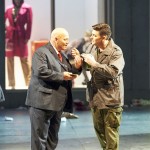 Lescaut, as his sister's champion, fulfils his task like a good soldier, sings Pershall in a fashionable combat outfit, holding up a can of beer. He's rather like a pimp; Geronte's attendants pass him money. A limousine backs onto the stage. Yes, it's confusing.
Netrebko emerges from the plate glass doors (side-of-stage) of a hotel. In their duet, her smile doesn't fit her melancholy contempt, he sings. She, 'was once happy.' Her eyes speak longing for love. In her heart there is magic. 'I am a poor young woman', she sings. Her longing is without end. They go off- the 'mad pair' elope together. Geronte fumes: they will be punished. But, Lescaut advises, leave them, Manon will tire of poverty.
In a hotel suite, white leather seating centre-stage, servants are bringing yet more gowns for her approval; beauticians everywhere, Netrebko is holding up a mirror. He has rescued her from a student's life- Pershall now in an designer pin-striped suit, but still holding that can of beer. She'd have lived in a bourgeois house, with this young man, Grieux, upright, but poor.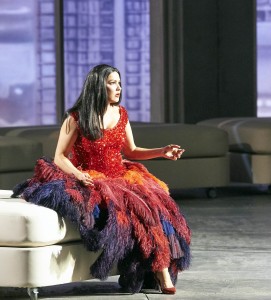 Netrebko, stunning in a fluffy, scarlet-red creation, ballooning out like a ballet frock. She admits to Lescaut, she misses Grieux. Netrebko's aria, In quelle trine morbide , is one of many highlights: some deadly silence fills these rooms; silent and cold. She was used to the passion of love from glowing lips. Now her comfortable life unfolds, like a golden peaceful dream. Netrebko, whose soprano has deepened, exudes sensuousness and sensuality; richly expressive, she really enacts the part. Wonderful. Long applause.
Long enough to allow Lescaut's entrance. As she knows, Grieux is a good friend of his. He's tormented by not seeing her. In their duet, while Lescaut sings of 'the old man who gives us money'- she, Netrebko, (to herself) wants the old passion back, those hot kisses. Am I beautiful, she asks herself.
Musicians are performing for her. Then, on the arrival of Bankl's Geronte, the stage is prepared as if for a photo shoot. The 'photographer' Grieux has sneaked in. Netrebko is writhing centre stage on cushions, like a 1930s screen goddess. Giordani begs her not to be taken in by all this bling. (She's in a fashion shoot.) Her head is pulsating; she hears his 'golden words of love'.
Bankl returns, sexy in a royal-blue designer suit; matching her blue-sequined gown. He sweeps back her hair revealing a diamond necklace. Netrebko sings of the wonder of love – then, what a high note!- see how the wonder of love drives the clouds away. She, Netrebko's really in her element. The diva dressed as diva; the whole stage like a film set! She asks Geronte to wait for her: he kisses her passionately in parting.
In Manon's scene re-united with Grieux, Netrebko and Giordani smoulder with passion, their interaction a wonder of symbiosis. He reproaches her for deserting him: she doesn't love him anymore. What he sees is a show of money: material wealth. She lies at his feet. She has deceived him. She pleads for forgiveness. Is she not more beautiful than the Manon of old? He, Giordani, sings her magic blinds him: he's overcome. She sings, lock Manon in your arms. Press her breasts to him. Manon desires you alone. He smothers her with his kisses; he lays on top of her, prepared for making love … In the depths of her eyes he reads her fate. Love and enrapture me.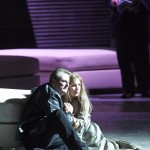 Geronte, who's been observing them, his henchmen at the ready, bursts in. Has she forgotten. She's in his house. She mocks him. Love! Love? 'My honourable gentleman'. He threatens, he knows his rights, his duty, and what he has to do.
There's a terrible sense of suspense and foreboding as Manon- urged to leave- cannot quite part with the luxury she's got used to. She bursts out laughing -they're free: free as air. Lescaut warns her: she must rush. Servants storm the stage with countless red suitcases. And she has to leave her precious things behind: she kneels to pick up her jewellery.
Bankl, assisted by Mafiosi-types in dark glasses, storms in, like an oriental potentate, and slaps her down, like some sex slave. And appears to rape her. Very effectively staged.
Act 3, preceded by the sublime orchestral Intermezzo. Fortified walls suggest some penitentiary. Manon has been arrested. Grieux sings of his terrible fate: waiting, his suffering goes on. Grieux and Manon fall into each other's arms; he didn't leave her in the lurch. They're observed by Geronte and his men. In the plot Grieux and Lescaut's plan to rescue Manon fails.
In the confusing staging, Manon enters in what looks like a line of fashion models, or are they prostitutes? But as they pass, we notice that they're handcuffed: to be deported. in Anthony McDonald's interesting staging- as out of a 1950's black-and-white Italian movie- Grieux pleads before Bankl's Geronte, who resembles a godfather figure. Surrounded by men in dark glasses, sleek black suits, Giordani sings heartrendingly, he would give his life to save her. (Finally he's allowed to join her in exile in America.)
Whereas in Puccini's final Act, Manon is dying in the desert- she begs Grieux to find water- it's back to the shopping mall. Grieux and Manon stagger huddled together; they look bedraggled. Netrebko wears a grey two-tone belted raincoat, but Netrebko's is dressed-down chic. Puccini's desert has become, in director Carsen's scheme, an allegory for the wasteland of modern life consumerism: the shopping mall, soulless materialism. The mannequins in the window displays- representing the false values she pursued- look down on her as a reminder. For Manon everything is at an end, but she perseveres -seeing a land of hope. The past oppresses her. Finally she longs for the peaceful silence of the grave.
Such is the power of these great performers. Giordani is distraught, Manon dying, pleads, console me with your tender love. He strokes and kisses her 'golden' hair. She is laid out pathetically on a pavement strewn with garbage. But rises. Are you crying? She hears his hot tears.
Sola, perduta, abbandonata. Everything is lost- the sky darkening, abandoned in this desert, but she sings, she will not die. She loves him too much, and she is dying. Netrebko is indefatigable- just when you think she's about to expire, she rises again. But it's magnificent. She was full of love, this Manon! Does he remember her radiant in her youth. 'Her sins will be forgotten , but her love won't die.'
Leading an outstanding cast, Netrebko generously took her applause with Giordani at her side, the ovations overwhelming, warm and respectful. P.R. 27.6.2016 ©
Photos: Anna Netrebko (Manon Lescaut) and Marcello Giordani (Rene Des Grieux); Wolfgang Bankl (Geronte) and David Pershall (Lescaut) ; Anna Netrebko (Manon Lescaut); Marcello Giordani (Grieux) and Anna Netrebko (Manon Lescaut)
© Wiener Staasoper /Michael Pöhn