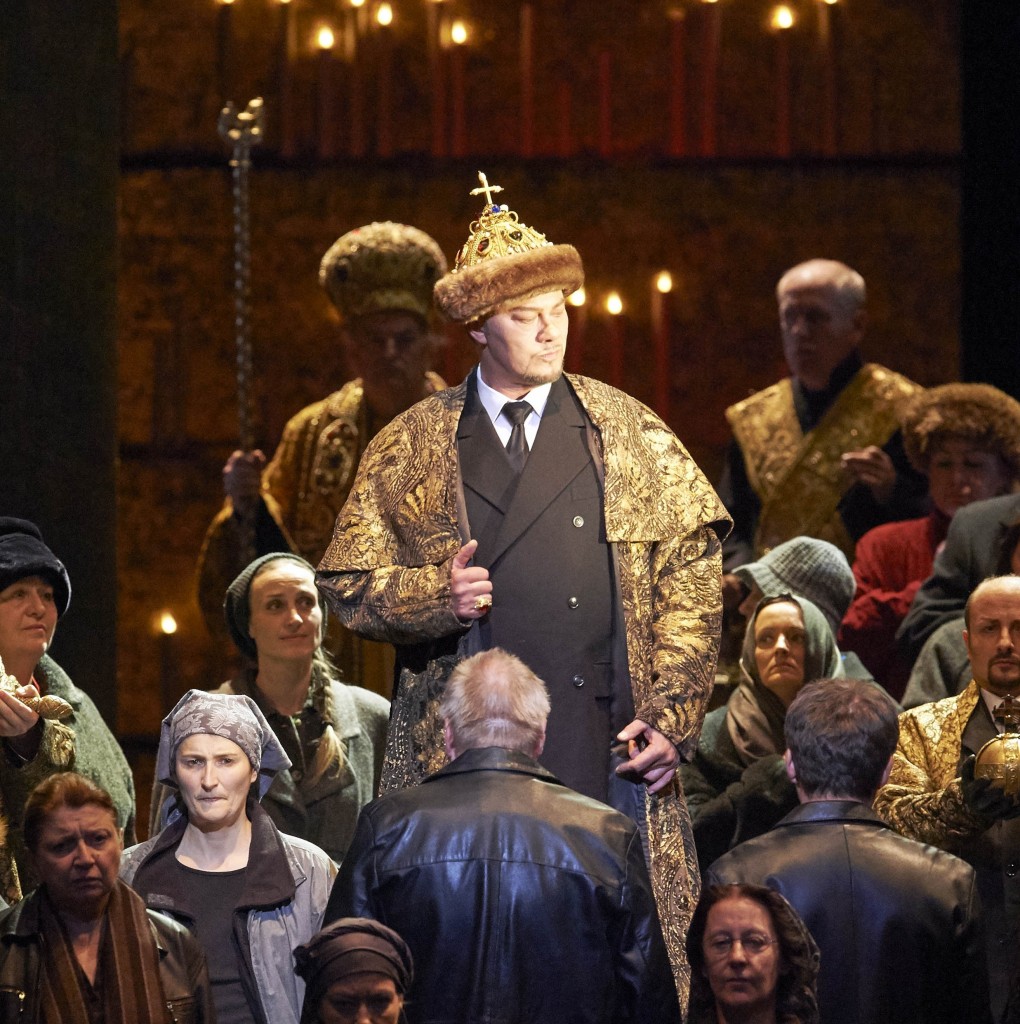 Don't be fooled by the cover photo! This is a modern dress production. René Pape's Boris Godunov, donning a crown, wears his gold cloak over a black suit. His henchmen, like secret-service agents, are all in dark suits; soldiers are carrying Kalashnikovs. Nothing wrong with that; the trope of an ever-suffering Russian people, from serfs under the Tsar to suppressed masses under the Soviets, is irresistible. It's just that all this black and grey makes for gloomy staging- not just the costumes but black-panelled sets IN Yannis Kokkos's Vienna State Opera production.
In the opening scene the crowd are being stage-managed in a demo pleading with Boris to be their Tsar. The Chorus repeat, ' O father! You are our provider, don't abandon us'. With soldiers in greatcoats standing by, they're 'orchestrated' by a fierce black-leather clad thug who complains they're not loud enough. They are to reappear next day outside the Duma. But he will not ascend the throne: no hope for our country, shaken by anarchy! May God enlighten Boris with divine inspiration, they sing (ironically, as Boris will later be tormented by hallucinations.) Vienna State Opera Chorus (augmented by Slovak Philharmonic chorus) are on splendid form. Also Vienna State Opera Orchestra under Marko Letonja in Mussorgsky's richly descriptive score, with long orchestral intervals, using a full range of percussion, especially Russian bells.
After a religious procession, with icons of saints held up- to foreground the pervading religious belief and superstition- outside the Duma, with its burnished gold proscenium, they sing 'Long live Boris!' Described as "the world's most charismatic bass" (Opera News), Pape, resplendent in gold, appears to float up out of the crowd. In his pivotal aria, Pape, his expressive bass richly sensual, sings (to us) how his soul is tormented, his heart seized by an evil premonition. Behold the tears of your faithful servant, he repeats. May he be righteous and rule his people in glory! We hear flutes, gongs , a glorious cacophony.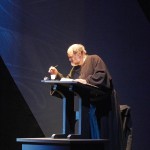 In the monastery scene, the black backstage with a slanting crucifix, the old monk Pimen has one last chapter of his history of Russia to complete. Pimen, magnificently sung by bass Kurt Rydl, reminisces of his long life. Think of the Tsars, supremely powerful, but how many have retreated to the monastery? Ivan sat before him, quiet and contemplative, tears of repentance in his eyes. Of the death of Dmitri? He was murdered lying in his own blood, betrayed by his nurse: then seven years old, would now have been seventeen, the very same age as monk Grigori (tenor Marian Talaba), raptly listening. Then Grigori, alone, reading the elder monk's manuscript. He sings, deeply moved, swearing revenge, 'Everyone trembles before you Boris, but you will not escape judgement.'
(In the next scene, Grigori, a wanted man, is seen with two fugitive friars, in a camp – supposed to be a tavern- waited on by a louche woman in red, who plies them with wine, but not Grigori, who abstains , and narrowly evades a patrol.)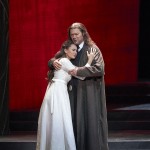 In a central scene, we see Boris with his children: comforting Xenia (soprano Aida Garifullina), who has lost her betrothed; and his son Fyodor a 'trouser role' sung by mezzosoprano Margaret Plummer, who, centre-stage, is reading a map. 'One day, Fyodor, you may inherit the entire realm.'
In Boris's key aria, he sings he's reigned for six years, but his heart is heavy. Pape sits in a dull brown overcoat. He takes pleasure neither in life, nor power, nor fame. Now huddled , front of stage, he bemoans the betrayal and rebellion (against him), hunger, plague, and devastation everywhere. The people believe he's responsible for their misery: his name is cursed throughout the land. Pape is especially moving, in enacting the part of the pitiful human being beneath, stripped of the trappings of power: rather as in Verdi's Philip II's Don Carlo aria (where the all-powerful King suffers privately, alone.) He, Boris, had hoped for consolation with his family; had prepared a wedding for his daughter: aborted. How fearful is God's wrath. And he can't sleep- his voice stifling emotion- for guilt over the child.
Prince Shuisky ( Norbert Ernst) brings him news of a 'Dmitri' pretender to the throne, supported by people and Pope, who has appeared in Poland. Boris' mind wanders: has he heard that dead children can be resurrected. Shuisky, (a witness to the crime,) has to repeat how the child was murdered, and lay for days by the road. Ernst, a lyrical tenor, sings wondrously, how the corpse lay, his features were unchanged, as if lying in his cradle.
Pape is stooped, 'Abominable!' He's suffering, his hands raised in a plea, 'Such terrible remorse!' He sings , he sees the child covered in blood; he can't stop trembling. Pap is very impressive; yet, this time, he didn't chill me to the bones.
The stage is enlarged for another crowd spectacular, in which the Holy Fool (Pavo Kolgatin) is robbed of his last kopeck. (Supposedly in front of St. Basil's Cathedral, the starving are begging Boris for bread.) He would order them all to be killed, just as you (Boris) ordered the death of the Tsarevitch!
Pape sings, shed bitter tears; weep Russia's soul; weep for the starving people of Russia. It's powerfully sung, although Pape, to be churlish, does not have the lower range of the greatest Russian basses, or of Ferruccio Furlanetto , who sang in this production in 2007. But is this overwhelming gloom , this monochrome set , quite what Mussorgsky would have intended?
In the final scene, a gold throne centre-stage : all are in black, gold-embellished, as is the stage. First an announcement of a people's insurrection, (whoever he is must be strung up.)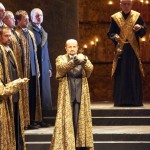 The Prince addressing the Boyars, has come to inform them: how he left the Tsar in a distressed state; his white body trembling, bathed in sweat; mumbling incoherently; gripped by a secret torment. And he suddenly he cried out (as if to a ghost) : 'Be gone!'
Pape walks in wearing his gold cloak of office. The old monk Pimen – Rydl outstanding, commanding- 'a humble man knows nothing of worldly affairs', needs the Boyars' help. He sings to them of a shepherd, blind since childhood, who had heard a child's voice: go to the Cathedral Ugulith, Tsarevitch Dmitri, God has made him a saint.
The Tsar appears to have a fit; is carried to one side, his son near him. He's dying, pleads, 'Never ask me how I came to Russia's throne! Farewell my son', his lawful successor. He gives his advice: punish all treachery; don't trust the Boyars. Preserve the Russian faith, honour the Saints. We hear, ominously, tubas , the death knell , and of course those Russian bells. Heavenly powers, save my children. Pape collapses beneath the throne, laid out over stairs to an abyss, his son leaning over him.
Pape returned to a huge cheer. I was impressed, but the charming Russian lady next to me would have preferred a Russian Boris, with a lower bass! The overall impression of Yannis Kokos's production is of dark gloom, relieved by some inspired singing (notably Rydl, Ernst and Pape), and throughout Mussorgsky's highly expressive, luminously descriptive music. And the magnificent combined Choruses (directed by Thomas Lang.) © P.R. 16.05.2016
Photos: René Pape (Boris Godunov); Kurt Rydl (Pimen); Aida Garifullina (Xenia) and René Pape ; Norbert Ernst (Prince Shuisky)
© Wiener Staatsoper /Michael Pöhn