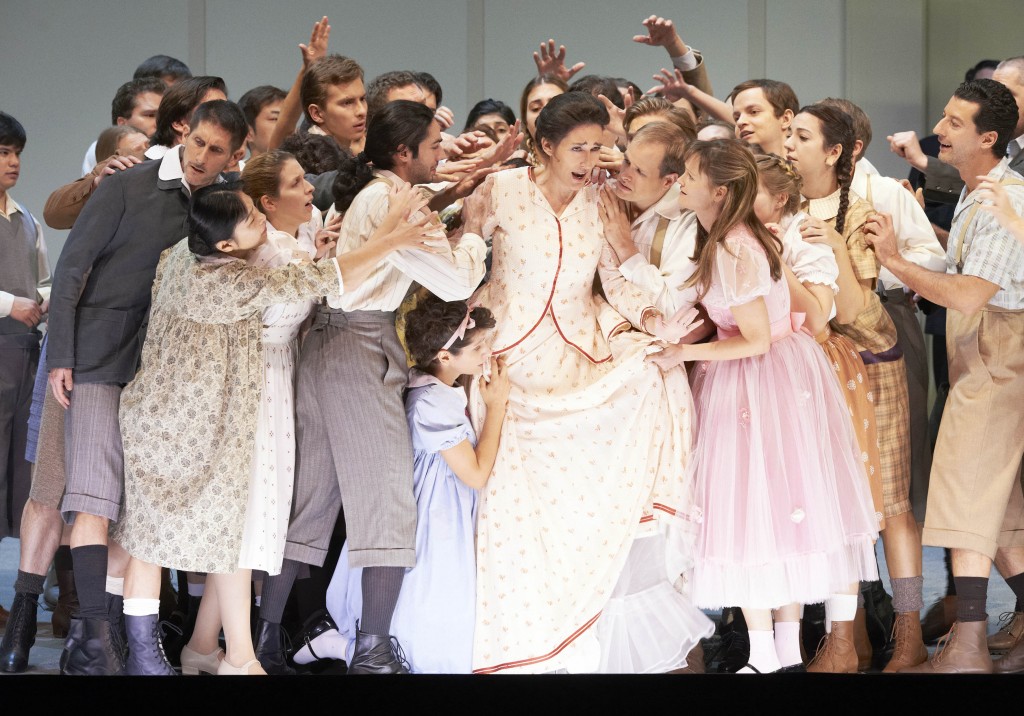 Gluck's opera Alceste is about the ultimate sacrifice of marital love: one partner's life for another. Alceste is prepared to die to save her husband, King Admetes. Alceste, premiered 1767 in Italian in Vienna- this the French version 1774 in Paris- is a key example of Gluck's 'reform opera': hugely influential in the development of 'modern' opera.
Musically, this production has a lot going for it. Vienna State Opera has chosen to use, in a co-production, the period instrument Freiburg Baroque Orchestra, conducted by early music specialist Ivor Bolton. Veroniqe Gens as Alceste and Joseph Kaiser are distinguished singers, especially Gens, a leading international baroque interpreter. But the production lets them down.
The minimalist stage in white panelled wood – window left, a door centre opening onto a bedroom alcove – is fine. It doesn't matter that costumes are vaguely fin-de-siecle, early 20th century. But the stage direction is so confusing as to detract from Gluck's serious plot. And this is ironic considering Gluck's 'reform opera' was against the excesses of Italian opera- its pomp and show making even the finest players ridiculous. 'Music should serve the plot, and not be a technically elaborate, beautiful accessory.' So Gluck strove for simplicity: to remove abuses against taste and good sense.
In Christoph Loy's barmy conception the grown-up chorus (Gustav Mahler Choir) are inexpicably dressed as children, distracting from the plot, and subverting the serious mood. There's barely an instrumental passage that isn't subverted by children playing -as if Loy were afraid to let Gluck's expressive music 'speak' for itself. Perhaps we might be bored?
So, opening Act 1, Alceste's recitative announces her husband's mortal illness : What fate awaits us now, unhappy fatherland? Veronique Gens movingly sings the Chorus's refrain 'Never before have the heavens dealt so severely with mere mortals, whom they wish to punish'. But boisterous children are fighting one another. Boys are in short trousers, or culottes, one boy in a matelot outfit. Girls skipping, as if in a school playground, are variously dressed, some in pinafore dresses with bows, or plaited hair: late 19th century? But one boy has a model plane, another reappears with a modern scooter.
'Rend the dark veil that surrounds it with a bolt of lightning': then they're all lying face down on the stage. And they attack Apollo's priest (Clemens Unterreiner), who hits one of them. He bears the news from the Oracle: the King will die if another doesn't take his place in Hades.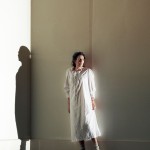 Gens, at first collapsed, prostrate with tears, is tremendous singing of her defiance. 'So this is the help offered by the mighty gods!' She's left alone with her fate. Gens's soprano is exquisite in Gluck's most moving aria, 'No, this is no sacrifice: I couldn't live without him anyway'. She rails against the terrible gods judging human destiny. She will die for the sake of her husband: no longer will beg the gods' cruel sympathy.
Act 2 opens with the King's recovery celebrated by the people- represented, as if they were his family, by those children. Now one has a butterfly net; there are skipping games; a fight over a teddy bear; two boys with a bow and arrow: it's affected, precious, choreographed. However, the chorus merriment is irritating, some of them jumping up and down like hyper-active schoolchildren. They're brimming with fun; but inappropriate to the (melancholic) music coming from the pit, with Bolton inspiring fluent playing from Freiburg's original instruments.
King Admetes (Joseph Kaiser) is dressed in a grey modern-cut suit, white shirt and cravatte.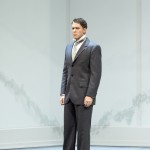 Kaiser, a pure, expressive baritone, is shocked to hear of the 'noble friend who has sacrificed his life' for 'fame and glory'.
Gens, now wearing radiant white lace, pleads, in her aria,'Be steadfast, heart'. She can no longer conceal her terrible anguish. (She lived only so she could love him.)
Alceste's scene with Admetes -when she reveals her sacrifice for him- is powerful. But shocking to modern audiences in Admetes' 'sexism', his selfish dismissal of her suffering. She trembles as he asks her to tell who 'sacrificed himself'. 'Who would it be if Alceste was not prepared to die for you?' She saved the life that is most dear. Admetes, ironically, is furious: 'So this is what you call love? What gives you the right to sacrifice yourself?' How pig-headed! But Kaiser is impressive in his angry, if contradictory, tirade. Her tenderness is more agonising than death: 'Heartless woman! I cannot live without you, and you know it!' And, ironically, 'what ingratitude!'
Then Gens, plaintively, 'Against my will I weep with you'. She needs courage at this terrible hour.
In the solemn opening of Act 3, the Chorus sing 'The beautiful young Alceste is to die in the Spring of her life'. Yet in spite of such sentiment, the people as Chorus are dressed as children, and self-consciously acting like children. But they are singing, 'we cannot weep enough'.('Weep, oh fatherland. Alceste is about to die and her husband with her.')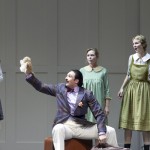 Then, a bolt out of the blue, Hercules, arrives, armed with suitcase, and hold-all, distributing gift parcels. Adam Plachetka- sleek black hair and moustachioed- is dressed as if out of the 1920s, in blazer, white trousers, and spats. He will 'pluck her from the arms of death'. Hades loses its victim. Out come the toys; dolls and paraphenalia.
Yet Alceste is lying in an alcove on her deathbed. She sings of how she's siezed by a sudden terror, her knees trembling with fear. Gens, singing with great dignity and pathos, rescues this shambolic production- retrieves (with Kaiser) some credibility. In her moving aria she yearns for death, not to cause offense, to hasten her demise- the self-effacing woman resigned to fate.
Admetes, visiting his wife, complains the cruel gods have rejected his prayers. She sings: live to the memory of a wife who was dear. Their duet, unbearably poignant, was one scene not marred by the distraction of those unruly children. Admetes pleads, take pity on your unhappy husband, don't submit me to any more suffering. (Alceste is on the brink of death, yet Gens is standing centre stage?)
The finale, in Christoph Loy's production, is a pantomine. Hercules intervenes to banish the underworld. The gods in full regalia (or fancy dress) – one wearing gold armour, white plumed headpiece, and cloak – are vanquished. But the chorus are still dressed as children. Confusing, rather?
For the ending ' Oh joyous moment…the heavens have saved the happy couple', we see Hercules doing up his bow tie, and departing with his luggage. Gluck plays us out with his heavenly music, his (shortened) epilogue originally composed for ballet.
On stage, however, are the kids, including the boy in a matelot outfit, girls with hair plaits and gymslips .The music alone isn't enough. We have to suffer this hyper activity- like a high school play in rehearsal.
But what's the point of authenticating Gluck's music with a period instrument orchestra- in such a radically modern stage production? Musical embellishment? If you wish to experience Gluck's masterpiece, the opera is justified musically, but you'll have to suffer 'noises off'. Distractions Gluck would surely not have approved.
15.11.2012
Photos: Theme Veronique Gens (Alceste) and Joseph Kaiser (Admetes);
Veronique Gens (Alceste); Joseph Kaiser (Admetes); Adam Plachetka (Hercules)
(c) Wiener Staatsoper/ Michael Pohn