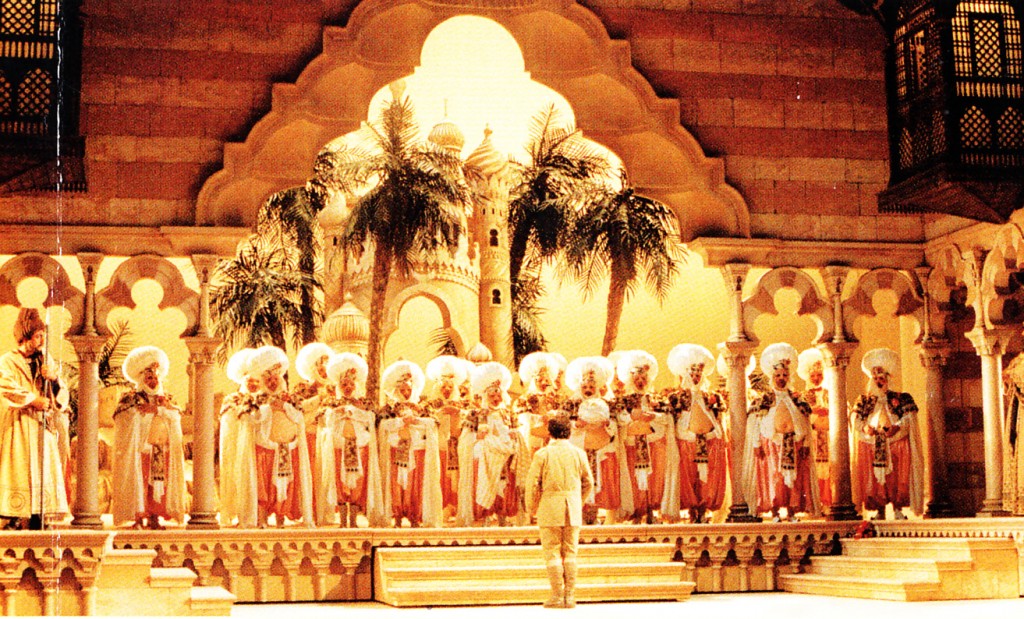 After the gloom and glory of Wagner's Ring cycle, Christmas came early with Vienna State Opera's production of Rossini's L'italiana in Algeri , the ultimate pantomine.The fabulous sets and costumes have the wow factor. When curtain rose, audience gasps were audible. Eunuchs, left stage, with turbans like huge marshmallows, are embroidering an elaborate gold frieze, in Jean -Pierre Ponnelle's set comprising an ornate Turkish -style stone palace, with wrought iron balconies and courtyard with fountain backed by palm trees.
Elvira, wife of Mustafa , Bey of Algiers, is mourning her fate, Mustafa's rejection. The chorus of eunuchs try to console her, women are born to be unhappy. But not in this Rossini comedy.
In the plot, Mustafa, bored with his harem, orders his Captain of the guard- on threat of impalement-to find an Italian girl. Her ship captured, the beautiful Italian Isabella entices and ensnares the besotted Mustafa. Meanwhile Lindoro, Mustafa's favourite Italian slave,, is commisioned to return to Italy, provided he marries the rejected Elvira. But,in Rossini's comic intrigue, Isabella uses her wily charms to free the slaves, and re-unite with her lost love, Lindoro.
Rossini's opera buffo seems to draw on stereotypical orientalism- slaves , corsairs, eunuchs, and concubines.Yet the love interest, surprisingly modern, upturns expectations, with the women, Elvira and especially Isabella, subverting their passive gender roles to turn the tables on the oriental despot.
Italian girls know how to treat a man, declares Mustafa, ironically. The captured Isabella (Cavatina Act I) Cruda sorte!Amor tiranno! bemoaning her fate, will make the best of the situation. Vesselina Kasarova, radiantly beautiful in black tailored costume, her voice a rich mezzo soprano, 'knows how to tame men'. Men are all alike, gentle or rough. Here she's surrounded by slaves in sand- khaki uniforms, worshipping her on their knees, like in a Madonna video.
Earlier Scene 2 (Languir per una bella) Lindoro, handsome Maxim Mironov, a wonderful classical light tenor, accompanied by exquisite horn solo, mourns his fate as a slave, longing to see his beloved Isabella, (his passive fate determined by her.)
Kasarova's Isabella- a gem of a performance- completely captivates her master. 'What a face, what ogling!'she gloats of Mustafa, who throws his hands up in delight. (Isabella is wearing the most fabulous gown, blue velvet trimmed in white, draping floor length in purple.) 'Who is this woman', she remarks of Elvira. 'My wife. She is to marry my former slave', replies Mustafa. 'Is that how you treat your lovers', retorts Isabella. 'Where I come from wives train their husbands'. In the final scene Act I Mustafa's confusion is counterpointed by the orchestra, in an erruption of strings, agitated flutes topping the woodwind.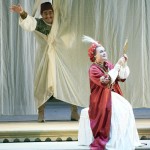 In the glorious Per lui che adoro scene (Act II, no 11) Isabella preens herself for Mustafa , invoking the Mother of Amor, needs to look her best. She's dressed in brilliant red silk gown, with white feather cap; and also observed by Lindoro, and her 'protector' Taddeo.
Mustafa, type cast as the oriental potentate, is outwitted and ridiculed in Rossini's opera buffo. Almost the pantomine villain, love has addled Mustafa. 'the Italian girl's made a fool of him, turned him into an adoring fool.(Intro, Act II) The Russian born bass Ildar Abdrazakov, in impressive voice, is also too manly to be laughable. In his first appearance, dark tanned , he emerges in white bathing towel and cap , revealing a muscular top body. But in Act II (Pappataci! Che mai sento!) Mustafa accepts membership of the Order of the Pappataci-a life (only) of eating , drinking , and sleeping.So the initiated Mustafa must not see and hear, allowing Isabella's plo tto escape with Lindoro to proceed.
Isabella's freeing the slaves is -within this opera buffo-remarkable. Kasarova, now the 'feminist' revolutionary in white blouse and black skirt, admonishes the men, 'Let a woman teach you to be strong…Think of your country 'She incites them, reaching fabulously high notes, to think of Italy for inspiration. A silk scarf, a banner in green, white and red, is held up by the slaves. 'Pensa alle Patre' and the Italin tricolour impart an unmistakably nationalistic tone- considering the 1813 premier of L'italiana in Algeri , after the liberation of Lombardy in 1808, and later Naples , from Napoleonic tyranny.
But within Rossini's comic opera, the lesson we are ultimately taught is that 'a woman, if she wishes, can make a fool of any man' , as sung in the final chorus.
This Vienna Staatsoper production is a triumph. A fine cast, including Chen Reiss (Elvira) and Alfred Sramek (Taddeo), and staging notwithstanding, its engine was conductor Marco Armiliato and his Vienna State Opera orchestra. Armiliato sustained a rhythmic energy propelling orchestra like a locomotive surging forward between Rossini's crescendos.With smaller sized orchestra, players rearranged (as for period instruments), Armiliato achieved a leaner string sound, giving the wind section, especially flutes and piccolo, greater prominence. From overture, light as a souffle, the orchestra's rhythmic vitality fueled and inspired the fun on stage, justifying soloists. 16.11.2011
Photos: Title and Vesselina Kasarova (Isabella), Ildar Abdrazakov (Mustapha)
© Wiener Staatsoper /Michael Poehn