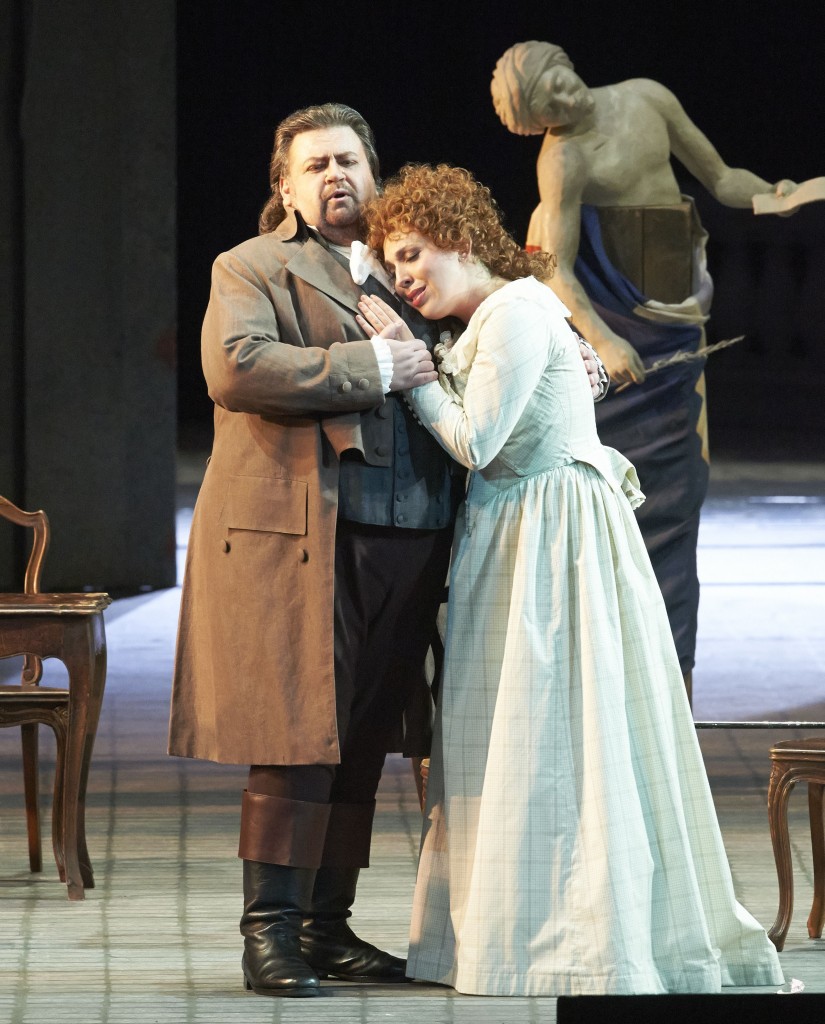 Giordano's Andrea Chénier is the story of the poet of the French Revolution who sacrificed his life for his ideals. Giordano's fourth and greatest opera, Chénier is described (by Vienna State Opera) as a 'must for all opera lovers.' For once this was no hype, the opera -new to me -was a revelation.
Through Chénier we see aspects of the French Revolution, from pre-revolutionary aristocracy to the reign of terror. Chénier's commitment to freedom and humanity provokes enmity and suspicion. First at a pre- Revolution celebration at the Contessa di Coigny (where he falls in love with her daughter Maddelena); in the Jacobin Terror he's a suspected counter-revolutionary on the run. Chénier is the artist always at odds with corruption and political repression.
In Otto Schenk's design , Vienna State Opera's stage for the Countess's party has faux painted walls (resembling tiers of an opera house): front stage, the salon has antique furniture.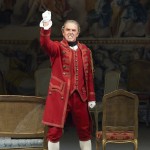 The valet Gérard (baritone Anthony Michaels- Moore) sings passionately, 'You have fathered slaves': how he hates their gilded house, their stylish gallants. 'Your fate is sealed!'
Maddalena (soprano Norma Fantini) appears rather plump. She suffers in a tight corset; her servant Bersi (Alica Kolosova) thinks it's absolutely superb. She also complains about her hideous petticoat: even if born a beauty, she now looks terrible. This is an unnatural world- the aristocracy- of artificial courtesies and sycophantic flattery. So her mother, white-haired, haggard, is greeted, 'how elegant, absolutely charming', ever youthful. It's all flattery and teasing.
The poet, Andrea Chénier (Johan Botha) stands out, against the frills and frippery, in a navy jacket and culottes. Botha is unmistakeable to any opera lover, especially for his Wagner roles. He stands observing the show from the side-lines. They're talking of 'dark clouds', impending revolution. But the ladies sing about the tomorrow they await in an innocent pastoral. Botha seems to scowl in contempt as a harp plucks in the background.
Maddalena, this figure of curiosity, asks how a poet is inspired by his muse. Chénier's aria is a highpoint of the opera, and Botha's lyrical tenor sublime beyond words. 'Poetry, he replies, is as capricious as love; the muse is unpredictable, not to be commanded. He gazes up at the eternal blue of the heavens, the world bathed in golden sunlight, a boundless treasure. He extols his beloved fatherland. But the revolutionary poet criticises the Church, the Priest deaf to the pleas of an old man. And the nobleman does nothing against such poverty.
Turning to Maddalena, beautiful woman, do not scorn the words of the poet. 'You know nothing of life, a divine gift, don't deride it!' She's entranced by Chenier. ('She's a strange girl', comment the other women.) Gérard is also deeply impressed.
A demonstration outside of starving peasants disturbs the party. Gérard resigns. The Countess's guests will, nevertheless, return to their gavotte. Botha was enthusiastically applauded. Botha sang Walther in Wagner's Meistersinger, the outsider to the guilds' cant and ceremony: here the whole rotten feudal system.
Act 2 opens to a huge square, left stage café tables and chairs; a white statue; and an upturned carriage. A Revolutionary tribunal hearing. Gérard promoted to the Chamber of Deputies. Secret police agents -black-hatted, dandy- tick off a list of suspects: Chénier is included. In Chénier's aria, Botha sings movingly of a power that says you shall be a poet. So, although advised to leave by his friend Roucher (Boaz Daniel) , his destiny demands that he should stay. And -bewildered by a lady's anonymous letters-the name of his destiny is love. 'Believe in love, Chénier.' Botha's rendition is ardent, captivating. Botha- his life undone- accepts Roucher's pass.
Giordano's music is a revelation- surging late 19th century romanticism, contemporary with Puccini (La Boheme, 1896) : an exhilarating experience, especially with Paulo Carignani conducting Vienna State Opera Orchestra and Chorus.
Through Bersi, her former maid- who shelters Maddalena, now sought by the police- Chenier makes contact with Maddelena. In their duet, Maddelena, in a white shawl recognises Chénier: 'Do you remember me?' Now Fantini is more shapely: the artificial padding she wore as a Countess's daughter discarded. (The aristocrat's clothing represented unnatural constraints against real feeling.) Their destiny was to meet again. She sent him the letters. She's alone, in danger, and afraid. Will he, her last hope, protect her? Fantini is rather good. And Botha magnificent singing of their moment of blissful love. To an oboe accompaniment, she washed away his last cowardice: he's prepared to die. Despite the danger, the Terror, they pledge to stay together; even unto death! 'Magnificent moment of blissful love', they proclaim in duet. (This has the measure of Puccini's best!)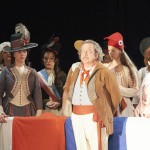 Act 3: a Revolutionary court. The window facades are blacked out, a crowd of observers looking on; but elegant furniture front of stage. There's talk of France attacked on all sides, by Prussians, Austrians. Women are urged to contribute their jewellery; mothers to give their sons to France, the motherland. 'Old Madelon' -Monica Bohinec in an unforgettable cameo- sings how she's lost both her sons. She offers her grandson- barely a boy- yet he's instantly conscripted.
A creepy police informer is dressed in black hat, frock coat, breeches and boots- rather foppish with a walking stick. Gérard (Michaels-Moore) is barely recognisable in a dashing black tailored jacket, braided in red. In his aria, Gérard hesitates- disillusioned – to sign Chénier's death warrant. Once he was driven by hate. But now realises he's still a servant: all he's done is change masters. He was a child of the war of liberation. Why does he no longer have faith in the vision? (He wanted to arouse a conscience in the people: turn the world into a paradise.) He has betrayed his calling; he is a libertine, still slave to his passions.
Madame di Coigny introduces herself, now in a simple white dress. He's captured her lover Chénier. Now Gérard confesses he wanted her, even as a small girl – his life-long passion, he, the servant always eavesdropping. He grasps her, wants to bury his hands in the sea of her blonde hair. If her body is the price of Chenier's life, then take her.
Maddalena's aria, La mamma morta, poignantly sung by Fantini, reminds of Verdi (Amelia's plea in Un Ballo in Maschera ).They murdered her mother in the doorway of her room. She was alone, in poverty, trouble and danger. Bersi prostituted her beauty to save her. In all this wretchedness, love came to her. But she offers to dry his tears and watch over him. Does he (Gérard) see blood all around him? She will help him forget. 'I am love, love, love! Mine is the body of a dying woman , so take it!' (Tremendous!)
Out of love for Maddalena and his earlier sympathy for Chénier, Gérard helps him escape; but Chénier is nevertheless arrested. Gérard accuses the Court of violating justice: of murdering poets. Michaels-Moore powerful, impassioned: his life is a ship on course for death, so be it. But he will fly the standard for his country. You will not drag it through the dirt: Chénier is no traitor.
The Marseillaise is heard in the background. Maddalena has offered to take the place of a condemned prisoner so she can be with Chénier. They run into each other's arms. Chénier sings of his troubled soul, but she is all he ever desired. So they will go to the guillotine together: in the hope of a new life, together in death. Their final duet vicino a te is terrifically sung. The feeling is Wagnerian, reminiscent of Tristan und Isolde's Liebestod, love in death. 'Death! Eternal love!', 'death arriving with the sun.' Maddalena (like Isolde) walks to her death. Strains of Wagner-realising something new is, after all, the reworking of the familiar- did not detract from discovering a major operatic work, Giordano's masterpiece. P.R.9.05.2014
Photos: Johan Botha (Andrea Chénier) and Maria José Siri (Maddalena); Anthony Michaels-Moore (Gérard); Alfred Sramek (Mathieu), also featured image. Photos of Norma Fantini as Maddalena were not available.
(c) Wiener Staatsoper/ Michael Poehn