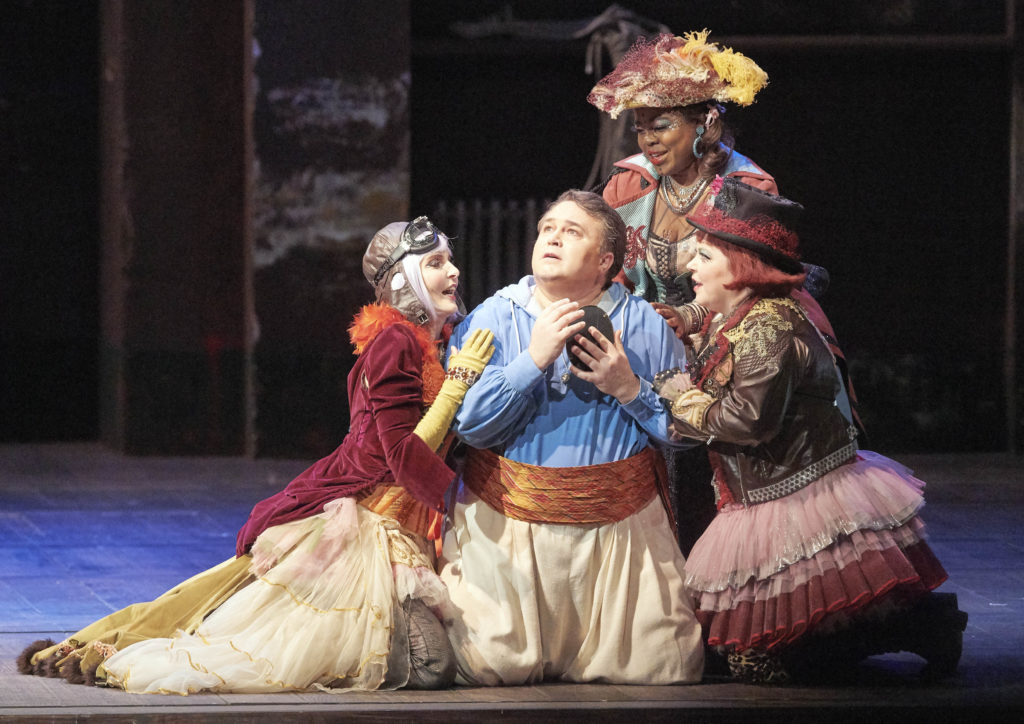 You think you know everything about The Magic Flute, but Mozart's masterpiece works on so many different levels. Superficially, it is a fairy tale entertainment, Schikaneder, Mozart's friend and the librettist, a theatrical impresario. In this adult pantomime, Prince Tamino, who first slays a dragon, is put to the test to win Pamina, the daughter of 'the Queen of the Night'. But in a classic struggle of good versus evil, the apparent villain Sarastro is priest of a religious order. In Mozart's morality tale, he represents Enlightenment against the dark forces; and Sarastro's brotherhood could be Mozart's own Freemasons.
But why bother with the plot when most audiences go for the beguiling music? Well the opera, obviously musical theatre, its magic is only fully revealed in performance. You cannot ignore the sets and staging.
We're in Vienna, where Die Zauberflöte premiered in 1791- in a popular theatre – tonight at Vienna State Opera, in a production by Moshe Leiser and Patrice Caurier. The giant serpent which Tamino has slain – in two pathetic halves- made the American behind me laugh. Tamino, who's fainted, is revived by
'three ladies'. Tenor Jörg Schneider sings sublimely, but is he too overweight for the part. 'What would I give to make him move'; the ladies are captivated by this 'handsome young man'. They're like party dames in fabulous, frilly red party gowns and slinky stockings. Costumes, a mix of 'period' and modern, are at least colourful.
But the back of the stage looks like…the back of a stage! Black walls, scuffed with wear, shabby, just bare floor boards; side of stage, exposed, the hoisting machinery. An expensive 'concept', designed by Christian Fenouillat.

Papageno, (bass-baritone Thomas Tatzl) is more the thing, dark-haired , rustic in a mustard traditional Austrian suit, with floral shirt, carrying a bird cage (with live doves). He sings in a heavy Styrian brogue. Essen und trinken; his pleasures are simple, eating and drinking and a woman to keep. He's the country yokel, supplying the Queen with birds (the avian kind). Trouble is, Papageno's simpleton gets involved in the main plot's cosmic power struggle. So the Queen's ladies muzzle him for boasting he killed the dragon; and he has to undergo the same initiation trials as Tamino. Tatzl is a hit with the audience. But Tatzl's Papageno, in the comic sub-plot, sometimes upstages the main plot.
Blonde-haired Jörg Schneider's Tamino, wearing a green top, and cummerbund over billowing beige pants, looks a squat figure. But his aria Das Bildnis ist bezaubernd schön- how this image of a goddess enchants his heart- almost justifies the trip. Ja, die Liebe ist es allein. And she will be his forever. Sympathetic accompaniment from Vienna State Opera Orchestra, arranged as if on period instruments, expertly conducted by Adam Fischer.
The Queen plots on Tamino's assistance- along with Papageno- to enter Sarastro's kingdom to free Pamina from 'the tyrant'. Hence the magic flute and bells with transformative powers. She will stop at nothing to win back her daughter. But Hila Fahima is too angelic for this witch in disguise. Fahima's slender dark brunette appears in a long, scarlet silk gown. Her exquisite soprano doesn't quite have the power required. There's no suggestion of night, and her satanic powers; but her bird-like cuckooing attains surprising high notes.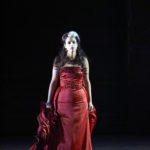 We see (Viennese tenor) Benedikt Kobel as the Moor Monostatus in a modern black suit, braided lapels, pursuing Pamina (Olga Bezsmertna) in a white dress. In the plot Monostatus furtively approaches her to abuse her. Here Kobel is trying to hide behind the stage curtain in his underpants. It's comic – the audience laughed – but this was attempted rape! Kobel's Monostatus sings (in the German libretto) 'There are blackbirds in the world, why not black men.' Yet Kobel has been 'blackened up' by the make-up department. Bad.
Papageno brings Pamina the good news she is to be freed by Tamino. Their joy-filled duet about the power of love is a highlight. It is a woman's duty to give man a loving heart, sings Pamina; rather anachronistic, but Bezsmertna sings with a classical purity. Mann und Weib,, they sing of a paradigm of married bliss.
The Drei Knaben, (three Boys from Vienna Boys Choir), who lead Tamino to Sarastro's kingdom , look cute – like Dickensian street urchins, admonish him to be steadfast, and patient. Schneider sings affectingly of his concern for Pamina – is she still alive?- and of unseen voices. Tamino, reassured by Sarastro's priest Pamina was taken away 'for just reasons' , plays on his magic flute and lures wild beats to him. Now some grotesque 'apes' prowl around while Schneider is singing, 'Only Pamina will keep him from melancholy'; but then he's interrupted by this silly circus. A prehistoric dinosaur's head, glaring its teeth; some giant ostrich. From the sublime to the ridiculous. The audience were in cahoots.
Polizei! A troupe of American cops in black uniforms, like LAPD, line up. Then they expose themselves in frilly knickers. Security guards announcing Sarastro's arrival? Some of the audience couldn't resist getting out their cameras and smartphones. Strictly verboten; but this was risible. Bad.
Pamina confesses her escape, justified by the Moor's threatening behaviour. Bezsmertna sings to Sarastro, My lord, I am the transgressor. 'The wicked Moor demanded love and I ran away!' (To a modern audience she's the victim in a shockingly sexist and misogynistic world.)
Yet Sarastro is a sympathetic figure; he 'knows she loves another deeply.' René Pape. Dignity at last! Pape's Sarastro is tall and commanding, wearing a long grey coat, gold braided. It is her duty to follow her mother, pleads Pamina. But she, the Queen, is in his power, he retorts. A very proud woman!
We note brilliant white cubes , illuminating the stage- symbolising the (18th Century) Enlightenment. They, the initiates, Tamino and Papageno, must be purified.
Act II. Men in black coats and hats, sombre, greet each other. Pape looks contemplative. This is more like it. They form a circle (like Freemasons?) 'Fellow servants gathered in the temple of wisdom.'
Monostatus – trying to kiss the sleeping Pamina- is disturbed by the Queen of the Night . (Again, in this production, he makes a racial issue of it. Is it because he's black she doesn't want him?)
In the Queen's iconic aria, Der hölle Rache, she tells her daughter of occult secrets given to Sarastro's order. She will be avenged, and gives Pamina a dagger; but Pamina rejects her. She curses her daughter. Betrayed! She will never see her again. Outcast forever, abandoned, destroyed. But Fatima is more pre-occupied in getting those chirpy notes right. Yet sings, Hear gods of vengeance. But where's the rage?
But revenge isn't Sarastro thing; driving Monostatus away from Pamina, Pape sings vengeance is not the way in our sacred hall.
The surreal absurdity of the sub-plot is light relief from the serious 'allegorical' stuff. 'Papagena' is just ridiculous- a sci-fi construction with feathers – meant to be a haggard old woman, admitting to eighteen. Papageno's alternative to loneliness turns into (Ileana Tonca's) Papagana.
This last Act is just too dark and gloomy, the protagonists only visible under spotlights. But there's distinguished singing in the famous arias.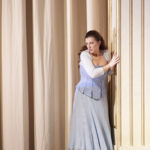 Bezsmertna, stonewalled by Tamino sworn to silence, feels that all is at end. Never shall beauty and delight find her heart again. In the dagger scene, she's prevented from taking her life by the three Knaben. They rescue her, and in a cute, Mary Poppins moment, they all rise up into the heavens (on stage wiring.)
And Tamino and Pamina travel through their arduous trials guided by the Zauberflöte. Oh let your sound be our protection, they sing. Bezsmertna and Schneider are superb in their duet.
Tatzl's Papageno's is seen strung up on a scaffold – his suicidal thoughts ironically mirroring Pamina's separation. Good night false world- he won't live without Mädchen oder Weibchen to share his life. Then Papagena (Tonca), opposite stage, joins him and they're both strung-up like puppets, and transported heaven-bound.
Drive out the night, Vertrieben die Nacht. The Queen of the Night's alternative court pledge vengeance- but a magic storm buries them under a tarpaulin, and they disappear below stage. The good have triumphed and are rewarded with eternal wisdom. But unless you're in a privileged seat, you won't see the sun rising rear of the stage.
Die Zauberflöte, unconventional, but great opera, requires imaginative staging, and demands a high-calibre cast – here sadly let down by this gloomy production. © PR. 29.12.17
Photos: Jörg Schneider (Tamino) with Caroline Wenborne (First Lady), Ulrike Helzel (Second Lady) and Bongiwe Nakani (Third Lady); Thomas Tazl (Papageno); Hila Fatima (Queen of the Night); Olga Bezsmertna (Pamina); Featured Image: Ileana Tonca (Pagagena),Thomas Tatzl (Papageno)
© Wiener Staatsoper /Michael Pöhn