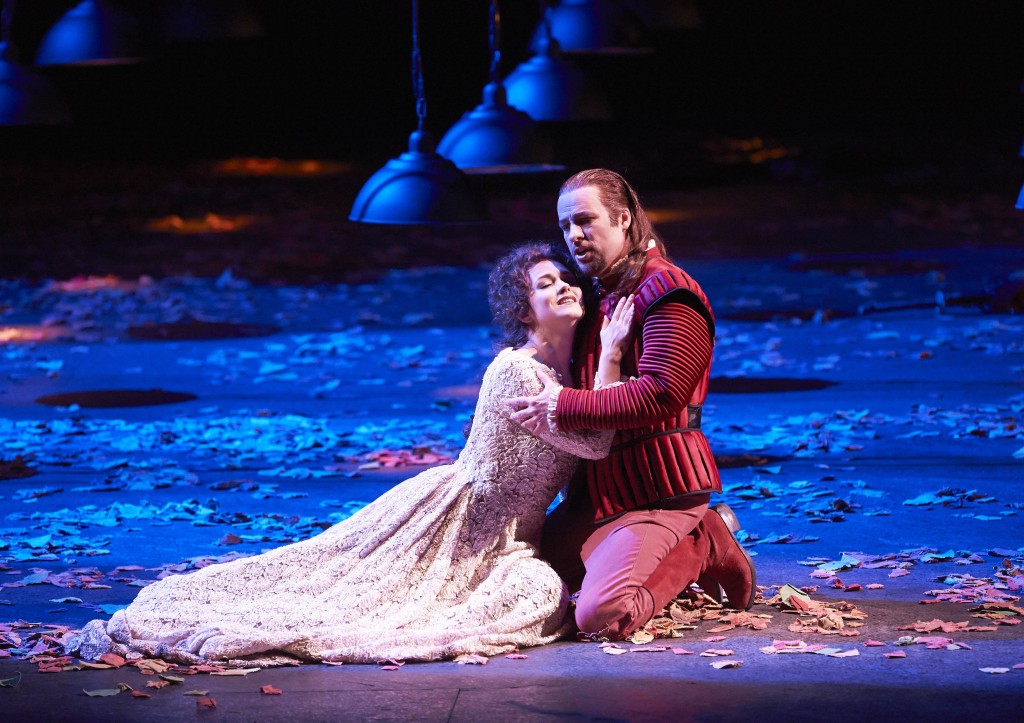 An Italian opera about the English Civil War? Bronze heads, decapitated, like war trophies, line each side of Vienna State Opera's stage. The Chorus, Cromwell's soldiers, sing, Wake up dawn is breaking; trumpets announce a new day; and an ominous drum roll signifies the beheading of Charles I. Thank God it's period dress! We'll raze the Stuart camp to ashes! 'The moon, the sun and the stars give thanks to the Lord' pre-empts the Puritans' religious agenda.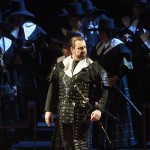 'So it's all over,' sings Sir Richard (Riccardo) Forth in fierce Roundhead uniform, all-black, skin-tight, studded leather, white collar. Yet Forth (magnificent baritone Carlo Alvarez) sings 'Where can I flee to, where hide my terrible fear. In his aria, 'Without hope and love what can life hold for me: Oh, Elvira, I have lost you forever.' Lord Valton had promised him the hand of Elvira his daughter; now he knows she's in love with 'that Cavalier Talbo'. How tormenting is the memory of love on such a day of mourning: (ironically) sweet dream of happiness, peace and joy.
The historical setting may be the 17th Century English Civil War, but the sentiment of Bellini's opera is full-blooded 19th Century Romanticism. I puritani is in the tradition of the 19th century romance: could be a blueprint for Donizetti's Lucia di Lammemoor (based on Sir Walter Scott's novel.)
Elvira (Olga Peretyatko) sings to her beloved Uncle, why is she so oppressed. Giorgio (incredible bass Jongmin Park) assures her she will be a bride. A bride? No never!! But he's persuaded her father to let her follow her heart. Elvira's is the voice of the free-spirited woman : pre-figuring Lucia, 'if she's dragged to the altar against her will, she will die.'
Now, preceding the wedding, the staging (Henry Balthes) is positively spectacular. Puritans dressed in black, with white lace collars and high hats, are each side of the stage: a scarlet-red silk clad figure, wearing a dandy red hat, back of the stage. Bellini's music is surprisingly jaunty, up-beat. A te, o cara ,'Beloved, I once had to meet you in secret,' sings (Arturo) Talbo, Canadian tenor John Tessier. Now he can stand at her side in joy and exultation. Tessier has a wonderfully lyrical tenor. He wears red in the colour-coding (costumes Jose Mannes Vasques)- Elvira is in black with white collar and long white wedding veil- emphasising the wedding of opposing factions.
Lord Valton (bass Sorin Coliban) a physically powerful figure with long white hair, is seen addressing 'the female prisoner'. He leaves 'the children' to go on with the celebrations: may heaven unite the happy couple. Bellini's lilting rhythms couldn't be more Italianate.
Arturo sneaks away. The Prisoner and Arturo left alone, Enrichetta (Henrietta), sees pity and terror in his face. Henrietta, impressive mezzo Ilseyar Khayrullova has to be authoritative. 'Too late! I am the wife of King Charles 1 and I too may be beheaded!'- 'No your majesty, there's still hope,' he (Talbo)answers. She pleads he change his mind and think of the danger. 'Don't make me waver!' He'll save her. 'Don't talk about the one I love!' Tessier, red-hot, is singing with full-blooded passion.
Then, preceded by astoundingly held high notes, breath-taking coloratura, Elvira approaches. 'I am a pretty young woman in my bridal gown. Tell me you love me,' she entices him. Then, innocently, she asks Henrietta to try on her veil. Henrietta, completely enveloped in white, is 'as pretty as a bride.' It's a shocking irony, she, the widow of the be-headed King. She sings sadly, 'Such a white veil is destined for an innocent head, not mine.'
'Stop! Riccardo (Alvarez) almost leaps in, 'You try to rob me of my of my greatest treasure!' Not realising it's the Queen shrouded, Riccardo challenges Arturo to a duel, Riccardo superbly sung by Alvarez. The irony now is that Riccardo, realising it's the Queen under the veil, not Elvira, doesn't mind Talbo fleeing: his rival got rid of. But Elvira sings franticly , where is Arturo? She's stunned by his, she assumes, faithlessness.
In an unforgettable scene (reminiscent of Donizetti's Lucia) , she stands in her shimmering white wedding gown, ravishing black hair trussed. 'Elvira's spirit is quite broken,' sing Chorus. She imagines he's looking at her, calling her his bride. 'Is that Elvira?' she sings disjointedly. Chorus sing 'Shame! Come to your senses! She has lost her mind.' Then, she, imagining Arturo has returned: Come closer: I shall live and die with you.
In a remarkable, moving ensemble, Bellini's voices are in counterpoint: Elvira, O heaven have mercy; Ricardo, How I am moved by her tears, and Chorus (ominously) She will surely die of her sorrows.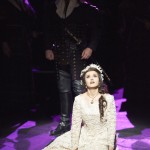 Elvira sinks to her knees praying, behind her rows of Puritans in black. Riccardo sings, the longer he looks at her, the more he loves her and hates his rival. Elvira's (Peretyatko's) display of coloratura wavers. She staggers as if intoxicated, appearing to approach Riccardo; but recovers. A terrible fear consumes her. (But you flee from me. How cruel!) Distraught, she's holding her head in her hands, encircled by Roundheads. Olga Peretyatko was a tour-de-force. Poignantly moving. If the scene seems familiar, Donizetti's famous Lucia mad-scene came later (in 1835.)
In Act Two Elvira's deterioration is observed by Riccardo and Giorgio sitting on a blackened stage. Preceded by Chorus lamenting how pitiful, the poor woman dying of grief, Giorgio's aria is a highlight of the opera. Park sings powerfully of the poor girl festooned with flowers, her hair dishevelled. She asks 'Where has Elvira gone'; repeats the wedding ceremony, and calls for Arturo.
A shaft of light : Elvira approaches as if blinded.O rendetemi la speme. Oh give me back my hope or let me die! She seems a plaintive, lost figure, her mind disjointed. It was here his voice called me, she sings, here that he swore to be true. Then singing of Riccardo, he is weeping -perhaps he is in love. A heart in love will always suffer. (If she cannot love she will take her life.) Peretyatko's soprano flutters through effortless coloratura, high register secure. But never affected, natural. Giorgio questions Riccardo on the suddenness of Arturo's death sentence. 'If you kill your rival, his death will be followed by another.' But the Royalist must die if he fights against them. In the finale showstopper Suoni la tromba , they sing to victory and honour.
Act 3, wonderfully colour-coded, low suspended lights bathe the terracotta stage in moonbeams. Arturo wears burgundy, his scenes red for passion: contrasting against the gloomy black and white scheme of Act 2. Tessier's light lyrical tenor is well-suited to this quintessentially 'romantic' figure.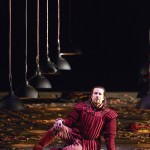 He's sitting in what seem autumnal forest leaves. In the dark night he can't stop thinking of his homeland. He lies, languishing poetically. Now wandering into the 'forest', Elvira : he hears, accompanied by a harp, the troubadour's song. A una fonte affitto e solo. 'A troubadour sat sad and lonely by a fountain and sang of love.' He picks up her refrain. They're like a couple in a Victorian pre-Raphaelite painting: all romantic ardour. Did she not know it was the Queen, in great danger. They're embracing, lying front of a stage blossoming with colour. Then Elvira holds her head in pain, distraught as the Puritans invade the stage. She sings, her words disembodied, 'Believe me Arturo, she cannot love you.' He sings, the poor girl believed she was betrayed. Tessier's tenor is so high it's almost falsetto.
The Stuarts defeated! The prisoners pardoned. The loving couple are under a spotlight: another side of stage a brooding Riccardo. Then suddenly he approaches and thrusts his sword right through his rival. Elvira sings ,'I feel how one heart is not enough to rejoice.' Completely out of her mind, disengaged from reality.
Marco Armiliato conducted a scaled-down Vienna State Opera Orchestra and their magnificent Chorus, bringing out the passion and rhythmic vitality of Bellini's gloriously melodic music. John Dew's production, now over 60 performances, is quite magnificent. It cannot be bettered. Don't ever change! P.R. 10.3.2015
Photos: Elvira (Olga Peretyatko) and Lord Arturo Talbo (John Tessier) ; Carlos Alvarez (Sir Riccardo Forth); Elvira (Olga Peretyatko); Arturo (John Tessier)
(c) Wiener Staatsoper /Michael Poehn