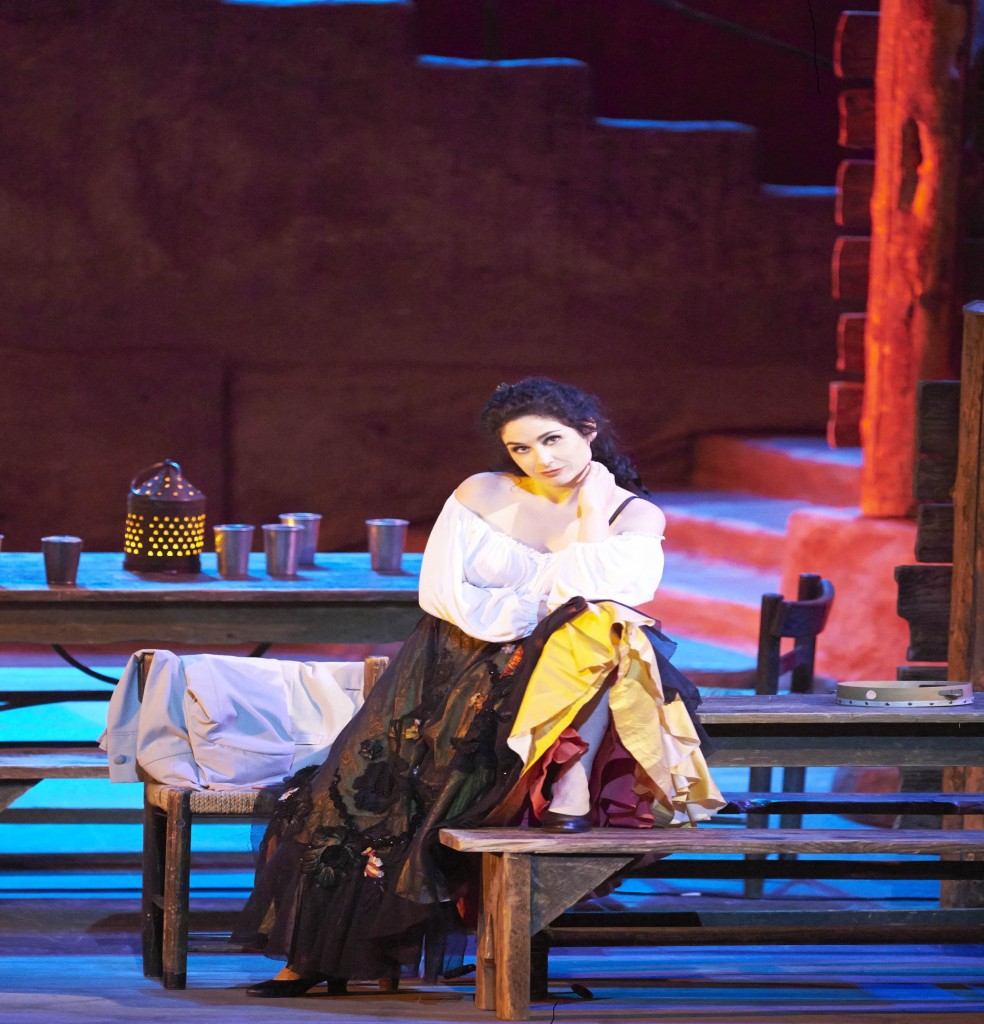 The credentials are impressive- Rinat Shaham as Carmen, Roberto Alagna, no less, as Don José; and stage designed by the legendary Italian film producer Franco Zefirelli. And Vienna State Opera Orchestra (and Chorus), Bizet's exotic score, with its authentic Spanish influences. But somehow the spark is missing. That score, conducted by Dan Ettinger, doesn't quite ignite on this epic set.
Peeling stone ramparts, canopied roof, rotting rafters, (Seville's) market stalls selling fruit and vegetables – traditional period costumes -the stage could be out of a mid- 19th Century painting. As Michaela (searching for her fiancee Don José) soprano Anita Hartig, with plaited brunette hair, in a simple white apron dress, sounds exquisite, but too good to be true as the 'pretty bird' ribalded by the soldiers. The street children playing soldiers -Oh, Misérables!- as in a Victorian musical, sing much too innocently. The set, however, is rather colourless, bland- men in sand-coloured suits, matching soldiers' uniforms khaki – girls in pastel, rainbow -effect, frocks. Are these the dangerous workers in a cigarette factory? They sing angelically in this idyll.
Carmen, however, (Rinat Shaham), wears a purple and black dress, her lower petticoat cerise, her long jet-black hair hanging provocatively. And she's barefoot, salaciously introducing herself to the men with a Habanera, singing 'L'amour est un oiseau rebelle.'
Don José (Roberto Alagna), sits on the side, symbolically fingering his rosary beads- not even looking- while Carmen is being hoisted up by her male admirers. Shaham is languid, sensual. (One man in a white suit is on his knees to her.) Certainly the gypsy, her rich mezzo not yet splitting high notes. She turns to José- Alagna in army jacket, white holster, black boots. He seems perplexed, transformed, picks up her billet-doux, the flower she's thrown.
By contrast, Micaela (mother's choice) and Jose, reunited , are rapturous together. But Hartig looks over-plain, like a milk-maid; but she sings movingly, with a classical purity, of his home, reminding him of his family duties. This music is altogether different- in the French operatic tradition- to the exotic Spanish rhythms and harmonies for Carmen, suggesting transgressive sexual danger. The 'straight' French music for Micaela represents moral courage, defending family values. Thus the different styles underline José's moral conflict.
Alagna (just turned 50) looks twenty years younger- fit for soldiering; and his richly sonorous tenor- still ripe and fruity- is superb in duet with Hartig.'There is no one more virtuous: he'll marry her.'
Cut to the cigarette factory girls fighting- the fight well choreographed- Carmen distinguishable in lilac tones. Don José restrains Carmen, her 'Tra la la' mocking, picking up her skirts provocatively. 'She'll keep his secret'; insists she's not to blame for the knife fight. Alagna, his auburn hair now red under the spotlight, tries to tie her up . She resists demurely; and tugs on the chain as if to coax him on. Defiantly feisty, Shaham sings, 'My heart is free.' Carmen has a dozen suitors, but not to her liking. 'Will you keep your promise and love me?'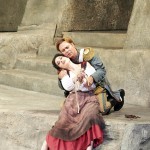 Alagna responds with passionate body language, he will. (The arresting officer charges Don José to guard her. Carmen escapes.)
Act 2 at Lillas Pastia's, Carmen and the gypsies' hangout, opens to a spectacular Spanish gypsy dance sequence. The stage backed by steep rocky stairs, Escamillo descends to perform his Toreador song, boasting of his powers. (Bizet intended it to be vulgar.) Laurent Naouri, a deep baritone, (perhaps needing a lighter tone), is lithely handsome dressed in black embroidered waistcoat, white trousers; Carmen, her eyes glued, trips him passing by. Naouri re-enacts moves from the bullfight: beh ind him the other toreadors are waving their capes. Escamillo has girls all around him- but Carmen hooks him on a sustained note. He visits her table; they flirt speaking in French. Shaham's face is radiant, transfixed as the bullfighters exit.
Yet Don José is the soldier imprisoned for abetting her escape. Now released, Carmen dances for him to castanets and pizzicato strings, Shaham luring Alagna with incredibly suggestive hip movements. Trumpet in the background, bugles approaching- in contrapunct to the castanets- illustrate his conflicting loyalties, José summoned back to quarters. Alagna is superb, rebutting Carmen's taunts. Don't poke fun at me! No woman has bewitched him so completely. She mocks him: that's how much he loves me, (the 'fate' motif heard on cor anglais.) In José's aria, Alagna movingly sings of the flower he'd kept (La fleur que tu m'avais jetée ) she'd thrown at him. Although it withered, for hours he breathed in the scent. And Alagna, increasingly powerfully, how he regretted his profanity, but had one wish only, to see her again. 'All you have to do is look at me and I'm yours.' Alagna is peerless in French romantic roles: a highlight.
'No you don't love me. But if you really loved me, you'd follow me… Là-bas dans le montagne. He resists, can't listen to her – desertion is dishonour. But fate intervenes: smugglers disarm José's commanding officer.)
Rocky cave, snow falling in (Act 3's ) smuggler's lair. Carmen has read her fate in the cards. 'C'est destiné .' (Shaham's gypsy friends seem too genteel- lacking menace?) 'Death! First me. Then him.' Carmen's aria is surprisingly moving in its sombre darkness. Shaham intimates a tragic side to Carmen hitherto unseen- stark, introspective, against the exuberant, extrovert 'Carmen' character.
Micaela, who's come to 'rescue' José from Carmen, in her aria pretends to be strong, but, inside she's all alone dying of fear . Superlatively sung by Anita Hartig, she will wait to see the woman who made an outlaw of her lover; but won't fear her. Hartig sustains absolutely terrific top notes . Micaela's heartrending aria is an unexpected treasure. Sung powerfully on a gloomy, dark stage, Hartig was enthousiastically applauded.
It is apt that, in the fight between the rivals José and Escamillo -Escamillo saved from José's wrath – José is provoked in the argument as 'a soldier who deserted, but Carmen is never in love for long!' And, presciently, 'but if if you take a gypsy girl, you have to pay with the knife.'
The stage for Carmen's wedding, with house facades either side, is a street scene outside the bullring -ladies in white frocks and brollies, orange vendors and flower stalls. It's the big Hollywood cinemascope spectacular. Escamillo is in full toreador regalia, accompanied by Carmen. Shaham wears an oriental-design satin dress with white lace headpiece, but scarlet lipstick.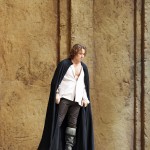 Alone with Carmen centre stage, Alagna, his hair disheveled, appears in a black cape, his white smock shirt untidily open. The full croon: he's not threatening, but begging. –'C'est fini.'– 'There's still time. He can save her; and him with her.' She knows he will kill her, but won't give in to him.
Alagna holds her; falls hopelessly to his knees begging, sobbing. She's haughty, (Shaham) raising her head in disdain.- 'So you no longer love me.' José is increasingly desperate, begs her not to leave him. Carmen will never give in: born free, she will remain free. Now Shaham hits those high notes. 'Kill me or let me go!' Alagna now with his shirt wide open, maybe over-indulgent, too melodramatic. After the final clinch, he appears, his shirt bloodied, (her blood). The triumphantly banal Toreador refrain heard background, as the dramatic 'Fate' theme finally prevails. The ending -marred by Alagna's histrionics- left me underwhelmed. P.R. 18.09.13
Photos: Rinat Shaham (Carmen); Roberto Alagna (Don José) and Rinat Shaham (Carmen); Roberto Alagna (Don José)
(c) Wiener Staatsoper/ Michael Pöhn
I'm indebted to Gerald Larner's CBSO (2005) programme notes.