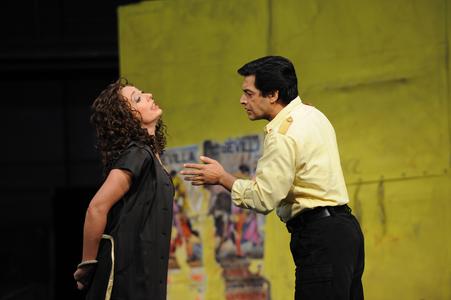 Volksoper, Vienna's home of operetta, also has an increasing international reputation as opera house- overhadowed by Vienna State Opera as English National is by Covent Garden. But Bizet's Carmen sung in German? Yet, after the early 1876 Opera Comique version was initially withdrawn,´it was in Vienna where -in a 'Grand Opera' version- (dialogue replaced by recitatives)- that Carmen first enjoyed huge success. Brahms saw it twenty times, and even Wagner admired it (Gerald Larner).
Certainly the staging of this Vienna Volksoper Carmen (Johannes Leiacker, original production Guy Joosten), could hardly have been bettered. From the (opening) drab guardroom, the soldiers' bright yellow shirts cleverly match the yellow screen highlighting Sevilia bullfighting posters. Micaela (Kristiane Kaiser), who has come looking for Don Jose, spurns the soldiers' playful taunts. Kaiser has short auburn hair, plaited, and wears a sobre light blue skirt. Carrying a woven shopping bag, she is respectable, bourgeois, representing virtuous 'family' values: the very antithesis of the colourful, immoral Carmen, the 'gypsy woman' outsider.
Micaela's arias, charmingly sung by Kaiser, are in the French operatic tradition, and influenced musically by Gounod. In the opera's musical dichotomy- the stylistic division in the score- Bizet's 'Spanish' music is allocated exclusively for Carmen and her gypsy friends. Its exotic rhythms and harmonies suggest dangerous sexual temptation and social subversion.
When the cigarette girls storm out of the factory, they're in low-cut, silky, tobacco coloured dresses -colour coded to contrast with the soldiers. Carmen stands out. Annely Peebo is black-haired, gypsy like. She wears see-through back lace over a bright red skirt. In her provocative Habanera, she's like a sex bomb. Carmen perches on a chair to show off her legs. She sits on soldiers' laps (like in a bordello). Now the lights are dimmed as if Carmen is performing in a sleasy night club. She plucks a rose from the garlanded stage proscenium, and throws it at Don Jose, the only man she knows isn't interested. The lights come on as Carmen is repulsed. Very clever, the twilight having suggested liminal sexual allure.
These two are so good looking. Mehrzad Montazeri as Don Jose, very handsome, with jet black Spanish/Moorish hair, has a richly timbred tenor, albeit a little insecure in the opening Act.
Act II's Lillas Pastia's tavern is seedy and atmospheric, absinthe pump in the background. Carmen and her gypsy friends, in riotously multi-coloured outfits, are entertaining the officers. Led by Carmen , they sing a robust Spanish gypsy song. Peebo, (mezzo-soprano) is slightly lacking in upper range, but the orchestra is on frenzied form.
In a dramatic entrance , Escamillo descends from a central iron staircase. The toreador, he's meant to be the popular hero, and celebrity. So Sebastian Holecek, like a pop idol, wears a bright green suit, black shirt , and pink tie. Boasting of his success in the Ring, with women on each side- to his ecstatic fans' delight- he delivers his signature tune, the Toreador Song. Holocek's baritone has depth, ballast, but has a limited range (upper register).
But the staging is again very effective. Escamillo and admirers are on a table left stage. Carmen, in bright red blouse and tight black pants, right of stage, swigging on a bottle. That's how they meet, (eye contact); but I didn't get the sense of a relationship between them. And isn't Holocek just a little too big to bullfight?
Momtazeri's Jose and Peebo's Carmen do have that charisma and chemistry. Jose returns- after two months' prison for aiding Carmen's escape. In her reunion with Jose, Carmen's all over him. She dances for him wearing a skin tight black cat suit. Their foreplay is interrupted by army bugle calls. He has to go; they're fighting; she taunts him. He swears his love, but he would desert and follow her, if he really loved her. The fate motif is heard on cor anglais. They were already at loggerheads before Zuniga's (Sebastian Soules) call on Jose. (Jose refuses; they draw; Zuniga is disarmed by the smugglers.) The ending to Act II is highly effective, with Carmen and Jose standing obdurately centre stage, behind them the smugglers. The Volksoper Choir (and added choir) are in tremendous voice.
Act III, though again impressively staged, is gloomy and the low point for me, stage dominated by huge crates of contraband. They're all in black cloaks, Carmen revealed by her protuding red slip. Kristiane Kaiser's Micaela, pleading with Jose to return to his grieving mother, is in good voice: if a little boring. (Jose is about to kill Escamillo, who's saved by Carmen's arrival, and intercession.)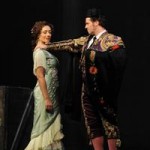 By contrast to Act 3 gloom , Act 4 opens, backed by a brilliant red safety curtain. Carmen is astride a chair, in bright red blouse and mulicoloured gypsy skirt. From what appears to be a haberdashery stall- rather a treasure chest- she's assisted by her (exotically dressed) gypsy friends, Mercedes and Frasquita, into a fabulous full length silk gown, like a wedding outfit.
Meanwhile, right stage, Escamillo is being dressed into his toreador outfit- the full regalia, studded black top down to pink socks. It's authentic: spectacular to watch, and stunningly choreographed, Escamillo facing, but unawares, his would-be bride, separated on the opposite side of stage.
The last scene between Carmen and Jose is all the more effective for the minimalist staging, with the red curtain, fronted by two chairs, adding to the claustrophobia. He pleads with her to start a new life with him. She refuses, vowing, she would rather die. Then the trumpets, indicating Escamillo's victory off-stage. She taunts him , the ladies chorus background are superb. They are at the centre of a narrow stage; we see the glint of his dagger, brandished behind his back. The spotlight is on Carmen, fatally stabbed, yet still standing next to Jose. Now the red background has an added significance. There is no blood, but red everywhere. Finally, the curtain lifts on an empty bullring stadium, and deserted spectator grids. The body of Carmen in white lies at the front of the stage.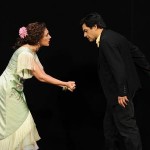 Peeblo and Montazeri both excelled in this highly dramatic last Act which, imaginatively staged, still has the power to shock. Holocek's Escamillo didn't have the magnetism or voice for the extrovert popular hero figure of Escamillo. The cast as a whole were uniformly good- the supplemented Volksoper chorus excellent. And Vienna Volksoper Orchestra , conducted by Enrico Dovico impressed , especially woodwind solos, as in the entracte before Act 3. If not comparable with Vienna State Opera, certainly up to international standards.
2.09.2012
Photos: (c) Dimo Dimov/ Volksoper Wien.
Ursula von den Sternen (Carmen), Mehrzad Montazeri (Don Jose); Sebastian Holocek (Escamillo). NB. Photos of Annely Peebo as Carmen are not yet available.