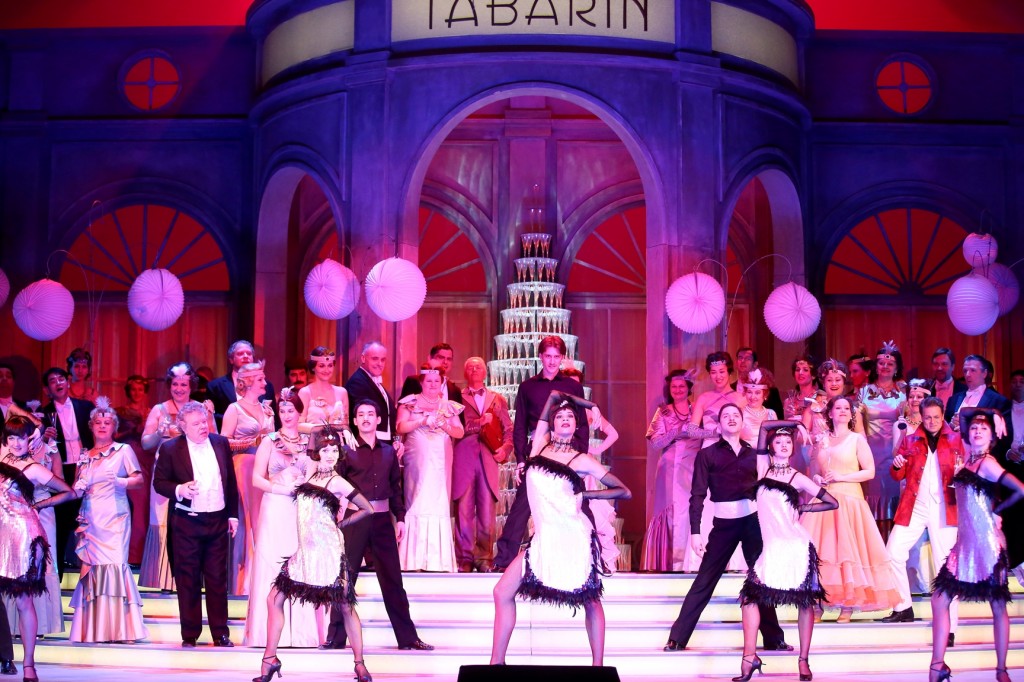 Vienna Volksoper's spectacular new production of Emmerich Kálmán's Countess Mariza (Gräfin Mariza) opens with a gypsy woman singing, 'Love is a fleeting drama.' Against a stage covered in white fabric, Annely Peebo in traditional Hungarian dress, a black sequined gown, sings it's a story full of music we danced. She's accompanied by a gypsy fiddler. The stage is taken over by young gypsy dancers in black, who perform front of stage. My God ,they are sensational- members of Vienna State Ballet- and very erotic, the five virtuoso couples gorgeous looking.
The white sheets collapse to reveal a palace state room, furniture covered over. Count Tassilo (Daniel Prohaska), whose family are bankrupt, is acting as manager for Countess Mariza's estates. He's welcomed by children, dancing for him in traditional Hungarian costumes. While Prohaska's steward is white- suited , his friend Karl is in a sharp double-breasted geometric pattern suit, and sporting patent shoes. Very roaring 20s! The background is the 1920s financial crisis, post World War 1. Tassilo's estate is being auctioned off; and they're not the only family to go under, after the collapse of the Austro-Hungarian empire.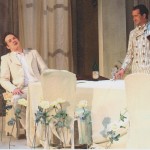 They reminisce of better times: the cue for the opera's stand-out number, 'Grüss mir die süssen, die reizenden Frauen in schönen Wien. Do you remember, when the evening falls, drinking a glass of wine, the sweet charming ladies? It's a tribute to charming Vienna : the Danube, the waltzes, hidden alleys where couples linger. Mein Wien! Kálmán's tribute has the measure of Johann Strauss. Tassilo's romantic vision is sung by Prohaska, a very adequate tenor; but he looks good, and has charm.
Cut to Mariza's welcome home party to celebrate her engagement to a 'Baron Koloman'- absent- invented to ward off gold-digging admirers. Another Gypsy song, one of the glamour highlights, with the men in cream suits wearing boaters, and the girls in 1920s shifts, very short and sexy. The stage rotates to reveal the Countess on the steps of her castle, surrounded by bodyguards in black hats and shirts, wearing dark glasses. Very camp. It's brilliant staging. Come and set yourself free, play with feeling, party the night away! The gypsies are contrasted against the cream, gold set, two girls side stage, and the fiddler playing, black-hatted, looking very mean and moody.
Kálman's operetta Gräfin Mariza, premiered in Vienna 1924, defined a new realism, with plausible characters, and gritty dialogue (A.Brammer and J.Grünwald.) Ursula Pfitzner's Mariza, very modern, pulls on her cigarette. Her fiancée is 'absent'; introduced to her new 'steward', she treats him condescendingly. Tassilo recognises his sister Lisa (Anita Götz) in the Countess's retinue, but, 'not a word', Tassilo's real identity kept secret. They 'know each other'. The siblings meeting is a cue for Meine Schwesterlein. The stage opens up to a fantasy children's playground, brought to life with animated figures.
The man the Countess is engaged to doesn't exist. But a Baron Koloman Zsupan introduces himself! Thomas Sigwald, outrageous in a bright red brocaded blazer- looking uncannily like Graham Norton- rode straight to Budapest when he read he was to marry the Countess. He sings, he'd always dreamed of marrying a woman like her, only to be found in Hungary. His passion burns hotter than a goulash. His duet with Mariza Komm mit nach Varasdin is a showstopper. Suddenly, a whole row of Koloman look-alikes in red blazers and white pants lead in. They perform an ingenious dance routine, using over-sized garden tools as percussion instruments.
A disconsolate Tassilo, excluded from the ball, sings how he was once the Czarda's cavalier. Prohaska is swigging on a wine bottle: it may all be different tomorrow. Background, a couple of gypsy lovers very uninhibited, are embracing; and lead into a gypsy fest extravaganza. The stage is filled with the Countess's guests holding up umbrellas for a 'When it rains' ensemble.
The Countess in white is confronted by a gypsy offering her a glimpse into the future. Before the month is out her heart will be given. The man is not far away: a Cavalier! Now Mariza moves from the castle steps into her dining room on the revolving stage. Tassilo – 'her steward, not there for her enjoyment'- now performs for her the Komm, Zigany number he'd refused after all. Their intimate meeting is 'all very surprising': he pushes the bottle he's drinking from over to her, while she's smoking one cigarette after another.
In the pause between the Acts, a little girl sings to the gardener, (telling her the story in a framing narrative), 'The story's over. They love each other?' The old man replies, 'if only it were so simple!'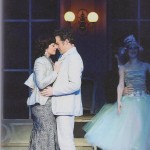 The Countess reappears in a slinky grey silk jacquard skirt, low -cut blouse. 'Yes, supposing you have all those millions, but you're not happy,' he sings. Dancing a favourite waltz number, they sweep into a room of waltzing couples – women in swirling chiffon, men in DJs.
Tabarins is the star number of Act 2. 'Tonight at Ten, we'll be at Tabarins' Those sexy gypsy dancers- the guys in black hussar outfits, white commerbunds, against the girls in stunning white Charleston-era sheeny tops and head bands. (Now we know where David Rose's The Stripper came from!) The dance troupe are a sensation.
Tassilo (Prohaska now in black DJ) warns Mariza, don't you see all your friends are out for your money. But he is himself exposed by her admirer Prince Populesco: Tassilo is 'the ideal Cavalier'. 'To learn all that takes five hundred years at least.' The Countess, furious, vows to crush him: leave him to me!
The stage revolves to a banqueting hall, the occasion for her revenge. (Simply the best staging I've ever seen here!) 'Hey, Mariza, pull off your masterstroke!'
She knocks chairs over. – We hear the 'Play on gypsy' refrain- This gentleman is mad about romancing ,but she knows his game; and she throws money at him. Her only condition is he never speaks of love again. Tassilo sings, he fell in love once. She was a proud, fair lady. Komm, Zigany 'Play with feeling – his number- show me what you can.' Mariza sings -ironically- the gypsy's refrain, 'Before the month is out…' (Pfitzner's high notes are a little shaky.)
Earlier in the Sag mir, mein Lieb (Put on your prettiest dreams, be ready at ten), duet, Prohaska's top notes were adequate, but not thrilling. She, Pfitzner, is pleasing and a little more. Their voices are fitted to operetta, not powerful, but as required. Kurt Schreibmayer's Populesco, also ensemble, added ballast.
In the denouement, Sigwald, a terrific comic turn as Baron Koloman, reveals he's only an actor. He's actually in love with Lisa, Tassilo's sister (Mariza's once-imagined rival), who'll marry him anyway. Sigwald sings well with Anita Götz's very competent soprano.
The staging and costumes by Toto (in Thomas Enzinger's production) are a world -beater- miles better than the rather threadbare affair for Kálmán's recently performed Czarda's Princess. Alexander Rumpf conducted Vienna Volksoper forces with panache, orchestra in snazzy black suits and red ties, attuned to Kálmán's syncopated dance rhythms. Worth a trip to Vienna. P.R. 15.05.2014
Photos: Vienna Volksoper ensemble; Daniel Prohaska (Count Tassilo) and Nicholaus Hagg (Karl Liebenberg); Ursula Pfizner (Countess Mariza) and Daniel Prohaska (Tassilo) and members Vienna State Ballet ; Featured image Ursula Pfizner and Vienna State Ballet
(c) Barbara Palffy/ Volksoper Wien