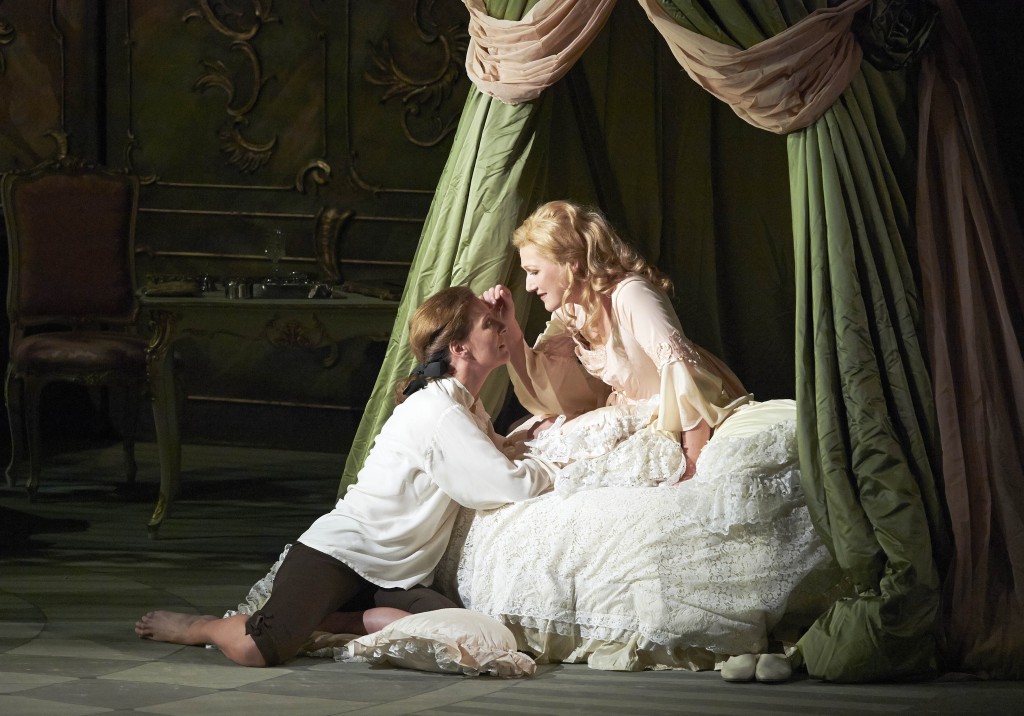 You'd think audiences to Der Rosenkavalier would be shocked by the cross-dressing and gender deviancy. Richard Strauss's opera opens in the Marschallin's bedroom after her night of love with the young Count Octavian. They're distracted by the unexpected arrival of Baron Ochs, so Octavian dresses as the Marchallin's maid Mariandl; and Ochs finds her 'bewitching'. But, traditionally, the young man Octavian is always sung by a woman soprano, here in Vienna State Opera's production, Stephanie Houtzeel is physically slim, with sleeked black hair, boyish, even androgynous.
So when we first see Octavian sung by a woman, there is irresistibly a lesbian interpretation to the relationship with the the older woman. And unwittingly, the Marchallin suggests Octavian as the Rosenkavalier, the nobleman bearer of the silver rose to Och's bride-to-be Sophie. Except that Sophie falls for Octavian, the go-between, and is totally put off by (her father's suitor), the lecherous, uncouth Ochs. In the comedy of the Inn scene, Ochs is set up to seduce 'Mirandl'- Octavian again cross-dressed – so Ochs is caught en-flagrante by the police, and forced to finish with Sophie. For Sophie and Octavian, however, it's 'love at first sight' – but with Octavian sung by a woman, and dressed as a young man . And the older woman the Marshallin, (long-separated from her husband), loses her young lover, the androgynous Octavian, for another woman.
These intiguing (gender) implications don't occur to audiences so overwhelmed by the pageant: usually enacted in 'period' costumes and sets recreating Vienna in 1740. And Otto Schenk's now classic production for Vienna State Opera is truly splendid, elaborately crafted rococo sets, glorious costumes. This cast, not ideal, has the much sought-after German soprano Angela Denoke as the Marschallin, Houtzeel adequate as Octavian, an excellent Sophie in Sylvia Schwartz, and a refined Peter Rose, not quite suited as the vulgar Ochs. And there's Strauss's ravishing, but modernist music.
Of course, Strauss's opera isn't ultimately about cross-dressing. It concerns the love of the older woman for a younger man, or woman; and her awareness of her powerlessness to prevent 'the boy' inevitably finding someone younger. Her intimations of her mortality, ultimately acceding to fate, are the source of Strauss's immortally poignant music.
Stephanie Houtzeel, dark brown hair swept back , wearing a white top and brown culottes, appears truly androgynous. He's the Bub, her treasure. Awakening in her sumptuously draped bed chamber, ornately brocaded, rouffed curtains, like a fading movie star, shy of daylight, the Marshallin doesn't want the day. She dreamed of him. Is he laughing at her? Their idyll disturbed by Baron Ochs , Houtzeel dons a servant's cap, enacts a parody of the shy-young-thing from the country; and randy Ochs plays straight into her hands. Rose, supposed to be a figure of fun, is rather too urbane, not crude enough. Even monotonous, relating the story of the (Faninal) rose, though it's beautifully sung. His visit is about his wedding contract, but Ochs even has 'the chamber maid' on his lap. Rose is a distinguished bass. Their duet was very good.
The Marshallin teases Ochs 'My dear Hypolite, you've made an old woman of me'. Angela Denoke, beguiling, maybe looks too young! Her aria is meltingly poignant. She remembers the girl fresh out of the cloister: where is she now ? An old woman, how can that happen when I'm the same person? How can the dear Lord make it so? Why does he allow me see it all so clearly? A mystery why we have to bear it all. To Strauss's moving harmony, accompanied by oboe, she repeats , why does he not hide it from me. Then, out of her reverie, turning to Octavian for reassurance. You know how I am, cheerful half the time. I really can't control my thoughts. Tell me you belong to me! Then, with unbearable melancholy, everything turns to dust: time changes nothing. But then you feel nothing else but time. Sometimes she gets up in the middle of the night and stops the clocks…
Are you determined to make youself sad, Octavian intejects, assuring her of his love. ' But, tomorrow you'll leave me for another, one younger and more beautiful than I am!' And- presciently- that day will come, Octavian. 'Not today, not tomorrow, I love you' (sings Octavian). Such a terrible day, she doesn't want to think about it.
Denoke is contemplative, resigned, her soliloquy exquisitely sung. Then, she's alert, remembers 'I haven't even kissed him!' Denoke is poetic, has an almost spiritual power. She's conducting a private conversation, perhaps too refined, too intimate for the stage. (And with Octavian played by a woman, the lesbian suggestion is irresistible.)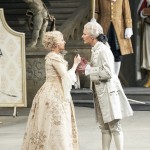 Act 2 ,the presentatation of the the silver Rose is a pageant to bewonder on Otto Schenk's extravagant set, if spectacle is what opera is all about. 'My God, how beautiful she is!' The grandiosity is spiked by the the leering Ochs first encounter with his fiance. 'No excuses, you belong to me now! ' She repulses his sexist onslaught, demands respect. Rose's Ochs is stylishly sung, but it isn't really funny: rather, long-winded. 'Nothing excites him like stubborness' isn't vile or mischevious enough. The Act sagged, lacked bounce and vitality, but was well applauded.
The entree to Act 3 reminded me how modernist Strauss's orchestration is. But the traditional restaurant Stube where Ochs is set-up , is like a gloomy castle dungeon, with Octavian again dressed as Mariandl. Ochs, too polished, albeit well sung, lacks menace. Houtzeel is genuinely comic, feigning to be tipsy, ridiculous in her servant's cap. She leads him on; then has a crying fit. Ochs thinks the Inn's haunted, but victim of a plot to expose him before Sophie's father.'What a scandal!' the ensemble taunt him, invoke Prince's mercy.
The Marshallin arrives, Denoke imposing in a claret-wine velvet gown, with gold midriff, swashbuckling hat, refers to a 'Viennese masquerade', her servant Mariandl (Octavian) debauched.'You are, are you not, a gentleman?' Ochs has no choice. 'the engagement is over, from this minute on.' Denoke, with tremendous grace and dignity, emphasises 'QUITE DONE WITH'. Ironically, meaning also her own affair, to the background refrain of the Rosenkavalier waltz theme.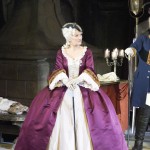 The Marschallin's own gracious resignation is the heart of the opera- her sacrifice ironically misunderstood. She tells Sophie, 'Go to him and tell him what your heart says '. He, Octavian, is the ideal Mannbild. (Did we not rid you of your fiancee? Love is yours once only.) But, confiding to audience, she sings ,'Did I not know it? Did I not vow to take it calmly?'
The Marshallin calls him ; he's lost for words. How flattered the boy must be : 'Have you grown to love him so quickly?' Your pale face answers. She, Sophie's, eternally indebted to her grace. 'Don't talk too much; you're pretty enough!' Your grace is goodness itself. But she, the Marschallin, 'doesn't know anything anymore'. Denoke sings in soliloquy, 'I vowed to love him in the right way …even his love for another.'
In the marvelous trio, Octavian wants to know why he's trembling. But Sophie intuitively knows, 'for that lady gives me him , but keeps something of him'.The boy stands there, and he will be happy with that strange girl – as any man knows how to be happy. So be it.
In this menage-a-trois Sylvia Schwartz is superb. 'It must be a dream that we are together. She faints, weak,'the weak thing that she is': ecstatic, but maybe reacting to the the high drama. The Marschallin retreats:'So hält es so , die junge Leute' (that's the way they are, young people.) The couple are left singing their love to each other, on the one side of the stage. The Marshallin alone ,'Spur nur mich allein'.
The underlying tragedy of this scene, subtle shifts of emotion calibrated in Strauss's score, makes this scene unbearably moving. Strauss's surging music, Hofmannstall's sophisticated libretto, elavates high drama , through opera, to another, sublime level. But, this time, I wasn't reduced to tears. Denoke's Marshallin is a rare experience, expressively sung, as if in camera; Houtzeel very competent, well-acted, but together they didn't quite have that chemistry.
Vienna State Opera Orchestra and Chorus -under the experienced Jeffrey Tate- confirmed they're sans pareil in Richard Strauss.
9.01.2013
Photos: Angela Denoke (The Marshallin) and Stepanie Houtzeel (Octavian) ,Sylvia Schwartz (Sophie) and Stephanie Houtzeel (Octavian); Angela Denoke (Marshallin)
(c) Wiener Staatsoper/Michael Pöhn