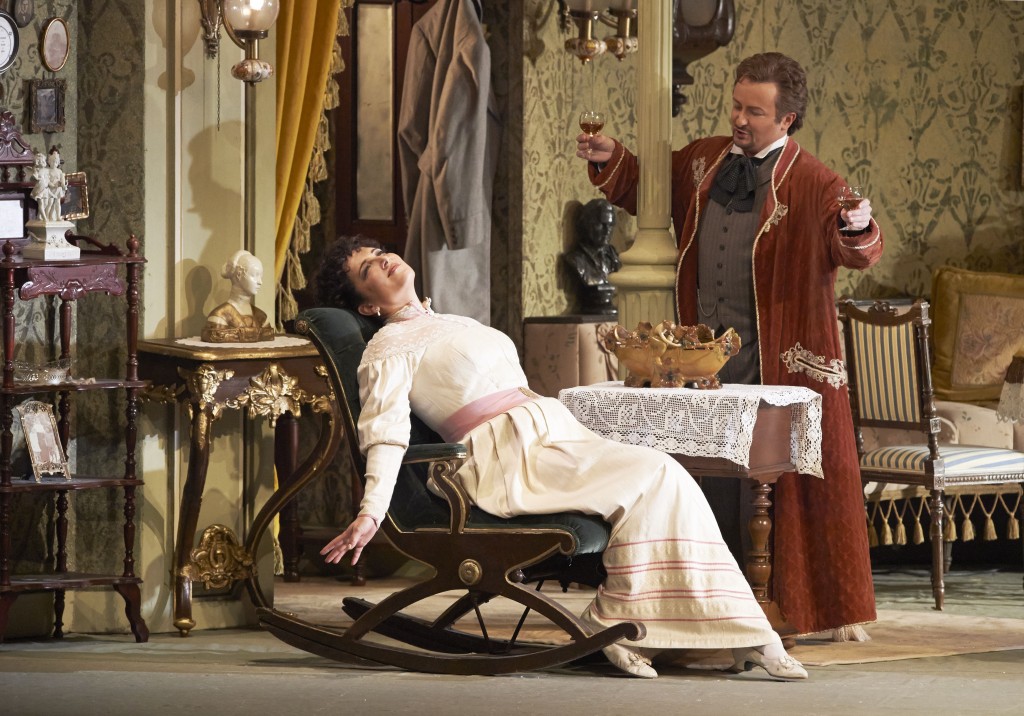 Die Fledermaus is a New Year tradition in Vienna, performed at both Vienna State Opera and Volksoper. In Die Fledermaus, Johann Strauss created a masterpiece that surpasses operetta, as it's unfairly labelled. The overture alone is operatic in its skilful assemby of a wealth of thematic material. And the characters, once you've fathomed the complicated plot, are more than stereotypes.The music is to be enjoyed in itself; but there's more.
This Die Fledermaus at Vienna State Opera ia a classic. Directed by Otto Schenk, it's already had 146 performances in this staging, and is anything but jaded. The sets for each Act are to bewonder, from the opening biedermeier 19th century drawing room all in gold tones. And Vienna State Opera have assembled a star cast, including in -house performers. Ileana Tonca (as the chambermaid Adele) pivoted over a balcony, warbles, bird-like- 'If I were a dove (Taubchen)', then she could fly from this cage. Nature has confined her a chambermaid. Rosalinde (Ildiko Raimondi), lies luxuriantly on a chaise-longue, sings of a scandal. Adele recites her 'Kranke Tante' (sick aunt) story to get the night off, but cut short by her mistress: 'You know my husband is to go to prison for insulting a policeman'.
Rosalinde is surprised by Alfred,'the Tenor', ex-suitor, madly in love with her. 'What if my husband comes in?' Here Alfred is played by Herwig Pecorara, but the role rotates. 'He'll return when she's alone.'
Eisenstein (Austrian -born Marcus Welba, also Staatsoper), a very impressive tenor, sings of 'Schuld', only guilt: 'they're inhuman'. (English readers are irresistibly reminded of Mitchell's 'plebgate' policeman fracas.) 'Calm yourself', interjects Rosalinde, 'it'll be all over in five days'. What can she say to console him. And, ironically, how will she suffer it, his absence. If he appeals, he'll only make a fool of himself.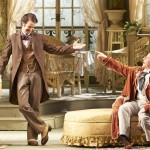 Enter Dr.Falke (Nicholay Borchev), slim, sleek dark-haired, moustachioed, dressed in a dark brown suit. He's the villain of the piece, 'the batman's revenge'. Falke persuades his friend Eisenstein to accept his invitation to Count Orlofski's ball, instead of serving his prison sentence. But it's all a plan to avenge himself on Eisenstein, who publicly humiliated Falke, by getting him drunk at a masked ball: thrown out, dressed as a bat to find his own way home. Falke reminds him of his Fledermaus trick. Borchev has a rich baritone: the two young singers are well balanced.
Rosalinde gives Adele the night off: and has other plans without Eisenstein. But Adele will also go to the ball, to promote her 'actress's' career' . It's these interweaving intrigues that spark the comedy. And the witty dialogue is the fizz in Strauss's musical champagne.
So in their duet Rosalinde sings farewell to the hypocritical Eisenstein, 'Eight days wihout him, how will she stand it!' Then Alfred reappears to console her.'Trinke Liebchen' Lucky is the man…' Theirs is a gorgeous duet, one of Die Fledermaus's most famous. With 'trink mit mir…' Percora hits a virtuoso high note. Raimondi, singing to the audience in asides, is playing with her conscience. Meanwhile, Alfred is esconsed in Eisenstein's favourite armchair ; so relaxed and bored, she rebukes him, he's just like a husband. And mistaken for Eisenstein- to protect Rosalinde's reputation- Alfred's arrested by Frank (Prison Governor), as the music syncopates to Strauss's galloping rhythms.
In the fabulous Ball scene Adele has borrowed her mistress's most beautiful dress and sister Ida introduces her as an actress. Count Orlofki is in drag. Stepanie Houtzell's Count is a tour-de-force, assumedly in on 'the comedy, revenge of a bat'. Adele is introduced as a young ingenue; and Orlofki 'loves actresses'. Houtzell- slim, tall, sleeked back hair, and thin moustache, gender remarkably plausible – breaks into 'her' aria: 'If any one of his guests is bored, he will throw him out, it's his Sitte (custom ). Houtzell has the vitality, the sense of knock-about fun for this comic role. 'The whole thing is, the lovely maid has captured him completely', sing Chorus ironically, (Vienna State Opera Chorus outstanding.)
Eisenstein arrives posing as Marquis Renard, eventually confronts his wife; but she's disguised as a Hungarian countess, a masked fiery redhead. 'So you aren't married', she teases him. Their duet is a musical and comic highlight. Eisenstein is constantly trying to remove her mask; she wants to get his watch, so she can blackmail him. Strauss's rhythm is punctuated by clock-like ticking cymbals. 'He's no idea', repeat the chorus. 'The joke is rather costly'; he loses his watch.
The Countess's 'Hungarian' identity is questioned; Rosalinde almost spits her contempt at her doubters. Ironically, Raimondi is, in fact, Hungarian. Raimondi's aria, extolling her homeland, is the evening's standout. 'Wie Land wo ich so glücklich war!' She attains terrific high notes. 'And when I am far from you…' Huge applause.
The stage revolves from the reception to the magnificent banquetting hall. After Orlofski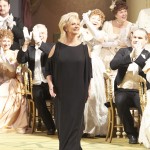 sings 'the story of champagne', he raises a toast,'Bruderlei und Schwesterlei', brothers and sisters, let us be close forever. Houtzell and Chorus in the Du reprise are quite wonderful.
Now the spectacle of the ensemble and ballet troupe performing a fiery polka. The choreography was sensational (Gelinda Dill). They snake out; then collapse . And so whirl into the Fledermaus waltz.
The 3rd Act has long sections of dialogue in wienerisch (the local dialect), incomprehensible even to some Germans. But the libretto is witty. Frosch the jailor (Burghtheater's Peter Simonischeck) is burping drunk, even drops his keys. Cell 12 (Alfred's) keeps breaking into song.
Now Frank, the Prison Governor (Wolfgang Bankl) returns from the Ball (having arrested, he thinks, Eisenstein, in fact Alfred, the tenor). Bankl's staggers around drunk, whistling the Fledermaus waltz. He collapses in Frosch's armchair-with a newspaper over his head. But -no peace- eventually all the characters find their way here. Adele and her sister turn up. Tonca, a sweet, but powerful soprano auditions for the Governor in a virtuoso aria- her 'CV' performance. Bankl joins in. Of course he'll get her trained!
Eisenstein (as the Marquis) arrives . Prisoners are getting classier (in-joke about ex-Minister Strasser). Eisenstein's notary is rebuked: 'An Austrian official is strictly prohibited to accept such small amounts!' Then Alfred (Pecoraro)is unlocked. 'Ich bin Opernsanger in der Staatsoper', insists Herwig Pecoraro; which he is! He's fobbed off by the disbelieving Governor: 'Here's two euros, get youself something with it!'
The farce accelerates, with Eisenstein now dressed as his Notary, even affecting his stammer. 'The situation demands discretion', the whole thing was an accident, nothing happened, protests Rosalinde to her disguised husband- to strains of the waltz theme. 'Her man is a monster, spends all night with young ladies. She'll scratch his eyes out and divorce him!' Eisenstein drops his disguise -to be trumped by his wife, unmasked, brandishing his watch.
In the wonderful comic resolution, 'Oh Fledermaus, release your victim, he's suffered enough!' champagne was to blame. Orlofski adopts Adele, now his 'Sitte'; sings the toast 'Let's praise the King of wine, Champagne!'
Vienna State Opera Orchestra was ably conducted by Stefan Soltesz (once musical assistant to Karajan).The Chorus were spendid and Vienna Staatsoper ensemble- especially Raimondi, Tonka- was ideal; the staging and costumes extravagant, but no way kitsch. Die Fledermaus has to be seen in Vienna! P.R. 1.1.2013
Photos: Alexandra Reinprecht (Rosalinde), Norbert Ernst (Alfred); Nikolay Borchev (Dr.Falke) and Marcus Werba (Eisenstein); Agnes Baltsa (special guest 31.12. 2012)
(c) Wiener Staatsoper/ Michael Poehn