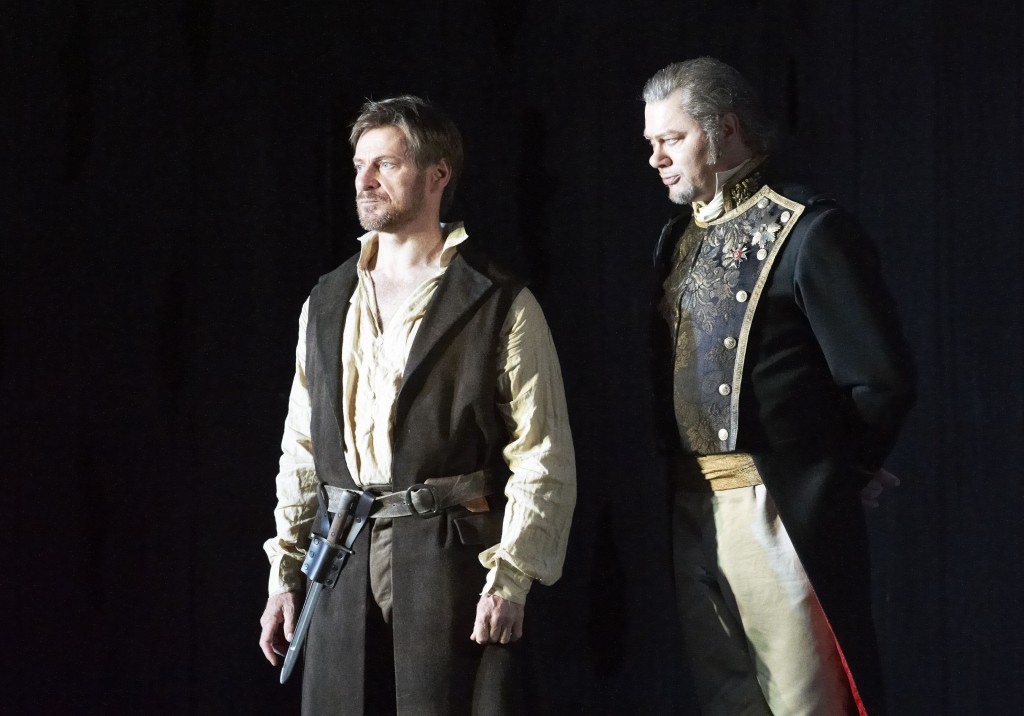 Those expecting Don Carlo the 16th Century costume drama might be disappointed . But Verdi's opera is well served by Vienna State Opera's new production, in spite of the minimalist set. Don Carlo (Ramon Vargas) appears on a near empty stage lamenting 'the great Emperor Charles is dust ; I have lost her', (Elisabeth), married to his father, Philip II. Black-stained wood boards for the side stage, sloping ceiling and sliding side panels; but brilliantly lit as in the brightly coloured gowns for Princess Eboli's Moorish dance scene. Costumes are nineteenth century. The men wear frock coats and high boots, the women long floor-length dresses. Thus the opera is de-historicised , but Verdi's opera is not strict historical narrative. The Verdi imaginative treatment recasts the historical protagonists in his own dramatic scheme. Verdi identifies with the revolt for independence in Flanders – espoused by (Carlo's friend) Rodrigo – as if it were an Italian state fighting off the foreign oppressor (Spanish/ Austrian Hapsburg).
And although titled Don Carlo(s) , the central figure is Philip II. His son Carlo is a rather characterless, undeveloped personality- would-be revolutionary, lover, and a man easily influenced. (Verdi was especially interested in the figure of Philip II- terrible and cruel, but also a tragic figure, defined by inconsolable loneliness, the destiny of the ruler.)
Don Carlo, lacking great arias, is most memorable in duets: with Elisabeth, Eboli, and Rodrigo. Significantly, when in 1867 the earlier French Don Carlos was shortened, the opening love scene in Fontainebleau between Carlos and Elisabeth was cut. So for the Italian Don Carlo the political -historical agenda was sharpened, the French Don Carlos being more in the grand opera tradition.
Verdi, identifying with Schiller's theme of political freedom, inherited the Marquese di Posa (Rodrigo) from Schiller's play. Don Carlo's boyhood friend, the torch bearer of hope, has taken up the cause of politically suppressed Flanders. So when Rodrigo finds Carlo in despair, confessing his love for Elisabeth, Rodrigo urges him to share his grief, and asks Carlo to request the King send him to Flanders; and thus Carlo devote himself to the cause of Flemish independence.
Their pledge of friendship and devotion is a highlight, its stirring theme – 'We die to live, and die together'-recapitulated in their last meeting. Simon Keenlyside (Rodrigo) was deeply impressive in his Vienna State Opera debut, his superb baritone well applauded. Vargas has star quality; a very appealing lyric tenor, technically brilliant, but lacking emotional clout; rather characterless, but perhaps determined by the role. Carlo seems to work as a foil.
Vargas is good in the Act 2 nocturnal garden scene. 'It is you I love, scene of my torment'. Princess Eboli expresses her 'supreme joy' that he loves her. Until Carlo realises it isn't the Queen, Elisabeth. Luciana D'intino's Eboli is outstanding as the passion-filled woman set on revenge. 'Have pity!', she pleads, 'Oh, cruel man'. Eboli, wearing a crimson gown, revealing she's the King's confidante, threatens the deceiving woman: 'Fear my revenge, deceitful sinner; fear the pain, God will punish you'.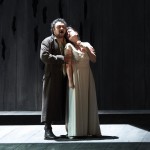 When, in a clandestine meeting, finally alone with Elisabeth, Carlo is unable to conceal his passionate emotions. Vargos's duet with Krassimara Stoyanova is very fine. Dressed in a white silk gown, reminding him of her position, she entreats Carlo not to hope for fulfilment of his love.
The opera's pulse quickens when Rodrige pleads before the King (end Act 1) for Flanders. Verdi's heart is with oppressed people. Keenlyside enthrals as Rodrigo describes Flanders as a desert, with children starving. Verdi's music is impassioned, strings furious and agitated. He is rebuked by Philip (René Pape). His is the rule of the tomb. It works for the rest of his Empire: duty to their King and Spain, enforced by the Inquisition. Yet Philip, impressed by Rodrigo's courage, retains him as personal advisor; but warns, beware the Inquisition.
The Auto-da-Fe, for the execution of heretics, is the opera's most spectacular scene. Philip is confronted by the Flemish delegation. (Carlo's request to be Regent is rejected). In the opening ceremony the chorus extol, repeatedly, 'honour the great King: his name will live eternally'. In counterpoint, the Inquisition warns 'The day of terror is here. They shall die!' Vienna State Opera chorus are superb. Philip is entreated 'Have pity and save our country'.
Now we see a gold panelled portal rear stage, hooded Inquisition guards either side. Philip stands tall – Pape dressed in military blazer and decorations, breeches and high boots. The bodies of the 'heretics' are piled up rear of stage, behind them the hell-fire of the Inquisition.
In 'one of the greatest scenes in musical theatre', Philip sings of heartfelt anguish, 'She has never loved me'. Verdi conveys the suffering of the King, seeking human trust. Verdi humanises the 'tyrant', underlining his loneliness through solo cello. Against plaintive cello, René Pape makes the monologue the high point of the opera. 'Her heart is closed to me'. Philip still remembers Elisabeth, arriving from France, looking sadly at his grey hair. 'My days ebb slowly away, I find no peace. (Where am I? Morning brightens the sky.) If only the Crown could give him the power to see into the hearts of men, godly power! 'She has never loved me', the oboe underscores the refrain.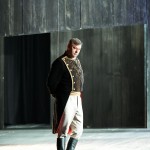 Yet Philip is under pressure from the Inquisition. Seeking the advice of the Grand Inquisitor (Eric Halfvarson), he complains, (Act 3) 'Can a church sacrifice his son?' Philip, who must lose Rodrigo, a true friend in troubled times, is himself accused of the sin of 'innovation'.
Verdi's opera is about the denial of love; for one to love, another must be denied. Elisabeth, victim of Princess Eboli's conspiracy, complains she's no longer treated well at court; her casket of jewels is missing. Philip, finding Carlo's portrait, accuses her of adultery. Elisabeth defiantly proclaims, 'I am Queen of Spain and pure'.
Princess Eboli's confession of her betrayal shows D'intino on tremendous form, admitting she stole the casket. Banished to a convent, 'Never again shall I see the Queen'. D'intino is enormously powerful in her aria, in soliloquy, cursing her beauty ; but praise the heavens, she will save Carlo.
Rodrigo's farewell visit to the imprisoned Carlo is another highlight. Again Keenlyside is excellent. Rodrigo incriminates himself for Carlo's treason, and is stabbed. His last hour has come; he can die knowing Spain lives through Carlo. But, urges Carlo, Save Flanders!
With Act 5's foregrounding of the love story, Stoyanova is very strong, preparing to bid Carlo farewell. Carlo must leave: now he walks the path of fame, 'My days are at an end'. She remembers her youth in Fontainebleau. In their final scene, Carlo, significantly, sings of 'a fire before me, the suffering nation I shall save'. Such commitment makes a man a god, encourages Elisabeth. Their last duet- with strings ebbing like a tide- has some of Verdi's opera's finest music.
Initially I felt cheated by the lack of period finery and costumes. I retract. Daniele Abbado's direction, (Graziano Gregori's minimalist stage conception,) strips away the clutter to focus on Verdi's characters, and their interaction. Verdi had enormous theatrical instincts, argues Welser-Möst, a Verdi enthusiast, whose conducting elicited impassioned playing from Vienna State Opera Orchestra. Vargas's Don Carlo notwithstanding, hard to imagine a better cast, with State Opera Chorus giving it their everything.
29.06.2012
Photos: Simon Keenlyside (Rodrigo, Marquese di Posa) and René Pape (Philip II); Ramon Vargas (Don Carlo) and Krassimara Stoyanova (Elisabeth) ; René Pape (Philip)
(c) Wiener Staatsoper / Michael Pöhn