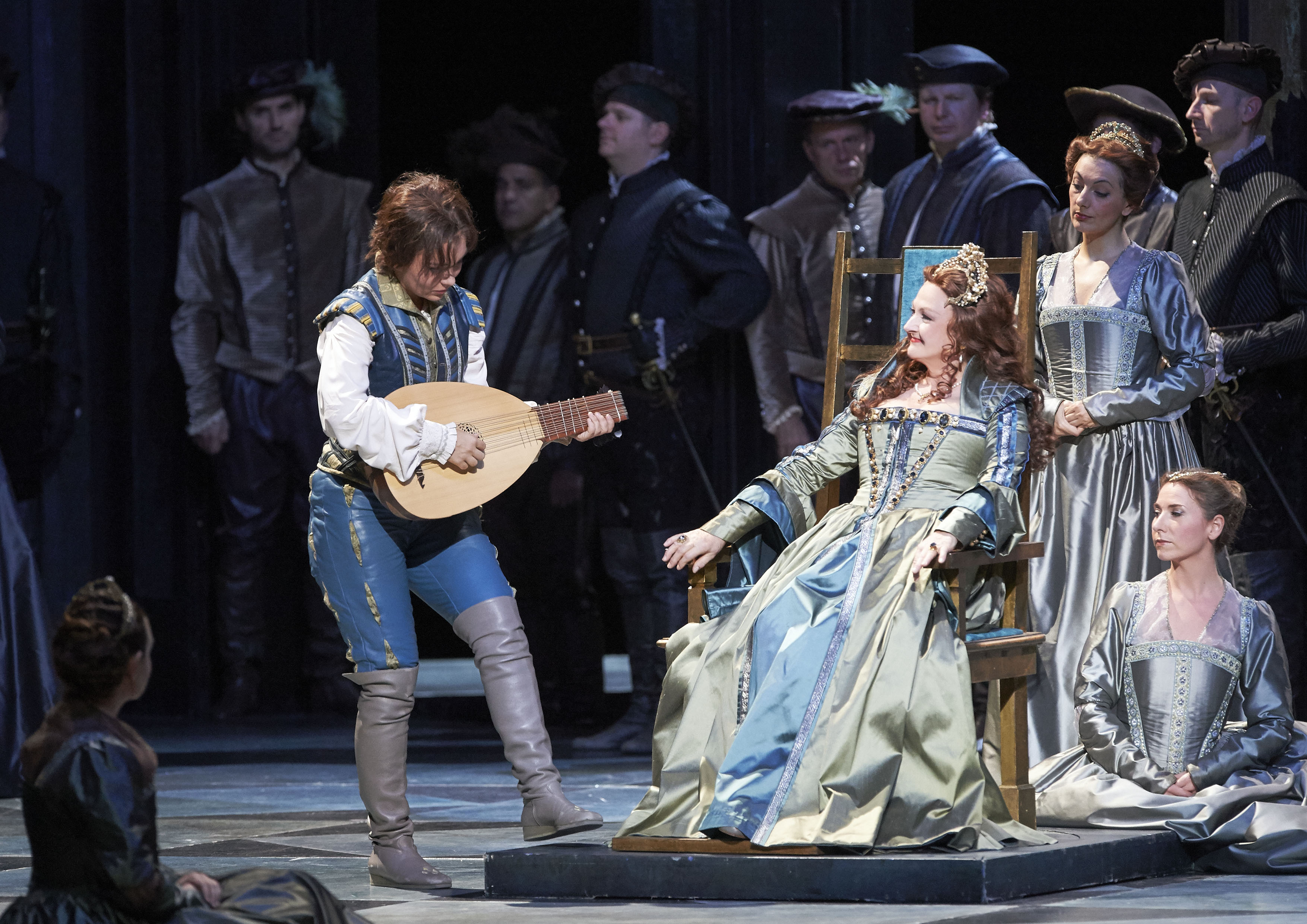 The story of Anne Boleyn, second wife of Henry VIII, is endlessly fascinating. How Henry was so infatuated by her, he broke with Rome , and set up the Church of England , to engineer a divorce (from Catherine of Aragon.) Was it because Anne couldn't bear him a son- only a daughter (to be Elizabeth 1, no less)- that she had to go? Were the revelations of an affair (rather a flirtation) with court musician Smeaton a trumped-up excuse? And the allegation of a 'secret marriage', prior to Henry, with Lord Percy, an attempt , by Henry's advisors, to nullify Henry's marriage to Anne?
Donizetti's opera may be an operatic masterpiece. But, artistic imagination fired, he (and librettist Felice Romani) play fast and loose with 'historical truth'. Whatever the foundation to these amours, Anne's fate, to be imprisoned and beheaded, is a tragedy, which she forbears with great dignity.
Vienna State Opera's Anna Bolena is a handsomely mounted period production, (directed by Eric Génovèse.) The superbly constructed stage set (Jacques Gabel) has stone courtyard and pillars depicting Windsor Castle. The lavishly detailed costumes (Luisa Spinatelli), richly authenticated English Renaissance, would justify a Cecil B de Mille Hollywood film set.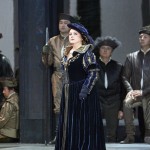 The cast excelled, with Edita Gruberova-a legend in Donizetti bel canto roles- in the title role. But Gruberova, in the first Act, sometimes strained in her top notes, sounded a little shrill. Perhaps she was saving herself for the ever-more demanding second Act, which Anna dominates. Here Gruberova, with her stage charisma, triumphed.
And, close-up, (I was close to the stage), I wondered, is she too old to be in the role of a child-bearing woman? But opera is all about the voice, and, as in theatre, we must suspend belief and banish insolent thoughts. Gruberova is a superb actress, as when (Act 1, scene 3,) she fights with all her will to deflect Percy's advances, he swearing his undying love. (She admits she loves Percy, but rebuffs him, still loyal to Henry.) Here the top notes were a little unstable: the coloratura a roller-coaster ride. Celso Albelo's Percy, handsomely bearded, has a beautifully rich tenor. Henry VIII (Marco Vinco), who has arranged the apparently chance meeting between Percy and Bolena, hopes to catch them out , so he can accuse Anna of adultery.
In Donizetti's opera (Romani's libretto), musician Mark Smeaton (Anna's page) is supposed to have stolen a miniature of Anna, which he tries to return to the Queen's chambers, unnoticed! Smeton (sic), mezzo Margarita Gritskova in a 'trouser role', makes the complex plot still more complicated. Slightly overacted, but 'she' has a boyish face, and the mezzo role is expressively sung. In a potentially farcical situation, Smeton jumps out of hiding , as Percy draws a dagger to kill himself. At which moment Henry enters!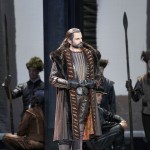 Marco Vinco's Henry (Enrico), is taller than we expect, and, his long hair tied at the back, very elegantly attired in long leather coat and striped tunic. And what stage presence! In contrast to the puerile Smeton, Vinci's Henry, with his formidable bass, exudes authority. And he's very sexy.
Henry holds up the medallion and triumphantly shows it to Anna. She pleads, as if kneeling on a couch, while Henry continues to brandish her locket; then he grabs Anna by the arm and pushes her away. The Queen protests fiercely; ironically, she's been brought down, not by her previous affair with Percy- who's advances she has now rebuffed- but by a boy's infatuation. Gruberova's soprano soars powerfully in the tremendous Act finale, In quegli sguardi impresso . She tries to explain, but Henry will see her in court. Anna! Ai giudici! her last note is almost a shriek of horror.
Anna, now imprisoned-and deprived of her ladies-in-waiting- is visited by Jane (Giovanna) Seymour. Their duet provides one of the greatest scenes in the opera, although Donizetti would have us believe that the astute Queen did not know of Seymour, her lady-in-waiting's, affair with Henry. In her aria,' Oh, all-seeing God, have I deserved all this?' now Gruberova's in simple white silk, adorned against the gold of her crown. Seymour (mezzo Sonia Ganassi) appears pale, trembling. Awful- appalling: can I bring you happiness? The King is prepared to dissolve her marriage. But his message is, if Anna admits her guilt, he will save her life. – You would advise me to do that? – Do you want disgrace and death, counters Seymour. 'Who is the 'miserable woman' Henry loves? She has brought unhappiness on me! May God punish her! Gruberova is formidable, shatteringly powerful. Now 'the traitor' kneels before her. YOU MY RIVAL, YOU MY SEYMOUR!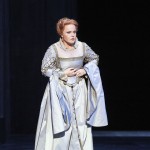 In this emotionally wrought scene, Seymour (Ganassi) sings, she sighs and weeps, but tears cannot quench her love, (Dal mio cor punita io sono). Ganassi, a high-calibre mezzo, is a match even for Gruberova. These two spark each other off: Götterfunken. Heavenly. Now Anna bids her, Go, unhappy woman, and take Boleyn's pardon. She offers her compassion and love. He, Henry alone, is guilty. Outstanding duet!
Henry has told Smeton Anna can only be saved by his testifying to having an affair with the Queen. Smeton commits perjury and unwittingly signs his death sentence. With Henry's discovery that Percy and Anna were previously 'married', the Queen will be convicted of multiple adultery.
Vinco's Henry looks absolutely splendid in white silk, intricately patterned, gold-brocaded. Anne throws herself at his feet: you can kill me, but preserve my royal dignity. Her guilt is in valuing the throne higher than the noble heart of Percy. Her crime was to think there was no greater bliss than being a King's wife.
We see Percy and Lord Rochefort (magnificent bass Speedo Ryan Green) imprisoned in the Tower; although reprieved, they determine to die together with the Queen. Rochefort deserves to die, he sings, because he persuaded Anna to aspire to the throne. Percy counters, Albelo's tenor resplendent, Vivi tu . In their stirring duet, they will defy death. Loudly cheered, the ladies didn't take all the awards.
By contrast, the Ladies choir in Anna's closing scene, sing to a very solemn orchestral accompaniment, who can see the poor tormented woman without weeping. Anna is, as if in a delirium, haunted by her thoughts. Al dolce guidami . Gruberova's voice is fragile, almost breaking. Anna imagines it is her wedding day; and the King awaits her at the altar. Gruberova appears in black, in a doorway, swaying, her ladies grouped around the stage. Anticipating the mad scene in Donizetti's Lucia di Lammermoor, Anne's aria is disjointed. She's dejected, begs forgiveness. What joy! Do not let me die alone…Accompanied by cor anglais, she's now seated on the stage. Harrowing, heart-rending, Gruberova sings with consummate artistry. The voice of a lifetime's experience in opera, especially Donizetti roles. The tumultuous applause seemed inappropriate- to the drama, the private anguish.
Then we hear a drum roll. What is that sound? why are they arousing her from her delirium. … the men are dying on her account, Rochefort, her brother, and Percy (who the King promised to save.) A pizzicato strumming: Smeton, where is his harp? The Chorus repeat, 'Anna, her senses have left her again'. The strings are muffled , 'like the strings of a dying heart'. Anne sings plaintively, Cielo, a' miei lunghi spasimi , heaven release me from my suffering .
Tremolo strings: an upbeat brass fanfare, summoning the execution, sounds like a celebration. The people are greeting their Queen, she sings. But as the King's marriage to Seymour is announced, she calls for heaven's mercy on the guilty couple. Perhaps not the Anne Boleyn, observed by eye-witnesses, who faced her execution with calm dignity, devoutly reciting her prayers.
It is astonishing that Gruberova- in black, with her hair let down; unruly- looks radiantly young again. A great performance has transformed her like alchemy.
Evelino Pidò conducted Vienna State Opera Orchestra and Choirs. © P.R. 23.10.2015
Photos: Edita Gruberova (Anna Bolena) and Margarita Gritskova (Smeton); Edita Gruberova (Anna) ; Marco Vinco (Enrico VIII); Sonia Ganassi (Giovanna Seymour) ; Featured image : Marco Vinco and Sonia Ganassi
© Wiener Staatsoper/ Michael Poehn