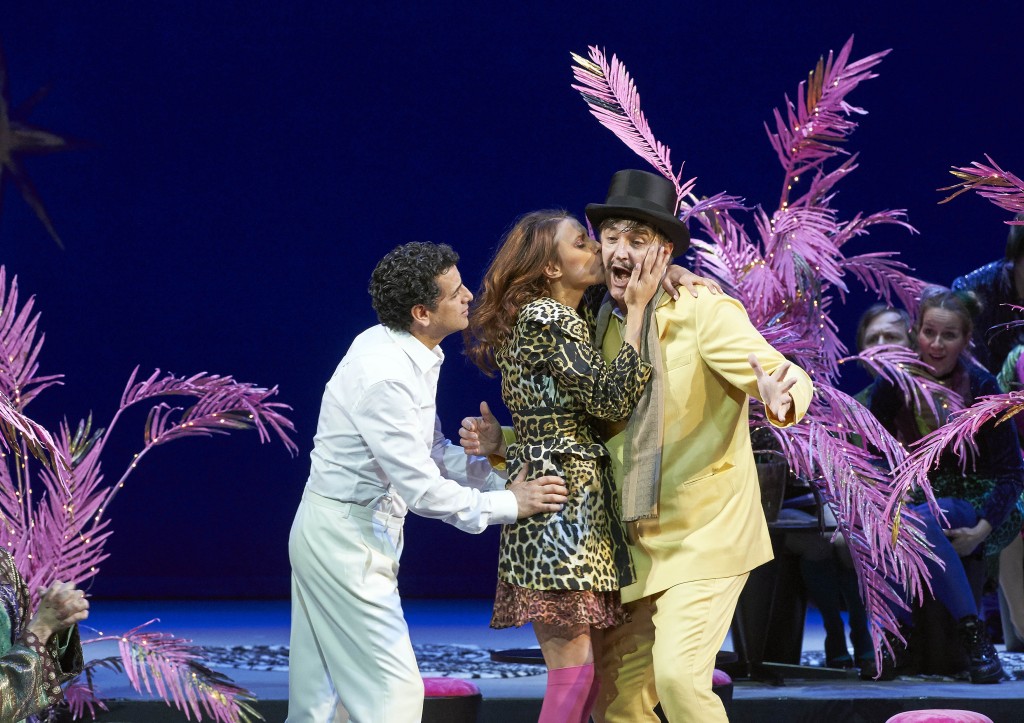 Vienna State Opera's Don Pasquale takes place in a night club. This, according to director Irina Brook, is to make Donizetti's characters more accessible to modern audiences. ( She likes to tell stories in a language that she knows, 'which is today.') But where today do you find larger-than-life characters as Don Pasquale? Isn't the result to make these 'stock figures' less plausible?
And the plot, stock comedy (opera buffa), is complicated enough. Don Pasquale, a rich, old bachelor, wants to marry off his nephew Ernesto for money. But Ernesto rejects the arrangement, prefers the poor 'widow' Norina. Now Pasquale wants to get married himself, and enlists his 'friend' Dr. Malatasta'. But Malatasta, in with Ernesto, contrives a complex scam, wherebye Pasquale marries the disguised Norina in a bogus marriage, to terrorise Pasquale.
Well, in spite of the objections of 'traditionalists' this modern updating works brilliantly. And the success of tonight's production is attributable to the four leads: Michele Pertusi (Pasquale), Juan Diego Flórez (Ernesto) , Alessio Arduini (Malatasta), Valentino Nafornita (Norina). Although the characters derive from Italian improvisational theatre (commedia dell' arte), Donizetti's is more than buffo: "there is a sentimentality in the opera, a depth in the characters that make them capable of suffering" (argues conductor Jesús López-Cobos.)
Setting the scene , while the overture is playing, we see Ernesto and his girl (Norina) stealing in side of stage, Ernesto, (Flórez), taking a drink at the bar of the club (design Noëlle Ginefri-Corbel.) A butler in black deejay tears around frantically like a diminutive Basil Fawlty; and a long-haired drunk is ejected. Don Pasquale (Michele Pertusi) bald, paunchy, appears in a mauve smoking jacket. Pertusi's acclaimed bass isn't stretched vocally, but he's very good as the put-upon comic figure. Dr. Malatasta (Alessio Arduini), tall, bearded , wearing a paisley coat- a wonderfully rich baritone- sings in his aria, (proposing Sofonia/Norina ), 'She's as pure as a lily in the spring.' Meanwhile, he's giving Pasquale – like a whale landed, a blubber of flesh- a massage.
Of the leads, virtuoso tenor Juan Diego Flórez is the real star. In his first aria- driven out by Pasquale, hopes of marrying Norina ruined – sogno soave e casto ', suffers while setting him free'. Flórez, very agile and physical, and with his stupendous tenor, is absolutely right for this serio/comic role. He's an irrepressible bundle of energy.
In the change of scene to Norina's boudoir -a surprise, like a dressmaker's come designer boutique – Valentina Nafornita, in a baroque wig , is being dressed in a lavish blue silk gown, showing off her tall slender legs .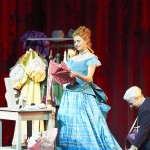 She sings, breathtakingly, in her aria, how she has a thousand ways of winning her man, and will use any trick… Nafornita's soprano effortlessly scales the top notes. She lands up on the sofa with her spinsterish maid. Then she proceeds to strip off layers, revealing herself down to her white bodice, posing like a lingerie model.
Her scene with Malatasta is a triumph, a comic tour-de force. Malatasta (Arduini) arrives to warn Norina of a change in plan: she is to entrap Pasquale, now Ernesto's kicked out. Behind them a rail of outrageously expensive frilly gowns (costumes by Sylvie Martin-Hyszka), which Nafornita (Norina) samples. But Arduini also takes an interest in the dresses, and holding a brilliant yellow creation- trying it on- Arduini, bearded, looks not unlike Conchita Wurst. They, Nafornita and Arduini, strut around the stage as if enacting a cabaret number, planning their next strategy. Donizetti's score, increasingly rhythmic- light and frivolous- increasing in tempo, reminiscent of a Rossini crescendo. Wonderfully idiomatic playing from Vienna State Opera orchestra under veteran Jesús López-Cobos.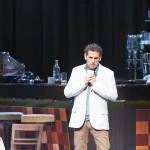 There follows a haunting trumpet solo – one of the most beautiful in all opera- preceding Ernesto's aria. Flórez, pouring a drink at the bar, bemoaning his fate, imagines himself betrayed by Malatasta and Norino. In his soulful lament, he prepares to go into exile (cercherò lontana terra). Cleverly staged, Florez sings accompanied by trumpet player (Gerhard Berndl) -as if in a blues club- playing from the next table.
After a make-over, Pertusi now in a wig, mustard suit and toning scarf, Don Pasquale is presented to 'Sofronia' (supposedly Malatasta's sister.) Nafornita now appears all in black, as if fresh out of a convent, face huddled behind a veil. Pertusi's Pasquale, mutton as lamb, increasingly ridiculous, tries to see behind her veil . Nafornita is quite something, and Pasquale has to be reassured she's game. ('She's incomparably modest, created to make you happy.') Pasquale preens himself, can't wait, feels like a 20 year old again! 'An unaccustomed passion consumes his heart', (he even imagines the kids frolicking) . In the farce, Norina and Malatasta mock the idiotic Pasquale behind his back; besotted, he gullibly submits to a sham wedding sanctioned by a 'notary'.
In Act 2 the bar's had a refit, upholstered in leopard skin prints, the colour scheme candy pink. It looks like a set for La Cage aux Folles : as camp as blazes. There are designer bags all over the place. Sofronia (Norina) had condemned everything as out of date. From convent bride in black pigtails, Nafornita's wearing a cerise glitter jacket, over leopard print, and shocking-pink leggings to match the décor. She's forcing Pasquale into leopard's paws slippers, and he's helpless, stripped down to his underwear. 'A hard lesson' – nothing else will help: the only way to succeed, she sings. He tries to throw her out: 'My poor boy, don't be the tyrant and go to bed; sweet dreams grandpa!' – Divorce! He'll sue for a divorce: no marriage could be worse than this one, he sings. We see her holding him in an arm-lock, suffocating him with her pink boa. But he intercepts her note, a plot arranging a nocturnal rendezvous.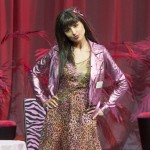 Now the club has been taken over, the chorus in brilliant colours like a pantomime. 'The young bride has it her own way', they sing. For Don Pasquale the pace is too much. E finita. He feels like a walking corpse, he sings. He'd sooner give Ernesto a thousand Norinas…Pertusi's Pasquale, wonderfully enacted, the vain older lover, humiliated by scurrilous youth.
The highlight of the show is Ernesto's serenading Norina, com'è gentil, gorgeously sung by Flórez, lamenting 'How balmy is this April night; everything here is desire.' Flórez is in a brilliant white suit, white scarf, like an Italian crooner – accompanied by a guitar player in black wearing a sombrero. Flórez -posing as if for a photo shoot -received wild applause.
Their duet 'Tell me once again you love me (Tornami a dir che m'ami) is sublime. Nafornita's now in a white, skin-tight raincoat, to match his white suit- but still in punky cerise tights. Such glorious music transcends the tinsel trappings. (Back of stage, surreal blue skies, glitter and feathers everywhere.) And in the farce, Pasquale appears in his mustard suit , waving a miniscule butterfly net, to catch them out. Norina and me under the same roof, never!
So Pasquale finally submits and offers Ernesto a rich dowry. The moral delivered by Norina: an old man who marries a young woman is not quite right in the head; and betokens woes without number. The 'little monkey' (Ernesto) has outwitted them all.
One 'traditionalist' critic rated the staging 'course' -compared to other Donizetti comedies here. If the alternative is stuffy 'period' costumes, I'll go with this. It is over the top, but the high camp stage with pink palms and gold lights brings the comedy into the 20th century: transposing a defunct style (commedia dell' arte) for modern audiences. It's hugely enjoyable, hilariously funny. And neither the witty libretto (Donizetti with Giovanni Ruffini), nor Donizetti's marvellous music have been compromised. P.R. 11.05.2015
Photos: Juan Diego Flórez (Ernesto), Valentina Nafornita (Norina) , Michele Pertusi (Don Pasquale); Valentina Nafornita (Norina); Juan Diego Florez (Ernesto); Valentina Nafornita (Norina/Sofronia). Featured image Alessio Arduini (Malatasta)
(c) Wiener Staatsoper / Michael Pöhn