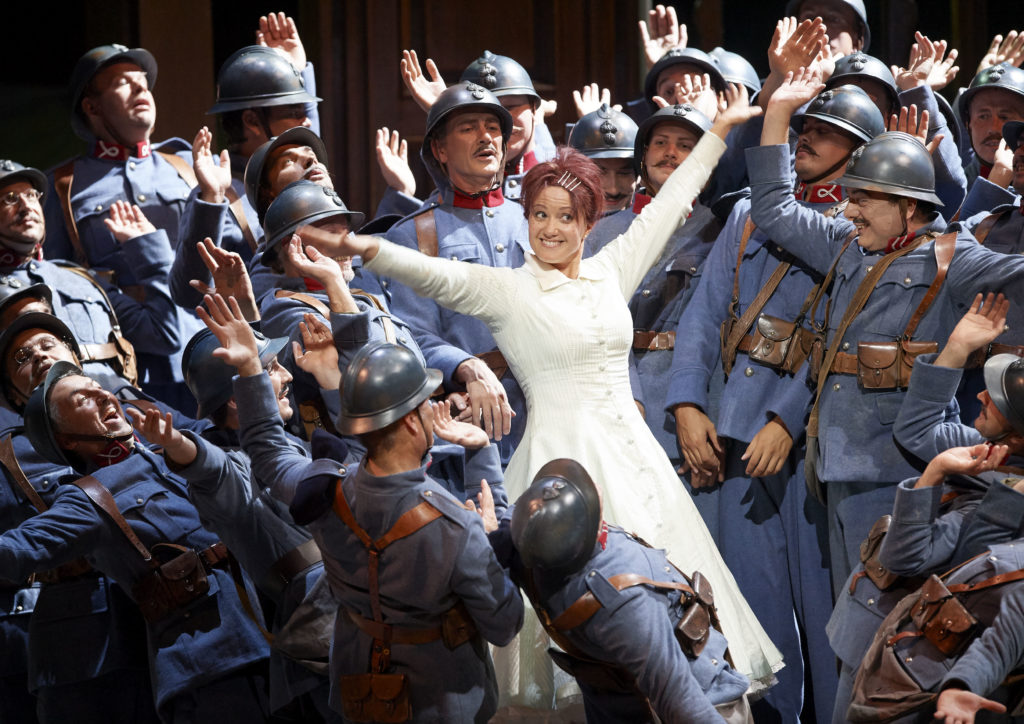 Donizetti's musical genius lay in comedy, as well as (historical) tragedies. La Fille du Régiment , his first opera in French (1840) has catchy melodies, glorious bel canto arias, unforgettable characters, and brilliant comic timing. But the jokes really work when you understand the plot: impossibly complicated, but comedy derives from misunderstandings. It's ostensibly the story of Marie, adopted by a French regiment, but who's in love with Tonio, a Tyrolean partisan. The background is the Napoleonic wars, the Tyrol, where the Marquise of Berkenfield, a Lady Bracknell figure, is surprised by French troops; and as in Oscar Wilde, the comedy hinges on the foundling, product of an affair with a French captain.
In Vienna State Opera's production (director Laurence Pelly, stage Chantal Thomas), there's huge map of the Tyrol on stage, folded into peaks, supposedly 'creating a mountainous landscape'. With he majority of the cast being soldiers, we're supposed to connect with the Napoleonic war, (says the programme.) In fact, the soldier's uniforms are out of World War I; and in the Act 2 finale John Tessier as Tonio enters the stage driving a tank. But Donizetti's is 'opéra-comique'.
In the opening, in a convoy of furniture, peasants armed with pitchforks, pots and pans, the Marquise is fleeing the French advance. Donna Ellen, the veteran Canadian mezzo, adds a touch of class: also humour, in her imposing fur stole, complaining to her long-suffering factotum (Marcus Pelz), how terrible it is for a lady of her standing. 'These people have no respect', repeat the peasant chorus sending her up. She's standing on a chair, over the peasants with their farming tools. Hort confronts Sulpice, the French sergeant, to obtain her safe passage.
There she is struggling under a mountain of washing. Sulpice (Carlos Alvarez) sings Marie's as pretty as an angel and has the heart of a soldier. To a military beat that inflects the whole opera, Marie (Julie Fuchs) sings she was born in the sounds of battle. Au bruit de la guerre, j'ai reçu le jour. The whole regiment is like a father to her. Fuchs like a fierce tomboy, has boyish red hair, wearing a singlet, jeans and boots. Fuchs' light soprano adeptly negotiates the trills of Donizetti's coloratura. With a bucket of spuds, she has an ironing board centre stage; but, sorry, isn't that iron rather modern?
What providence when she, a mere child, came into his, Sulpice's arms, twelve years ago. Sulpice needs to talk to her about her seeing a Tyrolean partisan (Tonio). That's not why they brought her up. Fuchs, the young French soprano, who comes with a very impressive CV , is full of charm, but I wondered if she lacks some power for this feisty role.
John Tessier, as Tonio, appears in traditional Tyrolean costume, culottes et al. When the regiment bring him in, Marie steps in to save him, just as he once saved her. Later, Tessier's aria proposing to her- Pour mon âme, he'd give up everything for her – is very good indeed. A sepia-coloured photo of a happily married couple descends for Marie and Toni's moving duet, Depuis l'instant , (love at first sight).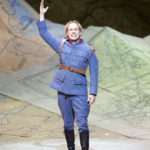 In the complicated plot, Tonio toasts his new friends – they take him with them- and Marie sings the regimental song Chacun le sait, le beau vingt-et-unième. RAT-A-PLAN. Tessier now in uniform- she'll only marry a soldier from the 21st- sings , Quel jour de fête, (happy day to be under the flag.) Tessier is a handsome blonde Canadian, clean-cut, with a fresh, light tenor, that is up to Donizetti's demanding score. One of the highlights of the evening.
But they want to take her away from him. It turns out that the Marquise of Berkenfield is the regiment's girl's aunt, and she's determined to give her a proper education. Marie has to leave her regiment and her lover. Marie's aria Il faut partir, accompanied by mournful cor anglais, is deeply felt, emotional-surely an influence on Verdi. In Marie' farewell to her simple life, her 'collective father', Fuchs has both charm and technical mastery of tricky high runs.
So far, so worthy, but rather dull. Act 2, in the Birkenfeld's castle is anything but. The stage is palatial, luxurious, an oak-lined drawing room. There we observe a choreographed cleaning ritual, the servants like marionettes, rigorously directed. One servant even crosses the orchestral pit to dust the rostrum.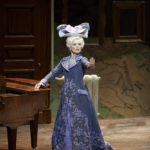 The Duchess of Crakentorp is Ildikó Raimondi, the surprise and sensation of the evening. The diva appears in a glamorous lime gown, wearing a hat in silver like a boat. La-di-da, she sings, as if improvising. Away with Donizetti, and all those composers. Raimondi holds the stage like a cabaret artiste. 'Give me the oom-pa-pah, When I want a melody… Then I want a melody by Strauss- Just give me your oom-pa-pah.' But, hang on, isn't this 'By Strauss', by Ella Fitzgerald, out of the 2oth century?
Now as Marie, Fuchs wears a pure white dress, prim and proper. She's having music lessons, supervised by her aunt Birkenfeld (Ellen), and singing about Aphrodite, and the goddess of love Venus. Meanwhile Sulpice is subverting the lesson by getting her to sing the regimental anthem Rat-a-plan . Ellen, Her music teacher, painfully pulls her by the ear.
In this artificial world of etiquette, Marie yearns for the simple life, Par le rang et par l'opulence , 'an aria in the Italian form', accompanied by the cello, underlines the deep emotion. Fuchs in the coloratura has lots of trills; she's not that powerful, but sings rather tenderly , she'd give her life to touch his hand. What good is all this wealth.
Amongst the Act 2 highlights, are the trio for Marie, Tonio, and Sulpice Tous les trois réunis, after the regiment, with Tonio, burst into the castle. When Tonio asks the Marquise for Marie's hand, she refuses. Then, for the Marquise's pre-arranged marriage, there's a remarkably choreographed scene in which the wedding arrive guests arrive – decrepit, ghost like- as if out of a vampire movie.
Tessier is outstanding in Tonio's aria. He'd enrolled so he could be close to her; sings he would surely die if Marie no longer loved him and married for riches.
Sulpice tells Marie the secrets of her birth, so she won't refuse Tonio. All the soldiers led by Tonio, actually driving a tank, come crashing in, Au sécours de notre fille!
This leads, tempo winding up like clockwork, to Marie's repeat of the cabaletta, Salut à la France !, in all its fervour- an unofficial French national anthem under Napoleon III. It's a vehicle providing the soprano with numerous opportunities to show off her virtuosity. Fuchs had the vocal range, but somehow lacked the fiery personality and gutsy power.
Raimondi's Duchess of Crakentorp emits a strident scream, in a pique of rage, storming out after the Marquise agrees to let Marie marry Tonio. She will not sacrifice her daughter's happiness.
Tessier, repeating his success, was ideally cast as Tonio. The whole cast was exceptional, especially the cameo roles, the ladies Ellen and Raimondi. Evelino Pidò conducted Vienna State Opera orchestra with spirit and elan, Staatsoper chorus, dominating the stage, on magnificent form.© PR. 19.09.2016
Photos: Julie Fuchs( Marie); John Tessier (Tonio); Ildiko Raimondi (Duchess of Crakentorp)
© Wiener-Staatsoper/ Michael Pöhn