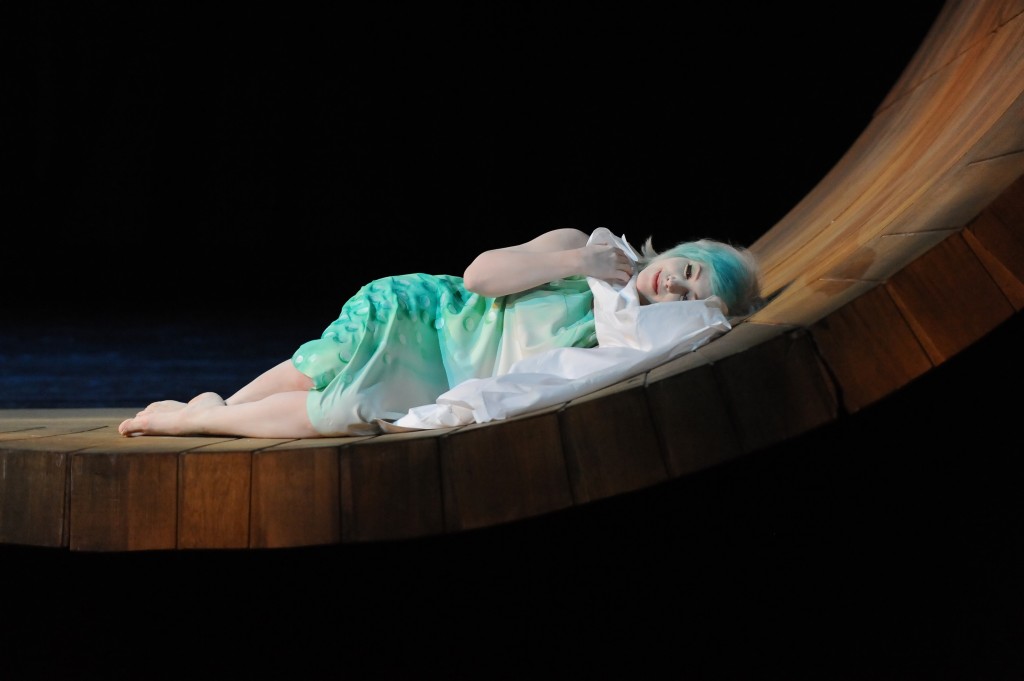 In Vienna Volksoper's Rusalka the safety curtain shows boxes of semi-nude maidens -reminiscent of the iconic, semi-pornographic Led Zepellin album cover. Superimposed, a picture frame is illuminated depicting a girl on a bunk bed . Rusalka climbs a ladder out to find herself in a wood. Stage curtain lifts on the spectacular creation of a lake, foregrounded by a huge tree, with twisted roots. But the 'water sprites' could be in a school play or outward bound; and they're half naked with glittery hats, hair pieces,and leggings. The 'Water Goblin' emerges as if out of the lake, framed by a mirror that folds compactly back into the stage, to suggest his magical powers.
As Rusalka, Kristiane Kaiser, brings a charm, lightness, a wondrous quality. A moon floats by, with ridiculous orange lights above it. Rusalka sings her 'Song to the Moon' asking it to tell the Prince of her love. Kaiser is very pleasant, but in the celebrated moon aria-the opera's most popular excerpt-she doesn't inspire in what should be a highlight. However, as Goblin, Bass Dimitri Ivashenko , silver-haired, and dressed in a sort of Turkish dressing gown, is very impressive, the balast to the cast.
Now black gnome- like toadstools come alive in Rusalka's visit to the witch Jezibaba. A plethora of stage lights errupt, and the tree's huge trunk is lit up in concentric bands. The gnomes disappear under its oak platform as Rusalka drinks the magic potion.The Prince, out hunting, finds Rusalka, who agrees to be 'transformed'. But she's accursed. Vincent Schirmacher's Prince hits the right notes. They kiss! Schirmacher, young, black-haired, was popular with the audience; but he lacks charisma.
The problem with (Andre Barbe's) Vienna Volksoper production is that we are so dazzled by all the glitter and bemused by the quirky sets. We don't have any sense of the underlying tragic dimension. So opening Act 2, some bright green bins are being serviced by dustmen with matching green aprons. Are they wurzels ,or wombles? They're supposed to be the game keeper and his kitchen boy. But they're picking up black garbage bags (clearing up after tourists?)
Oh, dear! The Prince sails by in a modern speed boat. He's wearing a Henley striped blazer,with white shorts,and a gold party hat for crown. Accompanied by a 'foreign Princess', he's in fine voice. Rusalka, kneeling, dowdily dressed, is scorned by the jealous Foreign Princess (Ursula Pfitzner), who's wearing a lustrous orange dress with absurd (Claira Bow) print. Pfitzner's high notes are strained. But I can't really take this as seriously as Dvorak's music deserves. And the orchestra' strings, under-nourished, are scratching.
For the Prince's marriage reception, exotically dressed dancers pose front of stage in black and gold outfits, with bright orange wigs. The waiters are like walking cake trolleys. No wonder Rusalka, in her dull gigham frock, is dumb and bemused.
The highlight of Act 2 is the Water Goblin's number -beautifully sung by Ivashenko- spoilt, however, by a firework display over the lake. Distraught Rusalka, bemoaning the Prince's unfaithfulness, is also movingly sung. (She's cursed to be mute and nameless; and if betrayed by the Prince , eternally damned). As Rusalka is consoled by her Water Goblin father, the Prince and Foreign Princess sail off in that speed boat.
So far it' a case of overkill: overwhelming stage effects and silly costumes. Either you develop on the opera's fairy tale qualities, the magical charm , in a 'traditional' production. Or update Dvorak's opera in a high -tech production, making the magic credible, with special effects (Lord of the Rings).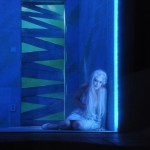 The opening of Act 3, however, is effective : a vision of an underground hell. The safety curtain projects women confined in cell-like boxes, like animal coops. This is the fate predicted for Rusalka. The curtain lifts to reveal Rusalka and the witch; beneath curved stage, black bin bags strewn with trash. Jezibaba (Alexandra Kloose) is in strong voice. But the black object she is playing with- which I thought was a mobile phone- is supposed to be the dagger she offers to Rusalka. The Water Goblin- rising out of the lake's magical mirror- is again impressive, swearing vengeance on mankind, the Prince having betrayed Rusalka. The Prince's reappearance at the lake , searching for his white doe, but sensing Rusalka, is also effective. Rusalka floats out of a blue expanse, in gossamer shroud. The Prince invites her kiss – knowing it means death and damnation for them. But releasing his soul, she returns to the depths of the lake as a demon of death. Schirmacher's tenor is adequate, but he's rather characterless in the role. Outfits didn't help. A hunter wearing a tennis outfit- white slipover and trousers- doesn't tally. As Rusalka, Kaiser is affecting, but her soprano lacks power (for the role).
Vienna Volksoper Orchestra are capable of better, in Dvorak' impassioned music. Was it the conductor, Alfred Eschwe? The Orchestra has some excellent soloists , especially woodwind -flutes, piccolo,bassoon; also brass and horns. Problematic was some of the ensemble playing. And the strings were thin and a little grating.
Magnificent music, a unique opera that is full of charm and enchantment, but Rusalka must be played seriously. This Wizard of Oz/ Alice in Wonderland mix is often risible. Like a pantomine where anything goes. Perhaps a traditional set is needed, evoking Bohemia's natural beauty, the inspiration for its folklore, and Dvorak's music.
9.03.2012
Photos Kristiane Kaiser (Rusalka). Copyright: Dimo Dimov/ Volksoper