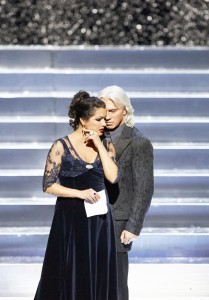 This had to be the operatic event of the year: Eugen Onegin sung by Dmitri Hvorostovsky, leading a largely Russian cast, with Anna Netrebko as Tatyana. And wunderkind Andris Nelsons, passionate about Tchaikovsky, conducted Vienna State Opera and Chorus. The minimalist sets are passable, unobtrusive, decorative, rather than provocative, like the constantly falling synthetic snow.
Opening scene, the widowed Larina and her childhood friend sing about disappointed hopes, how their habits and customs substitute for failed happiness. (Larina's was an 'arranged' marriage -she felt alienated but accepted her fate). Larina has two daughters, the lively, outgoing Olga (Alisa Kolosova), and the reserved, bookish Tatyana (Anna Netrebko), Olga being engaged to the impassioned young poet Lenski (Dmitry Korchak). The peace of this sleepy, provincial landed estate -at harvest time- is exploded by the visit of Lenski's friend, the sophisticated, city bred Onegin (Hvorostovsky), a free spirit, who defies their conventions; and with tragic consequences. He's restless, subject to melancholy, always 'bored'. Boredom –l'ennui, as in Baudelaire, a sickness of the soul- is the defining sentiment; and to which Tatanya is also prone. (This, the 1890s was the time of aestheticism- late 'Victorian' artists, and writers' reaction against narrow-minded , bourgeois conventionalism- inhibiting freethought, spiritual enlightenment and happiness.) And Onegin defies social convention.
We first see Tatyana lying languidly on a bench, Netrebko exuding sensuality in a low-cut patterned dress. While Olga effuses, at least her man loves her. (Behind them, men in blue outfits do acrobatics- Cossack jumps: sensational, but is it necessary? ) Olga (Kolosova) in a bright red blouse, long, poppy-patterned skirt, sings she's without a care; and -tying up her sister's long hair- of when young love is happy. Tatyana, however, sings passionately, of how the poor suffer.
Lenski and Onegin bound in. The 'foursome' on Onegin's first visit is well choreographed. Korchak's Lenski is dark haired, good-looking; Hvorostovsky's Onegin, with long silver hair, has an insolent, boyish swagger. Lenski loves Olga with 'the mad soul of a poet'. Olga and Lenski sing, their love is 'eternal'; Lenski, his soul will burn in love. Meanwhile the elegance and social superiority of Onegin deeply impresses Tatyana . Hvorostovsky's baritone has tremendous depth and grace. In their duet he sings movingly of his father: asks Tatyana, 'when you're in the garden, what do you dream?' He's the hero of her romantic novels come alive. Netrebko's Tatyana is exquisitely sung, but not quite convincing as the 'innocent'.
Tatyana sits (in a white silk smock) on an illuminated futon: can't sleep. She's bored, will speak with her Amma. (What should we talk about? She's already old. How did she get married? It was God's will.) 'You look unwell , my child.' She's not sick! She's in love! Leave me! Give me pen and paper.

Tatyana (in the letter scene) tosses and turns, discards her fur bed cover. Netrebko has to kneel at an absurdly low table, her 'desk'. (Formidable soprano, yes, but, sorry, she's no great actress.) How to begin? She's lost. She's incapable of overcoming her emotions. Whatever happens will: she'll confess to him. She's found a 'soul mate'- would give her heart to no one else. Her whole being has changed. His voice resonates in her soul. Between demonstrative gestures, Netrebko returns to that ridiculously low table of books.'Who are you really, an angel of mercy or a seducer? Cast away my doubts'. She's alone, no one understands her. Netrebko hits all the right notes, but it didn't move me. She throws up her hands- sweeps away her books. It's rather contrived, juvenile, going through the motions. There's a long pause for her applause , as if end of Act.
Hvorostovsky -against a background of girls throwing snowballs- asks why has she bared her soul. She has awakened feelings in him, but he loves her 'like a brother', wants only a respectful relationship. How agonising! He'd choose no other, but happiness is alien to him. Their marriage would be a torment- and all those years lost! He can't change his ways. Oh! has he disappointed her youthful fantasies? Hvorostovsky suits Onegin's dashing dandy: arrogant, conceited, and very well sung. 'She'll learn to get over it.' Meeting Tatyana, Onegin's reply deflates, disappoints, humiliates.
Act 2 (Tatyana's house ball) it's party time – a night club, as if around an ice rink, with suspended neon strips. Ridiculous somersaults; some are crawling; now they are waltzing (Tchaikovsky's famous Polonaise).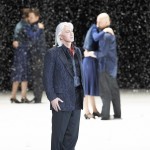 Netrebko is in a short, tight white dress- watch that figure, darling! Onegin, visiting at Lenski's invitation- extravagantly mannered- repeatedly dances with Olga, flattering her coquettishness, and enraging Lenski's jealousy before the guests. How cruel she (Olga) is to him. 'They've only chatted' insists Onegin'. Lenski, to Onegin, 'You're no longer my friend; I despise you'. Hvorostovsky's Onegin, laughingly takes him in hand, his 'We've done nothing wrong' is nevertheless, patronising. But Lenski feels insulted, falls on his knees to Olga's mother, remembering his family visits.
'Life is no novel; friendship is empty. Men's blood is hot,' sings Lenski bitterly. He loves Olga, whom he compares to an angel. Lenski's nostalgic aria, as if anticipating his cruel fate, is a highlight. 'Where have they gone, the golden years of his youth? What will the next day bring?' But everything is pre-determined by a higher order. He knows his fate: the world will forget this young poet. Ah, Olga, he, her husband, loved her. Then, to a mournful horn accompaniment, the refrain, where have the years disappeared. In this wonderful aria, comparable to Verdi, Korchak's superb tenor won deservedly huge applause. Couldn't they peacefully separate? But the fatal duel, though unwished, is irreversible.
In (Act 3) Fate determines Onegin will meet Tatyana, Onegin invited to his friend Gremin's Ball. Hvorostovsky, in glamorous deejay, rather sexy laddish movements, sings of his boredom, of aimless years. Life was a joke. He's returned. Is that really Tatyana? (Netrebko is wrapped in expensive furs.) Onegin is taken aback, by Gremin's introduction to Tatyana: his wife, married for years.
Gremin (Sorin Coliban's rich bass) sings lyrically of love experienced by every generation. He loves Tatyana immeasurably: she's 'like a ray of sunshine in the rain'.
Netrebko trails a gold-brocaded gown, with a black fur collar. Her hair is now coiffed, short. Is that the same Tatyana? They've 'already met once.'
Hvorostovsky proclaims, in his aria, 'No doubt! He's in love.' Love was his downfall. Hvorostovsky, imp-like, almost laughs to the audience.
Writing his letter to Tatyana, Hvorostovsky is in bright red, the stage dark, blacked-out. At their arranged meeting, Onegin sings, 'Oh, what misery', Hvorostovsky, now in black, to arouse her passion once again, gets on is knees. 'Enough! Get up!' She must be open with him. Tatyana- Netrebko commanding, very impressive- was 'younger then, and more beautiful'. For him, loving a woman was nothing new. 'Why are you looking at me like that?' Her man (Gremin) was wounded in the war. The scandal..! She hands him his letter back.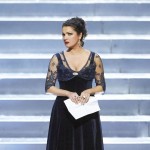 Ironically, Onegin asks, if she knows what it's like to be in love.' He weeps. Does she? Then their duet,'Happiness was possible, then.' She melts. They repeatedly sing the refrain 'Happiness was possible…' But Fate is already decided. 'Leave now!' Then she retracts, 'don't leave!' Onegin thinks he's heard the Tatyana of old. Their love is a gift from heaven, chosen by fate; she can't reject him. She pushes herself away. Now for him, the shame of repudiation. Onegin bemoans, how pitiless, wretched.
Netrebko was -as my neighbour put it- 'too cool', best as the mature Tatyana. Hvrostovsky, ideal as the extrovert Onegin, but perhaps the melancholy was lacking. Kurchak was outstanding as Lenski. Nelsons' conducting inspired Vienna State Opera Orchestra and Chorus in Tchaikovsky's impassioned, glorious score.
P.R.22.04.2013
Photos: Dmitri Hvorostovsky (Onegin) and Anna Netrebko (Tatyana); Anna Netrebko (Tatyana); Dmitri Hvorostovsky (Onegin); Anna Netrebko (Tatyana)
(c) Wiener Staatsoper/Michael Poehn