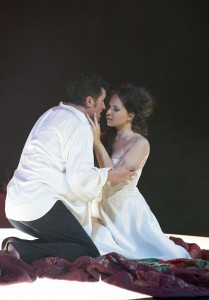 Gounod's Romeo et Juliette at Vienna State Opera has everything to offer as opera performance. Placido Domingo, an operatic legend, here the conductor, inspired incisive, but passionate playing. Of a solid ensemble, the title roles are excellent and ideally matched. Piotr Beczala is a world renowned tenor, and Sonya Yoncheva is already being hailed as 'a new star in the operatic firmament' (Kurier), praised for her beautiful timbre, perfect register, radiant high notes.
The staging is spectacular, (Jurgen Flimm's production) looks good from the opening Prologue, with the Choir facing us in red, relating the sad tale, with silver coffins left of stage. The Capulets Ball, well choreographed, is staged as modern fancy dress, predominantly red and black outfits, with flash cameras going off ON STAGE (not off), and a bank of hi-tech lighting. Juliette (Yoncheva) makes a sensational entrance , discarding her trailing white cloak to reveal a slinky black one-piece- as she flicks her remote control to start the firework display.
It's got the lot. The problem, for me, is Gounod's music: from the Overture, sometimes syrupy and unctuous, rhetorical, bombastic. Like Victorian 19th Century art, gilded but over-decorative, as biedermeier furniture. Like over- indulging on a torte, layers of cream, over-sweet.
So Mercutio's dream, a pre-sentiment- in Shakespeare the brilliant Queen Mab speech- all sounds very sedate in Gounod's rich 19th century heavy sauce. No mercurial lightness.
Just look at that! A radiant beauty, divine treasure. Never bedore has he, Romeo, known such beauty, (observes Romeo of Juliette). Piotr Beczala lays it on thick. It's not inappropriate that Domingo is the conductor. He, Beczala, belongs in that stable of thoroughbreds.
Juliette, in her aria, dreams of marriage: declaims 'Let my soul have its springtime', wishes to live in the enthralling dream that envelopes her. The stage resembles a sundial in blue light, floating down a sea of red petals, covering the stage floor. She's dancing alone with the masked figure, in red frock coat, now her lover. The search-lights in the background are like a rock concert's . Their duet, however, is in the grand French opera tradition. Pleasant though it is, it's somehow unmemorable, a little over-sweet. Beczala and Yoncheva , however, are a couple. Tybalt (Dimitrios Flemotomus) in a claret suit- a red-hot talent- recognises, and sees off, Romeo the enemy Montague. 'So that is Romeo!' realises Juliette.
Romeo sings, bemoans, 'What anguish!' Be patient, he's cautioned.(The scene cleverly fades out, with the ball ensemble centre stage, as Juliette is being dressed for bed.)
Super staging (Patrick Woodroffe): the star-spangled night is suggested by micro-red dots and blue spotlights for the sky. Juliette lies on a white crescent, splattered with paintbox colours. (Romeo, oh night shelter me !). Romeo sees the light from a window: sings how love has conquered him completely. 'Sun arise to let the stars and firmament fade away.' It's not Shakespeare. Nor 'She loosens a lock of her hair …how beautiful she is.' (Not my translation!)
However faithful Gounod and Halevy (libretto) may have tried to be to Shakespeare, the poetry- if there is any – is in the music. Romeo's aria, superbly delivered by Piotr Beczala, was well applauded.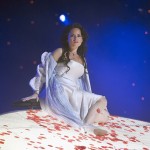 Juliette, sitting on the crescent (her window) : if he could see her blushes he'd know the colour of her heart. But now she believes him, and will trust her honour to him. The night's indiscreet veil has revealed her secret.- He pledges his word, by God. They clinch. Beczala and Yonsheva are wonderful together, both completely identified with their roles. While (ballroom) couples are close- dancing main stage, she promises her life to him. (Effectively staged, the Capulets- alerted to the Montagues in their grounds- are brandishing baseball bats.)
Act 3 (after the interval) opens with Friar Laurent's 'secret' wedding. It's not for us to criticise the adaptation of a play into a musical medium. But Gounod had to marry his lovers early. No pre-nuptial sex, given the all-powerful Catholic Church in 19th century France. So it's typical of Gounod's opera to devote an inordinate time to this long (and boring) ceremony. Yet in Shakespeare, it was a simple affair, Friar Lawrence being an 'alternative' preacher or faithhealer?
The high drama of Mercutio's, then Tybalt's death, comes after. The action is very well handled. The Capulets, in camel coats and red scarves are provoked by Mercutio. (How dare this clown disturb them?). Romeo's in a black biker jacket, his mob blue-scarved. Tybalt's 'the mod' in a DB bronze two-tone suit.Tybalt removes his jacket, fanning it like a matador. Mercutio falls, but fatally wounded. 'Tybalt, you are the only coward here,' challenges Romeo. Beczala, both vocally and dramatically, is superlative.
Now, tremendously staged, on the left lies Tybalt front stage, ranks of Capulets behind- with Mercutio right stage, the stage divided between the respective clans. The Doge (Prince) arrives leading dignitaries. His nephew Tybalt was killed by Romeo. Justice! Here Gounod makes the humanist message for conciliation, which in Shakespeare (and Berlioz) closes for emphasis. 'More blood can nothing extinguish. Will nothing stop you?' Law decrees the death penalty, but he exiles Romeo. (Romeo sings of his unjust fate: hope, blood and tears.)
So now to Romeo and Juliette, in bed and married. Thus, in this depiction, their love making can be uninhibited. (Oh bridal night, this night of love.) Their body language is synchronised, Beczala and Yoncheva have a certain chemistry. 'The lark already heralds the dawn, but he still hears the nightingale, love's beckoner.' They are locked together, they tumble, rolling almost into the pit. It's a moving scene, very sensual and very powerful. Yoncheva's 'Farewell, I'm yours, entrust him to heaven' especially moving.
Incongruously, the Nurse exclaims, 'Juliette, thank goodness your husband has left!' But, it was Tybalt's last wish she marry the husband of his choice, friend and kinsman Paris. So Juliette's only a pawn in this patriarchy. Juliette complains to Father Laurent, the situation is his fault, in obeying him to get married. She casts off her wedding outfit. Laurent (Dan Dumitrescu, very warm and sympathetic) persuades her to drink a potion so she'll appear dead- then flee with her husband.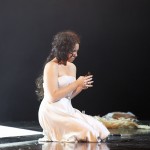 Juliette's aria anguishes over whether to drink the potion: imagines seeing Tybalt's ghost. And what if Romeo were to wake before her? Yoncheva enraptures, captivates, especially in pianissimo, with enormous power in reserve for astonishingly high notes.
'C'est la scene'-Romeo goes straight to the grave. (We adroitly bypass Shakespeare's plot complications.) So unbeknown, seeing her laid out, he drinks the poison to join her. 'Our fathers have hearts of stone,' bewails Romeo. Now the set is black and white, just a few bright spotlights in the firmament. They're both dying, laid out front of stage, reach out touching, then interlocked. They rise, the heavens open up with the 'stars' parting. Thus Gounod gives precedence to the 'romance' of French grand opera- over the moral of conciliation. Romeo and Juliette had to be sacrificed for the warring parties to settle family feuds. But the Doge's message ('Oh, day of sadness -you come too late') is buried in Gounod's 3rd Act.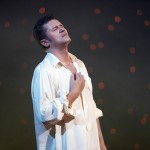 However, the Vienna audience, were too busy cheering the performances of Beczala and Yoncheva, who took their applause together, hugging each other. As opera experience this was unforgettable. Domingo's conducting motivated bravura playing and singing from Vienna State Opera Orchestra and Chorus. But for me it's rather vacuous, Gounod's well-crafted music is superficial, overpadded- like the furniture of the period. PR. 25.06.2013
Photos: Piotr Beczala (Romeo) and Sonya Yoncheva (Juliette); Sonya Yoncheva (Juliette); Piotr Beczala (Romeo); featured image Sonya Yoncheva
(c) Wiener Staatsoper/ Michael Pohn