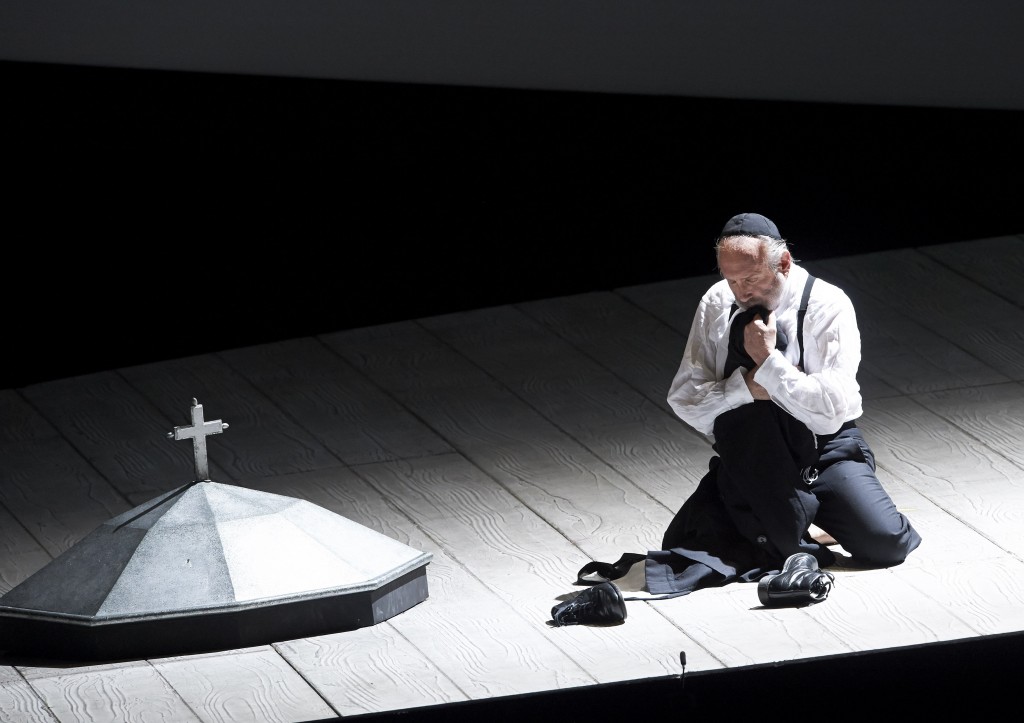 Halévy's La Juive (1835), in its melodramatic plot depicting Jewish goldsmith Eléazar and his daughter Rachel, attests to the anti-Semitism prevailing in 19th century Europe. In spite of French Jew Halévy's sympathetic account of Jewish life, it's as if these Jews must be doomed to a horrific ending. And Halévy's opera was located in 15th century Constance, perhaps not to offend 19th society's sensibilities. It is a shocking irony that nearly two centuries on- after the Holocaust –La Juive is no less relevant.
The set, at first a grid of black/white window panels, promised something radical. Men's chorus in cream jackets and shorts, black and white braided hats, show off their legs and quaint socks; they looked ridiculous waving little white flags. Behind them women in brilliant white frilly dresses-like a (Persil) washing powder ad. But they are stylised, caricatures of bourgeois self-righteous believers. Prince Léopold has defeated the Hussites, and Mayor Ruggerio (Gabriel Bermudez) has decreed everybody celebrate. But not the Jew Eléazar. Bermudez hears loud clinking from Eléazar's jewellers. He will be punished.
'What do you want of my life?' Neil Shicoff's Eléazar, grey-bearded, formal black suit, white shirt, wearing a coppel, is the archetypal Jew. Since (director Günter Krämer's) La Juive premiered in 1999 at Vienna State Opera, Shicoff has made Eléazar his life's role, personalising the gait, mannerisms and vocal intonation. 'Jew, you should be put to death!' threatens the Mayor. His execution will be a double attraction for the festivities. 'I am a son of Israel, so I do not obey Christian laws.' He's defiant: his innocent sons died, burned at the stake. Shicoff, after severe laryngitis, is back on form.
Cardinal Brogni (Dan Paul Dumitrescu, physically imposing in white vestments) asks 'What is their crime?'-'They dared work today.' Dumitrescu's immense bass against Shicoff's melodious tenor, he asks Eléazar his name. 'The name is not unknown to me.'-'Most likely.' Back then in Rome Brogni wasn't a priest. 'Silence! Respect a father's suffering.' (He lost everything, God is all he has left.) But Eléazar will be avenged of the judge who banished him. 'You are a freeman, let us be friends.' Brogni pleads forgiveness (for the harm done him.) He stands left of Shicoff, who is sitting, dignified, unconcerned, all in black, his legs crossed. Rachel (Olga Bezsmertna) stands to his right in a simple black dress. 'No mercy is the law by which I abide', interjects Shicoff. Shicoff's black overcoat is besmirched with yellow paint from the Star of David daubed on the window.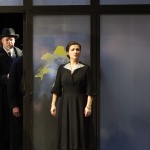 In Léopold's aria, 'Far from his sweetheart, absence brings pain' Jason Bridges, wholesome looking, his divinely lyrical tenor, defies the intrigue and hypocrisy later uncovered. Rachel sings of that voice dear to her heart. (They duet each side of a panelled window.)
The screen rises to rows of silly chorus waving their flags, singing a drinking song. The Jews marginalised, huddled side-of-stage to see the pageant, Eléazar and Rachel are arrested. 'The impertinence! A Jew sheltering in the Church doorway!'- 'Follow the example of the Lord who threw the Jews out of the Temple.'- 'Show them no mercy; into the lake!' sing Chorus. Shicoff is fending off rows of 'believers' armed with their chairs. Léopold intervenes secretly, the prisoners released. (They're bemused that these soldiers obey and bow before him.)
The black/white screen is raised to reveal a dazzling white sloping ramp, dominated by a huge chandelier. The clergy are in brilliant white. Léopold is seen with his fiancée and children. Shicoff's Eléazar and Rachel are front of stage.
The Jews, in the colour-coding, wear black. The upper stage, brilliantly-lit, overlooks the gloom of Eléazar's quarters' predominantly black furnishings: the underclass, socially excluded.
So for Act 2's Passover meal, authentically described, these Jews are underground, beneath the stage floor. Shicoff leads the service like a cantor. 'If betrayal or pretence appear amongst us, punish the deceitful offender!' Léopold is amongst the guests, disguised as Samuel. He's offered the matzos unleavened bread, and refuses; Rachel, concerned, wants an explanation.
There's a knocking outside. The Seder disappears. (Overlooking them, the glittering social milieu of Léopold.) Léopold's fiancée Eudora (Hila Fatima) enters to order jewellery. Léopold (Bridges) sings his thoughts : 'What a hopeless future-tormented by remorse.' His Eudora sings of Léopold's tenderness, and casts down paper bills in payment. Front of stage, Eléazar, what a pleasure to deceive these Christians!
The Seder table is reset. (Shicoff is wearing tephillim : the minion of ten men in black coats and hats, authentic!) Léopold approaches from the white upper stage. Il viendra : her heart beats, not with joy but fear. Léopold confesses he's deceived her. Je suis Chrétien!– 'Then, when she gave herself to him -an affront to her father and her honour – she was also reviling God! Very powerful rendering from Bezsmertna, an expressive soprano. Yet, he sings, he can only be happy with her.- 'But your laws condemn us!'- For him, what does it matter, Jew or Christian, he'll adore her.
Eléazar returns and confronts them, accusing Léopold of abusing his hospitality. (At first willing to let him go; but when Léopold confesses he's a Christian, will kill him.) Shicoff pins Léopold to the table as if to perform a sacrificial rite. Rachel restrains him, moves him to forgiveness. Yet Léopold refuses Eléazar's offer he marry Rachel: marriage is impossible because Rachel is a Jewess. Like Shylock, the Jew slighted by gentile, Eléazar vows revenge.
Rachel's confrontation (Act 3) with her rival, on discovering she's been deceived, is another highpoint for Bezsmertna. The scene is all the more effective for Eudora's own innocence. (Soprano Hila Fatima sings, with dazzling trills, of a wonderful dream.) In a festivity in Léopold's house, Eléazar and Rachel bring the pendant ordered. Léopold has to lean before his betrothed. (Thus Rachel uncovers his real identity.) Rachel accuses Léopold publicly of perjury, and of living with her, a Jewess, as his concubine. And she's culpable: 'Do you not know me!' Léopold sings of the tomb opening for her and for him. Is the stake only for Jews? Léopold is unable to defend himself. Cardinal Brogni accuses all three 'joined in a fearful alliance.'
Yet (Act 4) Rachel yields to Eudora's plea, and as a Jewess saves the Christian. Eudora has Rachel brought before her, Eudora pleading from the lower stage. Should she allow him to live, when the poor Jewish girl's heart is broken, (Bezsmertna poignantly). But 'it will never be said a Christian is superior to a Jew'. May God keep him: movingly, Rachel bids her live in peace.
In a scene pivotal to the intractable opposition between Christian and Jew, Cardinal Brogni attempts to persuade Eléazar to recant his beliefs and be baptised. Shicoff walks onto an empty stage . Dumitrescu sings, 'By renouncing his faith, he alone can pull her from the flames!'- 'Did I hear right?' Renounce the faith of his fathers? No he would rather die.- 'The God who calls you is fearsome, yet he abandons your people to ignominy.' Brogni,'Then you want to die?'- 'Yes, it is what I hope for!' But he wants revenge on a Christian; to condemn Brogni to eternal suffering.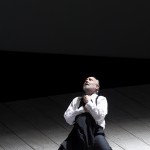 In the opera's greatest aria, Eléazar is tormented with doubts whether he should allow Rachel to die with him: sacrificing her for his revenge. Preceded by lilting clarinets, Shicoff, with heartfelt power and poignancy, sings when God gave Rachel to him, he devoted his life to her. But he hears her voice calling, save me from death. Shicoff, almost crooning with emotion, is on his knees pleading. Shicoff drew on the reserves of his legendary tenor, matured with experience. He brought the house down: a veritable sensation! Endlessly extended applause.
Both condemned; and Léopold? Rachel testifies she falsely accused him.
Peur, j'ai peur. O, horrible doubt; should I save her. But she requests her father's prayers. Shicoff's Eléazar wavers; what should he do. Stop: Arrête! Rachel, I will die. Do you want to live?- 'Without you?'- 'Will you be baptised by Christ?'- 'I should become a Christian? Never!'
About to die, Eléazar reveals his secret to Brogni: Rachel is no Jewess, she is his adopted daughter and Brogni her actual father. Thus Halévy's problematic ending is a testament to the inextinguishable power of faith, Jewish faith. All must die, defiant. In Halévy's La Juive, both drown in a vat of burning oil. Here (in Günter Krämer's scheme) horrific red figures in executioners peaked hats storm the stage. (Below, the people's Chorus turn their heads away.)
The whole production, with Vienna State Opera Orchestra and Chorus under Frédéric Chaslin, was a triumph. And especially for Neil Shicoff, celebrating his 60th, and forty years performing on the Vienna stage. P.R. 7.03.2015
Photos: Neil Shicoff (Eléazar); Rachel (Olga Bezsmertna); Neil Shicoff (Eléazar)
(c) Wiener Staatsoper / Michael Pöhn