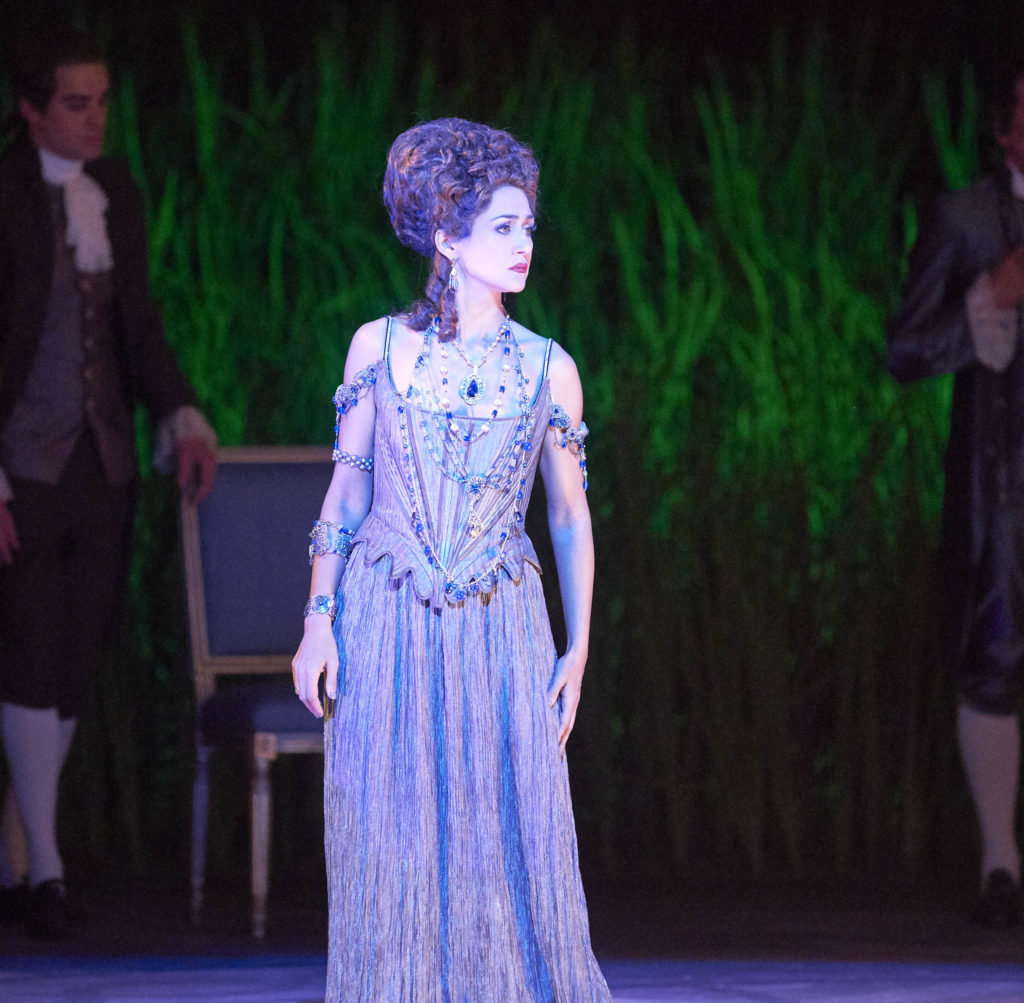 In Adrian Noble's acclaimed production for Vienna State Opera, Alcina is being performed by members of the Countess of Devonshire's family. You'd have thought Handel's opera was complicated enough without framing it. But Noble's concept works well, opening in a fabulous Georgian ballroom, with copper shells bordering the front of stage (designer Anthony Ward.) How appropriate to set the opera in Handel's time, especially as the guest orchestra in the pit- with soloists appearing on the stage accompanying the singers- is playing on original instruments: Les Musiciens du Louvre, conducted by Marc Minkowski. There's a sense of urgency, dynamic, rhythmic playing, vibrato-less clarity and freshness, enervating the singers.
It was to be a costume drama like no other. Lady Devonshire , who sings Alcina, introduces her guests; liveried footmen attend dutifully. Georgian aristocratic society brought to life; but the background music is, from the overture on, Handel's own. Astonishingly, a balloon, in claret and blue, descends, filling the stage. It's a surrealistic moment, preparing us for the magical world of Alcina's island.
The backstage panels open up to reveal a bright green island. This is paradise for the living, here heroes are nurtured for pleasure, sing the Chorus (Vienna State Opera Academy Choir.) A ballet, Vienna State Ballet dancers, in brilliant jewel colours, jade, royal blue, orange, purples- take the stage.
Alcina (Greek soprano Myrto Papatanasiu) is holding court: 'played by' Georgina, Duchess of Devonshire, it's as if the London aristocracy have moved into an island location (but 200 years before the jet set.) Papatanasiu's Alcina is very louche, built-up bouffant hair, in a long gown, with pinched waist. She's fondly caressing her lover Ruggerio (mezzo-soprano Rachel Frenkel). But her man is actually cross-dressed, increasing the erotic charge. Papatanasiu, in her aria, sings, show them the words, the spring, the wells, where I sighed and offered you love.
Bradamante, Ruggerio's betrothed, comes on a mission to rescue him, accompanied by her guardian Melisso. Bradamante (mezzo-soprano Margarita Gritskova) dressed as a soldier carries a sword; Melissa (Orhan Yildiz) also supposedly a soldier, but bearded, in a great coat, looks more like a 19th century revolutionary. They meet Alcina's sister Chen Reiss (a spitting image of Papatanasiu as if things weren't confusing enough), as Morgana falls in love with 'Ricciardo', ie. Bradamante disguised as her brother. Yet more complicated, Alcina enters with Ruggerio, who is, literally, under her spell. He doesn't remember 'Ricciardo', nor any lover but Alcina Di te mi rido.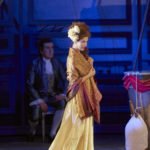 And Oronte (Alcina's general) is jealously in love with Morgana, whom he imagines is in love with Ricciardo/Bradamante as his rival! Tenor Benjamin Bruns' Oronte, unrecognisably gruesome, provides some of the highlights of Act 1. Morgana, promising to protect Bradamante, renounces her love for Oronte, whose passion for her gives him no peace. Reiss, a gloriously scintillating soprano, feistily rails at Bruns, you foolish man loving a woman! Even while she sings protesting her love, she could be denouncing you. Reiss is very sexy in the role. (The embittered Oronte intrigues with Ruggerio; enraged with jealousy, Ruggerio accuses Alcina of being unfaithful.)
Alcina's impassioned response to Ruggerio's reproach is a highpoint. In her aria, she sings, although his jealousy wounds her, she loves him regardless. How can his cruel heart so mock her. Her heart is scorned!
The characters in Alcina are human flesh and blood, with real feelings. Handel, unlike his (Italian) contemporaries, avoids simplistic stereotypes. Alcina is depicted not so much as devilish sorceress, rather as the desperate lover.
Act 2 opens with Ruggerio meeting with the disguised Melisso who gives Ruggerio a magic ring to break Alcina's spell. (Thus Ruggerio is reminded of his love for Bradamante, and his feelings for Alcina voided.) The revelation is suggested by the stage now filled with descending small lights- clever, but also rather a beautiful effect. Ruggerio conspires to go hunting, so as to flee Alcina's realm. In Verdi prati , affectingly sung by Frenkel , Ruggerio laments that the beautiful landscape is about to decay. Alcina invokes her magic to win back Ruggerio's love. But in despair, she realises her power no longer works against the ring, ombre pallide.
Accompanied by a violin on stage, Papatanasiu movingly sings, how she senses Ruggerio no longer loves her. At first she seems to faint. Then, in her aria, Oh, my heart, invoking the gods of love, accuses him: the traitor, who she loved so much, leaves her in tears. She falls, but then her anger raises her to her feet: Oh, my heart, you are scorned!
Papatanasiu is passionate, demonstrative; enacts the role with expressive physicality. In Act 3, after meeting Ruggerio, and realising he's leaving her for another love (his fiancée), she reproaches him, he merely feigned love . She calls upon the demons of the underworld for vengeance: but where are they? Vanquished. What is left, pale shadows. They do not appear. Papatanasiu raises her arms in anguish. Then picks up a silver jewelled wand. Stop my fleeing lover! Have pity even if no longer bound by her magic.
She's desperate to stop Ruggerio leaving. Ma quando turnerai If he returns, she threatens, it will be in chains. She locks his arms in a grip behind his back. She mauls his cheeks; pushes him down like a dog.
Frenkel's Ruggerio takes the stage commandingly, Gritskova's Bradamante on one side, Yildiz as Melisso, his 'tutor', on the other. Bradamante strips off her soldier's tunic, revealing her bodice, and emerging in a frock, coral pink: beautiful woman, Gritskova, her voluminous mezzo 'full of belcanto elegance.'
Poor Alcina holds the stage, her captain Oronte (Bruns) strutting about , her forces overcome. In a poignant aria , Mi restano le lagrime , she's left with nothing but her tears; the heavens no longer hear her. (Poor dear, Papatanasiu, she's still wearing the same gown, distinguished by an excess of necklaces.) A footman hands her a decanter. Not whiskey, surely? She drinks.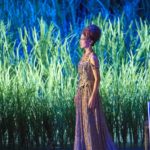 The stage behind is filled with brilliant green grass, through which walks an elderly, blind-folded figure. (She had him metamorphosed into a lion, hence the profusion of gold curls.) Oberto is ordered to spear his father and cannot. May you be tormented with sorrow and torment, Alcina curses the reunited lovers Bradamante and Ruggerio. She has no need of their pity. Do not hope for mercy from us! (they respond.) Frenkel's Ruggerio now drops the magic casket -it breaks, (it's only plastic after all!) Who has restored life and liberty to us at the end of this terrible night, sing the chorus. Papatanasiu calmly takes her place on the couch to put together her broken urn.
The ballet – the gorgeous boys dance gloriously- bare-chested in their cream baggy pants; then standing in a line corralling the rest of the players to join the celebrations. And so the original 'oak' panels (of the Duchess's ballroom) close the back of the stage. Hallelujah! All praise the glorious power of true love, against which the sorceress's powers failed.
It was our good fortune that Handel's score was justified on period instruments by Minkowski's magnificent Musiciens du Louvre, the guest orchestra in the pit, while Vienna State Opera Orchestra were on tour in Japan. © P.R. 26.10.2016
Photos: Myrtò Papatanasiu (Alcina); Chen Reiss (Morgana); featured image Chen Reiss
© Wiener Staatsoper / Michael Pöhn