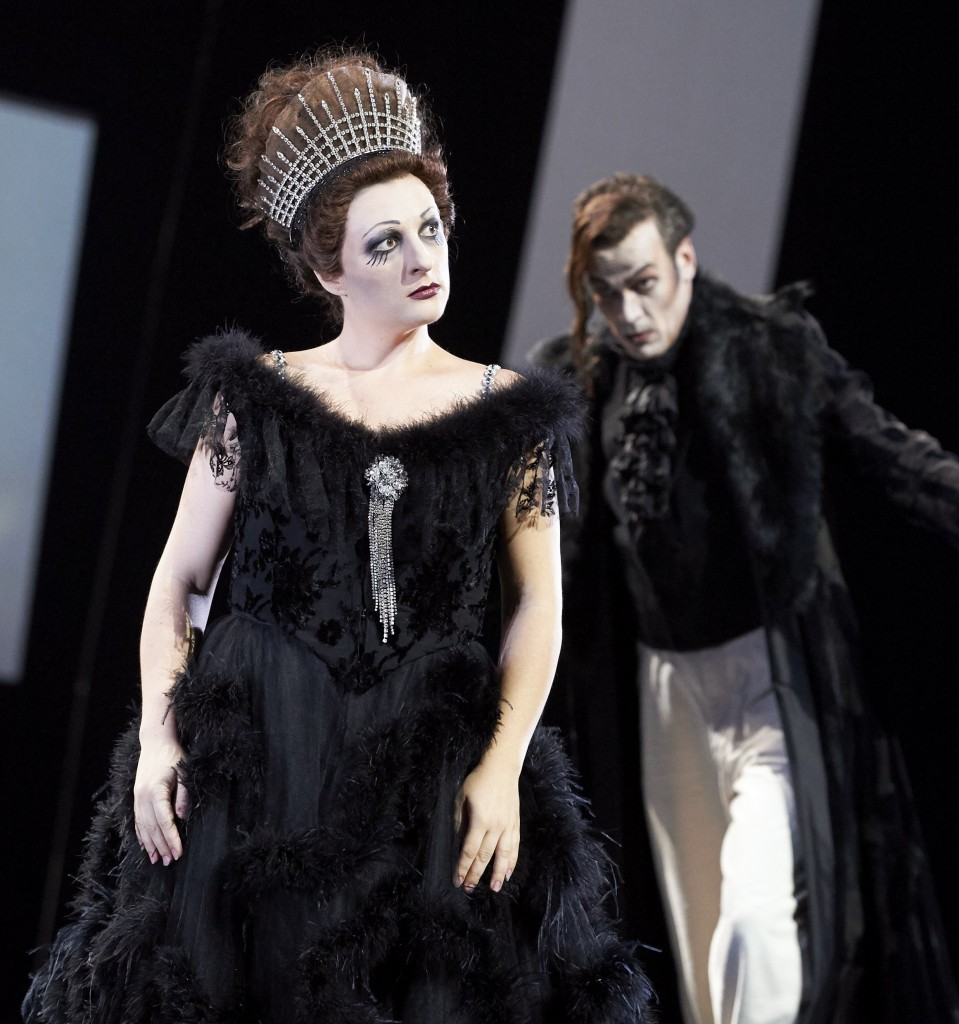 Why this obsession of 20th century modernist operas with social outsiders, criminals, anti-heroes (like Berg's Wozzeck, or Shostakovich's Lady Macbeth of Minsk.) In Paul Hindemith's Cardillac, it's a serial killer -but a goldsmith operating in the upper social milieu in 1920s Paris.
Hindemith's music is quirky, with sharp woodwind, and lots of brass. But don't be put off: it isn't atonal or dissonant , ( rather, at times , like a 1930s/40s dramatic film soundtrack.) Opening with a chamber orchestra, ( Vienna State Opera orchestra conducted by Michael Boder), there are exotic instruments, and controversially, premiered Germany 1926 , the tenor saxophone is identified with Cardillac. Hindemith's work was banned in in Nazi Germany (1933) as Bolshevist.
Sven-Eric Bechtolf's production is to marvel: the staging (Rolf Glittenberg) could be out of a German expressionist film set- Fritz Lang's Metropolis, or Nosferatu. Lopsided buildings in silhouette, skyscrapers at night , the effect of nocturnal gloom. Black clad bürgers (citizens) swarm the stage; the men in top hats, the women in long dresses: all in black, menacingly. They recall the respectable German middle classes caricatured by the painter George Grosz. But these are like vultures. The chorus of people threaten, if we come across a dead man in the street, we rage; there's a murderer amongst us. They'll seize him; force him to confess (ten, thirty , a hundred victims.) Anyone who laughs betrays himself. The crowd make way for the Provost, accompanied by two goose-stepping dignitaries in white masks. The new court has been set up, the 'Burning Chamber': redolent perhaps of National Socialism, (although the location for Cardillac is Paris.) The dark conformity (with its fascist overtones) is the background to the 'individualism', albeit amoral, of Cardillac, the renegade criminal.
Zur Tagesarbeit! An die Gewerke! A huge clock, centre stage, defines the lives of these modern slaves, the workers. Society, as in Chaplin's film Modern Times , is a production line.
Cardillac is identified; they let him through. The Lady (Olga Bezsmertna ) sings she's heard people talk about him, Cardillac, at court. She's accompanied by the Cavalier (Gentleman) , Matthias Klink, who's astounded by her beauty. Klink is a creepy , grotesque figure in black, thin as a rake , in white trousers. Klink, spindly, an Edward Scissorhands prototype, stands, waving her two fans (the decorative type.) He explains to her why Cardillac is treated with reverence, held in awe: he's the goldsmith, but all who buy his jewellery are murdered. There's always someone attracted by their beauty and murdered. (Paris suffers under a surfeit of crime, she comments, nonchalantly.) 'Do you love me?' she sings. – 'More than my life.' The deal is, he must bring her 'the most beautiful piece Cardillac has ever made.' Then she will be his.
In Scene 2, red drapes enclose the Lady (Bezsmertna) laid out decadently on an oval, black velvet pedestal. Bezsmertna, wearing a louche, black-feathered dress, sings ,in her aria, Die Zeit vergeht; Rose zerfiel : time passes, the rose has withered. 'I want to be beneath him!'- Bezsmertna sensuous, erotic- will assuage her passion. On the screen behind her, a shadow waves her fans. She joins him; she accepts the belt he's stolen; he lays it on her plinth, and starts to make love to her. The phantom shadow of a top-hatted figure looms over them; drums pound ominously.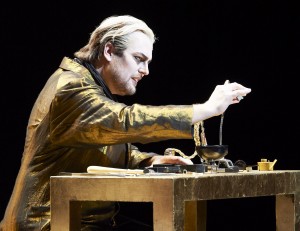 Cardillac, Tomasz Konieczny, is sitting at his desk , behind him an elaborate antique cabinet. Mag Sonne leuchten! Let the sun shine: far beneath the earth, is created the gold that he's now forging . Konieczny, that superlative bass-baritone, heard here recently as Wotan, from some such dark place,(Wagner's Ring .) Konieczny has a rich sonority, like a long -matured wine, with complex notes.
Behind him could be Wagner's 'Mime': Wolfgang Bankl's long, white-haired gold dealer. As Cardillac shows him his stock, Bankl sings, his hands shaking, all his ill-fated customers are spirited away as if by the plague. Konieczny replies, What I create belongs to me. (Bankl will eavesdrop on the evil spirit in the deep of night.)
The Daughter (Angela Denoke) is alone, in a brilliantly lit 'closet', at the goldsmiths; red-haired, in a long gown, she holds a baby doll. Denoke, the most expressive of sopranos, her raw emotion well suited to classic modern roles, sings of how she was carried away in passion. She promised to flee with the Officer, whose car is waiting. But she takes back her promise. Nicht ganz gehör ich dir…halb nur. She's torn, she's loath to leave her father. She sees her father in his work like God in the act of creation. 'Why do you caress your gold, and not me,' she reproaches him. But Cardillac doesn't try to hold back his daughter: he's obsessed by the jewellery he's creating.
So when the Officer (Herbert Lippert) buys a chain from him, Cardillac is compelled to kill him to repossess the piece; he cannot bear to be separated from his creations: with each new piece, he is rejuvenated.
And, when, in a bizarre scene, the workshop is visited by the King, Cardillac sings, what he creates is worthy of a king , yet is loathe to part with anything. He demands the King (Alexandru Moisuc), diminutive , exotically dressed, accompanied by a skeletal, vampire-like figure, returns the chain he's chosen. Cardillac eventually,retracts, offering it reluctantly. But he would have murdered him.
In the denouement , Cardillac attacks the Officer (tenor Lippert) , but is unsuccessful, and the gold merchant, who connects Cardillac with the murders, raises the alarm.
The stage reverts to the stunning, atmospheric Metropolis – on a table in the corner, card players are mechanicallyh knocking back drinks like robots. Hovering over the city- more New York than Paris- is a gold neon top hat. The Officer, dangling the necklace (for Denoke ) is strangled with it by Cardillac, who stabs him- blood everywhere. Cardillac, accused as the culprit, a ghostly Konieczny protests, 'it is heaven's will he continue his work.'
The crowd's movements are stylised- like mechanical puppets. Disrupt the night with drunken songs, the people's chorus sing. Cardillac , at first disguised amongst the black, crow -like figures, defends the murderer, whom he knows. 'His secret will be mine.' But when they threaten to seize , and run amok, in his goldsmiths, he confesses. Ich war's, ich bin's : must his original creations die, while he lives?
They close in on him in a ritual mass stabbing. Too late, the Officer, his son-in-law, defends Cardillac : 'Don't you understand, he was the victim of a holy delusion.' Denoke begs him to wake up, tries to revive him. We know everything, and love you regardless, she pleads. Konieczny stands, statue-like, wearing a gold hat, turned to stone. A hero has died , proclaim the crowd. He is sanctified, he knows no fear of men, they sing. It's as if Hindemith (and librettist Ferdinand Lion) are honouring this Nietschian super-mensch – this anti -bourgeois figure. Ist er doch sieger und ich beneide ihn . He is victorious, and I envy him, sings the Officer. Centre-stage, on a pedestal, the monumental figure of Konieczny's Cardillac , gold hat, gold gloves, holding a necklace. P.R. 25.06.2015
Photos: Olga Bezsmertna (the Lady) and Matthias Klink (the Cavalier); Tomasz Konieczny (Cardillac)
(c) Wiener Staatsoper / Michael Pöhn