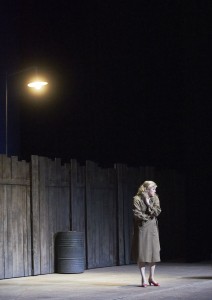 A pretty Bohemian girl sits on a park bench in Central Park smoking a roll- up and soaking her feet : behind her, New York skyline . Vienna State Opera transposes Janacek's Katya Kabanova to a story of immigrants in New York's Russian quarter in the 1940s-50s. Perhaps to symbolise a new generation clashing with their parents' feudal tradition? But it's an imaginative leap for an audience, given Janacek's already complex plot. (So, curiously, Boris sings of the River Volga he's loved for thirty years; and his uncle ultimately sends him to Siberia.)
But once we've adjusted to to New World location , Nicky Rieti's sets effectively frame the action, each using only part of the stage to compound a sense of stifling oppresssion. In the tragedy, the characters are hemmed in by their fate (like Boris under his tyrannical uncle, before he can inherit.) The second scene shows a loft , narrow and hexagonal, backed by a small window; the effect is claustrophobic. Hence Katyya feels like a captive bird tempted to fly. She complains, to her half sister Varvara, she's wilting away. Next scene is a tenemement block, converted docks warehouse, with Katya's mother-in-law railing at Katya from pigeon-holed window, the small apartments like prison cells. Left stage iron fire escape leads down to a small yard; an enclosure with a single chair before a cave -like entrance. Only the rooftop of of the house where Katya elopes to meet Boris gives a sense of freedom and space. But only for the ten nights while her husband is away.
Again there's a sense of gloom in the warehouse-studio catacombs where they shelter from the thunderstorm, ominously preceding Katya's religious revelation and madness. But Katya's last scene, after her separation from Boris,is wide open. The stage fence enclosing her parts, opening up to a river bank – seemingly eerily peaceful- the waterfront where she drowns.
Janacek's powerful music underscores this drama like the soundtrack to a modern movie set. It dictates the mood, not just in the long overture, but through the extended interludes linking the diverse scenes and locations. Franz Welser-Möst elicts raw passion and elemental forces from the Vienna Philharmonic players in idiomatic playing.
Welser- Möst sees Janacek as visionary composer, ahead of his time. But for years the Janacek played has been soft-edged, beautified.(Prologue, June 2011.) Möst aims to reveal the 'raw flesh' of Janacek's scores: Janacek's highly personalised style rooted in the rhythm of his mother tongue. (The spoken word is developed as leitmotifs to create sound and voice pictures.) Janacek's text must be followed precisely- whether you understand the words or not- for the whole process to work. So Katya Kabanova is in Czech-as opposed to David Pountney's Jenufa , revived 2010, in German.
Welser-Möst directed a cast well- experienced in their roles. Especially ice-blonde Janice Watson (previously in Covent Garden and Milan), as Katya. Watson's light soprano has a phenomenal range, fully extended in the role she inhabits. Katya's marriage to Tichon was ill-fated by a domineering, possessive mother-in-law. The rich widow Kabanicha (again sung by internationally distinguished Debora Polaski) is constantly testing her son's loyalty, reproaching and insulting Katya. Tichon (Marian Talaba) is driven to drink , later to wife -beating. His escape, a business trip, against Katya's protests, gives opportunity for Katya's affair with Boris-encouraged by Varvara, (vivacious red-head, mezzo-soprano Stephanie Houtzeel.)
But Katya is a femme fatale, a free spirit; yet gnawed by religious guilt, can never be truly happy. Katya reveals to her opposite, the hedonistic Varvara, how as a child she'd felt, like Christ, entering Paradise; but the clouds had 'wept'. Katya's dreams are tormented by invisible voices. She's 'beset by sin', as if the devil is whispering temptation. She has nowhere to hide . Siezed by a strange desire, Katya struggles to escape through the window, held back only by Varvara.
In their moving last scene, Boris (tenor Klaus Florian Vogt) sees Katya to tell her his uncle is sending him away. After Katya's body is found, Kabanicha is accused of killing Katya. In the ending to Andre Engel's Vienna production, Katya's body is laid out in a white gown. Polaski's grim-faced mother-in-law feels, and extends Katya's lifeless arm .Then callously kicks over the body, pushing the head face down. A chilling revenge; but Katya's is a tragedy foretold.
Katya Kabanova is the first of Welser-Möst's Janacek cycle. Vienna State Opera's electifying production- bringing out the music's intense , passionate lyricism- triumphantly justifies Möst's commitment- in spite of gripes about the American staging.
30.10.2011. This production of Katya was repeated in November.