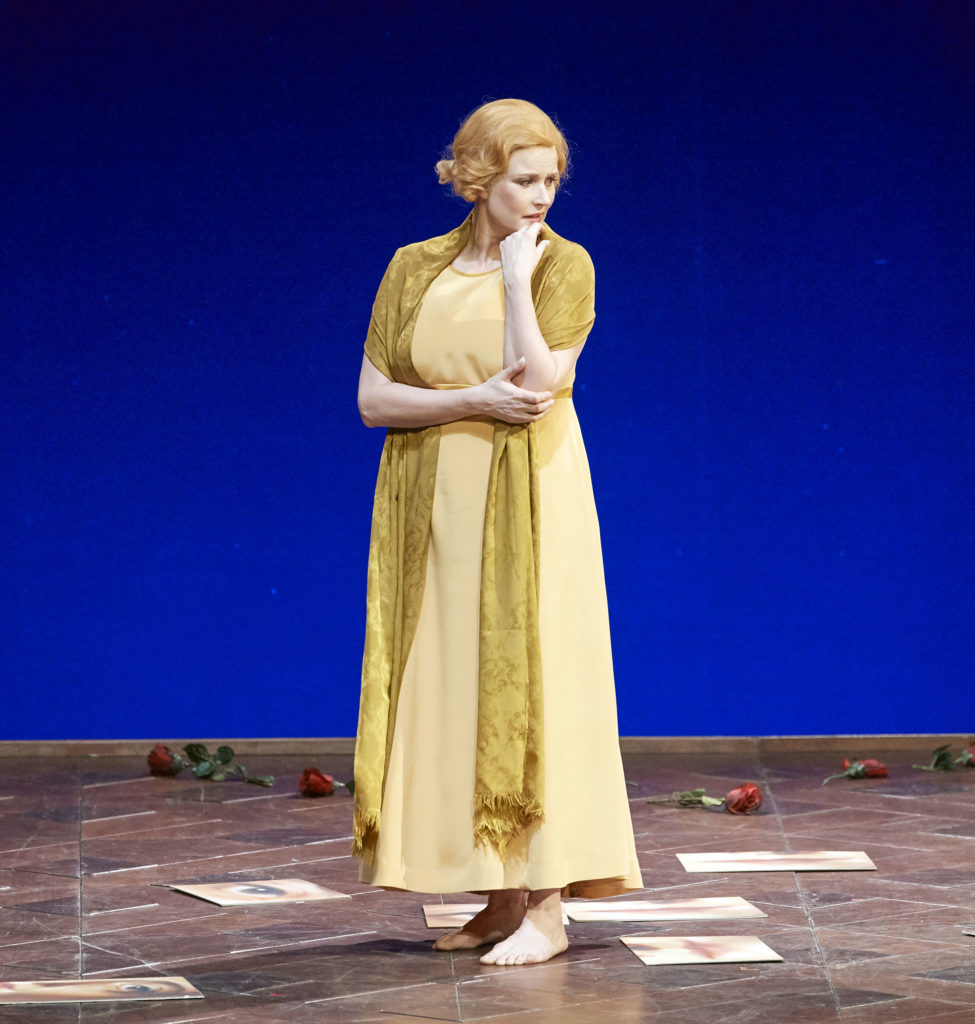 Korngold's expressionist opera, Die Tote Stadt (1920), a great success in its time, was described by Puccini as 'the strongest hope of new German music'. But Korngold's 'essentially lyrical, neo-romantic style' fell out of favour to austere modernism and the Schönberg School; exiled under the Nazis in 1930s, he was hugely successful as a Hollywood film composer. In Korngold's post-war renaissance, Willy Decker's (2004) production is the third of Vienna's revivals.
The oak floors and heavy doors of Vienna State Opera's handsome set suggest a mausoleum , where time stands still. Brigitta, the servant (Monica Bohinec) brings in a heavy glass case of memorabilia. She sings she has no idea what life is; has always lived alone, totally devoted to her master. Slumped in a leather armchair sits Paul (Herbert Lippert), a Proustian figure in an aubergine suit. 'Certainly beautiful' comments Frank (Adrian Eröd) of the portrait of Marie; 'she was beautiful.' Nein, sie lebt, Paul suddenly awakened, 'She is beautiful', and sings of his dead wife in a dead city. He sings of meeting a woman with an uncanny resemblance to Marie: yet pleads, God grant his dream and give her back.
Lippert filled the role at very short notice, replacing Florian Vogt. Perhaps lack of rehearsal time, somehow Lippert- at the very least adequate- didn't have the vocal range , and at times strained. But, dramatically, enacting the part, it was a tour de force.
Eröd, formally dressed , his baritone always imposing, warns him, you're a dreamer; he sees things. He's raving over a phantom. His intense feelings have led him astray. Photos of Marie are scattered over the floor. Lippert holds up a huge poster-size image of Marie: who can understand the soul. Give her back to me!
Marietta, Camilla Nylund, a stunning, Nordic blonde, bounces in wearing a glamorous gold coat, vaguely 1920s . Immediately she feels stifled, as if she were in a tomb. Is the photo gallery of women he's loved? Uncannily wearing the same dress (as Marie's) , she provocatively lifts up her legs in his armchair. Marie? No, she's called Marietta. What's wrong? She's tolerably well for someone by nature cheerful. She's lucky in love. But what's troubling him? He sings a song he'd heard in his youth, the story of lovers doomed to die. Their duet is a high point- Together our hearts beat in fear/ though sorrow comes ever near. (One of the opera's more famous numbers.)
Nylund, at home in Straussian roles, is perfectly cast as Marietta, Korngold's role similar to Strauss's Arabella, free-spirited, carefree, her soprano both light and capable of enormous power. She comes from Lille, she sings. She's a dancer: to dance sets her on fire, what passion. And she proclaims, Marie, her rival is dead, but she is waiting. Everyone, knows where to find her: at the theatre. So Marietta represents libido; the lustful Marietta the very antithesis of Marie, a source of morbid guilt for the fetish-obsessed husband.
And even if the 23 year old Korngold hadn't read Freud's Interpretation of Dreams , Freud's psychoanalysis was in the air in early 20th century Vienna.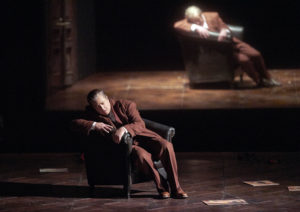 O, dream do not leave me, Paul pleads for his dead wife's return to him. He's left slouched in his armchair, the glass case of memorabilia on his lap. Back of the mirrored stage sits his double in he same suit. At first you wonder if it's a film we're watching. We see a vision of his wife, wearing the hair piece he fetishes: her voice (Nylund's) sings, Our love is, was, always will be, Gluck, das mir verblieb, while Lippert sings repeating it. His alter-ego on the upper stage communicates with the now ghostly Marietta (Nylund) , who is entertaining a group of carnivalesque players all-in-white.
In Wolfgang Gussmann's brilliant design, the stage ceiling tilts down suggesting the surreal. Phantom houses float by as Korngold's multiple percussion effects describe the bells in his head. He tastes bitter pleasure: he missed her, Marietta, at the theatre. Bruges, he sings, pious city once lived in its virtue: now filled with a restless passion. Birgita (Bohinec) is seen carried away by a ghostly procession of white nuns, carrying a huge crucifix.
In this dreamscape we see a spectre of Eröd's Frank perched on a roof top. She fascinates us, he sings.- She fascinates you too?- He's fallen under her spell, Frank's now deceiving him with Marietta. In the dream, a burlesque troupe in white evening dress, Vienna State Ballet dancers, perform a brilliantly conceived choreography.
Nylund's phantom Marietta, in a top hat, is carrying a whip. Down with dull pretence, she sings , now approaching us from the lower stage. The troupe are supposed to be improvising the Resurrection scene from Meyerbeer's Robert Le Diable, with Marietta playing the resurrected Helene: (Just so you know, Meyerbeer has fallen out of fashion.) She takes him, (Lippert), into her arms , and Paul, that Proustian figure, sinks back into his armchair. My reverie returns to the past, he sings.
They come running when she beckons- tremendous singing from Nylund- who wants to dance and sing Helene's solo. On the upper stage , a ghostly spectre in black- Nylund as Marie- is stretched out across Marie's crucifix.
Now the dance troupe are holding blood-red masks, as if enacting Paul's subconscious torment, pulled between his loyalty to Marie and Marietta. Es war meine Gatin (She was my bride.) You look like her, but are unworthy of her . She's spoilt his perfect dream. While a wall of icons show Marie displayed back of the stage, Nylund insists, I'm alive: live for pleasure! She mocks his piety, blind faithfulness. She bewitches him. Would he really give her up for his phantom? – BEGUILING WOMAN! He invites her; she will come o him in his wife's house.
Come the Act 2 interval, after 1½ hours, Lippert's voice is straining; his lyrical tenor at breaking point was no pleasure. In the ingenious set, the upper stage seems to get bigger as his fantasy world takes over.
Now , a huge blown up image of Marie faces us .In Marietta's aria , Nylund, upstage, is on a mission, as if to exorcise Marie's ghost. Leave us, do not haunt the living! She's a real woman; in dancing she's found happiness.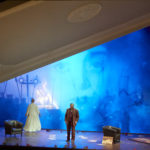 Against the enormous spectre of Marie's ghost, a religious procession is taking place behind the stage screen. (Paul spends the night with Marietta, and is guilt-ridden.) Marietta mocks his piety in this psycho-drama of religious devotion to his dead wife and the passion raging within him. He protests, he believes in holy eternal love. She proclaims the happiness she's found in dancing. She's opened the locked door and found herself.
Finally , she siezes the glass case , removes Marie's hair piece, (Nylund has had to shave her head bald), and sits over him lewdly. Then she hits him with it, the hair, and dangles it before him. Paul tries to wrest it, pushes her down, and eventually strangles her. Remarkable .Heightened by Korngold's orchestration, with high-pitched wind instruments.
He awakens; Lippert is lying flat out on the stage. Brigitta opens the door: behind her brilliant daylight floods in. He holds up the glass case. The actress Marietta returns for her roses. A dream destroyed my dream, he sings. (Ein Traum hat mir den Traum zerstört.) He will leave this city of death: Leben trennt von Tod , wait for me in heaven, he sings.
Mikko Franck conducted Vienna State Orchestra and Chorus in an unmissable performance of Korngold's infrequently heard masterpiece. The magnificent staging does justice to Korngold's opera, the period, fin-de-siècle dress, spot on. PR 9.1.2017 ©
Photos: Camilla Nylund as Marietta; Herbert Lippert as Paul; Herbert Lippert; Featured image Herbert Lippert
© Wiener Staasoper/ Michael Pöhn