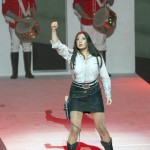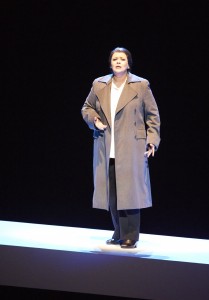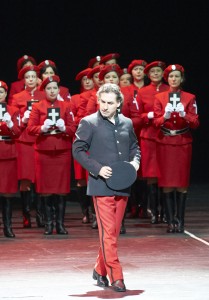 My first experience of Verdi's La Forza del Destino confirmed the general view that the music is wonderful, but the difficult plot is less successful. That was at Vienna State Opera (2009) , with the same set, also directed by David Pountney. Then I found the plot confusing, not helped by what seemed gimmicky and sensational stage effects .Why the rodeo dancers in a Latin American context?
Pountney sees Verdi's heterogeneous scheme as Shakesperean, Shakespeare having inspired Verdi in its mixture of tragedy and comedy; and its wide range of differing characters and types navigate us through the changing plot. Also this sprawling work was subtitled 'Peace and War'. In the course of war individual characters come together by chance; dramatically juxtaposed, their meetings are defined by chaos.
The fate of these characters is determined by the accidental firing of Alvaro's pistol, as he attempts to flee with Leonora against her father's will. Alvaro, putting himself at the Marquis' mercy, throws away his pistol, which goes off , fatally wounding the Marquis. An absurd fluke has tragic consequences.
In the opening, as the overture plays in the pit, Pountney projects a 'surrealist' black and white film of a huge wheel set off by a butterfly's wings. In a variation of chaos theory, the wheel is impacted by a pistol spinning in space- the pistol motif repeated in later scenes. (How otherwise to depict a pistol shot on stage, argues Pountney?) Maybe it works. But not the white shirt, splattered with blood – its red blotches magnified like a psychedelic slide show.
Leonora, in her opening aria, sings of the relentless fate that drives her to these shores, doomed to eternal sorrow. Violetta Urmana- wearing a white tunic and black culottes- is a big girl, filled with sad feelings. A little faltering at first, Urmana seems to grow into the part. She's very good in Act IV's aria bemoaning Fate, and the crime that has torn them apart.
Fabio Armiliato appears as Alvaro, modish long hair flowing over great coat. He looks good, but his is not a memorable, or distinctive voice. Armaliato is an attractive light tenor, but lacking power and range, without the swoon factor. Armiliato and Urmana are well balanced in (opening) duet, but physically at odds.
Leonora ,disguised, in flight, and separated from Alvaro, seeks refuge in a religious order, where Preziosilla is recruiting for a crusade. This extravagantly over-the top set, which I'd previously found ridiculous , is nevertheless stunning. On each side , ranks of women soldiers in brilliant red. Front of stage , a troupe of sexy women rodeo dancers- or are they cheerleaders- do a sharply choreographed routine. It's Salvation Army goes Calamity Jane. They're led by Preziosilla (Nadia Krasteva), a tour -de-force , dressed in skintight black skirt and rhinestone cowboy boots. It's superb theatre, but all a little too much. Projected behind are illuminated crucifixes, and a silhouette of that smoking gun.
The set pieces in this production are particularly well done. Padre Guardino's (Ain Anger) monastery takes in Elvira, whose monks solemnly swear to hide the identity of Leonara. Dressed in black blazers, white leggings , white caps, they resemble rather a moslem brotherhood, especially when they kneel to pray. Vienna State Opera chorus excel. Thus, with Leonora in penitential robes, 'Peace' forecloses Act 2 in a reconciliatory choral spectacular.
A sublime clarinet solo opens Act 3 , with Alvaro singing of how life is torture for the unhappy man and his memories -sung with great feeling by Armaliato. With the meeting of Alvaro and Don Carlo, Leonora's brother-both under assumed names-we are treated to top notch singing. Alberto Gazale (Don Carlo) has a rich baritone; as in the injured Alvaro's bedside scene, their voices were well counterpointed. And Gazale effectively sustains the tension of whether to open the seal of Alvaro's private letters. Gazale was well received by audience.
The newsreel montage of modern battle scenes, projected onto backstage, was mercifully brief. A rotating network of scaffolding – a rotunda resembling an aiport terminal- acts as War HQ , and soldiers quarters. The 'carousel' rotates , with soldiers singing and dancing- re-enforcing the 'Wheel' imagery.
Again as light relief-and a highlight- Preziosilla's Rataplan rally for the troups.Nadia Krasteva , in rousing voice , explodes with charisma; the choreography is stunning. But the recruitment scenes of civilians led by Fra Melitone (impressive Armenian bass Thomas Konieczny) are a motley affair : like shoppers caught up in a global street demonstration.
Both Armiliato and Urmana are good in their longer Act IV arias. Alvaro in the moving 'I adore her as if in heaven'. Leonora still loves him, can't tear his image from her heart; but Fate has determined she'll never see him again.
Vienna State Opera Orchestra, conducted by the very experienced Jesus Lopez-Cobos- Staatsoper pedigree from his 1980 debut- justified Verdi's powerful score. I still have my doubts about some of Pountney's staging. We do need 'red lines' to guide us through a complex plot . But the mix of contradictory semiotic references can confuse . That said , the sets are gobsmacking. Cast and ensembles were very good ; the Staatsoper chorus, as Verdi requires, magnificent.
(8. 01. 2012)
Photos left to right clockwise
Violeta Urmana (Leonora)
Nadia Krasteva(Preziosilla)
Alberto Gazale (Don Carlos)
(c) Wiener Staatsoper/ Michael Pohn
David Pountney cited from Andreas Lang interview.