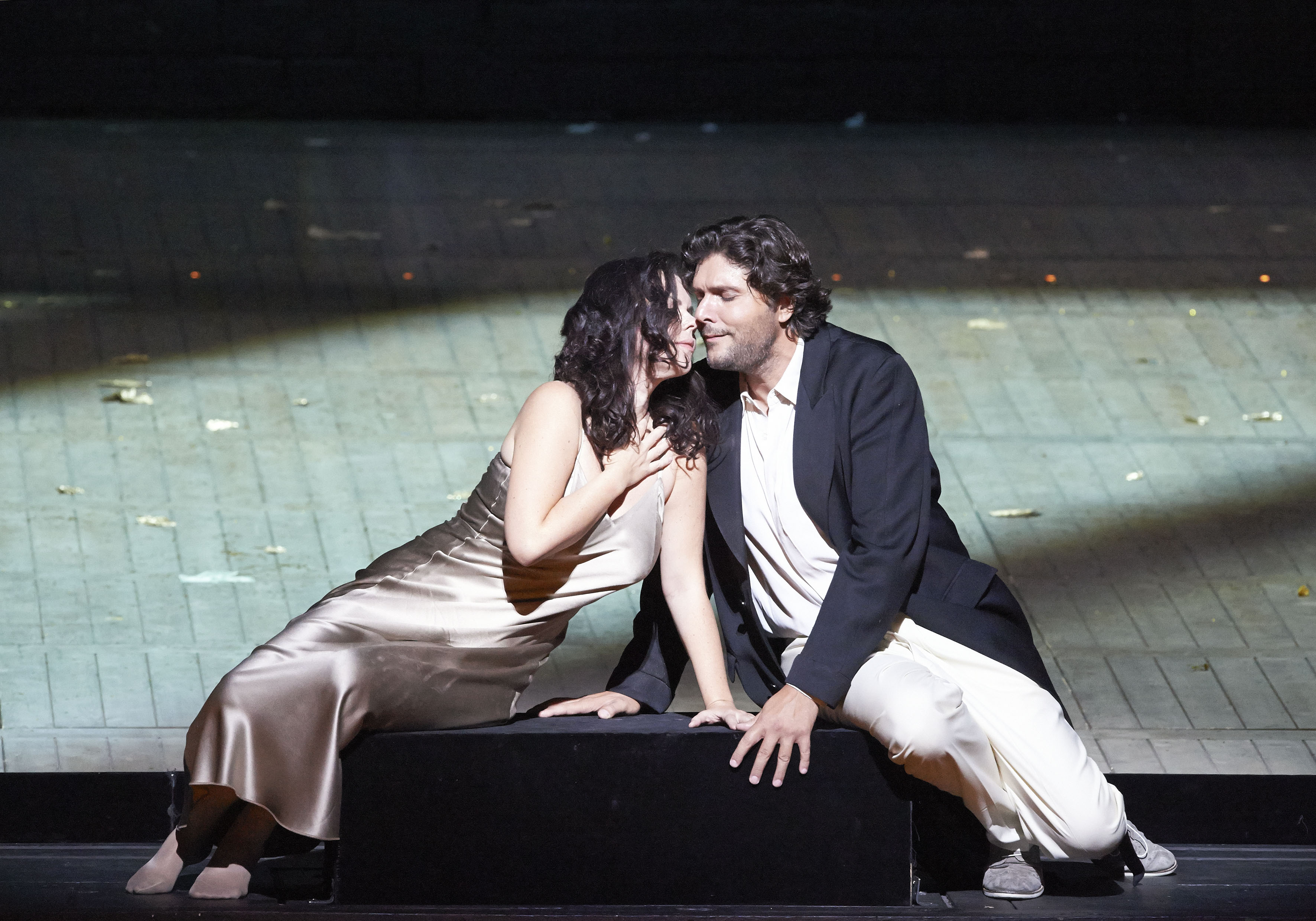 After my experience of the premier production of Vienna State Opera's chaotic post-modern Verdi La Traviata, I wasn't relishing another. But noticing Simon Keenlyside billed as (Giorgio) Germont, maybe the singing might redeem it. Well, and how! Forget all those crazy sets. Forget the distracting play within a play, rehearsing 'La Traviata'- hopeless to follow if you're not conversant with Verdi's opera, or the 19th century context- a 'courtesan', the young aristocrat besotted by her who sacrifices all for love, the patriarchal father who persuades her to give him up. Yet she (Violetta), already 'reformed', had devoted herself in vain to Alfredo, a ruinous waster. And, alienated, Violetta, like Dumas' 'The Lady of the Camelias', is doomed by that 19th century disease 'consumption'- to die isolated, unecessarily in poverty.
This Violetta, Marina Rebeka, is bewitching -her appeal overwhelming -conveying a joie-de-vivre, gaiety, but also fragility. And the voice is enthralling. And this Alfredo, Massimo Giordano, endowed with a God-given tenor, fervently embodies the hot-blooded Romantic figure. Together they have a natural empathy, bubbling exuberance.
In Rebeka's first appearance- staged as if she's auditioning- Rebeka's exciting, feisty, swigging back a bottle: like a Carmen, dangerously sexual. 'You will kill yourelf: must take of yourself', sings Alfredo. Giordano in his first aria un di felice, eterea , singing of 'a love that is the heartbeat of the universe, mysterious, sublime,' Giordano hits all the right notes. Rebeka's Violetta, is teasingly beguiling, their duet superlatively rendered. Rebeka's coloratura is breathtaking- the audience could hardly wait to applaud. Giordano's Alfredo is ardent, impassioned, the reckless young man in love. 'Tell me again you love me':'How happy I am'. Adio. (We couldn't ask for more.) Then the drinking song, Libiamo evoking exotic Paris : they're all out on the town, the city is full of nightlife . Does it matter that this is a dowdy rehearsal room, like a grim village hall, bareboards, utility chairs? Vienna State Opera Chorus- authentically Italian- would be inspiring on a railway platform. Wow!
Violetta now alone, Rebeka is impressive in her aria singing of how no man has ever inflamed her before. His words go straight to her head: perhaps it's he, her lonely soul has awaited. Then, 'a love that is the heart of the universe', echoing Alfredo, their tune. Rebeka has such warmth: a light supple but powerful soprano. And she really does hit the top notes. The party girl, she's 'forever free to seek out new delights'; and she's dancing. In the background we hear 'felice..', Giordano's voice backstage strong enough to carry. Rebeka holding the stage is simply fabulous- unaffected, but such a powerful range. Wonderful singing!
Alfredo, opening Act 2 admits how shameful he's been, when Annina announces Violetta had to sell her horses and carriage to fashion his extravagant lifestyle. Yet Germont blames Violetta. Simon Keenlyside- most impressive of Verdi baritones -arrives at Violetta's. He slurs Violetta: 'You live luxuriously-that puzzles a lot of people.' She wishes to sell all her posessions, he suggests, to escape from her past. Germont subtly pressurises her : if Alfredo doesn't break it off, she'll ruin his beautiful daughter's engagement. 'I am to leave him forever?'-'It must be so', their duet to a stabbing string accompaniment. 'Oh, this punishmant is so cruel I would rather die!'- Germont's response -'a great sacrifice, but she is young, and with time…' is cruelly cynical. But Germont's smooth rhetoric, is emphasised by Keeenlyside's mellifluous baritone: and Keenlyside's appeal, dressed in a pastel designer three- piece suit, looking like an Italian heart throb.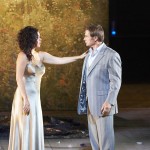 Rebeka is tender, heartbreaking , in Violetta's poignant response, 'Although God has forgiven me; Man shows no mercy'. She bids Alfredo farewell, to love her as much she loves him; and Germont to tell his daughter 'a wretched woman makes this sacrifice before she dies.' She pleads 'What shall I do?', then Marina, plaintive, self-effacing, 'Embrace me like a daughter, it will give me strength.'
Alfredo is seen reading his father's letter, reminding him of his home and family responsibilities. Yet Verdi himself married a 'singer', fought petty bourgeois morality lifelong. So Germont's singing 'And God has brougth me here', referring to 'the voice of honour', reeks of hypocrisy. Keenlyside's aria, however, powerfully delivered, received enormous applause. Keenlyside grabs his wayward son by the lapels. He will not reproach Alfredo: 'Let us forget the past.' Patriarchy has prevailed. The dangerous woman expurged, Afredo now sings of revenge.
I was prepared to forget Jean-Francois Sivadier's 'play-within-a-play' until the Ball scene. 'We are gypsies come afar' is like walking in on a rehearsal for Chorus Line. ('Let us draw a veil on the past, what's done is done' is surely ironic.) But the introduction of the Spanish matadors is sensational, with soloists from Vienna State ballet. There's sustained rhythmic timing from the orchestral accompaniment, a bouncing vitality injected throughout by conductor Marco Armiliato.
Alfredo, Giordano in a long waistcoat, looking like a beatnik, now rolls up his white shirt sleeves for the crunch. Violetta appears with the Baron Douphoil. She insists she ordered the Baron to accompany her. Alfredo defying the Baron, almost throttles Violetta in his fury. ('Douphoil, so you love him!') Giordano- impassioned, riveting -now addresses the Ball guests: 'Do you know what she did? She sacrificed all her belongings. I was a coward' Now he wishes to repay her. And he throws notes at her -his winnings- like confetti. Violetta , humiliated, and ill, collapses in shock. Germont horrified rebukes Alfredo' a man who insults a woman deserves contempt. Where is my son?' There are mixed voices, the Chorus of guests chant 'We suffer your pain Violetta', Violetta that Alfredo cannot comprehend her love. Oh, what suffering! (Marina stumbles to her feet.)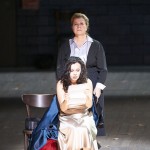 Rebeka is exceptional in the harrowing 3rd Act. Violetta, in her party dress, is undressed by Annina. Weak and in agonising pain, she sinks into her chair, to Verdi's thin string accompaniment, tearing, minimalist orchestration. A doctor, a friend, comforts her, but 'the consumption will take her in hours'. She sings, her body suffers, but her soul is at peace. Rebeka actually reads out Germont's letter -Take care of yourself; then sings 'Farewell happy dreams of the past…' Her wonderful aria loses nothing in its familiarity, because Marina sings with such purity and simplicity -the soprano stripped of belcanto virtuoso affectation. The audience couldn't clap.
Rebeka's face lights up as Alfredo arrives. She's standing front of stage, renewed. They're embracing regardless; she slumps in his arms. They'll leave Paris (he sings) and go through life together, a bright future. Rebeka echoes his heady sentiment: she'll be well again. Rebeka stretches out her arms- still in this reverie, she wants to go out. 'But if your returning cannot save me, nothing in the world can…' To die so young when she has suffered so much.
The ironic refrain of carnival outside accelerates, Verdi increasing the pathos of the scene. 'Take this picture of me' is sung by Rebeka with unselfconcious emotion; she insists he give it to the young woman he must marry. In Verdi's ensemble, Germont sings, I will never stop weeping for you; Alfredo, Let me die with you; Violetta, Give her my portrait.
The achievment of this magnificent trio was to avoid the sentimentality of 'Victorian' melodrama: to justify Verdi's magnificent musical drama (Piave's libretto) -transcending cliche- by giving it their all. And Armiliato's conducting fired Vienna State Opera Orchestra (and Chorus) feeling the pulse of Verdi's complex score, relishing one glorious tune after another. Verdi's operas can withstand radically alienating staging, with performers this committed. PR.12.09.2013
Photos: Massimo Giordano (Alfredo) Alexandra Kurzak (Violetta); Simon Keenlyside (Giorgio Germont) and Alexandra Kurzak (Violetta); Alexandra Kurzak and Donna Ellen (Annina)
(c) Wiener Staatsoper / Michael Pöhn
Unfortunately photos of Marina Rebeka as Violetta in the 12th September cast were not available.