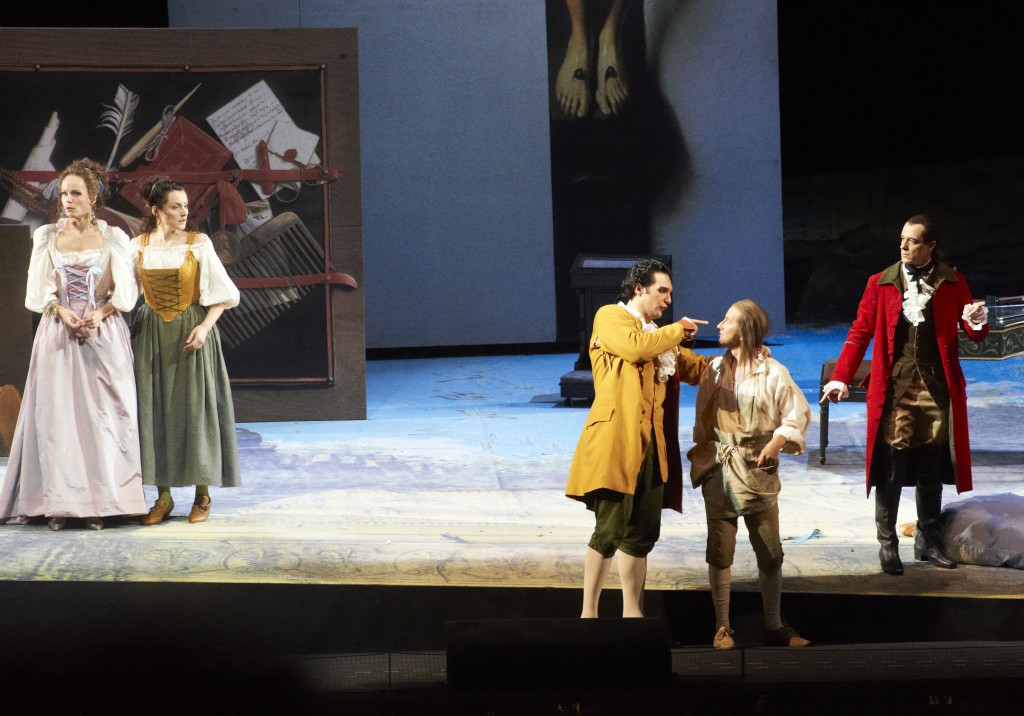 Mozart's Le Nozze di Figaro , premiered in Vienna in 1786, counts undisputably as one of the greatest creations in music theatre. The problem is that, as a staple of operatic repertoire it has become 'safe'; and, as in this production, no longer shocking. Yet Mozart's opera , the first of three collaborations using Da Ponte's libretti, was scandalous both morally and politically in undermining the social order. Ultimately the middle class – Figaro as pre-revolutionary representative- outwits the aristocrat Count Almaviva. And Le Nozze transgresses moral standards in the Count's abuse of his power for sexual conquests; previously aided and abetted by Figaro himself in abducting Dr. Bartolo's ward, now the Countess Almaviva. In Mozart/ Da Ponte's opera , the Count, bored with his wife , has designs on Susanna, her maid.
So Count Almaviva purports to have waived his seigneural rights, as advocate of the Enlightenment; but he has tactically allocated Figaro and Susanna a room in the seigneurial wing, for easy access to Susanna. And hence the Count's scheming to postpone their wedding. Thus Almaviva's infidelity, as well as offending the Catholic Church, is also social subversive in the Count's known cohabiting with his servants.
Almaviva seeks to reassert his feudal powers to satisfy his lusts . That these powers are no longer unimpeded leads irresistibly to intrigues (Basilio, or Bartolo), a source of the opera's comedy. Almaviva, clueless to resolve the chaos around him, is no longer absolute ruler of his castle . So his ever elusive page Cherubino proposes to Susanna. And is constantly confronting a flabbergasted Count unawares. The Countess herself could be, in the piece, a 'revolutionary' figure, representing the nobility , but aware of her precarious social status against middle class ambitions. She positions herself on the side of the servants, supporting the intrigues of Figaro and Susanna against the Count. Rejecting Almaviva's feudal marriage, she 'emancipates' herself in championing love, happiness and reconciliation.
Why , given the radical nature of Mozart and Da Ponte's text, does the Marriage fail to shock modern audiences. Or, at least, in this production, to fully engage my interest?
Was it to do with the direction of Jean-Louis Martinoty? Director Martinoty sets this production at the end of the 18th century, arguing that the story can only function if the Count really has the power to prevent the marriage between Susanna and Figaro.
Absolutely. But, although the stylised sets are attractive, the various screens and unusually suspended paintings are pastiche; vaguely between baroque and Enlightenment, verging on the surreal. A giant screen print shows the lower half of a crucified, christ figure. There are enlarged 'still life' apples and cheeses; harvest grains and fruits scattered on a dining table; silk-screened roses for Act 4's nocturnal garden intrigues. And the stage itself forms a topographical view of a coastline. It's intriguing , but abstract- and not specific in time or place. Given the social agenda, the events on stage take place in an historical vacuum. For the characters and intrigue to function, they need to be anchored in some historical reality. Random cushions apart, there are no furnishings; no solid walls; the staging is somewhat intangible.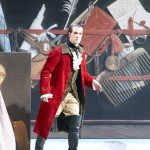 The costumes, splendid and richly coloured , are indeed of the period. The Count appears in scarlet velvet frock coat, black cravat, white rouffed shirt. Adrian Eröd, with swept-back black hair, is tall and sexy, especially in black boots. Eröd is an elegant baritone with aristocratic sublety and smooth control. He's enthousiastically applauded.
Figaro appears in gold jacket and black hose. Bass-baritone Adam Plachetka, tall, well-built with black curly hair, was in impressive voice; experienced as Mozart performer, but debuting as Figaro. Susanna, Anita Hartig (in matching gold bodice), with rustic plaited hair, is a feisty Rumanian soprano, who debuted here in 2006. German soprano Christina Carvin as the Contessa- exquisite in lilac gown with white sleeves- won us over in her first aria 'Give me my love before I die'. Rachel Frenkel, cross-dressed as Cherubino, is an attractive mezzo- soprano, if a little colourless. She was charming in her Act 2 canto- ironically attired as man- appealing to 'You ladies who know, who can tell me what love is…I freeze , I burn, I freeze again'.
So this is a very good looking cast- young and attractive, with Countess, Figaro and Cherubino all debuting in Vienna's new staging. But as a Japanese banker -a regular here since 1986- commented, there were no stand-out singers, except perhaps Eröd.
Adam Fisher (Austro-Hungarian Haydn Orchestra) is very well experienced with this repertoire. And Vienna State Opera Orchestra, smaller sized, positioned to give a more period sound. But, sorry, compared to Ivor Bolton with this orchestra in (Magic Flute), the performance was rather routine. Lacking for me was rhythmic drive, a sense of urgency and tension. I really wanted to experience this score anew with period instruments. Bolton achieved this with these Vienna players.
Altogether, the experience was a little underwhelming. This performance lacked passion , drive, engagement. Also Le Nozze, if not satirical, is surely comedy. There was no sense of hilarity released in the audience, who dutifully clapped.
5.01.2012
Photos: Christina Carvin (Contessa), Anna Hartig (Susanna), Adam Plachetka (Figaro) and Adrian Eröd (Count Almaviva) ; Adrian Eröd (Almaviva)
© Wiener Staatsoper/ Michael Pöhn