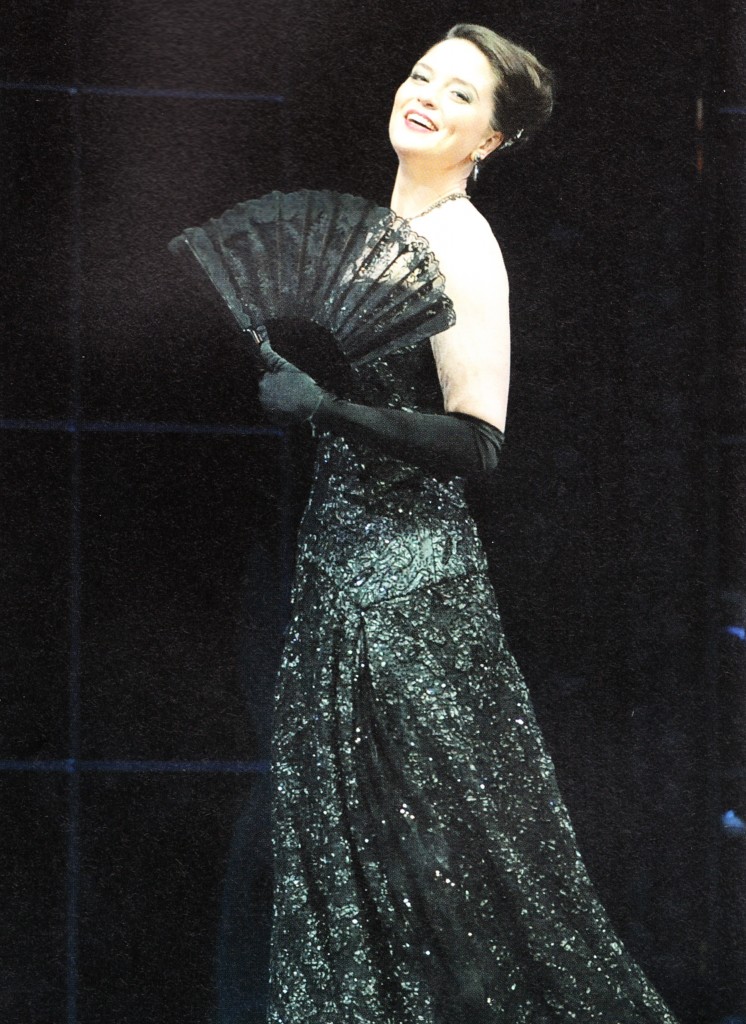 On Vienna Volksoper's spectacular stage set (Marco Arturo Marelli) men in black dinner jackets, first playing gaming machines, lead us into a huge ballroom, with couples waltzing, the event the Baron Zeta's ball. Back of the stage is a huge window looking out over Paris. The set furnishings for Lehár's The Merry Widow (Die lustige Witwe) exude glamour; there are art deco pillars with bejewelled intricate patterns; and the costumes are lavishly designed , the ladies' gowns no expense spared. It's Paris after all, and an embassy ball.
'I am a respectable woman and cannot take such a risk.' The Baron's young French wife Valencienne is trying to fend off her would-be lover Camille Rosillon. 'You are well aware you are paying with fire.' Their 'affair ' is the sub-plot. Valencienne loses her fan with Rosillon's 'I love you' inscribed. Who will find the fan? -the fan, a symbol of a lady's virtue, lost fans representing infidelity, and a source of intrigue.
Hanna the rich widow (Caroline Helzer) makes her entrance surrounded by her avid admirers. She sings, 'You gentlemen are very kind on account of my vast fortune.' She's heard 'how coveted widows are'. Melzer, brunette, is wearing a sparking full-length black gown, and a diamond hair piece. It's remarked that she's a child of nature, just like Danilo: our first intimation of their inevitable pairing.
A hand reaches out from behind the stage curtain. Danilo (Kay Stiefermann ) approaches a chair backwards, and he's so drunk he can't sit down without falling off! 'A little relaxation after so much work: that's when he goes to Maxim's.' (Da gehe' ich zu Maxim.) Stiefermann's is a very good tenor, full-blooded, and he acts convincingly. It's the fourth night he hasn't slept, he sings- wiping under his arms. Danilo, always falling asleep, is lying , head- covered, flat-out on three chairs put together.
He's approached by Hanna, who hesitantly recognises him. Then his hand reaches up her legs: 'Are you living now in Paris?' Hanna would like to renew their affair. If only things had gone as they should have, but his uncle was against it. (Class distinctions always getting in the way of lovers.)
She sings to her cavalry officer, 'Stupid, stupid horseman who can't understand her.' Melzer's soprano is surprisingly gutsy. 'Ride, ride on!' But after a slickly choreographed 'Ladies choice' -her suitors surrounding her in a crescent of chairs- we lead into one of the opera's most memorable melodies: their duet 'Just as flowers bloom in the springtime…', the Ballsirenen waltz.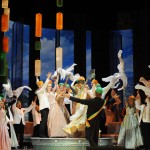 Act II, a garden party at the ('Pontevedrian') embassy is an excuse for a Hungarian dance fest. The men are wearing Fez hats in orange. They all form wide circles, kicking their heels. (A reminder that Austrian Franz Lehár had Hungarian ancestry.) Hanna, giving the party, opens with the Ballad of Vilja. Vilja , you maid of the woods. Let me be your true love!' Melzer , in a glittering silver gown, wearing a white veil, reaches out to Danilo. She traps him in her veil, as if it were a net. Vilja, tinged with nostalgia, its lingeringly haunting melody, an evergreen famous beyond the opera, was beautifully sung by Melzer (although her top notes were a bit shaky.)
By contrast the men's chorus Studium der Weiber , the study of women is gruelling: how should they treat women so they stay faithful. It's half -mocking: they all want other things…and so, and so on. Followed by the ladies reflecting on their men, 'The Study of men isn't hard,' should leave us in no doubt that the operetta is a war of the sexes. And in the then prevailing climate, fin -de siècle, however light-hearted, women are at a disadvantage.
Hanna and Danilo, in their first waltz, to the Ballsirenen refrain, are temporarily reconciled. But Danilo will off to Maxim's where 'three-quarters' virtue is lost in three-quarters' time.' So one can lose even the first quarter of one's virtue, exclaims Hanna. Thus the man is free to go off 'clubbing'- impossible for a woman with a reputation to guard.
'I am a respectable woman' (Ich bin eine anständige Frau), sings Valencienne (Martina Dorak) the Ambassador's wife, fending off Camille's advances. She must act in accordance with etiquette, she insists.
As Camille Rosillon Vincent Schirrmacher's super tenor is thrilling (although he seems rather short in his deejay.) 'Just as rose buds blossom in May love has blossomed within my heart'. He sings of a feeling he'd never experienced before. Valencienne's reply is 'you're making me lose my senses.' No wonder! Schirrmacher's the tenor who stepped in for an indisposed Neil Shicoff (Turandot) to acclaim. Absolutely the highlight, if not the operetta's best known aria. 'There in the darkness of the pavilion love's secret reveals for us…' We get it!
In the intrigue, the Baron (Andreas Daum) eavesdrops, but out comes Camille with Hanna, who's covering for him. 'Just as rosebuds blossom in May', it will be a pavilion wedding; and cue another fabulous dance routine. Hanna's announcing her engagement to Camille (to protect Valencienne) leaves Danilo consumed with jealousy. He sings an anecdote about a Prince tricked by a Princess: 'You're no better than your flirtatious sex,' he scorns her.
Act III 'at Maxim's' Valencienne takes part in the Cabaret with Maxim's dancers like a true grisette. Waiters come in carrying trays and chairs -sensational choreography- and take their seats for the review. The Maxim's dance numbers, incorporating members of Vienna State Ballet, are the most exciting I've ever seen here. First, seven women in red wigs, white coats, and revealing a glimpse of red silk petticoats beneath. Only Valencienne wears a frock; the others are like bunny girls in red. They're doing the cancan! And how sensational.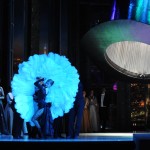 There follows a ballet routine with white feathers against skin-tight black outfits: highly synchronised like 1930s Busby Berkeley set pieces. Back come the cancan girls doing cartwheels and every conceivable dance trick. These dance couples from Vienna Ballet with their stunning routines would make a laughing stock of any Come Dancing finalists. Above is a gigantic top hat suspended. Nothing quite like it in Vienna ; you wouldn't see better in Paris.
And now a reprise of Hanna/Danilo's refrain 'Lips are silent, while violins whisper', (Lippen schweigen,'s flüsten Geigern; hab' mich lieb) Every touch of your hand told me clearly… Melzer is not quite the world's greatest soprano, but she's got what it takes for the role!
In the 'intrigue' Baron Zeta wants a divorce from Valencienne, and offers to marry Hanna 'on patriotic grounds'. But he's gob-smacked to hear that according to Hanna's husband's will, she will lose everything if she marries again. Notwithstanding Danilo finally confesses his love to Hanna; prepared to marry her, albeit poor. Only to find, stipulated in her husband's will, Hanna's millions will be transferred to her new husband. And in the final coup-de-grace, Valencienne shows her husband what's written on the fan, 'I am a respectable wife.' (Ich bin eine anständige Frau). He didn't know that! So now the Baron can forgive her.
Vienna Volksoper Orchestra (and Chorus) were conducted by Michael Tomaschek and they were impeccable. The whole production (directed by Marelli) was breath-taking, the cast polished, with some exceptional soloists. I have never heard such enthusiastic applause in this house; and from a fastidious Viennese audience.
P.R. 2.01.2015
Photos: Caroline Melzer (Hanna Glawari, die lustige Witwe); Volksoper ensemble; Una Zubovic (Ballet) Volksoper ensemble
(c) Dimo Dimov/ Volksoper Wien