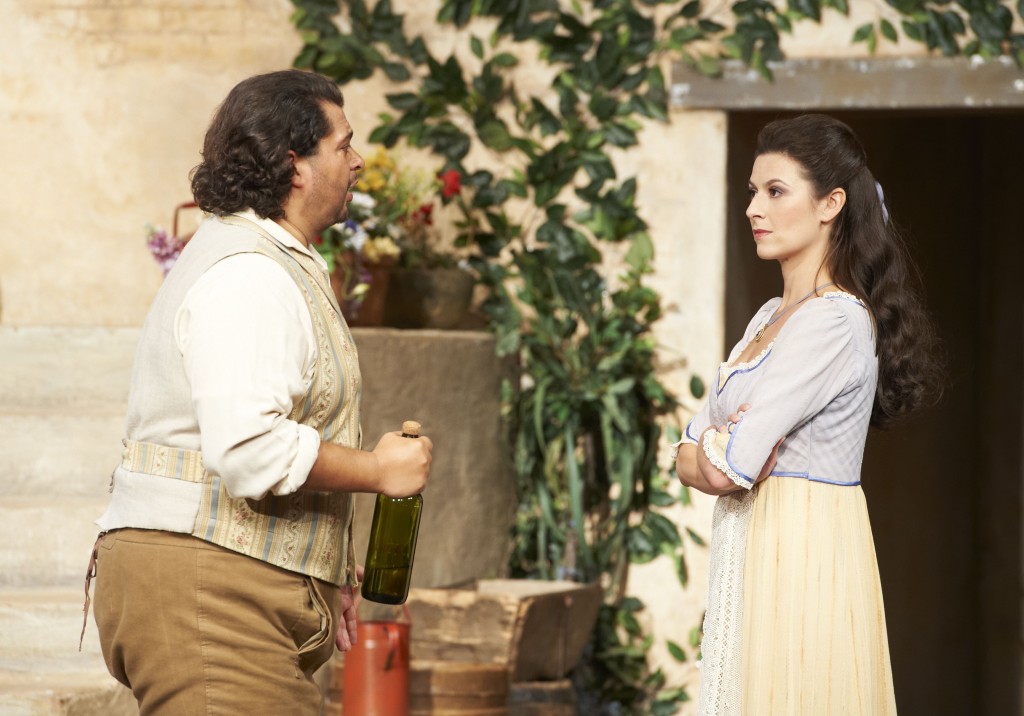 Donizetti's L'elisir d'amore has irresistible appeal to opera audiences. A fairy tale romance between Nemorino, penniless peasant, and rich, beautiful, but unattainable Adina, who secretly loves him, yet plays him off against a sergeant (Belcore) proposing marriage. Ever gullible Nemorino buys a love potion from a visiting charlatan, but is conscripted (by his rival) to pay for it- unaware he's inherited a fortune… And there's Donizetti's marvelous music, including Nemorino's aria- one of the most memorable tunes in all opera: a vehicle for aspiring tenors.
So far I'd resisted the irresistible. Although, on my two previous visits, I was very impressed by Vienna State Opera's traditional staging. Otto Schenk's is a wonderful recreation of a farmhouse courtyard, a vibrant, colourful pageant: light-wooden gables either side, farmers seated in the top galleries; a panoramic view of the surrounding villages; and beautifully colour co-ordinated, with the ladies centre stage wearing cream pleated gowns.
American-trained soprano Chen Reiss is exquisite, relating the story of Tristan and Isolde to the country folk and a rapt Nemorino: how Tristan obtains a love potion to woo Isolde: her relief that such potions no longer exist.
Tenor Celso Albelo was, at first, not at all my idea of Nemorino. He's fat, long-haired, the country bumpkin. But isn't Nemorino meant to be gross and clumsy, the moral that love works in mysterious ways, regardless of class, convention and beauty?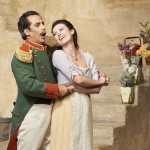 Albelo's Nemorino eats an apple side of stage to vent his disgust, as Adina falls for Sergeant Belcore, of the troops billetted on the village, glamorously dressed in green jackets with red trim, white pants, and black hats.
Marco Caria's Belcore is young, moustachioed, sleeked black hair, and rather gorgeous, the epitome of the 'cavalier'. And what a voice! A baritone of sheer articulacy. He's all chivalrous charm , as he asks her for her love ('Come Paride vezzoso'). And Chen is just breathtaking as the capricious, witty, free-spirited Adina playing him off.
Nemorino is remonstratative side-stage, pulls faces, moodily swivels his hips. But he's likeable. He's honest, and good fun, against the suave rhetoric of his rival.
In a stand-out duet, Nemorino affirms how dearly he loves Adina. She rebuffs him, protesting she wants to stay free and untied. Reiss, with long flowing brown hair, is a natural beauty. She's capable of the tricky coloratura passages, delivered with freshness and charm.
Albelo's Nemorino, a bit of a buffoon, sits by her trying to cuddle up. Albelo's tenor is unaffected- clear, elegant lines, with minimal vibrato. He even stands on the table to woo her. Yet, unexpectedly, they are a plausible romantic couple.
As Doctor Dulcamara , Alfred Sramek, in a black Victorian frock coat, yellow waistcoat, and steel-rimmed spectacles, is straight out of Dickens. Sramek's Dulcamara is quite credible: rather the village doctor than the flash American peddlar. But though well sung – Sramek a distinguished favourite in house- his Dulcamara is maybe too genial, not mischevious and wicked enough. Dulcamara sells Nemorino the love potion – for all his gratitude,(Obbligato, ah! si! obligato)- nothing but bordeaux wine.
Bottle in hand, Nemorino practises his moves, as if in a dress rehearsal. He's a little tipsy. On the appearance of Adina, he feigns indifference. Their scene is hilarious, and even has the audience laughing in their seats.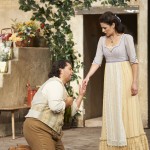 Adina, startled by Nemorino's change of heart, needs to find out if he's really cooled, and announces her immediate marriage to Belcore. Now Nemorino is horrified. Brandishing his bottle, he pleads on his knees, 'Adina,credimi!' It's a real comedy atmosphere; there's is a genuine topsy-turvy relationship.
A fantastically staged banquet preparing for the wedding opens Act 2, with the orchestra's trumpeters and brass occupying the upper galleries. Again Reiss sparkles. She's a real tease as Dulcamara and Adina enact an improvised 'Venetian' love scene. Her light soprano enhanced by the syncopated orchestral playing, the infectious atmosphere even has the audience clapping along. (The notary, with the wedding contract, is adeptly stalled by Adina.)
Also good are Nemorino's return to Dulcamara, for another potion he can't afford. And the scene of Nemorino's enlistment by Belcore, where Albelo attains terrific high notes. Nemorino first threatens Belcore with a chair; then, in the farce, after signing him up, Belcore shakes Nemorino's hand, but twists it, forcing his rival prostrate to the ground.
Ironically, Nemorino imagines the potion has taken effect when the village girls hear the news of Nemorino's inheritance. The girls are all over him. Albelo is like a bouncing ball passed around. And deluded, he ignores Adina.
Chen Reiss's aria with Dulcamara- she learns from Dulcamara why Nemorino signed up- has purity and sincerity, against the bumbling salesman, who even offers her the love potion. Adina refuses: she will use her own eyes to win him. There's a Rossini-like spring to the strings in the interplay between Chen and Sramek. It's a truly comic scene that earned huge applause.
A secret tear in Adina's eyes ('Una furtiva lagrima'), the source of Nemorino's aria. Does she love him after all? A horn solo introduces the mournful melody (of this famous aria), embellished by plucked strings, harp, and bassoon. It begins with a soft, innocent plea: a sincere appeal. Albelo stands in his boots and breeches, yellow shirt and waistcoat, holding his jacket on his arm. This is not at all the excuse for bravura, the tenor's showing off. Albelo's voice has a natural ring. There is absolute stillness in the audience. Finally, self-effacing, Albelo stands erect in his army jacket, as if appealing to us, the audience. Clarinet and bassoon especially underscore this most poignant, unforgettable of melodies. Albelo, defying the expected virtuoso display, is truly moving.
Reiss is equally affecting as she offers Nemorino his enlistment papers. She confesses her love for him. Nemorino, (standing to her side,) head turned away, furtively foots it towards her. The scene is both comic and touching, with superlative coloratura from Reiss. She has repaid Belcore the bounty, bought Nemorino free ('Prendi, per me sei libero')- in keeping with this well- educated, self-liberated woman.
There's a lightness to the orchestral accompaniment as Adina kisses Nemorino, who lifts and whisks her across the stage. And Sramek's Dulcimara is much better in the closing scene, boasting that it was through his magic potion that Nemorino found love, and also inherited a fortune.
The success of this production, underpinned by the sets, owes also to the orchestral playing (Vienna State Opera and Chorus) and Guillermo Calvo's conducting. Calvo was animated, spritely, miming to the performers, enjoying every minute. Light textures, lively tempi refreshed Donizetti's masterpiece and inspired an excellent cast. With a special magic betweeen Reiss and Albelo, this Love Potion had a genuine warmth and humour, its infectious comedy irresistible.
6.09.2012
Photos: Celso Albelo (Nemorino) and Chen Reiss (Adina); Marco Caria (Belcore) and Chen Reiss (Adina); Celso Albelo (Nemorino) and Chen Reiss (Adina); Alfred Sramek (Dulcamara) and Celso Albelo
(c) Wiener Staatsoper/ Michael Pöhn