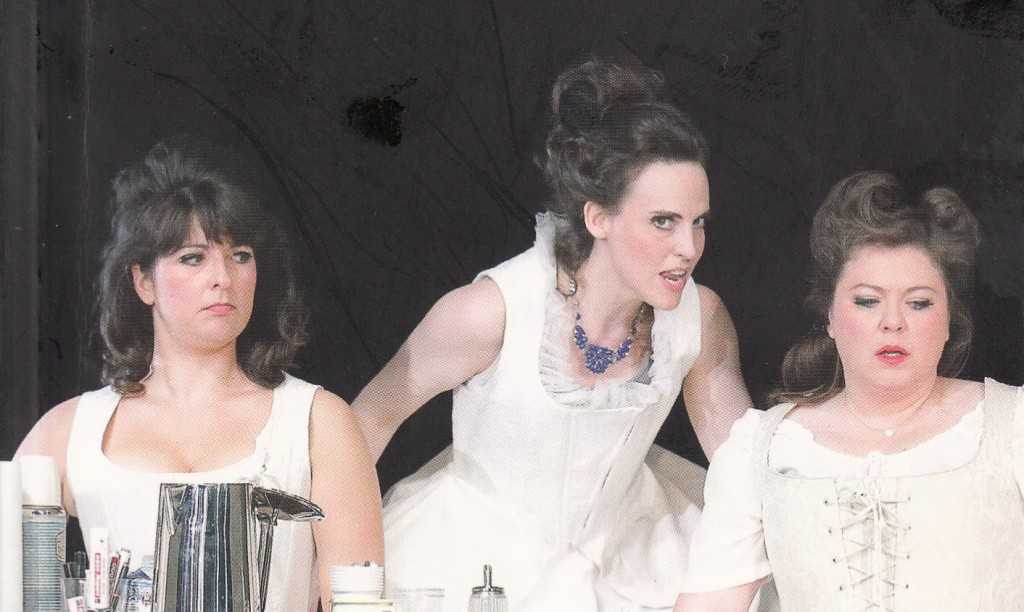 Mozart's Così fan tutte , his third masterpiece with librettist da Ponte, is a cynical, but moving, comedy about sexual infidelity. Don Aldonso , world-wise, a misogynist, wages a bet with two idealist young men, Ferrando and Guglielmo, that their women, the two sisters Fiordiligi and Dorabella , will betray them within 24 hours. In Don Alfonso's plot, the two officers are called to arms; but they return as foreign gentlemen. The men , exotically disguised, and assisted by the maid Despina, trick their women -threatening suicide – into making love, each with the other's partner. The 'former' lovers return in uniform , the women exposed, the 'right' couples are re-united. A problematic reconciliation. But Mozart's serene music smoothes over the turbulent passions beneath the surface.
Vienna Volksoper's new production of Mozart's Cosi fan tutte (directed by Bruno Klimek) opens on a stark black and white stage (design Hermann Feuchter): a black sliding partition, the floorboards bleached white. Klimek's appears to be a framing narrative: are they students filing in, as the overture is playing? In fact, we're observing a dress rehearsal, 'directed' by Don Alfonso (Mathias Hausmann) in black, his assistant Despina (Rebecca Nelsen) in black/white checked shirt.
But it's confusing: they're reciting from texts/scores, but in the opening scene, parrot fashion. This is not helping us to understand this key scene, in which Don Alfonso engages Ferrando and Guglielmo in an argument about the fidelity of women. Each (Guglielmo , baritone Josef Wagner, Ferrando, tenor Jörg Schneider) insists his beloved is faithful; each has his woman on his lap. They guarantee they'll always love their partners: everything else is slander. And hence Don Alfonso's wager. The soldiers (casually dressed,) are called away.
A rail of dresses is wheeled on . The sisters Fiordiligi (Caroline Wenborne ) and Dorabella (Dshamilja Kaiser) strip off . Mercy, we're to have a costume drama after all! Both women are now in creamy white , full-length gowns. Gradually, the 'period' costumes take over, the rehearsal reading from scores phased out.
The sisters, Wenborne and Kaiser, are outstanding out of a solid cast. Musically, there is little to quibble about .The very competent Volksoper Orchestra was conducted by experienced Mozartian Julia Jones.
Their men bemoan their having to leave: all rhetoric, like baritone Josef Wagner's Guglielmo's singing, Cruel Fate! it breaks his heart . Ferrando (tenor Schneider),'his words fail him.' The Chorus, like a motley group of music students, sing of the glories of being a soldier.( Volksoper Chorus are good: but not as smooth as could be.)
The sisters excel bemoaning their departed lovers. Drooling over their first love, both arias seem exaggerated. Dorabella, (Smanie implacabili), sings of her soul torn asunder, and launches energetically into a suicide fantasy: adolescent, but sincere. Fiordiligi (Wenborne) repeats, like rock, she remains steadfast (Come scoglio ): but, repeated twenty times , betrays her vulnerability.
In Mozart's sublime trio, the sisters joined by the scheming Don Alfonso , all are apparently singing in harmony; but, ironically, backstage, a couple of likely lads stand in civvies.
Despina, Rebecca Nelsen (now stylishly dressed) advises the sisters don't insult your virtue. Well sung, Nelsen's explosive, charismatic personality makes her the focus of the opera's comedy, (later coming on in brilliant red disguised as a 'notary' for the bogus marriage.)
Despina , in the opera, is in cahoots with Alfonso . Here Alfonso kisses her. They're a little like dark figures out of Laclos' Les Liaisons Dangereuses, the seducer Valmont and the 'virtuous' Madame de Touvel being from the same time as Così fan tutte (1790).
The 'absent soldiers' now reappear dressed in white robes and head pieces, like Turks (or Albanians, as meant here.) Ferrando sings, Don't be coy . Josef Wagner is rather good in Guglielmo's aria extolling the fidelity of love, tenderly embalming the soul.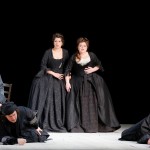 The ladies being slow to take up their advances, they feign to have taken poison out of unrequited love. Now disguised (in brilliant green surgeon's robe!) , Despina 'saves' the two lovers – Nelsen with stunning high notes – assisted by the two ladies' kisses. The imposters are lying flat out. They awake; their hearts are pounding; are they in heaven? But the men are again repulsed in a superbly choreographed ensemble.
The Volksoper stage curtain (lifted on Act 2) is a most splendid tapestry, '1848- 1898'. A taste of what we're missing- beauty, imagination, fantasy- in this monochrome staging. By now, virtually the whole cast are in black, but there are clever interchanges between black and white, when the couples swop partners.
But the singing is of a high standard. Especially Nelsen's Despina who exhorts these ladies not to take everything so seriously : they must be nonchalant, dissimulate with false smiles, false tears; thus command both men and women. Nelsen is super-talented, with fabulous coloratura and bubbling vitality.
And Wenborne (who sang Dorabella at Staatsoper in January 2014) is exceptional as Fiordiligi. In her Act 2 aria (Per pieta ben mio), she sings excusing herself for the treachery of love : what scandal and shame, hidden in the shadows. Wenborne, accompanied by woodwind and horn, was genuinely moving.
Ferrando, who boasts to Guglielmo of Dorabella's faithfulness, is trumped by his friend, waving a locket with Dorabella's picture. ( They've exchanged lockets as tokens of love.) Guglielmo (Josef Wagner), in his aria , sings passionately, Women, they deceive us all, all, (Donne mie, la fate e tanti.). He plays with, dangles, Dorabella's locket.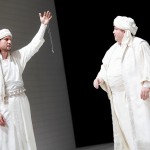 They betray us all, he repeats: Why, you know why? he asks.It's all, by our ( 21st century) standards, uncomfortably misogynistic. Ferrando sings of how he feels betrayed, mocked, lied to by her. Schneider is a fine tenor , but perhaps a little too forte (for Mozart.)
But what of the women's feelings, how they have been betrayed? Fiordiligi is trying to escape from her new lover Ferrando, who prevents her; while Dorabella is enjoying her 'new love' Guglielmo.
In the finale , Don Alfonso advises , what else can they all do but marry their deceiving women. Così fan tutte : that's what all women do, they're all like that. (The two new couples promise to marry- in a bogus ceremony, before a notary in disguise (Despina). A drum roll announces the 'officers' return. Don Alfonso explains the wager, and attempts to bring the previous couples back together. But the reconciliation is problematic.
A better comedy they've never seen, gloat the conspirators, Alfonso and Despina. The Chorus sing of Cruel Fate; a thousand cruel thoughts; Heaven help us. The women excuse themselves, they were enticed by Alfonso. But they sing, if that was true love, they'll give anything for it. In the closure, it's an understatement to say 'the parties don't find it easy to go back to their original relationships'. Rather like the characters' awakening after Shakespeare's A Midsummer Night's Dream. Chorus sing, he's lucky, who can see the funny side: with composure.
After the disorientation of the opening- director Klimek's unnecessarily irritating framing device- the production settles down. And whatever happened to the 'rehearsal'? Who cares. It might put some off a musically distinguished rendering of Mozart and Da Ponte's very sophisticated opera; complicated enough. Also, be warned , this is a German version of the opera (Kurt Honolka), against the usual Italian . Perfectly acceptable. But why are the sub-titles also in German, not English? P.R. 18.05.2015
Photos: Dshamilja Kaiser(Dorabella), Rebeca Nelsen (Despina), Caroline Wenborne (Fiordiligi); Josef Wagner (Guglielmo) and Joerg Schneider (Ferrando)
(c) Barbara Palffy/ Volksoper Wien