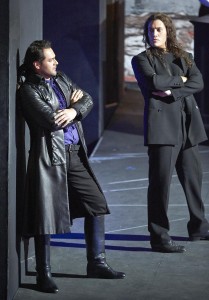 At Vienna State Opera,Jean-Louis Martinoty's production of Don Giovanni is controversial-a pastiche of 18th Century with the modern. But Mozart's opera (Da Ponte's libretto) is still so modern and relevant, why not use technical resources to communicate it? Don Giovanni is an anti-hero whose exploits entertain us. His victims give a running commentary, but Mozart withholds judgement- only implied in Giovanni's unrepentant end. Machismo and its consequences are what the opera is about: still shockingly relevant to a 21st Century world where a medical student can be raped on Delhi public transport, and men daily abuse their social power over women. Mozart doesn't glorify Giovanni,but rather problematises our sneaking admiration for his nerve and boldness.
Don Giovanni (Ildira Abdrazakov) first appears all in black, tight pants, t-shirt, black mask – like a house breaker- in a clinch with Donna Anna, in a lilac silk gown. His accomplice Leporello (Erwin Schrott), Giovanni's servant, fashionably long hair, also in black, is waiting 'outside'. But why has Donna Anna (Marina Rebeka) allowed her seducer into her room, (as implied in this production?) She panics, her calls for help answered by her father, the Commandant, who is killed by Giovanni in a sword fight. In this world of machismo chivalry, Don Ottavio (Toby Spence), her fiancee, swears vengeance. Giovanni's misfired escapade and its consequences are a defining moment in the drama. Giovanni is stalked by his avengers. 'My heart is full of love and revenge', sing Donna Anna and Ottavio; but they're ineffectual (until joined by Donna Elvira, Giovanni's jilted fiancee.)
Giovanni and Leperello are like a couple of likely lads chalking up their sexual conquests. We now see Giovanni in black leather coat, high boots, long hair tied back: very sexy. They're having fun. Leporello (Schrott) does more than assist his master; he shares in the spoils.
In Martinoty's scheme, Giovanni chances on Donna Elvira in a hotel reception, Veronique Gens – short black-haired, wearing a dark purple business suit, white shirt and tie- is the 'feminist' professional. Soprano Gens, recently acclaimed here as Alceste, impresses in her aria, 'where is the villain who betrayed my trust?' Meanwhile, Giovanni is weighing up the chambermaids. What does he have to say after such behaviour? He violated the most sacred bond, leaving her, and her tears. (She talks like a story book, quips Giovanni.) Now can she have her revenge? Giovanni scornful, Abdrazakov has a devilishly contemptuous laugh. Leporello's advice is,' the square isn't a circle'.
In a stunningly effective staging- with women in the background arranging a wedding reception- Leporello's catalogues the ladies Don Giovanni has conquered. In Leporello's famous aria, Giovanni 'loves the blonde ones for their kindness, the dark ones for their faithfulness, the pale ones for their gentleness.' Soon the ladies are flicking through annuals of Giovanni's exploits, laid out on a table. One of them gets up on a chair as if to test her suitability. Irwin Schrott, bass-baritone, has a rich timbre, but maybe here a little ponderous. 'As soon as he sees a skirt, you know what's on his mind', should be more animated. But Schrott, ended with a deep sexy purr, to great applause.
At Zerlina and Massetto's wedding reception, Abdrazakov arrives like a rock superstar on an Italian tour. But Giovanni exercises, and abuses, his seugneural rights in a bid for Zerlina. 'Go take them to my palace, offer them chocolates, wines, hams', he orders. Zerlina (Sylvia Schwartz) and Masetto (Tae-Joon Yong) are both in brilliant white, Abdrazakov in sexy black leather. But Masetto knows his place-'I understand , sir, and will do as bid'- but privately, curses 'wretched Zerlina who's always been his downfall.' He knows 'the gentleman will make a lady of you'. Giovanni, close up to Zerlina, is 'finally rid of that idiot'.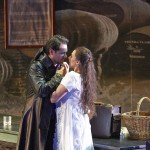 Schwartz, well-tanned, long flowing hair, has a fulsome, curvaceous figure. Abdrazakov, is a powerful bass, but lyrical in his seduction. She shakes her head, but her body tells otherwise. Schwartz is beguiling; he strokes her arm, moving to Mozart's light, bouncing strings. The 'morality police' come just in time. Elvira, Veronique Gens now dressed in a brilliant heliotrope gown, pleads with Zerlina: learn from my sorrow, or you will suffer the same plight.
To ruin Giovanni's day, they're joined by Donna Anna and Ottavio. Elvira's 'You can see how black his soul is by just looking at his face!' is countered by Giovanni's, 'Be more discreet'. The music is very civilised on the surface: phantoms overshadow the calm waters. 'Ottavio!' Donna Anna feels faint as she recognises Giovanni, he who killed her father. (As Anna and Ottavio, Rebeka and Spence are ideal together – the same height, blonde, innocents.) 'He intended to rob me of my honour, but robbed me of my father!' She begs Ottavio to avenge her: remember the blooded wounds.
Marina Rebeka, good as Anna, has an aura of innocence, but the power, the sense of outrage is lacking. As Don Ottavio, Toby Spence, front stage, is playing with his sword. But Ottavio is a case of failed machismo. He finds it hard to conceive of a nobleman committing such a crime. He's meek: all rhetoric.'When he sighs, he sighs wih her, when she's angered..'(Dalla sua pace) It's beautifully sung, but rather colourless. Spence is a handsome, but slight figure: no match for Abdrazakov's scheming Machiavellian Don Giovanni. If he's the alternative, no wonder women find excitement elsewhere.
Giovanni, still with designs on Zerlina, arranges a banquet to separate the married couple, the masqued entertainment brilliantly staged. A triangular peep-hole, reveals Leporello and Giovanni bewigged in 18th Century costumes. The stage opens up to a 'film-set' wardrobe- rails of costumes, behind which Giovanni secretes Zerlina. Masetto slaps Zerlina; sings, she accepts his blows like a lamb. He can scratch her eyes out, but she can see he doesn't have the heart to do it.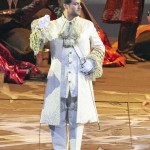 Front of stage, appropriately filled with disguises, Giovanni, machismo self-publicist, delivers his signature tune (Finch' han dal vino); boasts, it's all a joke. He likes a good time. Abdrazakov is dressed in a white frock coat, richly gold-trimmed . The intrigues are cleverly suggested by a mirrored split-screen. Masetto observes Giovanni fondling Zerlina. The three avengers infiltrate, 'strengthen their resolve', kneeling, facing the audience, behind them the celebrations. But publicly, they acknowledge the Don's hospitality. Abrazakov's Giovanni, in dazzling white, in an outrageous feathered hat, arrogantly exudes power. The ultimate in extravagant spectacle, were there flashes in the audience?
In the darker Act 2, Giovanni, with callous cynicism, switches clothes with Leporello to woo Elvira's maid. Leporello (Schrott)- after courting Elvira disguised in Giovanni's frock-coat- reproaches Giovanni, 'you must have a heart of steel'. But Abdrazakov is wonderfully tender, (accompanied by blind lutist), serenading the maid beneath her window. He's a scoundrel, but such a charmer. Then, still dressed as Leporello, briefs Masetto how to ambush his master. Only to beat up Masetto , who's after all, planning to depose his aristocratic seigneur. Schwartz, very good in Zerlina's famous aria Vedrai, carino eases Masetto's pain with love 'a balm she always carries with her.'
Leporello unmasked- they've been duped again- Gens is outstanding in Elvira's aria, confessing she still loves the Don, in spite of the murders he's been involved in.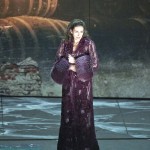 What conflicting emotions! The ungrateful man has betrayed her. And yet she pities him, her heart filled with apprehension. Wearing a dark purple robe- holding up Giovanni's frock coat- Gens is most affecting . Also when, finally in nun's garb, Elvira tries to persuade Giovanni to change his life. His mockery earns her prescient' May you rot in your decadence!'.
In another key scene, Donna Anna upbraids Ottavio, still promising revenge. Crudele She pleads: forget your tribulations -if you don't want me to die of grief. Rebeka was enthousiastically applauded.
In the effectively staged come-uppance, Giovanni, who unwittingly invites the Commandant's spectre to dinner, is at first unphased. He will not repent. His limbs are shaking, but he's defiant.'Nobody has ever called me coward!' It's all about machismo, misplaced honour: 'my heart knows no fear: so be it!' 'Repent, never!
Although Giovanni's avengers stand in judgement, Giovanni, who's blighted their lives, lives to haunt them. Ottavio pleads with Donna Anna to give in to his marriage entreaties, but she requests another year. They sing, 'my long wait must yield', but their fate is problematic. Elvira will end her life in a nunnery. And Leporello will find a better master. Yet the ensemble front stage sing 'All wrongdoers will meet with such an end; the sinner's wrong punished after his death.' As if Mozart/Da Ponte are paying lip-service to the Catholic Church. Martinoty's stage back-drop, however, shows an 'Enlightenment' sky, with a statue resembling Romantic hero Caspar-Friedrich. Mozart specialist Louis Langree ably conducted Vienna State Opera orchestra and choir.
PDR 10.O3.2013
Photos: Marina Rebeka (Donna Anna); Ildar Abdrazakov (Don Giovanni) and Erwin Schrott (Leporello); Ildar Abdrazakov and Sylvia Schwartz (Zerlina); Ildar Abdrazakov (Don Giovanni); Veronique Gens (Donna Elvira)
(c) Wiener Staatsoper/ Michael Poehn