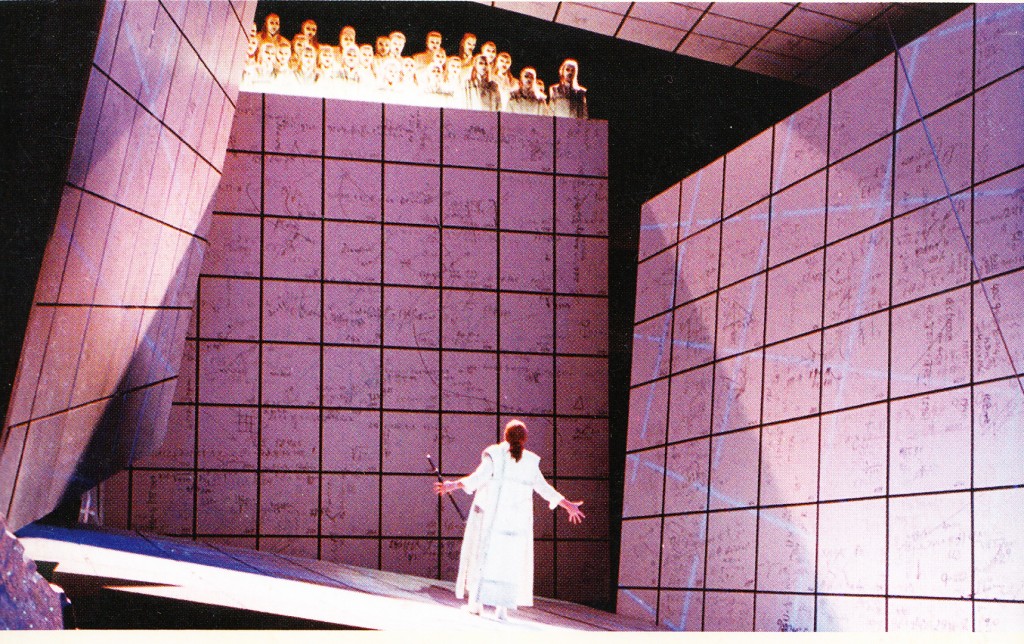 At Vienna State Opera, the panto moment comes early: the papier-mache dragon with marble-like eyes- like a Chinese New Year creation- peers through the topsy-turvy stage, checked white panels side-stage angled, giving a cage-like effect. The 'Three Ladies' in billowing crinoline gowns – turquoise, purple, and emerald- could be panto dames.They're gothic, with eye masks, painted faces, maybe bearded. Later, in Turkish pants, like Barbary pirates. Marco Arturo Marelli's production cleverly points up their exotic orientalism: the dark Other.
But they sing exquisitely: how handsome he is. The panto's ugly sisters have found their Prince Charming. Tamino, by contrast dressed all in white, collapsed on stage.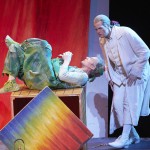 Papageno (Hans Peter Kammerer) a rich baritone, dressed like a green sprite (Ariel?), sings if all the young women were his; he doesn't know where he was born, catches birds for the Queen and Ladies. Tamino (Benjamin Bruns) is dressed in a frock coat, with his hair tied back- as if out of the 18th Century, Age of Enlightenment. In his aria 'Das Bildnis ist beschaubend schön', in love with (Pamina's) picture: if only he could find her, she would be his forever. Bruns, an elegant tenor, tall, refined, and blonde, is well cast.
Cracks of thunder and lightning presage the Queen of the Night, Iride Martinez, in a silver, star-spangled black gown, blue hair, black make-up , and wearing a spiked silver crown. 'Her tears were in vain: her power wouldn't suffice to prevent her daughter's abduction'. (She affords silver bells and Zauberflöte for Tamino and Papageno's protection.)
Pamina, the beautiful Anita Hartig, has dark brown hair, also dressed in white. Her duet with Papageno, who tells her of the plan to free her, is superbly sung. In Hartig's first aria, Pamina sings of a woman's duty to give men a loving heart: love sweetens every sorrow. And with soaring notes, 'Mann und Weib..reichen an die Gottheit an'. Delightful soprano Hartig- who performed the role in 2010- is the highlight.
Escorted (by the three Knaben) to Sarastro's Temple, Bruns' Tamino also achieves tremendous top notes, singing of his duty to serve Pamina: he 'will go where truth and love are found'. Tamino, who swears vengeance, is convinced, by Sarastro's priest, that Sarastro rules in the 'Temple of Wisdom'. Sarastro's priests are dressed in white cassocks, a little like straight -jackets . Sarastro (Sorin Coliban) wears a gold cloak with white braiding, white-masked face, spooky slit- red eyes. (The projection of cage bars onto the side stage suggests Tamino's spiritual bondage.) Sarastro will not force Pamina to love. She has her duty to her mother- 'a very proud woman'. But 'a man, being godlike, must guide their hearts'.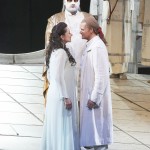 Act 2, of Tamino's spiritual trials, has some of Mozart's finest music, in arias and duets; but the high seriousness is lightened by the Papageno sub-plot, a comic mirroring of Tamino/Pamina's. A pre-condition of marriage, they are to be taught of human duty and the power of the gods. Sarastro, deep bass Coliban, pleads, strengthen them with patience in danger. Impressively staged, Sarastro, the apex of the trio, Tamino and Pamina, his followers, either side, the choir in ranks back of the stage.
Papageno, however, is into wine and good food; fighting isn't his thing: if only he could have a wife. Papageno, forbidden to speak, is 'tested' by a hag-like figure in a black shroud, cocooned as Papagena.
In the polarisation of good and evil, the 'evil moor' Monostatos (Herwig Pecoraro), is all in black, a Darth Varda figure; but he's a light tenor. Like Caliban ravishing Miranda (in Shakespeare's Tempest ), Monostatos sings, 'Is he not flesh and blood': to live without a woman! 'White is beautiful; I have to kiss her'. Monostatus looms, ape-like, over the sleeping Pamina.
The Queen of the Night intervenes; but orders Pamina to kill Sarastro, so she can control the solar cycle (which her husband withheld from her, passing it on to the Priests.) In her famous aria, 'I rode up the seven fields of the sun', the Queen threatens Pamina will be an outcast forever, abandoned, destroyed by nature. Martinez looks formidable (blue hair, painted face shrouded); but, too light a soprano, not quite secure in her top notes, lacks fierceness. Martinez was well applauded- perhaps more for Mozart's iconically popular tune. Sarastro, arriving to save Pamina from Monostatos, promises,'Vengeance is not our practice (in these sacred halls); and should a man go astray, love will guide him 'ins bessere Land'.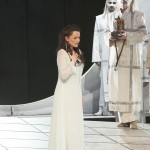 Pamina's aria 'Never will the hour of delight come to fill my heart again' was the best singing all evening. To a flute accompaniment, 'See Tamino, my weeping tears flow only for you.' If he doesn't feel her love's longing, so wird Ruhe in Tode sein. The Chorus on high sing, soon this brave young man will find new life. Again Hartig is intensely moving in Pamina's desperate aria, 'See, Pamina will die because of you. Let this dagger kill me!' The Chorus respond 'if he could see you, because he loves, and would die for you'. The three Knaben– significantly now wearing 18th century Enlightenment wigs- persuade Pamina against suicide.
Tamino and Pamina reunited, Bruns and Hartig are outstanding in their duet, 'Oh! welch ein Glück'. She'll always be at his side; her path is strewn with roses. Play the Zauberflöte! with the power of music, they'll travel gladly through death's nocturnal gloom, the sound of the flute their protection.
In the parallel, parodic, sub-plot, Papageno- imbibing wine, consumed by love- also threatens to end his life, if she (Papagena) doesn't respond. Kammerer's 'So that's it, goodnight false world', is very well sung. The Choir comment 'One life, and that's enough'- is the other, earthly, side to Sarastro's (unattainable) spiritual order. 'Papa! Papa!' Papagena comes out of her jack-in -a- box container. Victoria Varga emerges a curly , spritely blonde in a bright green pixy outfit, matching Papageno's.
The dark plotters, the Queen of the Night and Monostatos, are outside the Temple: they will destroy the (Temple's) bigots forever. The Three Ladies vow allegiance to their Queen- all are blown away by thunder and lightning.
But Enlightenment prevails. Chorus sing ,'The Rays of the Sun drive out the night, destroy the power of the deceivers.' So, in a brilliantly lit chamber, backed by rows of Sarastro's priestly choir, Sarastro, front stage- like Prospero renouncing his magic- hands Tamino and Pamina the Queen's crown and a silver casket, symbol of his power.
In the opening, fireworks set off a pantomine atmosphere-with various explosions throughout the stage. Sarastro's camp is a magical world of nature in metamorphosis, human shapes have (pantomine) animal heads, which turned in unison to Tamino's flute. But there's a deeper agenda expressed in Mozart's opera, in which revenge has no place, friendship leads. In Marelli's intelligent Enlightenment scheme, the three Knaben sit observing, in white wigs and brightly coloured frock coats, to match the rainbow curtain ushering in a new age.
From the brilliant overture, Cornelius Meister conducted Vienna State Opera Orchestra with pointed, springy tempi, refreshing the score with a lighter 'period instrument' sound. Vienna State Opera Chorus also excelled. The cast was distinguished, the leads, Hartig, Bruns, Kammerer, enthousiastically received. P.R. 5.01.2013
Photos: Hans Peter Kammerer (Papageno), Benjamin Bruns (Tamino); Sorin Coliban (Sarastro), Anna Hartig (Pamina), Benjamin Bruns (Tamino); Anna Hartig (Pamina)
(c) Wiener Staatsoper/ Michael Pöhn