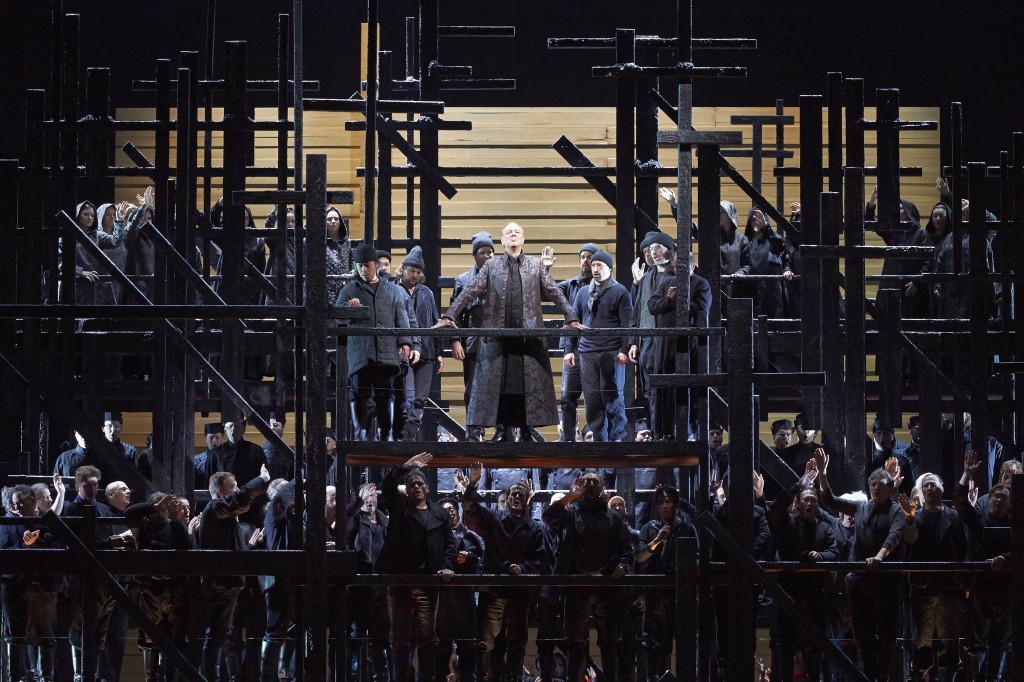 Khovanschina is set in the turbulent period of change from 'old' to new Russia following the accession of Peter the Great. The complex plot conflates history. Ivan Khovansky and his son Andrei are determined to preserve the old feudal Russia; Prince Galitsin represents the new westernised ideas being introduced by Peter; and the monk Dosifei and Marfa the reactionary 'Old Believers'.
The overture 'Dawn on the Moscow River' (ravishingly played by Vienna State Opera orchestra under Semyon Bychkov) is everything you ever adored in late 19th century Russian nationalists from Borodin to Balakirev. But Mussorgsky's own music is not quite what we hear. Mussorgsky's unfinished opera was orchestrated by Rimsky-Korsakov, whose performing version prevailed until Shostakovich (1958) restored substantial cuts. (The increasingly modern Act 5 was scored by Stravinsky.)
The stage in Lev Dodin's production is a horribly modernist structure, a steel grid on three levels, lit by a red square behind hinting at Malevich's geometric paintings. At first the 'scaffolding' is closed off by red/white emergency tape, cleared away by black-clad workers wearing beanies.
'Sodom and Gomorra-but he still makes a profit'- 'Hey you, scribe!'- Norbert Ernst's head is visible on a pulpit out of the stage-'Read this!' Prince Ivan and Andrei are planning a coup d'état; peasants will be set up against the authorities. We see the Chorus suspended on a platform below stage. The Chorus of soldiers sing 'What is happening in Moscow; they're handing out newspapers to everyone. (They are soldiers, but could they also be the modern proletariat planning revolution?)
But, in Peter the Great's time, ' if you're poor you will need a scribe': the scribe is 'part of the ruling classes'. They grab him, and throw him up and down: don't make fun of us, they taunt him.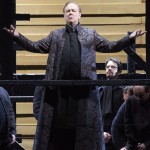 Now, from the top of the steel tower, Khovansky (Ferruccio Furlanetto) addresses 'My dear children in Moscow and in all Russia.' Furlanetto, in black cassock, grey collarless overcoat, could be a (Communist) party leader. He calls on his soldiers: are your weapons ready. They will march on Moscow. Beneath this tower, a tumult of people, with children waving small red flags side of the stage. Unmistakeably political.
We hear the voice of a woman (Emma). She identifies her attacker, Khovansky's son Andrei who chases her,'How sweet you are, tell me you love me.' Tenor Christopher Ventris, in a singlet- all in black down to his boots- looks like a body-builder. She's saved by Marfa's intervention- she's his former lover- chiding him for his faithlessness. Is his powerful pride greater than a suffering maiden? (Andrei threatens, must he kill her too.)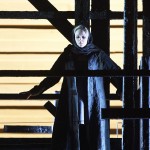 Elena Maximova's Marfa, a hauntingly poignant mezzo, is dressed in a black lace-patterned dress, and black shawl, her beautiful blonde hair in a bun. Maximova stands out in a star line up.
Khovansky thunders- 'What is going on here!'; Furlanetto, platform lowered, orders his soldiers to take the girl (whom he fancies) away. 'As if he has no control over his son!'
In Khovansky's key aria, 'The hour of darkness and spiritual decline has arrived. We are on the brink of an abyss,' he sings. Everywhere people are breaking away from the true doctrine: a great struggle lies before us. Tremendous, Furlanetto's sonorously expressive bass. He appeals to the Almighty. Russian bells clink. Chorus murmur, Almighty, dispel corrupt power, God give us strength.
Conductor Bychkov was cheered re-entering before the 2nd Act! Still that grim edifice…Yes, it could, with its different levels, represent power factions and classes. But there's no sense of historical context, given Mussorgsky's intention to dramatise a watershed (1692) in Russian history. It's as if Lev Dodin is purposely de-historicising Mussorgsky's opera.
Prince Galitsin, the reformer, a central figure in the drama- Herbert Lippert, white-haired- sings 'Why is he always filled with doubt. No! he won't succumb to the vain dreams of the past. The aria is like a soliloquy. Take care, pride! He reads a letter (from his mother?), who bids him preserve the purity of his soul. Lippert's lyric tenor has wonderful purity and powerful reserves. Dark things torment him; how futile is power: how dimunitive is our understanding.
The fortune teller he summons is Marfa. The future lies veiled in a mist. Water does not lie, speak! She (Maximova) is perched, hovers transfixed :she summons the souls who will reveal the prince's destiny. 'You are surrounded by malevolent people': the Prince is threatened with disgrace and exile to a distant land, stripped of wealth and power.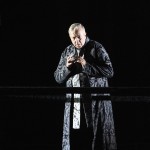 So that's why he was so troubled! 'I face shame and ruin!' Yet he had planned (only a short while ago) to renew his beloved fatherland.
In a key dramatic ensemble, Galitsin's is the meeting place of all the political factions. Khovansky arrives unannounced- nowhere to sit- he taunts 'the Tartar' Galitsin, settling old scores. Dosifei (bass Ain Anger) arrives and interjects. Calm your anger: your petty quarrels won't save Russia. He reminds them of his past: he renounced his princely rights. That a Russian Prince should renounce his power and adopt the Monk's habit! The reason for Russia's disgrace, they know: our strength lies in our faith in God. Simple folk are leaving home, fleeing from the reforms. Dosifei invokes a religious community of faith, while Khovansky bemoans, if only he could have his soldiers! Preserve the old traditions, he sings. Galitsin, Khovansky, and Dosifei- reformer, soldier, and preacher-are on different levels, talking up and down to each other. Alexander Borovsky's stage, at least here, effective; but some audience found it confusing.
We hear the Chorus: 'Who are these people?' -hooded figures in black- 'they are true believers.' Marfa arrives; she managed to break away from Andrei; she brings shocking news. While they're jostling for power, a new force – Peter the Great and his guard- is emerging. Shaklovity (Andre Dobber) enters. The Khovanskys -denounced- are 'planning a coup d'état.' He, Peter, called their crime of treason, Khovanschina, the Khovansky plot. And orders the Khovansky eliminated. There's a tremendous, brass fanfare: ominous.
This is surely the high point of the opera: the later Acts seem disparate, disconnected episodes: the fragments later composers tried to cohere.
So opening Act 3 , Chorus sing ,'we have slayed, conquered heresy and routed out evil.' A woman is walking through the meadows.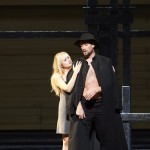 Marfa, Maximova in a mini dress , is erotically running her fingers through her hair: she sings, love-sick for the unfaithful Andrei. Susanna (Lydia Rathkolb) a fanatical disciple of Dosifei, has been spying on Marfa. Susanna denounces her -'You have lead me into temptation'-and will testify against her! Marfa is seen on Dosifei's lap, comforting him :'We shall be like God's candles.'
The scribe announces that Peter's guard has attacked. Khovansky's soldiers want him to lead them into battle. Khovansky sings how they were once triumphant, knee-high in Moscow's blood. Now things are different; Peter's terror reigns. Go home and accept your fate. Forever!
Furlanetto's Khovansky , his life in danger, is bolted up in his house, distracted by his 'harem'. Furlanetto sings, life in Russia is gloomy enough; he must endure the dirge of wailing women! But they offer whatever he desires. Danger! He's threatened in his own house. (In a highly erotic scene, we see a naked leg, veiled bodies in the 'Dance of the Persian slaves'.) Shaklovity appears, like an executioner . The Tsar wants him to attend; the Council cannot function without him. Flattered, Khovansky orders his finest robes and staff of office-(left to our imagination!) But Khovansky dies by Shaklovity's assassins. Furlanetto's is a towering performance: his demise is also that of the opera: loose and baggy structure (end Acts 4 and 5) lacking the dramatic cohesion of the first Acts.
We hear Marfa's prophesy fulfilled, Galitsin sent into exile. We see Ain Anger's Dosifei in a 'cell', with Marfa laid out before him, arguing. Marfa asks what fate the Council has decided for them. The order is to surround them. Time for eternal glory at the stake! Dosifei asks Marfa to take Andrei with her : love him as you always loved him. Anger's bass and Maximova's magnificent mezzo excel.
Act 5 , a giant immolation- Dosifei's religious order threatened , its fanatics called to sacrifice – is really turgid; and here, ill-judged, in dubious taste. First the women in black cassocks strip to their underwear, white slips. The Chorus is well sung, but it's vapid. Except for Maximova, in Marfa's plea, praying for salvation in the fire uniting her with Andrei. Maximova justifies this Act.
Top platform, Anger, down to his singlet and trunks, with Ventura's Andrei , and Maximova all in their underwear. The hour has come: trumpets herald Peter's soldiers: Fate has prophesied their end. Amen.
This cast was uniformly outstanding, Bychkov inspirational, Vienna's forces (State Opera Chorus supplemented) at their best. Musically so good to make one try to ignore the gloomy stage set. P.R. (15.11.2014)
Photos : Ferruccio Furlanetto (Ivan Khovansky); Elena Maximova (Marfa); Herbert Lippert (Prince Galitsin); Ain Anger (Dosifei) and Elena Maximova (Marfa)
(c) Wiener Staatsoper/ Michael Poehn