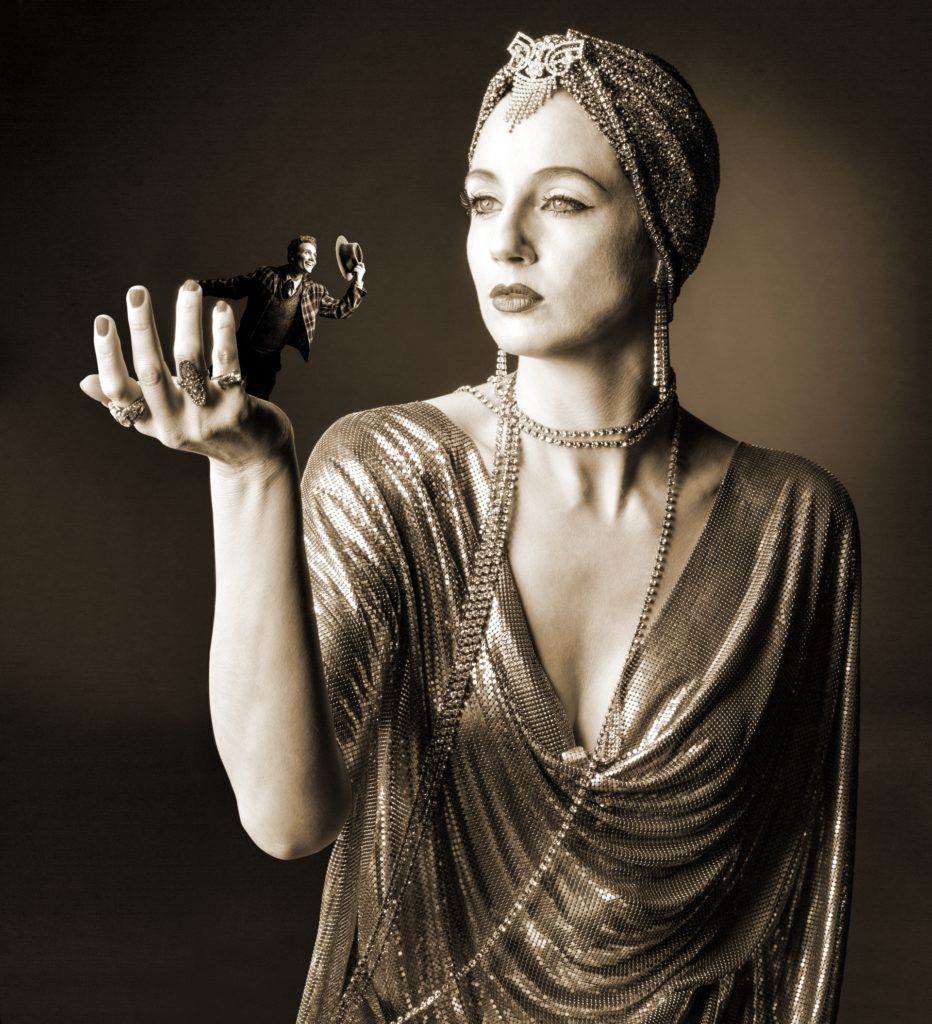 In Axel at Heaven's Door, Ralph Benatzky's 'Hollywood' based operetta, Axel is the luckless reporter who stakes everything on an interview with 'unapproachable' film diva Gloria Mills. So he endangers his engagement to Jessie, who's conveniently secretary of 'Scott', Mills' Film studio. She turns to Axel's best friend for consolation, a hairdresser exiled from Vienna. Meanwhile Mills confronts the realities of stardom, in love with a sleazebag posing as a prince.
Benatzky's 1936 operetta was one of the last in the genre, before many of its (Jewish) composers and musicians were driven out of Austria and Germany by the Nazis. Axel an der Himmelstür, based on the satirical comedy by Paul Morgan, famously depicted 'Hollywood without exaggeration, guaranteed authentic', the model for Gloria Mills being Greta Garbo.
Peter Lund's splendid Volksoper production is film noir as musical. First half, the actors (and action) on stage are in black/white sepia tones, merging into the film projected on the screen behind. In the brilliant opening, the stage set, with art deco gilded panels, comprises a small cinema, for a private film-studio viewing of a Gloria Mills silent movie, Once upon a time in Hollywood , (authentically edited by Andreas Vancsics), with Volksoper orchestra in the pit. This cues into the first musical sequence, HOLLY-HOLLYWOOD: where everybody's a star: nothing is real, Chaplin, can do it, Buster et al.
But Gloria Mills needs a script; so we're taken on a trip of the Hollywood studio system. Closing in on Jessie (Juliette Khali) secretary of Scott Film Corp, where reporter Axel tries to get an interview with Mills. Andreas Bieber is nerdy, with wiry hair, in a plaid jacket. A film crew comes in complaining about the 'impossible' Miss Mills. The screen behind is constantly changing, with a cartoonist's illustrations of Hollywood.
Gloria Mills (Julia Koci) enters from the side of stage, 'I'm a star , how can I possibly moan.' With boyishly short hair, she's stunningly dressed in a clinging black silk gown, cut away at the thigh. (Zarah Leander, an overnight star premiering in the role, wore costumes cut so high, they said you could see her crotch.)
Her aria sings of the Movie Star: the idol of the century. (Her many film posters are shown behind her.) But, 'in the depths of my heart I am alone,' she confesses. In the role Julia Koci (who interchanges with Bettina Mönch) has charisma: that sultry, aloof star-quality, and vocally , she smoulders diva-like, confidently reaching high notes. (Axel is spotted, huddled under a table, and she, averse to the press, the paparazzi, has him ejected.)
Mills wants to resign. In a (mock) fur coat and a hat resembling a pelican's beak , she confronts studio head Cecil McScott (Kurt Schreibmayer), an obvious satire on Cecil B. De Mille. A fascimile cut-out of the studio's limousine knocks over an old man- in fact, Axel disguised by make-up artist Theodor- in a scam to blackmail Mills into getting him into her villa. Now, the old man invited to dinner, Axel's at Heaven's Door.
In the sub-plot, Theodor (Peter Lesiak) visits Jessie's apartment. Modernist white cabinets: profiled against a side-view of a Bauhaus apartment block. Ihnen zuliebe I'll do anything to please you, he sings: one of the show's famous numbers, as Theodor appears to cut Jessie's hair. But their love -as Axel appears- is 'taboo', they sing.
Theodor is an exile from Vienna. But the stand-out nostalgic waltz 'Everyone wants to watch the real movies from Vienna ', Echten Film aus Wien is, in fact, a send-up of all the stereotypes: a parody of a Viennese song that's 'reconstituted as Hollywood corn.' The Danube flows through the centre of Vienna; Schubert and Johann Strauss live in the same house; everything's in English. The cast join a screwball line-up from Strauss to Kaiser William, the Prater and Stephansdom each side of stage. Vienna how it laughs!
(Closing Act 1,) a montage of headlines bring us up to speed on the gossip about Gloria. Will she leave him (Tino); how often does she use cocaine? The closing shot is of Axel entering the gates of heaven (Gloria's estate), the screen now swirling clouds.
As Axel stands in Mills' Hollywood palace making notes, we see on the white screen behind him a cartoonist's sketch of the Hollywood star's home. The back-stage screen (Sam Madwar) is used as if to illustrate his reporters pad.
But the screen lifts on -you've guessed it – a spiralling staircase, with five men in deejays , top hats and canes, leading into a dance routine led by Axel.Tenor Andreas Bieber excels as a comic actor: as a singer, he maybe lacks operatic range. He's as meant to be, a musical entertainer, ideal for operetta.
For Act 2- we're in Gloria Mills' home- the set is gold-tinted. And -wow!- Mills (Koci) appears as a platinum blonde, in a lustrous gold creation, a silk gown, and a zebra-striped coat. Now, bathed in a gold light, the show stopper Gebundene Hände– tied hands spell out the end of passion, (or whatever.) Soprano Koci, who has some considerable talent, ended confidently on a gloriously sustained high note. The House erupted spontaneously, the longest applause of the evening.
In the preposterously complicated intrigue, Axel reveals his identity ; but when the Sheriff (Gerhard Ernst) arrives, Mills, like a true actress, shops him. The witty script (Hans Weigel) is forever referencing lines from classic movies. They exchange lines from Robin Hood , he being the Sheriff of Nottingham to Axel's Robin, who gives him the slip. Mills learns that her beloved Prince is -surprise-a fraudster. Axel thwarts her suicide bid just in time; and she reluctantly lets him spend the night for protection.
Meanwhile, Jessie and Theodor have slipped into the villa: an excuse for the appealing duet 'Just to please me', (Khali and Lesiak.) In the ingenious set, we see them sneaking into the upper bedrooms ; later masked characters snoop suspiciously in and out, (are they after the diamonds?) A power cut suspending the alarm; police storm the villa; Axel is seized. In the police lock-up, Axel sings, 'I must be in Sing-Sing allein (alone)'.- There is no singing.- But this is an operetta!
Axel is reprieved, ultimately everyone exposed. Of course, there's a 'Hollywood ending' Gloria has to admit Axel spent the night with her for an interview. The Holly-Hollywood opening sequence is reprised; and ingeniously, just when we thought it was over, the full cast on stage do a fast-forward re-run. We see the main scenes recapitulated as if a film spool was being re-wound.
I should mention the musical arrangements (of the 1930s originals) were by Kai Tietje, and the Volksoper orchestra – unassailable in operetta- were conducted with real pizzazz by Lorenz C. Aichner. Incredibly, 80 years after its premier, this was a first for Vienna Volksoper. The revival of Benatzky's operetta is a triumph thanks to Peter Lund's imaginative direction and the ingenuity of Sam Madwar's 'stage' design. Technically and creatively it would compete with the best in London or Broadway-except, ironically, it isn't in English (except for the sub titles.) PR.15.09.2016
Photos: Bettina Mönch (Gloria Mills) and Andreas Bieber (Axel); Andreas Bieber and ensemble
(c) Barbara Pálffy/ Volksoper Wien
Photos featuring Julia Koci were unfortunately not available.