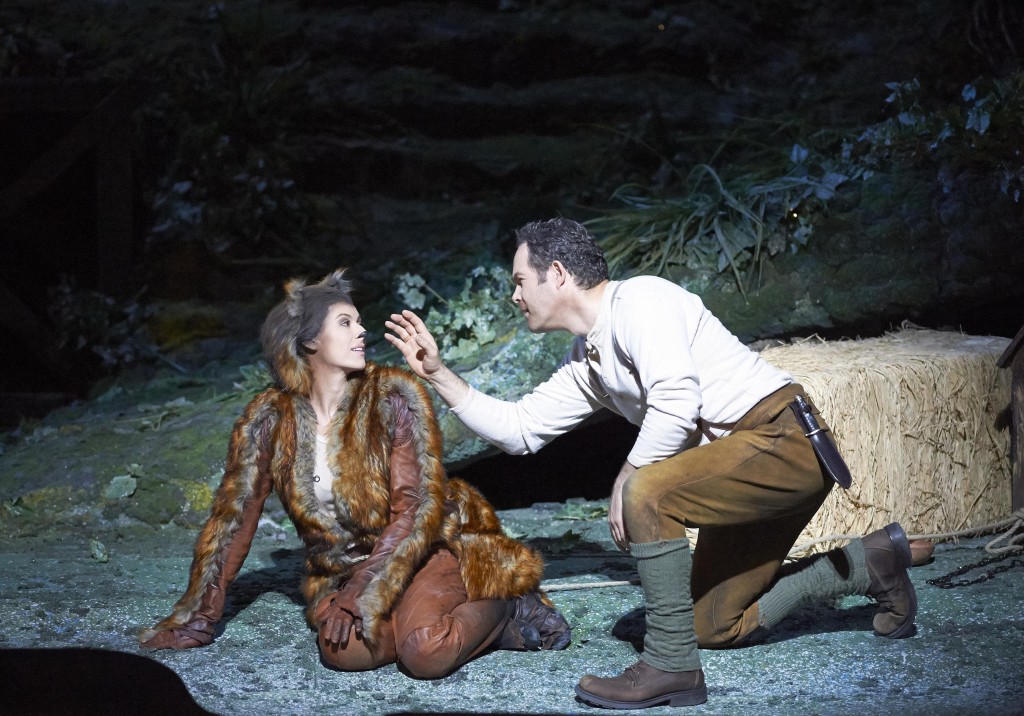 Janacek's fantastical opera is based on the tale of a vixen, captured and brought up by a gamekeeper, who escapes into the forest. Played out partly in the animal world, partly human, it mixes natural magic with human nostalgia. The Cunning Little Vixen is the focus of stories to do with the passage of time, the cycles of nature.
Otto Schenk's stage for Vienna State Opera is not meant as a real forest. Animals in human form? 'Animals cannot be human!' insists Schenk. The animals are depicted in remarkably authenticated costumes. The costumes (Amra Buchbinder) signify animals. And what is unusual is the size relationship between the animals, insects and humans : they're out of proportion.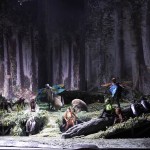 The Prologue, the first 15 minutes largely orchestral, could be a ballet score with the animals and insects synchronising to the music. The foxes are depicted in realistic-looking skins. They're on all fours -a remarkable achievement- but at first it's awkward. Especially when the vixen-cub is caught and bound by the gamekeeper, who takes her home. The vixen (soprano Chen Reiss) awakens roped. She's approached by the gamekeeper (Gerald Finley), lovingly. Janacek's score is voluptuous, sensual, early 20th Century (1924), but rather like a Hollywood film soundtrack circa 1930s,40s.
How hellishly difficult for trained opera singers to be choreographed to these extreme demands! Reiss's vixen chews off her ropes, and escapes -fearing the gamekeeper after killing the cock and hens. Insects (including a grasshopper) are blown up to huge proportions ; a badger is the same size as the vixen. Nevertheless, in site of this larger-then-life animal world, Reiss somehow exudes a very human femininity . She tiptoes around as if on high heels. Very sexily.
In the first 'human' scene, at the inn, the gamekeeper, the schoolmaster and the rector are at a table playing cards, drinking mugs of beer. They've heard he's taken in a vixen?' Gerald Finley, a glorious baritone, muses, in his aria, about the passage of time. He jokes about the schoolmaster's (James Kryshak) failure with women, but is himself taunted about the vixen's escape. ('He's nothing to tell. She ran away.')
In Janacek's (modernist) scheme, a series of incidental scenes are connected by long orchestral interludes. We see the schoolmaster, who staggers along drunk: is the world swaying, or is the path curved. Without his stick, he wouldn't make it. Then a sunflower protrudes, as if held up by the vixen. He's now singing to the flower, reminiscing, 'it was long ago': she (Terynka) had eyes like spring; deceived by the butcher; everything ruined. The rector (Janusz Monarcha), also homeward bound, thinks back to his youth, sings of when he was wrongly accused of seducing a girl. Both men reminiscing are startled by the gamekeeper's shooting at the vixen; she emerges and escapes.
The key scene is the courting between fox and vixen. God is he beautiful! 'Allow me to greet you!', (the fox sung by soprano Hyuna Ko). In her aria, Reiss sings how she was brought up by the gamekeeper and escaped ; she grew up in the forest, knows how to protect herself: but she's been independent too long. The amazing Reiss waves her tail provocatively like a bunny girl enticing her client. Are you really interested, or after my food? She's not used to begging, but she's shaking: tyrant you've got what you want! In their foreplay, he asks, Do you come to the hill often? Do you smoke? (Not yet!) Eat duck?
Erotically, Reiss lies on her back, she sings to herself , probing her sexuality. Is she really so beautiful? What's special about her? She's only world-wise. But if only he knew how much she adores him.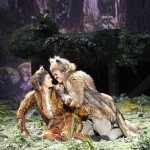 Reiss, in brown fur, brown leather pants, struts around. Her fox, (Goldmane) gold-grey tones, tries to mount her. She repels him. The fox confesses he's fallen in love with her; she's all he ever wanted.- But why me?- Think of novels and stories.- Come here, don't cry, I want you. He shakes the overhead foliage: she coyly winks.
Now as they emerge from their lair, an owl, frog, rabbit and all manner of insects greet them. The whole world breaks out in a euphoric, bacchanalian dance of congratulations. He rubs her: they're off to the preacher! Cue a marriage ceremony.
Another orchestral interlude . (Wonderfully expressive playing from Vienna State Opera orchestra under Tomasz Netopil.) Harasta, poultry dealer (Wolfgang Banckl) sings his ditty: as he wandered, he played his music: come and look, please come and buy. A green skirt he'll buy her, Terynka… The gamekeeper accosts him, how's he doing without a wife. Havastra sings, if he wins Terynka he won't go poaching any more! (He wanted to take her a hare.) Then, 'the vixen never gives up!', gives him no peace. They're seen laying a trap for her.
Orchestral transition, nature's life cycles. The foxes now have cubs. Curious, men have been here, she warns. In spite of Schenk's insistence (animals cannot be human) Janacek humanises them like a married couple. How many children have they; how many do you want, he (the fox) sings.- 'You're still very handsome.' She'll tell him in May, Reiss sings ravishingly.
Then we see Harasta eyeing the vixen: that's a muff for Terynka. But he trips, and the foxes ransack his basket, devouring his chickens. (What will he tell his mistress?)
The vixen is shot; and rolls down towards him. It's a shocking moment. The music stops. There's absolute silence.
Cut to the humdrum human world, the inn. How is the rector, the innkeeper asks. (Gamekeeper and schoolmaster regret his absence.) The schoolmaster, leans, as if he's got a cold, despondent hearing of Terynka's marriage. It's 'thunder weather'; it's completely dry.- Where to?- The wood, and then home. His foot is hurting him.
The forester, Finley handsomely dressed in a hunting-jacket- in the forest, now near the lair- pulls away a mushroom. 'Is it a fairy-tale, or not,' he sings. In Finley's poetic aria, he sings 'he's happiest when the sun goes down', and muses on couples in love. He reminisces on his wedding day: the mushrooms they shared, how many kisses they exchanged. It's a long time since they were together. He's lying on the bank. The staging is miraculous, suggesting his oneness with nature, his khaki-green jacket merging into the landscape. He seems to fall asleep.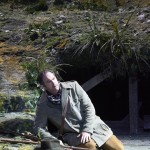 He wakes-surrounded by all the forest creatures. He turns to a human-size frog, who greets him with an android-thin voice. (Cloying, but the audience loved it.) He spots a vixen, a reincarnation of her beautiful mother. 'Oh, there's hope!' Now the stage opens up: there's a widening shaft of light. It seems as if he and the vixen embrace. Magical realism, an epiphany: or an affirmation of man's identification with nature. Janacek sees godliness in the natural world. The orchestra surges to a passionate climax.
Janacek's music bristles- using Czech libretto, not the German translation- reverting to Janacek's raw, urgent , and (long misunderstood) original scores. The cast, especially Chen Reiss and Finley, justified this triumphant revival. Otto Schenk's staging has to be seen, a new classic, warranting a DVD. P.R. 12.11.2014
Photos: Chen Reiss (the vixen) and Gerald Finley (the gamekeeper); Chen Reiss (vixen) and Hyuna Ko (fox); Gerald Finley (gamekeeper/ forester)
(c) Wiener Staatsoper/ Michael Poehn