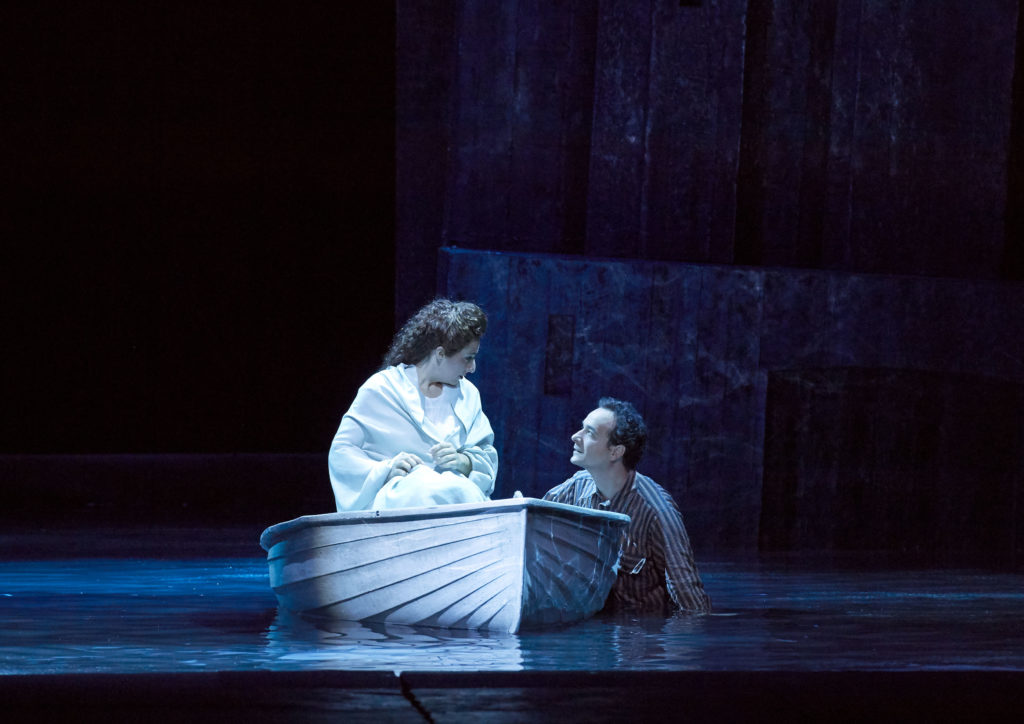 Marelli's staging at Vienna State Opera. Grey marble slabs, built-up, line the stage – cliff-like, perhaps resembling a fortress; there's a seaview; and a grotto, or is it a small lake? There are 5 Acts, over 14 scenes in Debussy's Pelléas et Mélisande, and this, with some small variations, is the gloomy setting over three hours, with one interval.
Simon Keenlyside as Golaud, in modern hunting gear, is playing with his rifle as if to shoot himself. Keenlyside's baritone is probably the star attraction in an impressive cast, with Alain Altinoglu, arguably the finest exponent of French repertoire, conducting Vienna State Opera orchestra and chorus.
The start of the first Act is shrouded in mystery. He'll never find his way out of the forest, he sings-thought he'd killed it, the boar. Lost-perdu– the dogs will never find him. There's a boat right of stage, he wades thigh-deep through water. A woman, the glorious soprano Olga Bezsmertna as Mélisande, fearful, trembling, sings repeatedly, Don't touch me! He insists on staying; she need have no fear of him. Who has hurt you?- Everyone, everything! She ran away, escaped . Je suis perdu. The crown he gave me, no she doesn't want it anymore. She'd rather die. He announces himself as Prince Golaud.
So it's a medieval tale brought up to date. He, a man like any other, hunting in the forest pursuing a wild boar. Yet she, Bezsmertna, red-haired, chic, is dressed in white designer suit? They're both lost. It could be Resnais' Last Year in Marienbad, everyone in an existential puzzle, trying to find their way out of a maze. Anyway, Keenlyside has impeccable intonation, Bezsmertna's French is also very impressive.
In Debussy's opera the interludes are nearly as important as the action. In Scene 2 their mother Geneviève (Bernarda Fink) reads Golaud's letter to Pelléas, explaining that he's married Mélisande; but vowing not to return if the family- the patriarchal grandfather Arkel- will not accept her. Geneviève sings of 'the woman who keeps on crying six months after she married him.' (The blinds backstage reflect the shimmering water.)
Arkel, (Franz-Josef Selig) one of the highlights, sings of the reverse side of destiny. He'd thought the bride he'd arranged would make him happy. But so be it.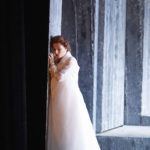 Bezsmertna, now in white lace (a wedding dress) arrives in Allemonde and finds the darkness oppressive. Geneviève tells her she too had to come to terms with it. There could be a storm that night, the mist is lifting slowly. In the opera's symbolism, everything is covered in mist.
Pelléas (Adrian Eröd), Golaud's half-brother, literally bounces onto the stage. Eröd, as the ingénue, is a wiry figure in an off-white baggy suit. Eröd, a superb light baritone, though immaculately sung, physically lacks the aura of the romantic hero.
In Act 2 Pelléas and Mélisande are sitting at the back of this grotto, supposedly the abandoned 'fountain of the blind.' Bezsmertna appears to be hanging over the fountain- like a lake on stage- her long plaited hair actually submerged in the water. (Is it a hair piece?) Her hands trembling, she throws up the wedding ring- more symbolism- and drops it; and she's up to her knees looking for it. There's no need to worry about a ring! sings Eröd. What shall we tell Golaud?- La verité. The truth.
And as if simultaneously, Golaud has had a heart attack, while Bezsmertna is lying on the upturned boat. A wounded Keenlyside is carried in by seamen in oilskin coats. His heart seems to have been 'torn out'; now he's strong and healthy, he sings. She dotes on him.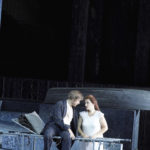 In their powerful scene- Keenlyside and Bezsmertna's duet outstanding- she thinks he doesn't love her. But there's love in his eyes. He's still young- albeit greying hair. – Could she not get used to life there. It's true you can never see the sky here , he sings. She saw it for the first time today. (More symbolism.) Besides isn't it summer now? But Mélisande cannot stand the eternal gloom. Nor we.
Opening Act 3, we see Pelléas and Mélisande on a boat. Bezsmertna lies, reclining , dressed in white. 'My hair is so long' , she sings. She was born on a Sunday afternoon at noon.- He too,(et moi.) He, Eröd, is lying beneath her . They are raising their hands in unison.
Yet, in Maurice Maeterlinck's French libretto, he sings 'he can't climb any higher' and she 'can't reach his hand with her lips? Her hair is 'tumbling down.'
But isn't this supposed to be that medieval tale, the damsel locked in the tower; the young lover climbing the ramparts. Which doesn't make sense in this modern reconstruction.
Marco Marelli's staging is nonsense. In the libretto, Mélisande's hair is 'draped over the willow branches'. No he won't release her tonight; she is his prisoner, he sings. He's tying her hair to the willow branches. But where's the tree Marelli?
Here, sitting side-by-side, enveloped by her hair, he holds her hair behind his ears. Then, 'she hears something down there.'- It's the doors of the tower flying open. Then she, 'Wait, her hair is tangled in the branches'.
Keenlyside's Golaud arrives ,and sings, 'Mélisande, don't lean so far out: you will fall!' Don't play in the dark , he admonishes them, You're like children. But they're both dressed in white – Eröd an off-white suit- and under spotlights.
More convincing is Golaud's leading Pelléas down to the dungeons (steep steps back-of-stage.) They're as if suffocating. Eröd sings of the air as heavy as paste. Suddenly Eröd rushes out into the daylight. Debussy's music rises in a crescendo to describe the epiphany: the sight of freshly watered flowers. Golaud again warns Pelléas to stay away from Mélisande.
Keenlyside effectivelyconveys the man obsessed by jealousy: ruthless in questioning his son Yniold (Maria Nazarova) about his half-brother's relationship with Mélisande. Do they like each other: do they often quarrel? Mazarova is remarkable vocally, convincing in the trouser role. But again the staging is anachronistic. Golaud bribes him with a 'quiver and arrows'. Mazarova sings, the'yre always crying, and how pale Mélisande is.Do they kiss? The boy is standing on a boat, precariously balanced, looking into a narrow window.
Later Keenlyside twists Pelléas' arm. And turns to Mélisande, accusing her 'great innocence'.(He knows those eyes.) When she tries to escape, he holds her by the nape of the neck, pushing her down. Geneveviève and Arkel are cowering for their lives. Selig sings , if I were God , I would have pity on the lives of men.
In Act 4 the family reunited, it's to be their last evening. Pelléas will leave, as his father's wishes. Selig, in an affecting arias, sings of Mélisande's troubled look, expecting tragedy: 'too young and beautiful to be inhaling death day and night.'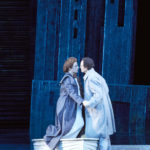 La dernière fois. Pelléas and Mélisande arrange one last meeting. Eröd sings, everything must come to an end. He'd been in a dream ; but he'd never looked into her eyes.
They finally declare their love for each other. Je t'aime– she sings it in 'a voice from the end of the earth.' Now that he's found her, she's the most beautiful woman in the world. Come into the light. She is heureux et triste, happy and sad. How beautiful in the dark: his heart is suffocating. Yet the stage is lit up?
Golaud's prowls around back of stage, Keenlyside knee-deep in water. They're embracing, He in the water, she in the boat. (Not quite convincing.) Golaud kills Pelléas, and wounds Mélisande.
Act 5 is magnificently sung, but the staging again verges on the absurd. Keenlyside sings, he killed without reason, against his will; saw them embracing. Bezsmertna, still in white , raises herself up- but why is she in that boat, in 'the lake'? the men standing on the shore?
Mélisande, can you forgive me.- But for what, she sings. She's dying, but Golaud must know the truth. La Verité. Did you love Pelléas ? A forbidden love. Non. They were greetings of nothing. She slips into unconscousness.
There are three women, as if sleepwalking -now seven- in bright summer dresses. They push the boat out. There's a brilliant sunrise. The most colourful moment of the evening. And there he is again, Kennlyside, playing with his rifle, now with his son.
Marelli obviously has a thing about water. With all the resources of Vienna's stage, he could have done better. At least musically it did Debussy's rarely performed opera justice. (Shame if Vienna has to live with this for another 20 years.) © P.R.1.7.2017
Photos: Featured image: Simon Keenlyside (Golaud); Olga Bezsmertna (Mélisande) and Adrian Eröd (Pelléas; Olga Bezsmertna (Mélisande); Simon Keenlyside (Golaud) and Olga Bezsmertna (Mélisande); Adrian Eröd and Olga Bezsmertna
© Wiener Staatsoper/ Michael Pöhn