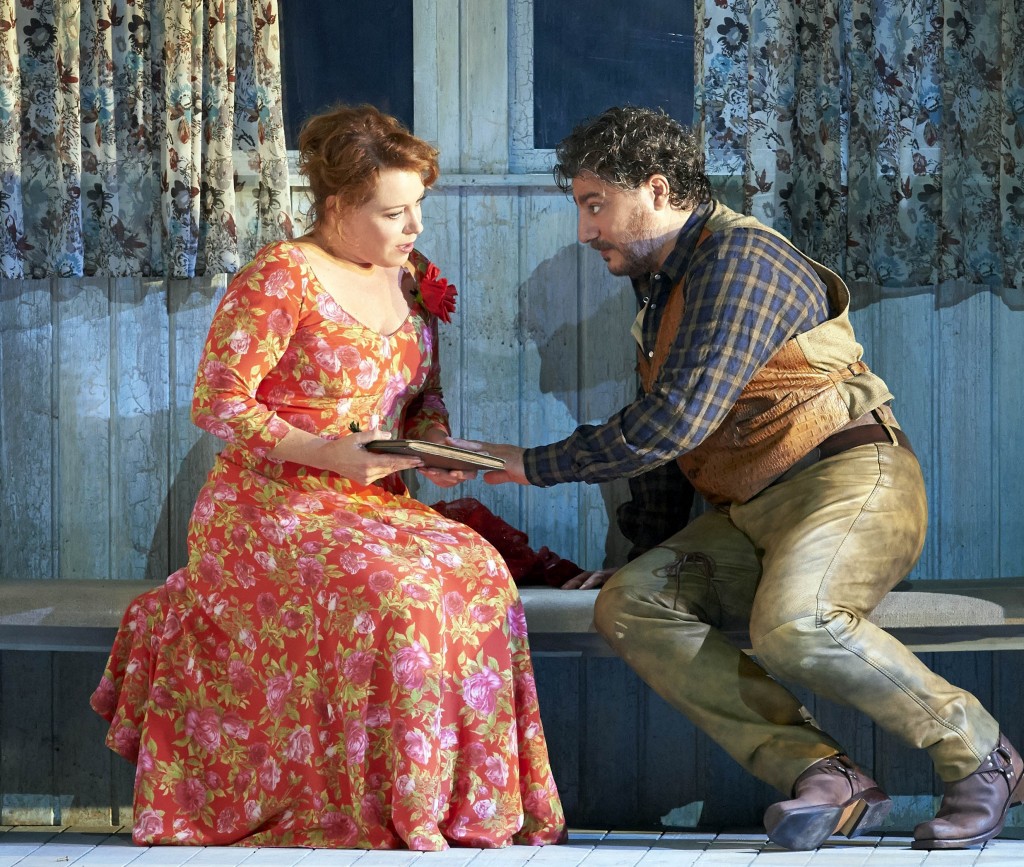 Puccini's Girl from the Golden West is a sensation: a real 'western' in operatic form, decades before the genre was coined on the big screen. Minnie (Nina Stemme) runs a bar in an American mining camp, where she's the only woman in a very wild bunch. And she's some woman-she even gives bible classes. Sheriff Jack Rance boasts she'll be his wife, but Minnie has fallen for a 'Mister Johnson', in fact a bandit in disguise. But good and evil are problematic. Ramirrez is the sympathetic lawbreaker, against Rance's corrupt Sheriff; and Minnie, in the inevitable showdown, protects Ramirrez. Even the ending is unexpected, defying later Hollywood conventions.
La Fanciulla del West premiered at the New York Met in 1910, could be a blueprint for a century of American music theatre, (anticipating, in its social and psychological realism, Bernstein and Sondheim in the 1950s.) Puccini's stage prefigures Hollywood filmsets. Marco Arturo Marelli's stage sets for Vienna State Opera are positively cinematic. In Act 1 there are miners' corrugated metal shacks crammed on three levels, with a glimpse of mountain crags. Men are noisily playing cards ; opposite, left-stage, Minnie's bar, like a mobile food stall. A voice off-stage singing 'I wonder what my family are doing at home' ignites a chorus of men's reactions, some poignant: their mothers will 'weave their grief.' It's gritty, but not sentimental. Not so fast! One of the gamblers caught cheating will be dead if he returns. There's talk of brutal Mexicans. Sheriff Rance (Tomasz Konieczny) boasts, very soon she'll be his. You're the only one who thinks that, sing the men. Konieczny in a navy rodeo shirt, black leather pants looks mean.
Minnie enters and dominates the stage. Unbelievable: Nina Stemme is a redhead – in blue denim dungarees, a red-blue plaid check shirt, her hair wild and unkempt. 'What are you staring at Bello?' The men are all over her, jostling for favour. Konieczny looks on scowling.
Tables are pulled out. She's actually giving them bible lessons from Ezekiel.(Spruce me with hyssop and I shall be clean. What's hyssop?) What this means is that every sinner can be saved. All you need is to have a little love in your heart.' She stands head raised to the skies in wonderment. A golden moment.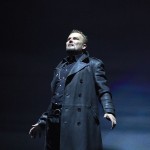 Their first scene alone, Jack sings 'I love you Minnie' (dalla mia causa). Konieczny has a superlatively rich bass-baritone. 'Don't be silly', she fobs him off, just leave me in peace. -'Now you're mad at me because I told you what I think.' Jack stands moodily against a hut; then moves, seated on the 'prayer table' as if to confess his story: he was attracted there by the gold . But, Konieczny hitting a fabulous high note, a kiss from her is worth more than all that gold.
Stemme is a phenomenon. She has the technique -a great Wagnerian soprano, her Isolde world-renowned- but also warmth and humour for Puccini. And she is a great actress, her Minnie charismatic and also very vulnerable. She sings Jack her story: she lived with her parents in a smoky room over the kitchen. Her father supervised the card games. She saw how her parents' feet touched under the table: they loved each other so much. Stemme's voice soars in ecstasy. She'll find true love, (laggiu nel soledad.)
Someone arrives. Do you remember me? Jose Cura's Dick Johnson (Ramerrez), long hair greying, craggy-faced, is in a worn leather trench coat. For so long she hoped to see him again, but it never happened. Koniezcny's Sheriff, in black cap, confronts Johnson: she knows him and can vouch for him. 'Care for a whiskey, Mr Johnson?' The men stand in a circle, opening a choreographed dance, as Johnson waltzes with Minnie.
In a dramatic shift, a bandit is dragged in like a dog, (Company Manager and Jack) trying to get him to reveal the bandits' hideaway. (Johnson/Ramirrez secretly signals to him.) Yet Minnie asks Johnson, will you help me around the camp. He's amazed, she's there at the mercy of drunks and thieves! She sings, in her aria, several men have already tried, but she's not even had her first kiss! She lives there alone and is not afraid. Somehow she can trust him. In a searingly moving duet, she bewails what she might have been with a little more education.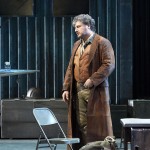 (He sings) Don't cry Minnie, you have a good heart and -putting his hand on her shoulder-the face of an angel. She repeats the phrase 'face of an angel', and Stemme seems to glow, reaching up to the heavens ecstatically.
For Act 2, at Minnie's place, the stage is dominated by a trailer-home shabbily furnished. Minnie changes behind a curtain, into a long red floral gown. Stemme's hair is now coiffed, swept back; and putting on a rose-design shawl, reassures herself, 'I am not all that ugly.' Cura enters through the back door. (Minnie's Indian girl lays a table with modest green-check cloth.) She sings to him how wonderful it is up there : Oh, se sapeste. Everything smells of vanilla. (Minutely-observed detail, characteristic of Puccini's libretto) It's like knocking on heaven's door. Now Stemme's voice soars, scaling her high register. For her, love is something infinite.
Hugging her, she complains, you're crushing my roses- above them we see snowflakes falling. Her lips say no, but…Just one kiss! I beg you! They rush into each other's arms, to a tempestuous orchestral climax. Their duet is a highpoint of the opera. He sings he's loved her since he first saw her. They embrace: will live and die together. Snow outside, but he offers to go. She's in her red robe on the couch: he, other end, on the bed she's vacated. But he sleeps with his gun (we see, but she doesn't.)
Jack arrives with a posse. Your friend from Sacramento is apparently a bandit- Konieczny now sports a full-length leather coat- 'that Johnson is really Ramerrez.' They leave, sniffing around. Cura comes out of hiding, brandishing a gun. 'A bandit, sure hit lucky this time!', she challenges him. He admits he's a scoundrel, but never would have stolen from her. His father died: the gang of bandits was his inheritance. He'd prayed she'd never find out.
In a highly-charged scene, Johnson is shot by Jack outside as he leaves. She takes him in, and hides him. Jack returns with a search party; the men go; he tries to rape her on her own bed. She fights him off, but, leaving, Jack notices a drop of blood. The wounded man, apprehended, climbs down a ladder, and eventually lies lifeless on her bed, Sheriff's gun pointed.
In Minnie's deadly proposal, she offers 'that man and herself' in a game of poker. But If he wins… Konieczny, now with soaring notes. Konieczny (usually glowering) actually smiles for the first time at the prospect of winning Minnie.
Stemme, a mature woman, looked very alluring. Maybe that timeless Swedish Garbo quality. While Konieczny mixes a drink, she pulls out a winning card from her stocking. A Tosca moment! She stands holding up the cards exultantly, Stemme's incredible soprano heaven-bound.
Act 3, against a panoramic cloudy sky, Konieczny stands side of stage brooding. That cursed dog, he'd thought he'd wounded him. Curtain raised, the stage opens up to a railroad ; a container wagon right of stage; railworkers with rifles overlooking the town. Breathtaking realism to the last detail.
He's been caught, the cursed Spaniard. It's all over. 'Let him hang! 'Sheriff Rance hands Johnson/Ramirrez over to the crowd for sentencing: that is, lynched. The way Cura is manhandled: Graphic! Pretty rough stuff. Cura pleads, spare me your mockery. I'm not afraid of death. Opposite stage, barbed wire, men with rifles aimed (on a raised platform). He appeals, for her sake, never let her know how he died. (Che'ella mi creda libero.) Minnie, he sings, she was the only flower in his life. The noose is lowered. 'You villain!' Konieczny kicks him brutally. But whom?
We hear a woman's agitated cry. Minnie cuts him down. They all stand back, although taunted by Jack. 'Let justice come into its own, she appeals: did any of them say enough when she grafted, gave them her youth. 'The bandit that he was died under my roof.' So it's all about redemption. Forgive him, all the rest of you, too! She's the girl who taught them how every sinner can find salvation.
A balloon descends, a rainbow-effect opens out as they ascend. Gorgeous, irresistible: but surreal? A dream sequence, pure Hollywood, neutralises the shock of Puccini's subversive ending. A quibble. This production could hardly have been bettered. Graeme Jenkins conducted Vienna State Opera Orchestra and chorus, and an exemplary cast, thrillingly choreographed. P.R.14.09.2014
Photos: Nina Stemme (Minnie) and Jose Cura (Dick Johnson); Tomasz Konieczny (Jack Rance); Jose Cura (Dick Johnson); Theme image Nina Stemme and Tomasz Konieczny
(c) Wiener Staatsoper/ Michael Pöhn