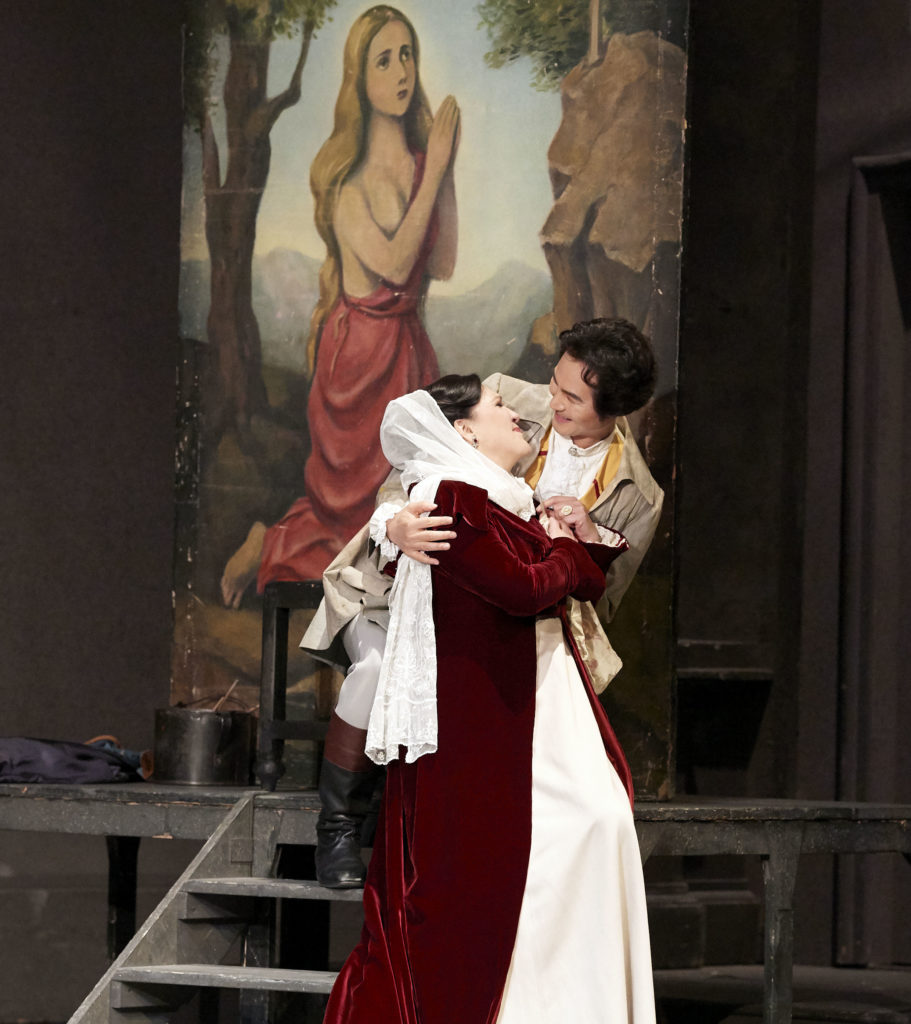 Vienna State Opera's classic Margarethe Wallmann production of Tosca recreates the ramparts of the Fort St.Angelo prison from which Angelotti, the freedom fighter escapes. He's befriended by Cavaradossi, Tosca's lover, in the Angelotti Chapel, regularly visited by his sister. And it is her image- not Tosca's- Cavaradossi is painting in the first Act. It is from Fort St.Angelo's ramparts that Tosca will fling herself. Puccini's opera is historically based on Victor Sardou's play. The year is 1800, Rome under Police Chief Baron Scarpia's reign of terror. Puccini was so obsessed with operatic realism , he travelled to Rome (1897) to hear for himself the Church bells from Castello Sant'Angelo. So it's inconceivable that the opera be updated, and mercifully Vienna have retained Nicola Benoit's magnificent traditional sets.
The church in which Mario Cavaradossi is painting is more like a cathedral, with vaulted roof and stained glass windows. The priest (Alexander Moisuc) is constantly rebuking the artist- a Republican – for his lack of respect. But there is a humorous interaction between pious priest and the 'bohemian' artist. Cavaradossi is sung by the magnificent Korean tenor Yonghoon Lee. (This may be 'theatre' but he doesn't look remotely Italian.)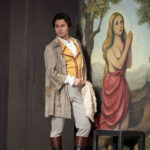 But Lee, short, very slim, wearing a smock, looks credibly like an artist.
My beloved Tosca has black hair; you, mysterious beauty are blonde. (Women in church smack of the devil, moans the Priest.) But, as he painted, he thought only of her, Tosca. Lee, a hit with the audience, his aria is enthusiastically applauded. But although Lee's glorious tenor has a stunning high register, in Puccini, bel canto singing isn't everything. Puccini's operas are truly musical theatre, his main roles character studies. Lee, irresistibly likeable, would win top marks in international competitions, but his style is sometimes over-acted, too demonstrative, not naturalistic. The libretto, however, by Gialosa and Illica is always witty and authentic. One cannot talk to these Voltairean dogs, carps the Priest. Don't forget to lock up when you leave.
Out-of-hiding, befriended by Cavaradossi, Angelotti (Ryan Speedo Green) unshaven, surely looks like an escaped convict. Hurrah for a black singer: the brother of the blonde Marchesa, we'll have to pass on realismo with a bass like his!
In the Tosca/Cavadarossi duet, Tosca is suspicious: why is the door locked. He makes to kiss her. Not in front of the Madonna, she insists. But Mario is yours- Lee, a slight, almost beautiful, figure, against Tosca, Adrianne Pieczonka's attractive brunette, wearing white with maroon velvet cloak. They appear very much in love, their embraces and kisses quite natural.
Tosca explodes. Attavanti, (the Marchesa). You're seeing her! Pieczonka, at times, appears coquettish, the younger woman. Yet Tosca is the mature, worldly- experienced singer/actress- who men fall for; and who will grapple with the Baron Scarpia, one of her admirers. More like a stalker, as we would see him.
But give her black eyes! The jealous Tosca is (almost) reassured by Mario that he is innocent. She wittily engages with him; she's no pushover.
Pieczonka's dark beauty is a soprano with an enormous range, richly nuanced, her subtle intelligence perhaps better known in Straussian roles. Here in Puccini, she was impressive; but a little cool, not incandescently emotional.
Yet, sings Mario to his fugitive Angelotti, he keeps her in the dark. She would tell her confessor everything. Angelotti sings of Scarpia, 'that hypocritical satyr'. But if it costs me my life, I shall save you, Mario vows prophetically.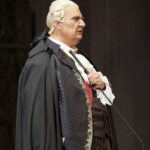 Baron Scarpia, Ambrogio Maestri, in a white wig, dressed in princely finery, goes snooping around the church for clues of Angelotti. Maestri's insidiously subtle Scarpia is the highlight, quite unforgettable. Maestri, a great character 'actor', is world renowned for his Verdi Falstaff. He sings of the fan she left as more than a clue, but a way to incite Tosca's jealousy.
Iago had a handkerchief, and he will use a fan (Iago framed Desdemona to arouse Othello's jealousy.) Scarpia plants the fan he's found, bearing the Attavanti coat-of-arms. Like a Satan, Scarpia sings, the poison begins to take effect. Maestri closes up to her, Pieczonca, almost caressing her shoulder, as if to comfort the distressed Tosca, betrayed by a two-timer. (While his henchman discreetly trails Cavaradossi…)
In Scarpia's aria Va Tosca – Release the falcon of jealousy- Maestri's mellow baritone savours every word- his corpulent stage presence almost reptilian, salivating with lust. Oh, to see him on the gallows, and her in my arms, inflamed with passion, he repeats. Tosca, you make me forget God. Sheer stagecraft, utterly compelling.
Actually the Cavaradossi arias, the gorgeous duets with Tosca, however beautifully sung, are not quite what the opera is about. For me, the drama is in the study of evil – the most interesting characters are the Baron, and his prey, the innocent, but vulnerable, Tosca. And she, the feisty heroine, only appears to succumb. Puccini's modern woman apparently outwits her male predator. Outmanoeuvres this lecher. (Even if she has to kill him.)
In Act 2, he's lording it on his private dinner table, in gold-braided jacket, served by his manservant. Ha più forte sapore. I crave! I get what I desire. Then off to new conquests! God created so many beauties. And good wines. It's like a sexist manifesto. (Trump could have fitted the role, had he the wit, culture, the refinement.)
Pieczonka's Tosca enters in a sumptuous velvet cloak. Maestri exudes civility, sipping wine from cut-glass goblet. This business with the fan- foolish jealousy. (Nothing escapes a jealous women.) And finally, the truth would save him more pain. (He orders Mario's chains removed.) He sings, never was Tosca more tragic on stage. She, what has she done to be treated to this torture.
Maestri wipes his brow with a serviette, dabs his lips. He offers her a glass of fine Spanish wine. They say I am a mercenary, but a beautiful woman will never pay me with money. He wants something else. He has seen her in a new role.
Cavadarossi is brought on. Scarpia is the voyeur , as they embrace. He's turned on by her tears. How you hate me and yet I desire you. Flaming rage; flaming passion. (The drums roll for the execution.)
Tosca's famous aria Vissi d'arte is a highlight. I lived for art and love: never did anyone any harm. Secretly she gave help to the poor; brought flowers to the altar. Why, oh why, do you desert me in my hour of need. It cannot fail to move, but somehow it doesn't quite hit the spot. (I clapped dutifully.)
Finally, she raises her head, be merciful, I am vanquished.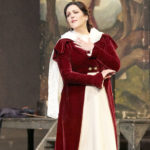 'You are too beautiful: all I ask is an instant.' Scarpia signs the pass for Tosca: the execution is to be feigned. Tosca, mine at last! As in Turandot , Puccinis theme is love in death. Tosca stabs him. Now he's dead, she has only contempt. And to think all Rome trembled before him.
The final Act, the denouement. The ramparts; a huge statue of a horseman. The intermezzo; those bells: Vienna State Opera orchestra never better in Puccini than under Jesús López Cobos, impeccable detail, enormous passion.
In his letter, remembering Tosca, of his impending death, Lee sings with phenomenal top notes. The Tosca/Mario duet awaiting the execution, a fest of Puccini romanticism, here failed to move this jaded, cynical observer. Lee initially condemns her betrayal; she had promised herself to Scarpia; but then, his exclamation, you killed him, you so pious and good! Lee oozes old-style dramatic rhetoric, kneeling to her, body language florid. But there's no denying the vocal mastery. Pieczonka in a purple gown efficiently endures the fake execution; cannot revive the fallen Mario; and flees in despair in one of opera's iconic scenes. © PR.23.10.2017
Photos: Adrianne Pieczonka (Tosca) and Yonghoon Lee (Mario Cavaradossi); Yonghoon Lee (Cavaradossi); Ambrogio Maestri (Baron Scarpia); Adrianne Pieczonka (Tosca)
© Wiener Staatsoper/ Michael Pöhn