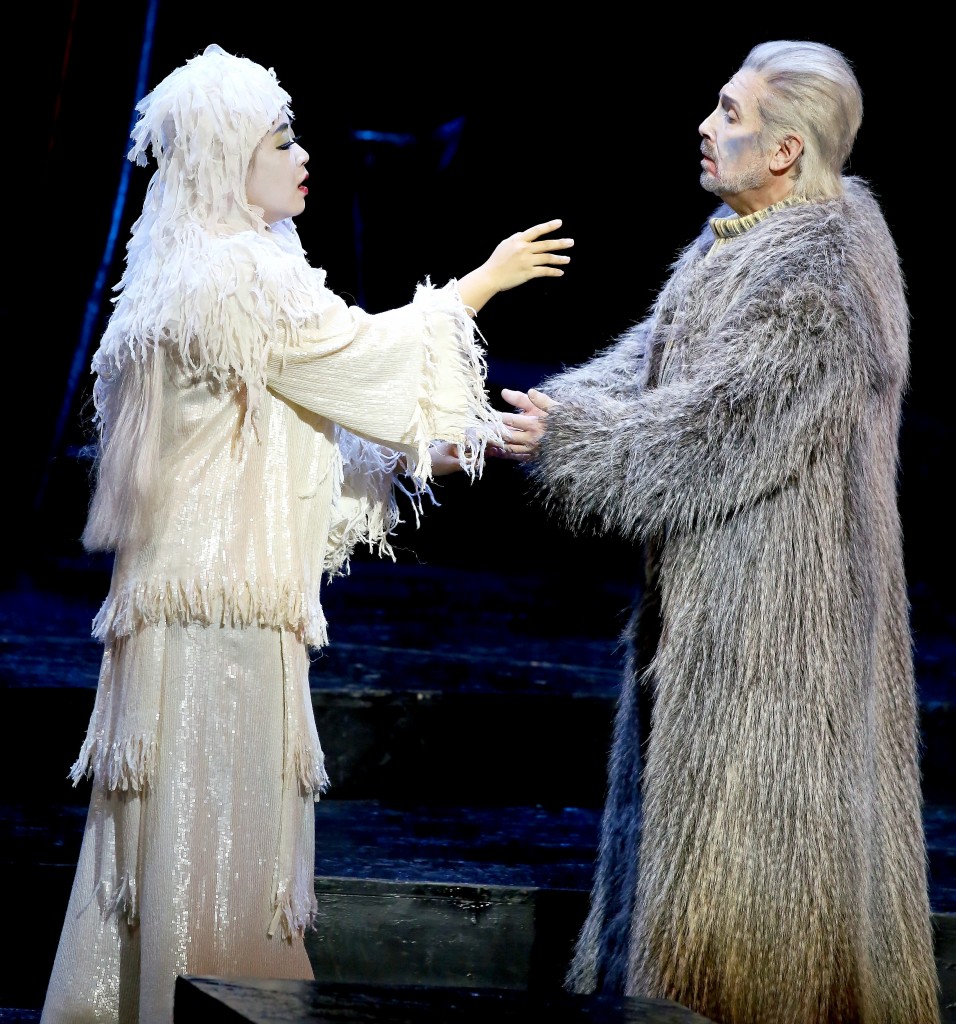 Puccini's exotic feast, a gruesome fairytale, is set 'once upon a time' in China. The icy Chinese Princess Turandot offers herself to any man who can answer three puzzles. He who fails pays with his life. Prince Calaf can solve the tasks, but he in turn presents Turandot with his own challenge. Puccini's Turandot is also a parable with modern psycho-analytic resonances: the reason for Turandot's frigidity lies in her identification with her ancestor, once raped and abducted by a foreigner. Each suitor's death is an act of revenge. She's resolved never to belong to a man. But, as in the best Hollywood Freudian case studies -like Hitchcock's ice-cold female protagonist in Spellbound – Calaf's love melts her 'complex'.
In Vienna Volksoper's production (Renaud Doucier and Andre Barbe), the bold concept depicts a land of insects which revolves around Princess Turandot: a fantastical and cruel world in which human life has no value. The concept nearly works.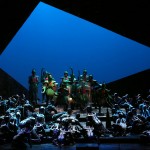 Act 1 opens with a highly stylised changing of the guard, the soldiers like ants; black bodies, luminous white skeletons, round helmets. Costumes get more exotic with rank. The prince of Persia, in gold, faces execution; and in the crowds an old man, Timur, falls down- helped by Prince Calaf, his son, long separated after Timur was ousted from power. Timur, grey-bearded , limping, movingly sung by Peter Naydenov, is waited on by slave girl Liu, (Kristine Kaiser), a smaller role, but a stand-out performance. This trio – the dramatic crux of the Act- are dressed in drab khaki, contrasted against the spectacular rituals centre stage . An imposing, fearsome half-woman, her head silver-claws, is at the centre of a sensational dance number, her minions in black dresses with ghostly white faces. Death, death, death! A ritual – 'Why does the moon delay' – anticipating the arrival of Turandot.
Calaf (Neil Shicoff) interceding for the Persian prince, is outraged at Turandot's cruelty, and curses her. Shicoff, who appeared in spite of a pre-announced throat infection- greying blonde hair, no longer the youthful figure we're accustomed to- is still impressive. And with his experience of Puccini, his insight into the part more than compensated for his golden tenor sometimes a little strained. With the appearance of Turandot, Calaf enthralled -against the pleas of his father- strikes the gong to hear the riddles.
Act 2 opens with Ping, Pang , Pong, Turandot's ministers, in brilliant orange, pink, and purple outfits with white masks, bewailing the same ritual: 'Three beats on the gong, three riddles, and off with their heads.' Drinking cocktails on a low bar front of stage, they're very well sung. A beautiful trio reminisces nostalgically on their homelands. Then they remember her suitors. Dead! Long live love, they sing; and a night of surrender in which Turandot will experience love. Meanwhile it's all over with China, (until she brings peace.) Their slickly choreographed number -using gold-braided black umbrellas-is the best so far.
The stage is like an insect colony come to life in gilded colours: rendered human, anthropomorphised. At the back of the stage looms a huge spectre in gold-awesome and frightening. (No, it isn't kitsch: rather it's mind-boggling.) The old Emperor, Turandot's father, pleads with Calaf to withdraw: there's been enough shedding of blood. Shicoff's Calaf repeats mantra-like, addressing the son of the heavens, he wishes to compete for Turandot.
The ensuing spectacle is all-consuming. Chrystallis shapes arise out of an ascending platform, amongst them Turandot (Melba Ramos) appears all in white. She sings In questia Reggia in this palace a thousand years ago a desperate cry was heard – now lodged in her soul- her ancestor Ling Liu. Princes come from all over the world to woo her and die: she hears in their cries her ancestor's cries. Melba's projection is too weak; not overwhelmingly powerful, as it should be. We should experience the terror her aria conveys. No one will own her: I am proud, she sings, untouchable, invincible.
Foreigner, don't push your luck, (sing the Chorus.) Shicoff stands looking up to her on a plinth- 'Put the foreign prince to the test'. Ramos, like a goddess, raises her arms. She's in white , a spooky creation with white feathers like antlers. She poses the three riddles. (Chorus:'Speak, your life depends on it!') In the third riddle he answers, successfully, his fire will neutralise her ice.
Turandot defeated, staggers off the holy platform (which sinks down to mortal earth.) She pleads with her father to save her: fearing she'll be treated like a slave who's committed a crime. The oath is sacred, he insists.
'Will you force me into your arms?', she sings now addressing Calaf- 'No, he wants her aflame with love'. She's standing front of stage, abased, humbled before the audience.
Now he's answered her three riddles, Calaf puts her to the test. ' You don't know my name.' If she knows his name by daybreak, he will die tomorrow.
Turandot orders no one in Peking shall sleep. Nessun dorma. Exotic insect-like figures on night watch roam, their heads carrying luminous red lamps. Shicoff's Calaf wanders onto the stage. Nessun dorma -no one will sleep: also the Princess in her chambers staring at the stars. 'No one shall know my name . Only your lips betray it in the morning light. Your kiss will break my silence …' Chorus repeat his refrain. Shicoff was enthusiastically applauded. Handicapped, perhaps underpowered, but consummately delivered.
The three Advisors plead with him; bribe him, offer him licentious women. No deal. Foreigner, you don't know what cruelty she's capable of.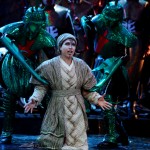 The name: the slave Liu, knows his name . But Liu will not betray Calaf. She endures Turandot's torturers for his sake. 'You, too, will love him, Princess .' Kristiane Kaiser's Liu, powerfully sung, is heart-rending. 'What gives your heart so much power: love!' Her moving aria Tanto amore, secreto e inconfessato is the outstanding moment of the evening. Torture me! all she can sacrifice is her love. Princess hear me, you the cold one che digel sei cinta will love him. She, Liu, will never see another daybreak. (She's smitten by the scorpion-headed creature; Timur desperately tries to revive her.)
In their duet Shicoff and Melba are convincing dramatically, if not exceptional vocally. Your body is near, but your soul is faraway. 'Your coldness is a lie', he sings -like a psychoanalyst releasing her from her spell, her sexual neurosis. But, undaunted, he wants her. And, reassuringly, the pain of her ancestor must not be repeated. No, her kiss sends him into eternity.
They run into each other's arms. 'What am I? I'm fallen.'- 'My flower of the morning,' he breathes her scent. She reproaches him, how dare he win? Turandot yields, fallen: love ascends with the sun. The godess sheds her first tear. She's afraid for herself: in his eyes she sees the light of the hero. Then why does she hate him and love him at the same time? She's defeated, not by the test, but overcome by fever. Puccini's opera, libretto Adami and Simoni, is surprisingly modern in its psychological realism.
Much better singing from Melba; Shicoff risen to the occasion, on recognisable form. Dramatically their interplay is gripping. Calaf reveals his name, his life is in her kiss. The ice is finally broken: she no longer fears him. Calaf is led before the people. She announces, 'dear father, I know his name the name of the stranger is love.'
Now the finale stage is too busy, the 'concept' no longer a novelty; but distracting. A pantomine not befitting the profundity of their declaration of love, and self-discovery. 'Love is the light of the world' (Luce del mondo e amore) is the final chorus. Now Vienna Volksoper Orchestra under Guido Mancini barely pass muster, lacking their usual polish. However, Volksoper Chorus were more than adequate, and ' the eleven' from Vienna State Opera's Ballet-Academy stunningly good. P.R. 4.11.2014
Photos: Neil Shicoff (Calaf) and Jee-Hye Han (Turandot); Kristine Kaiser (Liu). Photos of Melba Ramos' performance as Turandot were unavailable.
(c) Barbara Palffy/ Vienna Volksoper