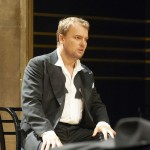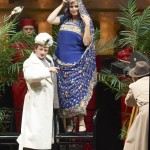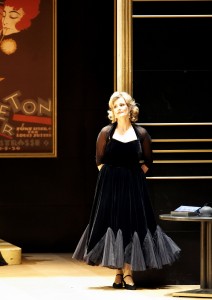 Strauss and Hofmannsthall began work on Arabella in 1928; and at first, it all seems so decadent. Especially in this Vienna State Opera production, set in the 1930s, with magnificent art deco sets (Rolf Glittenberg), and costumes to make Hollywood wardrobe gasp. The spectacular view from the Waldner's hotel suite shows the huge Metropole neon in reverse. Arabella's mother (Zoreana Kushpler) wearing an exotic Japanese print gown, and reclining on a luxurious blue velour sofa, has her daughter's tarrot cards read. One of Arabella's three suitors, rich Count Elemer, arranges a photo shoot, with Arabella centre stage in royal blue silk, and shawl bejeweled in ornate jugendstil pattern. She's enthroned like a movie godess, with palm trees behind her, served by page boys dressed all in red.
And the ballroom for the 2nd Act ball is straight out of a 1930's film set, all lacquered black and gold. There's an atmosphere of sexual ambiguity. Centre stage two women are waltzing, other women in men's black suits, two gay men cruising at the long bar.
In the plot, Arabella's sister Zdenka (Ileana Tonka) is dressed as a boy because the Waldners, near bankrupt, are too poor to give both their daughters a social debut in Vienna. Tonca is dressed in a cute grey tweed suit and cap. Zdenka will 'forever be a groom', says her mother.
Zdenka is secretly in love with young officer Matteo, who's pursuing Arabella. Zdenka's the go-between. Like cross-dressed Viola in Shakespeare's Twelfth Night serving Orsino- as her master's go-between with the disdainful Olivia. Similarly Zdenka procures for, and falls for, Matteo.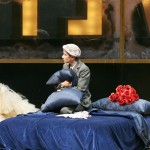 In the Fiacre Ball – carnival always an excuse for sexual license – Zdenka, still dressed as young man, slips the desperate Matteo the key to Arabella's room, where Zdenka says Arabella will meet him. (Arabella, in fact, is dancing her last unmarried night away.) Later Arabella innocently confronts Matteo, who believes he's made love to her, and can't understand why she's off-hand.
But decadence is not what Arabella is about. Strauss's operas are so complex, you have to see them repeatedly to begin to understand their meaning. Arabella is about a young woman falling in love for the first time. In her wonderful opening aria, Arabella confides in her sister. Camilla Nylund enters, her coiffured blond hair over a shimmering silver raincoat. She's greeted by red roses (from Matteo); she's had perfume, and everything else to spoil her. But she remains a child: she will not be a woman, can't help the way she is. Men come and go. But with the right man, der Richtige, she'll be blissful, and obedient like a child.
And in her key aria ending Act 1 , Arabella fantasises about her ideal man. She points out a stranger to Zdenka, she'd previously noticed in the street, who's deeply affected her. (In fact Mandryka has come to Vienna in response to her father's letter.) Maybe he's foreign? She imagines he's married, and she'll never see him again. But she'd like to meet her foreign man just once.
Then her mood changes remembering that evening is her Ball. She sings, turns and waltzes across the stage. Camilla Nylund (soprano) has charm, elegance – exquisite lightness- but occasionally seemed overwhelmed by Strauss's heavy orchestration. I wanted (at first) more body and fullness. But Nyland developed momentum.
Baritone Thomasz Konieczny is impressive as Mandryka. He'd opened her father's letter to his deceased uncle; and Arabella's photo had fallen out. Konieczny, dressed in black suit and coat, sings of how she'd ruled his head for twelve weeks; and he will marry no one else.
Their meeting at the Ball is as enthralling as classic Hollywood romance. He had a wife for two years; but 'taken away from him'. He gets carried away, excuses himself: he'd forgotten how different the world of society is to his a country estate, his woods and fields. 'You want to marry me', so her father had told her. In his farmer's dialect, he compares her to a 'Stammbaum', a family tree.
He's her ' Richtige', the right one: in an epiphany of recognition, everything's light and open, sunblazing. He calls her allerschönste, most beautiful of all. She sings, he brings his Lebensluft (breath of life) with him. And he will be her Geliebter: his home will be her home, she buried in his grave. And she gives herself to him eternally. They sing together, holding each other, as if made for each other.
But, crucially she's giving up her frantic Viennese social life to live out on a remote country estate…But she wants to dance out her last night of freedom. Of course, she's the centre of everybody's attention. And the target of her former suitors.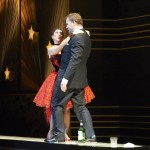 The Fiaker Ball is the pretext for disorder and uninhibited sexual encounters. Symbolically, the carnival girl in red bright sequined gown spreads herself over the bar. In the Opera, the surreal atmosphere is a time for testing their relationship. Thomas Konieczny gives a terrific performance as the country squire, straight man, a little out of his depth in the partying and social coquetry. Arabella will say farewell to her girlhood. She confronts her erstwhile suitors in turn: they are not richtige for her. (She says adieu to Elemer, but will not hold his hand; another suitor goes with her mother.) Zdenka, meanwhile gives Matteo an envelope; and holds her hands over his eyes.
Act 3, set outside the hotel-with fabulous Art Deco posters either side of the entrance- is the hangover when everyone is unmasked. Arabella returns from the ball, confronting Matteo who's convinced he's had her in his arms. You're out of your mind, she reproaches him. Herbert Lippert (Matteo) looks very louche in an exotically patterned gold dressing gown. She has to fight him off. Lippert's is a superb tenor. Mandryka appears, thinking he's caught Arabella red-handed with the soldier. 'That is your Countess, they will say, from the Kaiserstadt' (Vienna). The secrets of a girl's heart, he scoffs. 'Oh, Wien…city of intrigue!'
Touchingly Nyland reproaches Mandryka for not believing her. She has nothing to answer but the truth …The opera's libretto breaks into dialogue. The music stops. There's eery silence as Zdenka frantically approaches her parents – but now in a dress, with flowing black hair. Distressed, suicidal, she apologises. He, Matteo, is guiltless, knew nothing. Ileana Tonka, a superb soprano, impressed throughout. 'Ich bin ein Madel', a girl, nothing more. In the reconciliatory ending Tenka is finally seen wearing a white taffeta (weddding) gown.
Far from the 'permissive' decadent opening, the closure is puritanical.The glass of spring water Arabella orders- a sign of her forgiveness -is accepted by Mandryka. 'This glass no one else can drink from' is (for him) a symbol of her virginity and his posession of it. And so they are bethrothed, forever. Very old-fashioned. Although Arabella insists, take me as I am, and will remain.
Superlative orchestral playing from Vienna State Opera Orchestra, conducted by Franz Welser-Möst, Music Director and Strauss exponent, reinforced Vienna's reputation as the Strauss Opera House par excellence. The cast – also including Wolfgang Bankl (Waldner)- was exemplary. The sets alone were worth the visit.
8.09.2012
Photos: Camilla Nylund (Arabella), Norbert Ernst (Elemer); Tomasz Konieczny (Mandryka); Camilla Nylund (Arabella); Ileana Tonca (Zdenka) ; Tomasz Konieczny (Mandryka) and Iride Martinez
(c) Wiener Staatsoper/ Michael Pöhn