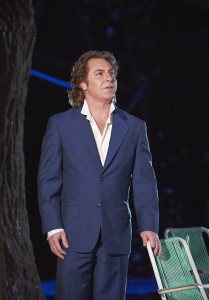 Jules Massenet's Werther is the quintessential 19th Century 'Romantic' figure. He's the 'outsider', aroused by feelings of Nature; and in love with the idealised, unattainable woman. Like Tannhauser, in love with an impossible ideal, a love doomed to be disappointed. Werther visits his widowed friend Amman; has fallen in love with Charlotte his eldest daughter. But Charlotte is driven by a sense of duty to look after her young siblings; and is bethrothed to Albert, whom she swore to her dying mother to marry. It's a 'Victorian' weepie- so gloomy it was (first) rejected by Paris Opera. And Werther first premiered in Vienna (in German) in 1892.
The melancholy of Massenet's score; a veiled curtain with reflections of trees in a pool, opening to a woodland scene, a huge oak tree with a (tree-house) platform. The idyll is spoilt by noisy children, some in swimwear with beachballs, playing with modern toys; and tacky garden furniture out of a DIY. It's modern, 1950s/60s: are they really singing Christmas songs in July? Bespectacled Amman, their father, in a double-breasted suit, is indeed 'looking far ahead'. One of his friends, in denim and trainers, drops a beer bottle in a crate. (Another wears a leather biker jacket.) Yet Werther, in his first aria, enthuses poetically about Nature, Werther being based on Goethe's short novel. Roberto Alagna, in a navy blue suit, open necked shirt- reflecting the 'Victorians' idealisation of children -sings 'Dear children- so much better than I.' (Not this lot!)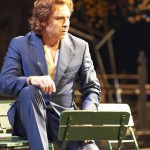 Musically, it doesn't get much better than this Vienna State Opera production (directed by Andrei Serban.) Alagna, richly sonorous, the ideal lyrical tenor, with brilliance, refinement and empathy, wafts, Is he awake or dreaming: everything is like paradise. Charlotte (Vesselina Kasarova), on a tree balcony overhead, is listening unobserved. Albert (Tae-Joong Yang) appears in a red-indian headdress -a joke to play on the children . Sophie (Daniela Fally), the eldest, is sworn to secrecy.
In their first duet, Charlotte insists to the impassioned Werther, 'you know nothing of me'; he, that he 'knows her soul'. Werther, demanding to see her again- (his professions of love interrupted by Albert's arrival)- pleads, 'Be true to your promise, or I shall die!'
Their next scene, meeting (Act 2) is tremendous, the synergy between Alagna and Kasarova all the more remarkable as Kasarova had to replace Elena Garanca at very short notice. To a setting of autumn leaves, time passes quickly, Werther sings. 'But have I made of this quiet charming girl one who has no regrets?' Her rejoinder, 'When a woman has the most proper man beside her'. He, Alagna impassioned, sings regretfully, 'Another man is her husband: his entire life is reduced to nothing but a romantic prayer'. And poignantly, 'If only it were him… she must love me.' (Behind them a couple are passionately embracing on the overhead platform.)
Months after the wedding, and Albert appears to have forgiven his rival. But Charlotte and Werther left alone, Werther renews his protestations of love. In their duet, Kasarova wears a dove -grey tailored costume. 'Albert loves me and I am his wife', she persists. Albert loves you, and, emotionally, who will not love you, Charlotte sings of Werther. Is there no woman here who you could love? 'Fate has separated us forever. Go away!' But Werther persists relentlessly, it is not in his power to forget. His only wish is for her happiness. But she rejects him , and forbids him to see her again until Christmas time.
In Charlotte's Act 3 aria, it's Christmas day, and Charlotte is reading his letters, realising how much she loves him. In a room with a 1950s TV set, 'G- Plan' armchairs, Xmas tree in the corner, Kasarova is lying on a bed, rear of stage. She's wearing a sleeveless black dress, her black tights showing. Werther! Who would have thought he'd occupy this place in her heart? (Since he's gone, her thoughts are filled with him.) Kasarova is a superbly expressive soprano and powerful actress. Movingly, she reads his letters time and time again, with delight but sadness. Should destroy them, but can't. (He writes from his small room. He thinks nostalgically of the children 'when they were around us.') She reads his letters, Kararova singing as if she knows them by heart: 'If I don't appear, don't reproach me, weep for me.' She's joined by Sophie (Daniela Fally). Are you unhappy?- Sometimes, she's troubled by a welling emotion. Sophie reminds her, sings of the joy of laughter. And Kasarova, with great feeling,'the tears that we weep, fallback into one's soul.'
And typical of French 19th Century opera (from Gounod) appeals to God to resolve the conflict between duty and her passions. Her resistance is failing! She prays. At which point Werther returns. Alagna, tussled, in a light coat, enters, looks desolated. 'Yes, he'd rather die than not see her again; meant to flee but he's here.' The house is still the same as when he left it?
And now, a high point of the opera, Werther remembers the verses of Ossian, which Alagna sings impassionedly, with noble phrasing, 'Why awaken me, o breath of spring…' Alagna sings with soaring emotion 'and yet the storms are close', orchestral accompaniment surging to Massenet's sublime melody. The enormous applause from the audience was deserved- but seemed untimely, interrupting the rapt concentration of the scene.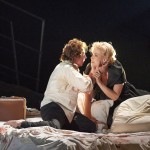 Werther and Charlotte's duet, high drama, hits an emotional peak.'Why try to hide it?' She trembles.'Kiss me', he begs, 'for the first time.' He reproaches her withdrawal.'You love me!' Resisting, she pleads,'Save me Lord, have pity, have pity.' He repeats, 'I love you', she 'have pity': then, in his arms, 'forgive me!' The audience, responding to the high emotional charge, try to applaud, as if at a revivalist meeting. He leaves her. She pursues him up the staircase, suggesting ,perhaps, a dream sequence.
Albert returns- letters scattered, reads Werther's letter, (Tae-Joong Yong is a refined baritone, convincingly blonde -haired). "I'm going on a long journey- lend me your pistols." Charlotte exclaims,'God, do not let me arrive too late!'
The orchestral entreacte before Act 4 was passionately played by Vienna State Opera orchestra under Bertrand de Billy. The stage curtain with a projected cloudy landscape was sensationally evocative.
Centre stage there's a bed, lying a bloodied figure, (around which) white sheets covering representing snow. Werther lies with a gaping wound in his chest. 'Pardonnez-moi', sings Alagna feintly (to Charlotte). As he dies, he can tell her- Charlotte at his bedside- that he adores her. She sings of an 'unbreakable chain that links them.' She will at last return his kiss. In the distance- those children better heard than seen- sing the Christmas carol they rehearsed in summer.
Bertrand de Billy conducted Vienna State Opera orchestra (and chorus) with such passion to convince them they were a French orchestra. Their magnificent playing was powerful enough to convert me, a sceptic, to Massenet's music. Alagna and Kasarova took all their curtain calls together. Theirs was a magical musical partnership, and especially tonight for Kasarova, (no disappointing last -minute replacement), who made the role her own. P.R. 30.04.2013
Photos: Roberto Alagna (Werther) ; Roberto Alagna (Werther) and Elina Garanca (Charlotte): as also for title photo
(c) Wiener Staatsoper/ Michael Pöhn