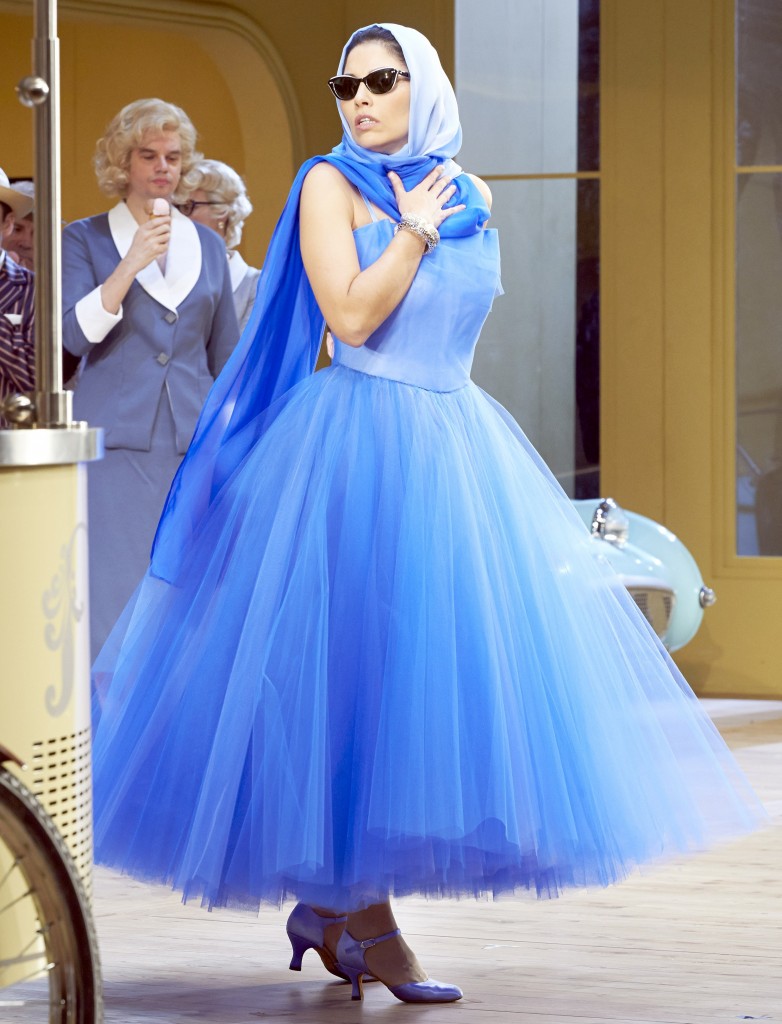 Rossini's La Cenerentola is a brilliant reworking of the fairy tale; and much more. The plot is like untying a knot: the more you unravel it, the more it tightens. Baron Don Magnifico lives with his two daughters Clorinda and Tisbe, their half-sister Angelina in the Cinderella role of household slave (her inheritance squandered by the Baron.) The moral parable unfolds when a beggar, turned away by the sisters, is offered hospitality by Angelina. Soldiers bring an invitation for Prince Ramiro's ball. The twist is that Don Ramiro (Dmitry Korchak) arrives disguised as his valet, Dandini. But Dandini (Nicholas Borchev) plays the part of the prince, to suss out the marriage candidates, and dupe the flirtatious sisters.
The genius of Vienna State Opera's (Sven -Eric Bechtolf) production is the updating to a (northern) Italian setting, moving between a designer villa and a car showroom. Thus the twin pillars of Italian consumerism , design (the sisters are fashion addicts), and sports cars, represent the false values of status against the humanity of Angelina.
Don Magnifico's is a state of the art (Milanese) villa . Elegant high ceilings, cream panels, Japanese paintings, blonde parquet floors, suspended lighting. It could also be a haute couture showroom . The 'wicked' sisters, Sylvia Schwartz and Juliette Mars, cavorting in white slips are not at all ugly. 'Once there was a king who chose a kind-hearted bride' (Una volta c'era un re), Angelina sings. The two nasties are pulling at Angelina, stuck in- between, timidly holding a coat hanger.
The male cast behind them are passing along the line endless designer dresses, while the spoilt sisters are deciding what to wear. It's all hysterically funny- a send up of pret-a-porter. By contrast the deep voiced Don Magnifico (Paulo Rumetz) slouched in a chair – dreaming of a marriage dowry- wears a vest, khaki trousers and braces: very plebeian.
'The great prince is coming to choose a bride.' Dmitry Korchak, the Prince, is dressed as his valet Dandini, in a chic navy uniform , more airline pilot than chauffeur. 'The wise Alidoro (the disguised beggar) assured him he'd find a bride here. What a voice! Korchak's light, supple tenor, effortlessly floating colaratura, is a highlight. He sings 'There's a sweet look in her eyes he can't figure out.' Angelina (Vivica Genaux) is picking up and sorting her sisters' dresses.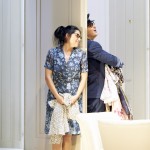 'There's a certain grace, a charm' (Un soave non so che). In their duet, Angelina and disguised Prince Ramiro are separated by the open doors of a wardrobe. He's looking for the Baron's daughter. But who are you? 'I don't really know' : can't he see how confused she is? Genaux is a refined mezzo-soprano, a leading interpreter of baroque and belcanto. Her awkwardness is charming. She begs forgiveness for her manner. He's leaving her heart to her. But he can't understand why such a charming girl is dressed so humbly?
Meanwhile, Dandini, disguised as Prince Ramiro, is received by Magnifico.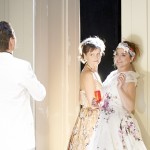 Nikolay Borchev a velvet deep baritone, is dressed in a brilliant white suit. The whole household lines up, in a musical serenade, to persuade Don Ramiro to make up his mind and choose his bride . Borchev the 'Prince' has a microphone in his hand, like a pop star. He has both daughters on either side. He sings, in the masquerade, he has to take a bride or he'll be disinherited. Borchev, sitting on a rear- facing white chair- matching his white suit- relishes his power: he can see the turmoil written in their faces.
Angelina begs her stepfather to take her to the ball – just one dance!- but Magnifico dimisses her as a silly servant girl; and waving his cane, orders her back to dust her room . The 'beggar' Alidoro, Don Ramiro's philosopher- is impressively sung by baritone Ildebrando D'Arcangelo. 'Everything is about to change' (La del ciel). She, Angelina, shall have everyone at her feet, conquer every heart. A bolt of lightning will change her destiny.
Scene change, a sensation! It's a car showroom, with a real, baby-blue, classic Italian car in view, right of stage. On the overhead balcony – beneath opaque glass panels- Borchev's 'Prince' is smooching with, trying out, the two sisters in turn. (Balcony reverts to a sales office.) Then a brilliant white convertible is wheeled in centre stage! In the driving seat Baron Magnifico. So Rossini's wine cellars have been updated to motor sales. Secretly confiding in his 'valet' (Romero), Borchev- disguised as Prince-
describes the sisters as vain and capricious. But they'll continue with their comedy. Anyone who wants to marry them can! Meanwhile the two sisters in their snazzy dresses are fumbling around blind-folded in Dandini's game.
The iconic moment. A mysterious lady arrives at the Ball, her face veiled; beautiful, but who can she be? Vivica Genaux is dressed in the ultimate party frock -a Prada special?- ultramarine taffeta, fluted skirt, pinched midriff; white headscarf, and wearing designer shades. Korchak, erstwhile 'valet', sings the sound of her voice is familiar to him. She kindles the flame of hope. Korchak, wow! She reveals herself for just a moment. To gasps! The close of Act 1 is a rousing crescendo, Vienna State Opera orchestra sounding authentically Italian (conductor Michael Guttler), Chorus and ensemble whipped up to a frenzy to die for!
Again, opening Act 2, the car 'showroom' – the blue car still in place- now has long white banquetting tables. The Baron, in his aria, bombarded with letters and petitions, has to bolt the door. He's going bankrupt; and he's worried by the competition for the Prince who looks uncannily like his (disinherited) step-daughter Angelina. She's proposed to by the assumed Prince -but she's in love with another: his valet. The actual Ramiro (Korchak) sings his heart is filled with a mysterious longing. 'Dandini, tell these silly women to leave the Palace.' Yes! He Romero will find her again. Oh, treasured pledge: identified by her bracelet, she'll be his (si ritrovaria, io gioro). Astounding tenor, this Kurchak!
Meanwhile, in the comedy, Dandini reveals his secret to the Baron: he doesn't give banquets, usually mixes with the servants. It's as in a fairy tale. Now, he must return to his real job as Dandini. He makes the beds, brushes his clothes, shaves the Prince. (In effect, he's a male Cinderella.) Borchev's Dandini, appropriately in black, polka-dot shirt and white tie, his aria excellently sung.
Revert to the Baron's State Room (rather designer villa) for Angelina's aria, 'There once was a king… in the end came innocence.' Thunder and lightning ; snow seen throough the windows. The Prince's carriage overturned- perhaps symbolising the subversion in the perceived social order. 'Despicable people! You try in vain to insult the girl I adore,' But thanks to her bracelet, Ramiro identifies Angelina, who's still being kept as a maid (siete voi). 'What a sudden transformation. Come let love guide us.'
Longer than average scene change, before the finale back in the car showroom . And what a finale! 'Pride crumbles, good prevails', Angelina sings, 'my revenge will be to forgive them.' She recognises a power greater than herself. Vivica Genaux is in a brilliant white gown, wearing a tiara and crown. He Romero, the actual prince, Korchak now in his own white suit. Both sport glamorous shades.
'Born into sorrow, she bore it all. But her face is transformed by a gentle breeze, the flower of youth.' Now Genaux, earlier subdued, astounds us with breathtaking coloratura. Korchak, in white, is sitting in that awesome vintage Italian convertible: 'Little by little, everything changes. Her days of suffering are but a dream.' (Beneath the pantomine frenzy , there's a moving parable.) Oh, my goodness, the white car drives off! Angelina is standing on the front seat waving.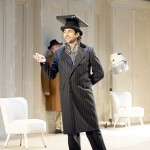 Truly a fairy tale ending.
Rossini's orchestration is crucial in sustaining the comic momentum, springy rhythms tautening for the comic climaxes. Vienna State Opera orchestra under Guttler achieved a light, crisp orchestral sound, articulated wind playing. The familiar, but glorious, Rossini cresendos gather pace like a well-oiled locomotive.P.R.30.12.13
Photos: Vivica Genaux (Angelina); Vivica Genaux (Angelina) and Dmitry Korchak (Don Ramiro); Juliette Mars (Tisbe) and Sylvia Schwartz (Clorinda); Ildebrando D'Arcangelo (Alidoro)
(c) Wiener Staatsoper/ Michael Poehn