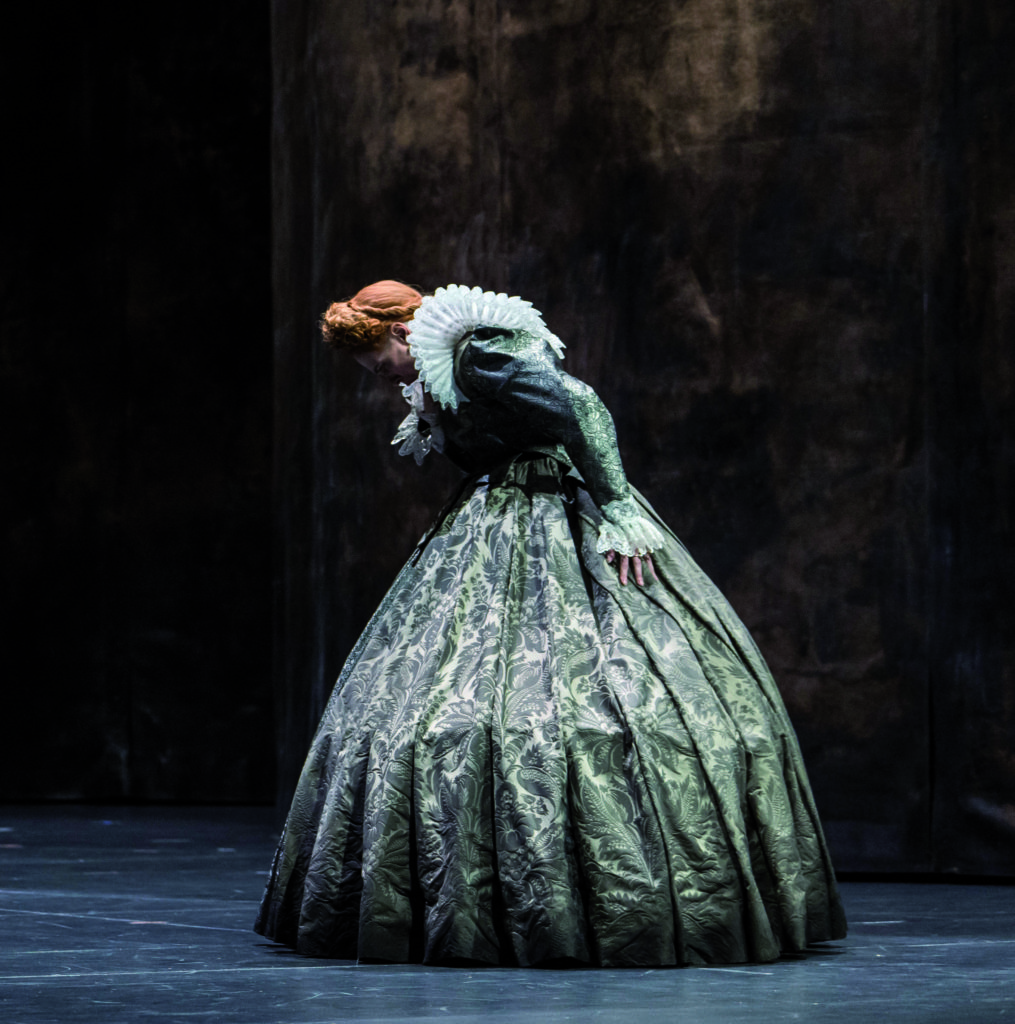 Rossini's Elisabetta, regina D'Inghilterra (1815) was one of the first historical romantic operas. It hinges on Elizabeth I's amorous attachment to her general (Duke of) Leicester, returned in glory from the Scottish campaign, but secretly married. And, in Rossini (libretto Giovanni Schmidt), to Matilde, the daughter of arch-enemy Mary Queen of Scots, Matilde disguised amongst the Scottish hostages…
But how can a modern director present this historical narrative convincingly- historical fiction maybe, but composed and written with authenticity in mind- without period costumes, and quasi-historical sets? Whereas directors have a free hand rejigging opera's classics for a 21st century audience, with 'historical ' operas there has to be a line drawn for the sake of credibility, if not good taste.
In spite of 'borrowings' from his previous operas, Elisabetta is a major example of Rossini's 'reform' operas; the first with vocal ornamentation strictly defined to prevent 'rushes of virtuosity', the excesses of star performers. Elisabetta is serious drama (Dramma per musica) and not to be trivialised by a vain director's concept.
Which is what I expected from Theater an der Wien's new production, directed by Amélie Niermeyer. But I was wrong, although it is a 'modern dress' production, it is intelligent, tasteful, and highly effective. And appropriately Theater an der Wien is where Elisabetta premiered (1818) in Vienna.
To the strains of the overture, (reworked for the Barber of Seville), with vigorous, stylish playing from Ensemble Matheus's original instruments, conducted by Jean-Christophe Spinosi, a headless gown- a tailor's dummy- is wheeled on stage. Elisabetta (Alexandra Deshorties) is power-dressed in a black trouser suit, white blouse- like a managing director. The men, her courtiers, are all in sharply cut black suits and white shirts, some in patent leather shoes; ladies in black tailored outfits like sales executives, or caterers.
Chorus (Arnold Schoenberg Choir) sing extolling the lustre of power, as golden as the sun: the war is finally over. Yet for the Duke of Norfolc, (tenor Barry Banks), his power rages. No peace for him, his bid for Elisabetta now eclipsed by Leicester. Norfolc, Banks small but pugnacious, wearing a camel coat a cut above the others, is the arch conspirator.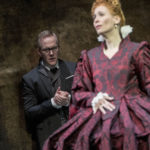 The Queen announced, Deshorties' movements are graceful, magisterial; she's accompanied by her closest advisor Guglielmo (Erik Arman), in a grey mohair suit and spectacles, like an accountant. On is wheeled the bust of the royal gown of state. Now Elisabetta enters it; occupies it; assumes the role of Queen. Now Deshorties has an auburn wig. It's all about her queenship as an act of theatre. (Yet this was a century before Louis XIV's Versailles.) Elizabeth I, a great self-publicist, cultivated an aura of power: she embodied the realm. Later, the pursuit of suitors exhausted, she was the Virgin Queen with 'the heart and stomach of a King.'
Niermeyer's production uses these magnificent gowns -constantly floating around on their wheelbases- to symbolise royal power, as the crown jewels' supernatural powers are passed on to their bearer. Yet, in this often moving production, Deshorties' Elisabetta is seen as a vulnerable woman beneath the crushing weight and responsibility of royal power. And in the context of Rossini's opera, the passionate woman in love, plotted against in court intrigues.
All of you about me, be joyous! Now she can breathe: even happier seeing Leicester again. Deshorties, now in that gown, her soprano is expressive, its power controlled, but capable of terrific high-notes when required. Her heart beats with joy: she will see him again. Lords of England! she sings of the most beautiful day of her life.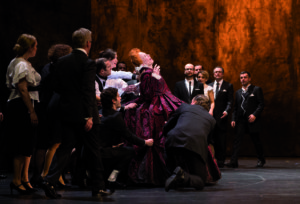 Leicester, (Norman Reinhardt, an accomplished tenor), is in a long over-checked coat, bearded of course, his smile exuding arrogance and insolence. He takes her hand. She's beaming all over her face. Queen, we English fight with your name on our lips. She, to Leicester, extols what he has done for England, he must receive her personal thanks.
One of the captured Scottish noblemen turns out to be Matilde (disguised in a man's suit), the woman Leicester had secretly married. Leicester is horrified and reproaches her for her recklessness: she and her brother Enrico were forbidden to leave Scotland. But Matilde, the outstanding soprano Ilse Eerens, sings of hearing rumours of Elisabetta's love for Leicester. Her fear over the deception can she bear no more. Their duet is a tremendous dramatic creation: their hearts will endure their suffering.
Leicester reminds her, doesn't she realise (as Mary Queen of Scots' daughter), she's Elisabetta's sworn enemy? In her aria, Eerens a star performer, Matilde sings of an inner voice telling her she is born to suffer. Exquisite, with clarinet accompaniment, almost Mozartian in its intensity of feeling, plaintive , spiritual. She hopes for a moment without fear when her heart would jump for joy.
Norfolc wheels a gown past, eavesdropping on the clandestine lovers: he will betray them to the Queen. He will, he sings, make Elisabettas's day, exposing Matilde and Enrico her brother.
The scene in which Elisabetta takes revenge on Leicester and Matilde is a dramatic highlight. Norfolc's revelation of the secret marriage hits her unawares 'like a sling'. She's resolved the traitor must die. Her aria anticipates Verdi's on a king's private suffering (Philip II's in Don Carlo). What should she do, the Queen cruelly deceived. Why should she, who has triumphed in Scotland, now be so unhappy?
In an imposing black and gold gown, surrounded by lady courtiers in billowing black skirts, Elisabetta sings she will get her revenge; but oh, so painfully. She announces, she will marry Leicester and as a reward and make him king. Leicester, dumbfounded, tries to decline her offer.
She explodes, Deshorties' powerful soprano hitting the roof, cannot stand the deception any longer. Their secret is out! Matilde's suit is stripped off, Eerens is debagged , revealed in her white slip, shamed. Now the crescendo , familiar from Il Barbiere di Siviglia, but what a different context! Leicester, Matilde, and Enrico , accused of high treason, are incarcerated. But Elisabetta is distraught, Deshorties' face anguished, tearful.
The highlight of Act II is Elisabetta's summoning of Matilde. Deshortie is now in white , Eerens kneels before her in her undergarment. They must be sentenced to death; pardoned only if Matilde writes that she renounces Leicester. She refuses, enraged: take only my life, keep your mercy, Eerens heart-rending. Their duet, interweaving their laments – Matilde's heart drowning in tears, Elisabetta bewailing Oh, my God , my man! – sung to woodwind accompaniment, reminds of Bellini's Norma (with Adalgisa) . But Matilde submits – Cruel Fate, how dearly we pay for life! – echoed by Elisabetta, appealing woman to vulnerable woman.
Reinhardt impressed in Leicester's aria, he the victim of blind Fate. (He refuses to sign, sacrifice his love to save his life.) His exhausted body- Reinhardt's white shirt dishevelled – demands peace; he collapses.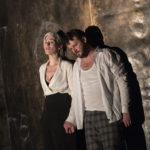 Then he calls on heaven to free him from his suffering. Reinhardt's is a beautifully lyrical tenor; he enacted the part, as indeed all the roles are well cast.
In the denouement, Leicester refuses Norfolc's supporters freeing him by force. He will not rebel against the throne. In a powerful scene, the Queen herself visits him, not as Queen but as Elisabetta. He's guilty of love; her rescue is his only hope. In a dramatic 'Italianisation', Norfolc enters with a knife, like a terrorist, but disarmed by Leicester. In a poignant aria, Elisabetta sings, let them embrace, these pure souls. Be free and happy for ever. And she holds Matilde to her bosom. Chorus sing, true love is not to be punished.
Now Gugliemo holds the Queen's burgundy gown of state ready for her. Deshorties' face, contorted with anguish, reveals the private suffering that goes with the role of sovereign. Earlier we see how conspirators dress up in three of the Queen's gowns – a subversive act, also hinting perhaps at the Queen's rumoured androgyny. But it is Norfolc who pulls apart the Queen's gown revealing the steel hoops, fortelling an act of treason, the gowns as if imbued with the royal personage. A triumph of stagecraft! © PR 21.03.2017
Photos: Alexandre Deshorties (Elisabetta); Erik Arman (Guglielmo) and Alexandre Deshorties; Alexandre Deshorties and Arnold Schoenberg Choir : Norman Reinhardt (Leicester) and Alexandre Deshorties (Elisabetta); featured image Alexandre Deshorties
Photos © Herwig Prammer