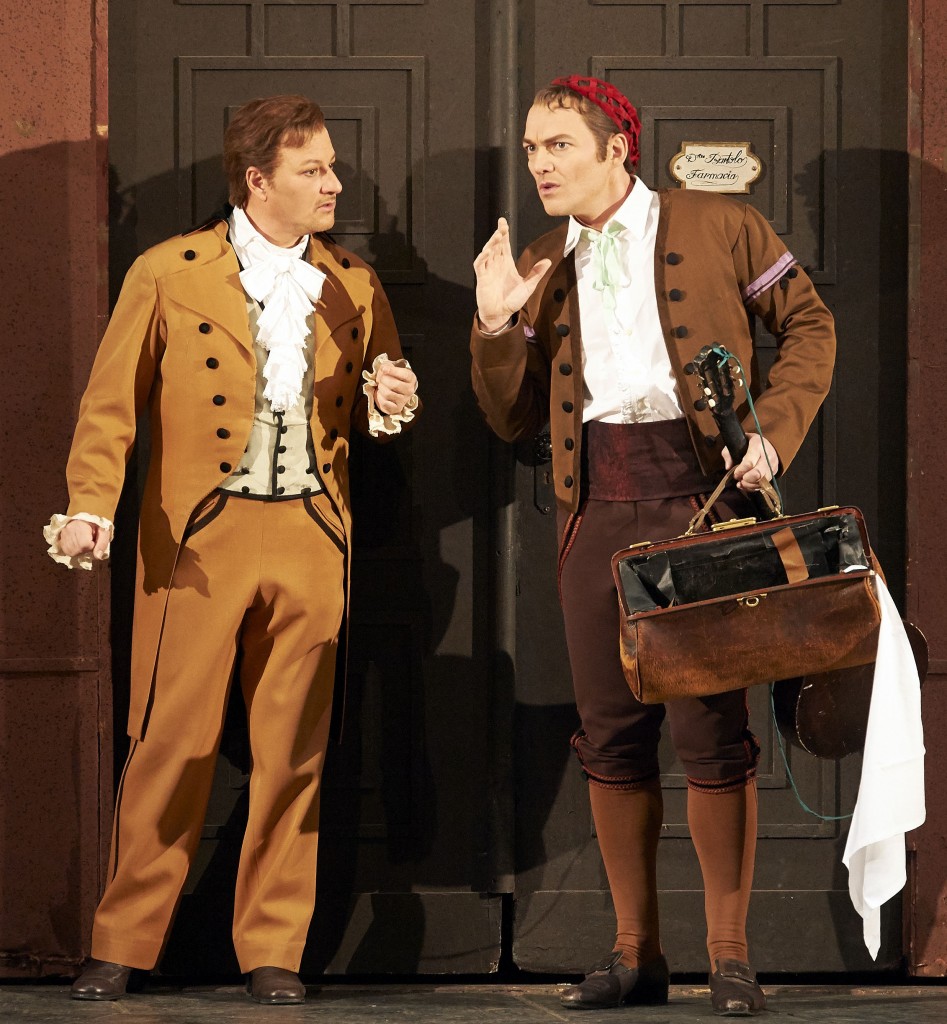 Rossini's The Barber of Seville (Il barbiere di Siviglia) is so popular as to ensure a full house, so Vienna State Opera could be forgiven for putting up any cast. (Not tonight!) Their stage set is a classic (original production Günther Rennert) that's seen over 400 performances. But let's not get snobbish: Rossini's opera is a comic masterpiece, which even Beethoven, who composed only one opera, envied.
Rossini's music- epitomised in The Barber of Seville– has an irresistible rhythmic quality, a perpetuum mobile. Like an engine, it drives the comedy along, building up steam for Rossini's signature crescendos. Italian conductors especially are able to sustain this rhythm , enervating the quieter recitative scenes. Jean-Christophe Spinosi, conducting Vienna State Opera orchestra, achieved luminous, light textures. But not quite that inexorable perpetual movement.
Vienna State Opera's set (designer Alfred Siercke) is a magnificent traditional Spanish villa on three floors, balconies centre. Serenaders troupe in. Count d'Almaviva (Antonino Siragusa) sings beneath Rosina's balcony, 'The sun rises to greet you; will you not awaken? Siragusa's tenor is nothing special: for a bel canto role, rather dull, not going anywhere. (If this were a talent-spotting audition, it wouldn't go to the next round.) Siragusa's tenor is really struggling, not strong enough to transport onto to the top floor, never mind Rosina's heart. He does get to that top note in the end. They clapped. The Chorus (as always at Vienna State Opera) are splendid as Almaviva pays them off.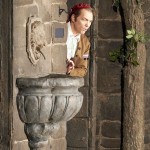 Figaro (Christopher Maltman) enters from the stalls, side of stage. At last some real singing. Maltman, with his richly timbred baritone, simply takes over. Centre stage, he's addressing us, the audience, in his iconic, dazzling cavatina 'Day and night, I'm on call', brushes, and combs and knives at his command. There's an alacrity and bustling humour and mischievousness to his phrasing . And what fabulous high notes. Largo al factotum, Old and young ask of me here and there…Figaro, Figaro, Figaro, Figaro. Ah, what time he's having. (Now he's holding onto, pivoting from, a drainpipe.) 'Fortune will always side with me: I am the factotum of the city!' True to life: just a little money in his pocket, with a girl in Seville.
Maltman's Figaro runs rings around Almaviva. Almaviva sings, he once saw a beauty, the daughter of a Sevillian merchant. Enamoured, he now stands beneath her balcony. I happen to be the envy of all trades, boasts Figaro, the man to go to. The balcony door opens. Rosina (Adriana Kucerová), a dark beauty, throws down some little trifle which her guardian and uncle (Wolfgang Bankl) slavishly picks up.
Almaviva serenades Rosina with a ballad, Siragusa's light tenor, not put to the test, very pleasant. She looks down captivated. -Go on singing , my dear- Student 'Lindoro' (The Count's alias) can give her no treasures, but he offers his faithful heart. How dearly Rosina loves her Lindoro, Adriana's soprano forever being interrupted in the comic set up.
Figaro with Alamaviva, the Count promises a rich reward for Figaro's 'services'. Figaro exults, what a wonderful effect gold has on him. Maltman's baritone soars exuberantly: at the thought of the metal , his heart is a volcano.
Isn't that a brilliant idea? In their duet, Figaro's 'brilliant' idea to get the Count into Bartolo's house: the army being requisitioned in Seville, all the Count has to do is to dress up as a soldier to claim accommodation. Maltman, wearing a red hat, in short jacket and culottes, stockinged, and physically commanding, against Siragusa's shorter, squat Almaviva. Ah, he feels the flame of love, sings Almaviva, while Figaro hears the clink of gold.
In Rosina's famous aria, soprano Adriana Kucerová, sings Una voce poco fa, the sound of his voice has pierced my heart. Yes! I swear Lindoro shall be mine. Kucerová smiles radiantly, her coloratura confident: rather characterless , but charming. In their comic duet, Figaro sings to Rosina of a very beautiful, deliciously plump, high-spirited brunette he's in love with, very nearby. She could give lessons in malice, he sings . But, in Figaro, she's met her match.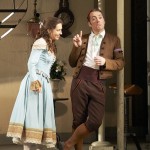 In their banter, Kucerová is fired by Maltman's scheming Figaro; feisty, she's really singing.
The plot you know: Figaro agrees to deliver her letter to 'Lindoro', but prevented by Bartolo's arrival with Rosina's music master Basilio, (very well sung by bass Jongmin Park.) Bartolo, spying on Rosina in her room , notices a missing sheet of paper, and assumes she's written a secret letter. She's deceiving him, a Doctor of his standing! As Bartolo, Viennese bass Wolfgang Bankl is well experienced in the role; beautifully sung, but he's not nasty enough! After all, he's her uncle and guardian, taking advantage of his niece: he even admits to Bartolo his hopes of making her his wife.
But Bankl is well up for the comedy, as in the ensuing scene, when Almaviva arrives as a drunken soldier. Almaviva, Siragusa now glamorously dressed in green and red top, breeches and boots, makes fun of Bartoli's name. Bankl, taunted by Siragusa's out-of-control drunk, insists he's a doctor and exempt from fighting.
The Act finale is terrifically staged, as the police, (called by Bartolo) enter side of stage, and search the villa, taking over the upper rooms. Basilio, Rosina , Almaviva and Bartolo are all singing at cross-purposes. It all ends in marvellously orchestrated confusion. Yet musically, under Spinosi, Rossini's crescendo perhaps lacked the controlled frenzy- that ecstatic orgasmic release of energy.
Disguised again as the cleric/music teacher in Act 2, Siragusa is good in the comedy, giving Rosina music lessons, while they flirt under Bartolo's beady eye. But tonight, this tenor hasn't got what it takes- vocal heft, agility, upper range- for this bel canto role. The scam with Bartoli, explaining why he's replacing Basilio, is amusing enough. To distract Bartoli, Figaro shaves him, their conversation a cover for the lovers.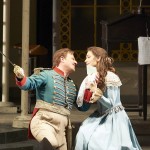 Kucerová's Rosina, in her aria, sings 'For a heart in flames, love will always triumph. Ah, Lindoro, if only you knew how my guardian enrages me!' Very pleasantly sung, lots of smiles, very compelling, but maybe a little colourless. 'Dearest, I trust you!' The trills of her coloratura are, technically, perfectly accomplished, but it isn't stirring, doesn't enrapture.
The comic timing of the ensuing farce tightens relentlessly, with the arrival of the real Basilio, ushered away by Figaro. Bartolo susses the planned elopement; and Rosina, hearing malicious rumours (La calunnia) about Count Almaviva, agrees to marry Bartolo. In the plot, Almaviva assisted by Figaro, and under cover of a storm, crashes the 'wedding', revealing to Rosina that Almaviva and Lindoro are one. Bartolo, arriving too late with soldiers, has to bless the Count's marriage to Rosina, Di si felice innseto . The frantic finale is consummately achieved.
Maltman's Figaro, cutting a handsome, dashing figure, holds this performance together; stands out against an otherwise distinguished cast, except for Kucerová, on unexceptional form. Siragusa's Almaviva is good as a comic, but this Count has no real stature that this social satire must undermine. Comparisons with Juan Diego Flórez in this role (2014) are odious, but this Almaviva was disappointing. Siragusa, with an international reputation, tonight lacked form.
Spinosi, conducting Vienna State Opera Orchestra and Chorus, achieved very fine playing, especially in the storm effects Act 2; but not quite the panache and rhythmic pace of the Italians who regularly conduct Rossini here (Marco Armilliato especially.)
The constant is Vienna's traditional 'Sevillian' stage set -an historical artefact- that still could hardly be bettered. P.R. 8.1.2016 ©
Photos: Antonino Siragusa (Count d'Amaviva) and Christopher Maltman (Figaro); Christopher Maltman (Figaro); Adriana Kucerová (Rosina); Adriana Kucerová and Christopher Maltman; Antonini Siragusa (Almaviva) and Adriana Kucerová (Rosina); Featured image Adriana Kucerová
© Wiener Staatsoper /Michael Pöhn