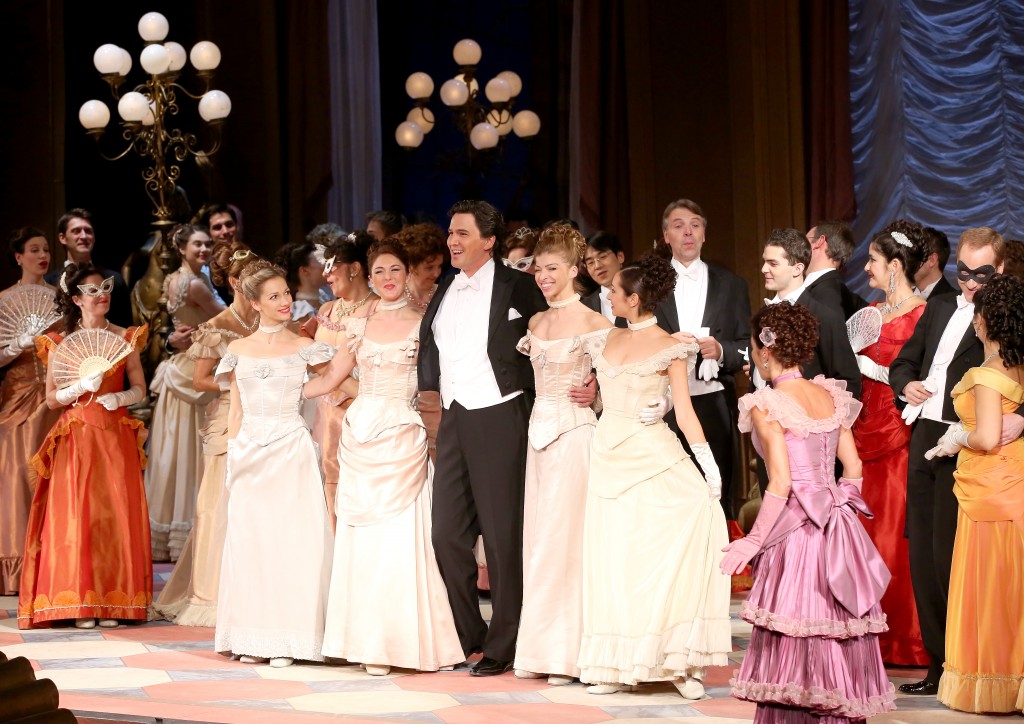 To experience Die Fledermaus in Vienna, where Johann Strauss's operetta premiered, is a special privilege. But you'd expect Volksoper's production to be inferior to the more prestigious Vienna State Opera's (Staatsoper). Not so. Both opera houses are funded by the Austrian government, so there's some pooling of resources, notably those Vienna State Ballet dancers (as seen in the New Years Day concert.) Volksoper's sets are not as lavish, but Volksoper's audience is primarily Austrian, and they are connoisseurs.
Musically, Strauss's score is almost symphonic in its orchestration, much admired by Brahms amongst other composers. The Overture, presenting Strauss's richly melodic themes, is a masterpiece in itself . So Volksoper Orchestra (under veteran Rudolf Bibl) gave a good measure of the whole: very competent playing, the strings lacking the sheen of Vienna State Opera's, but beautiful woodwind. Incisive, rhythmic, with a Viennese lilt.
Of course, Vienna State Opera's Fledermaus has budget for a star cast: Volksoper's less well-known internationally. But Strauss's 'operetta' wasn't perhaps written for singers with today's phenomenal technique- although, arguably, the work, operatic in scale, with its subtle characterisation, benefits from virtuoso performers.
Volksoper's cast very was adequate, with some exceptional singers in their roles. Elisabeth Schwarz as the chambermaid Adele, impressed from her opening scene , cast in the role of a 'Cinderella', reading her friend Ida's letter, desperate to go to the Ball . She concocts a story about a 'sick aunt'. Her aria, why did you make me a chambermaid, is a highlight; Schwarz is a petite brunette, but what a voice! Her soprano, light but confident upper range, impressed. In Act 3, in her 'audition' before impresario 'chevalier' Frank, she proves 'she has talent' with a virtuoso display of vocal and acting gymnastics.
Her employer Rosalinde (Ulrike Steinsky), curled-brown hair, pretty, but a little plump, is laid out languidly on her chaise longue. Unmöglich , she, Adele, has forgotten that Eisenstein, her husband, is to serve an eight day charge for insulting a policeman.
Alfred (Christian Drescher), the 'opera singer', madly in love with her, enters in a dapper grey suit, and creeps up on her . He'll only go if he can come back alone. The tenor is forever practising his scales, but he, Drescher, is no virtuoso.
Adele continues with her story, until Eisenstein (Thomas Sigwald) arrives. Eisenstein is first seen arguing with his lawyer, who's only managed to increase his sentence. Not especially sympathetic, Sigwald's portrayal is testy, quarrelsome. The naughty man slaps Adele's bottom- he's seen her 'sick aunt' on the street- and bossily orders her get his food from the inn.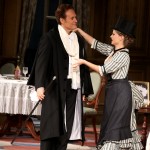 Sigwald's is an unexceptional tenor, but a good character actor. He makes Eisenstein a figure of fun. Not a nice man, he locked Falke out of a party, to find his way home in a bat costume.
Dr. Falke (Daniel Ochoa), slick, balding black hair- in fact, a notary- has a Slavic accent. in their duet, he needs to persuade Eisenstein to come to Orlofsky's party, to implement his revenge. Ochoa's a tremendous baritone, impressively refined. Although Sigwald is only competent, the duet goes well.
Rosalinde, expecting Eisenstein to be going to prison, sings how shall she bear her husband's leaving home- (while secretly harbouring other plans). He joins in the duet, Oh, the terrible blow . But Eisenstein is Falke's guest at the party! Adele gets the night off, after all.
Alfred arrives and usurps Eisenstein's place, wearing his dressing gown, and taking supper. Alfred's duet with Rosalinde, Liebe dich, is very nicely sung by Dressler, and especially the famous duet Drink with me, Trinke liebschen, trinke schnell' . But it's all going too fast for Rosalinde. Happy is the one whose life cannot be changed, sings Alfred lording it in Eisenstein's chair, in one of many wittily ironic moments in Strauss's very stylish libretto.
Frank, the prison director (Martin Winkler), who's come to arrest Eisenstein, sees Alfred apparently in the role of the husband. Is the situation not perfectly clear? the trio sing, as Rosalinde goes along with the charade to get rid of the overbearing Alfred. (Alfred's even prepared to go to prison for her.) Winkler, a formidable baritone, is absolutely authoritative in a marvellously comic role. Exemplary. Dressler and Steinsky, if not exceptional vocally, enact their stage parts with adroit comic timing.
The Ball of Act 2 is beautifully staged (Pantellis Dessylas), with terrific gowns (Doris Engel): no expenses spared, and highly professional dance sequences. Cleverly, ornate chandeliers and centre-piece statues with (late-Victorian) bulbous lights disguise the trompe-l'oeil painted columns and arches.
Prince Orlofsky, seems unusually old, but Annely Peebo is imposing with silver-blonde hair, wearing black pants, and oriental-patterned cloak. Orlofsky's role is traditionally played by a woman. Here there are subtle lesbian overtones. Commanding, authoritative, totally convincing. She has Eisenstein in her control, dangling him like a bauble, plying him with vodka. When superb mezzo Peebo threatens 'if I see anyone here bored, I throw them out,' she's refined, when you expected a roar.
So far, Act 1 had been only so-so . Until Orlofsky. Chacun a son goût aria has real charisma. Peebely sits on her couch controlling proceedings, standing at her side a black-suited ogre as her bodyguard. She expands, like some exotic man-eating plant, spotting Adele, who's consumed alive.
She rebukes Eisenstein, who, disguised as a Marquis, exposes the disguised Adele. He should know better. 'Olga's' manners, comportment, tiny waistline, are not what you expect of a maid. It's marvellous 'class' satire. Orlofsky forces Eisenstein to apologise; she's defiant in her 'laughing song.'
Then his wife Roslinde arrives, dressed as a Hungarian countess. She, Steinski's, in a flame-red dress and matching mask, furious when she recognises Adele in one of her gowns! She listens in while Eisenstein boasts about his watch he's used in countless seductions. And Eisenstein, unwittingly, rises to a new challenge, the Countess, who determines to secrete that very watch.
Steinski, in the Countess's showstopper, singing of her Hungarian origins, is a little disappointing. Kälnge der Heimat, when she hears the sounds of her homeland- bright, green fields- lacks that Hungarian feistiness. 'Drinking the fiery wine of Tokay' lacks verve, although Steinski, hits exciting high notes.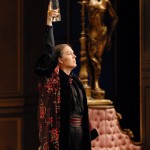 The Chorus numbers, featuring Orlofsky, however, are outstanding. Peebo launches into praise of champagne, the king of wine. And Brüderlein und Schwesterlein, shows off Volksoper's excellent Chorus.
The climax, worth the cost of the ticket, is Strauss's Thunder and Lightning Polka, featuring Vienna State Ballet's Dancers. The off-stage backdrop is like a winter palace. Male dancers perform incredible somersaults: others kicking their legs high (in a cancan.) 'Ballet' dancers intermingle with chorus and cast in a spectacular choreographed Die Fledermaus waltz. They all collapse, a heap of brightly colourful costumes, and disperse.
The drab brick-lined prison interior of Act 3 couldn't be more of a contrast. There's a lot of dialogue , but even to non-German speakers -there are English surtitles-it's witty and hilarious. Prison warder Frosch (Robert Meyer), cantankerous, and pissed as a newt, bets himself a glass of schnapps that Alfred (the tenor) will start singing again. Then Frank, prison governor as 'Chevalier', arrives from the ball, twirling around drunk, humming the Champagne melody. He collapses in his chair, cigar sticking out of the newspaper over his head. Frosch and Frank's are an hilarious double-act, Laurel and Hardy prototypes. Eventually everyone converges on the prison. Eisenstein drops his Marquis disguise to interrogate his wife's infidelity; but she trumps him holding up his watch, and he has to beg her forgiveness. Orlofsky , as 'a patron of the Arts', adopts Adele's acting career. In the slickly choreographed grand finale, 'Champagne was to blame for everything'.
Volksoper's Die Fledermaus may lack the star attractions of the more famous Staatsoper's, but it's authentically wienerisch. Musically, and as stage performance, it justifies Strauss's operatic masterwork. P.R.1.01.2016 ©
Photos : Günter Haumer and Vienna State Ballet and Chorus of Volksoper Wien; Thomas Sigwald (Gabriel von Eisenstein) and Beate Ritter (Adele); Annely Peebo (Prince Orlofsky); Theme featured image Annely Peebo and Thomas Sigwald
© Barbara Pálffy / Volksoper Wien and Dimo Dimov/ Volksoper Wien for Annely Peebo