Die Zirkusprinzessin
, Kálmán uses the glittering world of the circus for his follow-up to
Gräfin Mariza
(again librettists J.Brammer and A.Grünwald. )Tsarist St.Petersburg is the exotic setting for the operetta. But, premiered in 1926 Vienna, this was to distract the Viennese audience from grim post-war realities- hyper-inflation, unemployment, begging, slums, and strikes- into a nostalgic fantasy world.
At the centre of this fiction is the legendary Mr X (Carsten Süss), whose bravura act is so dangerous as to defy realistic staging : after a violin solo, he leaps out of the circus dome onto a galloping horse. But Mr X's story, like his act, is pure fairy tale. Because of his infatuation for Fedora, the wife of his uncle Palinsky, Fedja was disinherited, and joins the circus, a world of escapism and changed identities. And fate leads the now rich widow Fedora- but accompanied by her admirer Sergius- to meet the circus horseman, (unbeknown to her as her nephew.)
And, in the sub-plot, the circus being a melting pot of society, Tonio, the self-styled son of the Archduke Karl, introduces himself to Mabel, an American circus girl, who is in fact Viennese and from a titled family!
In Thomas Enzinger's production, Vienna's Volksoper's cavernous, circus-top stage (design Peter Notz) is surrounded by a balcony. In his opening aria, Mr X sings
Wieder hinaus ins strahlende Licht
, once again under the spotlight. Carsten Süss enters in a black gymnasts outfit, wearing a red velvet dressing gown. His is a richly varied tenor, a joy to behold, but without undue technical bravura- that's off-stage.
For Fedora, Mr X, masked, incognito, is a mystery. Whereas for him, it's pay back time: she owes him, being partly responsible for his present fate. He sings, he will always love her.
In one of the star numbers, as Princess Fedora, Ursula Pfitzner sings of love, what draws our hearts and gives life meaning. Pfizner is all-in-black, black fur collar and matching hat. Pfizner is a very pleasant soprano; the role doesn't demand vocal extremes, but does require considerable acting ability. As with
Countess Mariza
, there's a lot of dialogue: these late 1920s operettas are the forerunner to Hollywood musicals, from Busby Berkeley to Astaire and Rogers.
Pfitzner and Süss really enact their parts. Meeting the circus horseman, her manner is, at first, reserved, in this class-ridden society, as befits her social superiority. Would he, exceptionally, reveal his face to her, she asks. He declines, emphatically not.
But they are a natural together: splendid in their duet, one of the show's big tunes. Those words, I love you, this hour strikes only once in a lifetime. Joy breezes softly, they sing.
'The jump' happened so suddenly- I was looking at the circus master in the stalls- not the stage. I missed it! Anyway it's a cue, in the plot, for Prince Sergius , who wants to introduce Mr X to the Princess as 'Prince Korossow'. Sergius, the excellent baritone Kurt Schreibmeyer, approaches Mr X .
'You're good at jumping. Why not make a leap into high society?'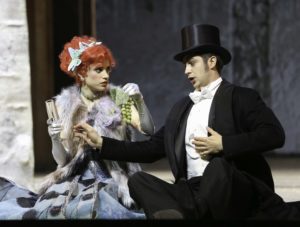 The fun is provided by the other couple, Toni and Mabel. Mabel, the circus girl is approached by Toni, whose father owns the
Erherzog Karl Hotel
in Vienna (but mistaken as the son of the Archduke Karl.) It's love at first sight. The American dog groomer Mabel (Juliette Khalil) is dressed in an over-the-top red and gold outfit, like a cheerleader, her hat with sci-fi antennae. She's a chanteuse on roller skates. Khalil, recently the diva in
Axel at Heaven's Door
, wows us with her gorgeous soprano.
Nimmt man Abschied von dieser Stadt
: if you meet a Viennese girl in a foreign land…
Otto Jaus as Tonio looks very handsome in a black deejay, and with his
wienerisch
dialect and warm
Gemütlichkeit
, strikes a rapport with the packed, and appreciative Viennese audience. Toni sings to Mabel how sometimes Fate strikes terrible blows- you don't know whether to laugh or cry. Jaus, perfectly poised, is not too serious, against Khalil who's wildly absurd. Chorus sing, We small girls in our leotards, but they're over six foot in their high-heels, and built-up hair dos.
Opening Act 2, there's a hunt, with guests including Fedora and Mr X, (Sergius observing as Fedora falls in love with the pretender 'Prince Korossow'.) Sergius gives Fedora a forged letter, allegedly from the Tsar: she's ordered to choose a new husband, and marry him today! Perhaps she's already found one? As Korossow, Süss in a great coat, looks the part; and sings impressively with beautiful intonation.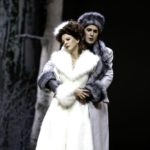 But Fedora is furious with the tsar's letter; she won't marry against her will. Kálmán's women are strong and feisty, the Hungarian type. (She will tell the Tsar her letter arrived too late.) But she's subsumed in their love duet. You and me, wrap your arms around me; the world fades when we're entered by happiness. Hers is a pleasing soprano, his tenor, authoritative, always interesting.

From the sublime to the ridiculous, Jaus's Toni staggers around a little pissed- 'I've tipped over a lass', (in the clever English sub-titles.) For Mabel, it feels as if she's in a fairy tale castle,

Du süsses Märchen: Es war einmal!

(Once upon a time). Of course, he'll only make love to her after the wedding. Khalil, a red-head, is dressed in a truly stunning sky-blue, art-deco frock, with matching headpiece. Their dance routine brought the house down.

Wedding at midnight? Back in the main plot, Pfitzner's Fedora, reprises the hit song 'Joy breezes past'- watched over by a dancer on the stage balcony, wearing so many feathers she could have taken flight.

Now my highlight moment, the bridal dance, with 'Cossack' dancing couples. It must be Vienna State Ballet again, with everything from cartwheels to a pink-skirted lady catapulted into the air. Then the circus performers, a brilliantly coloured, motley extravaganza of misfits.

But in the Act 2 Finale, Sergius, who's invited the circus troupe to the wedding, pulls a fast one. He reveals the newly married Korossow to be Mr X. Fedora is furious. Pfitzner faints, laid out front of stage. But Süss, the exposed Mr X, sings he'll be back: It was all for love.

Du süsses Märchen

, the fairy tale ends: can you forgive me?

Just when you thought it was over… The actual finale is brilliantly conceived, the scene changing to the

Erherzog Karl

restaurant, with walk-on stage celebrities, and Viennese café society. There's a spectacular 1920s dance number, with Vienna Ballet's dancers doing the 'black bottom'. Toni returns with his wife Mabel- they're not engaged,

they're as bad as married

! Elizabeth Flechl, as Toni's mother, chokes over the word 'circus'; until re-assured Mabel's father is the Major, (who she once nearly married.)

And how did it play out for Fedora , after her humiliation as 'Circus Princess'? Fedora and Sergius are dining out. On another table, sits Mr X, who is back in town with his circus. Will they…? No conventional Hollywood ending!

Volksoper Orchestra and Chorus were excellent. Laurence Aichner gracefully conducted the orchestra as if riding a team of horses. An unmissable revival of Kálmán's classic Viennese operetta. P.R. ©

Photos: Carsten Süss (Mr X ) and Astrid Kessler (Princess Fedora Palinska); Juliette Khalil (Mabel Gibson) and Otto Jaus (Toni Schlumberger); Carsten Süss (Mr X/ Korrosow) and Astrid Kessler (Fedora); Featured image Ursula Pfitzner and Vienna State Ballet dancers

© Barbara Pálffy / Volksoper Wien

Kálmán, after Lehár, was the leading composer of the 'silver age' of Viennese operetta, combining Viennese waltzes with Hungarian czardas. For