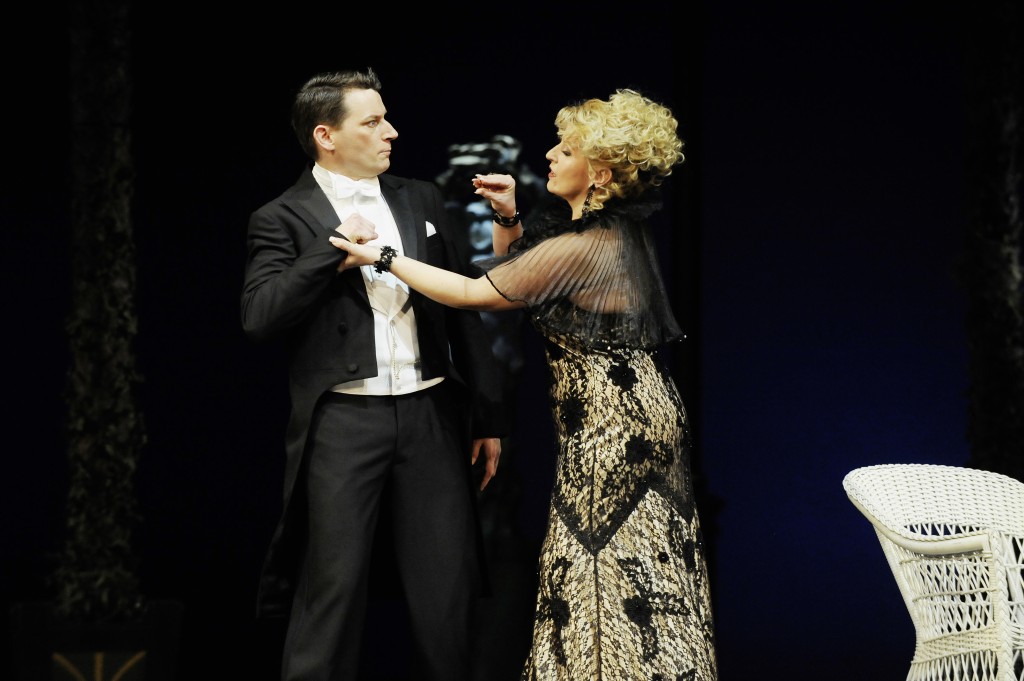 Emmerich Kalman ranks with Franz Lehar as the greatest figure in operetta. And Die Csardasfurstin is his masterpiece. Operetta? Operetta, before you turn your noses up, is the source of the Hollywood musical. Operetta's demise in the 1930s coincided with the influx of central European refugees -many Jewish – to America's west coast. (Writers, composers and musicians driven out by the Nazis included Kalman and Korngold, many setting up artists' colonies in Hollywood.) And operetta is the forerunner of the modern musical, from Sondheim to Lloyd-Webber, its derivatives still packing Broadway and West End.
The Czarda's Princess (Vienna Volksoper) opens in a night club in Budapest where cabaret singer Sylva is giving a farewell performance . She's off to America. She sings proudly of her Transylvanian mountains. 'Vaudeville singers don't take love too seriously', sings red-haired Martina Dorak, leading a neatly choreographed dance number. Sylva is feisty, the modern woman. 'That's the way I am.' Later, in a Hungarian number with gypsy rhythms, repeatedly proclaims, 'she's a devil of a woman: beware of giving your heart to a vaudeville girl'.
The Sylva character is a fabulous entertainer- The Czarda's Princess light relief to the gloom of the first World War, when first performed in 1915. So The Czarda's Princess's dance routine (ending Act 1) and closing number is entitled 'Dance as if there's no tomorrow. There's only one today.' Sylva is a survivor – her cabaret artiste is a mascot figure like World War 2's Marlene Dietrich.
In Sylva's defiance of social conventions, Kalman's operetta is also very 'modern'. Sylva has two suitors Boni (Jeffrey Treganza) and Edwin (Alexander Pinderak). Theirs is a friendly menage-a-trois. But Edwin's relationship is embarrassing his aristocratic family. So Edwin's engagement to Stasi is hurriedly announced. Prince Lippert (Peter Matic), Edwin's father, will pay off Sylva: money talks.
The Czarda's Princess rather anticipates 1920s amorality, and the swopping couples of Noel Coward (Private Lives). In Kalman's comedy, Boni takes Sylva to a party, posing as her husband so Sylva can see Edwin for the last time. There, Boni reignites an old affair with Stasi. In a star duet, Boni and Stasi sing 'Let's be like swallows'. Anita Golz's Stasi is a very good soprano, Treganza's Boni a light tenor, lacking range, but compensating as a fine dancer. Boni's number has the racy lyric, 'A man can't coo over one mate'. And they repeat, 'Like swallows build ourselves a nest', and 'if you like you'll make me fly away.' An invitation for free love, surely outrageously immoral for the (dying) Hapsburg Empire.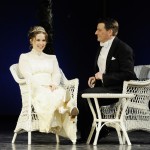 But this is already the modern world of cars and telephone. When (Act 2), Edwin stalls announcing his so-called engagement to Stasi, he 's actually awaiting a long distance call from Sylva. And in the final reconciliation, Boni will telephone Stasi to prove she loves him, not Edwin. (She says yes!)
At the end of the darker second Act- at the ball, after Edwin and Sylva are finally re-united- there's a dramatic scene when the guests seem to close in on 'the outsider', the declasse Sylva, whose cover is blown. She's exposed as a vaudeville artiste, and subjected to the men's ribald taunts and innuendo.
However, in the delicious irony of Kalman's very modern morality, Prince Lippert, Edwin's father, has eventually to accede to his son's marriage to Sylva. He finds out his own wife, the Princess, had been his best friend's (Feri) mistress for years. And prior to their marriage, she, the Princess (Maria Happel), had been a most famous cabaret singer. The Prince goes pale. He married a diva! But they walk out, backs to the audience, arm- in- arm. 'Das ist die Liebe' (That's love), as The Czarda's Princess's famous number goes.
It's Kalman's marvelous score that will keep (his operetta) being performed. There are famous show stoppers: Act 1 (Edwin and Sylva's duet),'Lovely girls are all around, but when a man's in love, he only has eyes for one'. Then, after Edwin's engagement, Sylva's aria, 'We vaudeville girls don't fall in love; and the vengeful the 'devil woman' will sieze the moment: Magyar rhythms, gorgeous melody!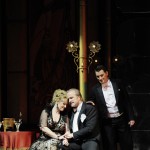 But it was the Act 3 Hungarian Fiddler number in the Viennese cafe that brought the house down. 'Play a gypsy song- something from the soul' opens to a fantastic clarinet intro from the quartet on stage. Boni, Sylva and Feri (Kurt Schreibmayer) performed a traditional Hungarian dance routine to great applause.
If the cast was adequate, some of the leads (Treganza's Boni) vocally underpowered, they compensated with charisma. Alexander Pinderak's Edwin a pleasant tenor, Martina Dorak's Sylva, fiery, vivacious, lacked vocal range.
Vienna Volksoper Orchestra under Guido Mancusi, excelled, especially the wind soloists -oboe and flutes, the exotically idiomatic Hungarian clarinets and horns; and in the rhythmic instrumentation for the gypsy numbers. And the orchestral entreactes show Kalman's music, quaint, old-fashioned, sumptuous, has real quality.
The let-down was the sets: opening with a flimsy but adequate art deco proscenium, upholstered panels and curtains, faux metallic pillars; worse, Act 2, brilliant green palm trees, obviously plastic; much better, the third Act night club, with Mucha-styled murals, and red-themed cafe furniture.
In the closing spectacle 'You only live once', the two couples open up a stage full of waltzing couples – Vienna State Ballet dancers, classy and well choreographed throughout.
Kalman's melodies grow on you! They're familiar because they've been repeatedly played for nearly a hundred years. And, in spite of an unexceptional production (Robert Herzl), Vienna Volksoper, Monday night, was almost full, the audience very enthousiastically appreciative. This is classic Viennese operetta. There's a lot of witty dialogue, but now at Volksoper, English sub-titles overhead. P.R. 29.04.2013
Photos: Jeffrey Treganza (Count Boni) and Ingeborg Schopf (Sylva); Anita Gotz (Stasi) and Jeffrey Treganza; Kurt Shreibmayer (Feri), Ingeborg Schopf and Jeffrey Treganza
(c) Dimo Dimov/ Volksoper Wien . Photos of Martina Dorak as Sylva were unavailable.