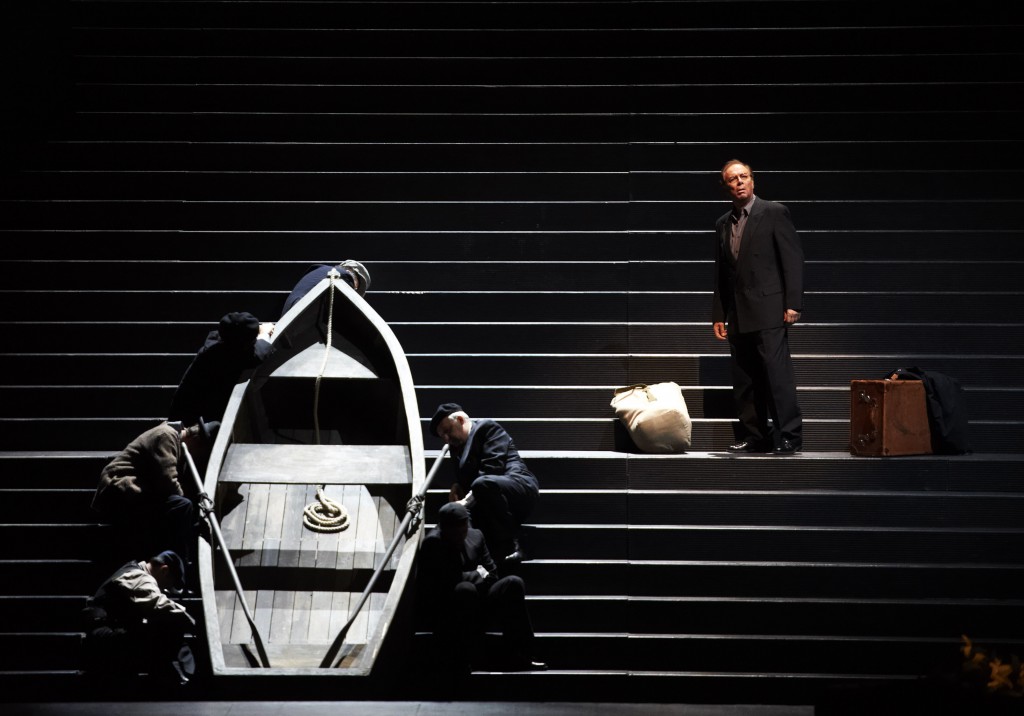 If any performance could reinstate Verdi's The Sicilian Vespers– now rarely performed – as core repertory, this was it. Gianandrea Noseda conducted Vienna State Opera Orchestra with such passion, his body movements so expressive, that my Viennese neighbours thought he was in training for the Olympics. The orchestral sound had such depth and richness in the overture, it was like a concert performance. Rich and varied, full of marvelous tunes, long melodic lines against Verdian brisk military marches- why haven't I heard this before? And there aren't many choirs up to Vienna's (State Opera Chorus) to justify Verdi's choral sections, some reminiscent of his later Requiem.
Maybe the title I Vespri Siciliani is off-putting. The original French libretto, (scored by Verdi in 1854) is supposedly based on historical events in Sicily in 1282. But woven into a love story, it's a cover, an allegory for Risorgimento– Sicilian/Italian independence: Verdi's agenda. So, although premiered in Paris to huge success (1855), it was banned in Italy until 1861, because of its reference to events on Italian soil. For Verdi Sicilian Vespers marked a turning point: a new conception of drama in which music places his characters in an historical and moral framework.
The opera, as so often in Verdi, is about the conflicting loyalties of his characters, between their ideals, and loved ones. I Vespri Siciliani anticipates Simon Boccanegra , whose children, grown up are confronted by a lost parent in a powerful position: now ruler of an alien regime they and their bethrothed have sworn to defy. So Arrigo, the son of a woman Monforte (the French Viceroy) had abducted, is in love with Elena, a Sicilian freedom fighter. The most powerful scenes are in the confrontation between older remorseful rulers, pleading for their lost children; and in the consequences for Arrigo (and Maria) interceding for their fathers against their lovers. And in both operas the rulers are opposed by a relentless, unforgiving rebel. For 1 Siciliani's Procida, the cause of Sicilian independence must override all personal relationships.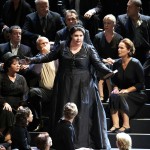 In the spectacular opening, French soldiers confronting Sicilians (in Palermo's main square), Elena (Angela Meade) pledges to avenge her brother's execution. Commanded to sing for the French, incensed, her song about a ship in stormy waters becomes an incitement to revolt. 'Heaven helps those who help themselves' ; and repeatedly, 'your destiny is in your hands: cast off your chains! Be bold!' -Verdi's familiar call to uprising against oppression. The Sicilian's respond in rousing chorus, 'God will stand by us: Let us take up arms; start the revolution!' Elena dressed in black, Sicilian leaders, daggers drawn, either side, this is some of Verdi's finest choral writing. Meade is a tremendous surprise, a powerful soprano; but – forgive me- she's a big woman. The Sicilians dispersed by Governor Montforte, she's surprised to see her beloved Arrigo, who's been absolved of treason. Montforte tries to persuade the daring Arrigo ( Burkhard Fritz), to join the French; but warning him to stop seeing Elena, who'll be his downfall.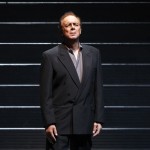 Procida's arrival from exile is a highlight of the opera. Procida seeing his fatherland again, kisses the soil; and vows his dejected land will regain its former splendour. Ferruccio Furlanetto's baritone is a voice to echo through the heavens. He had sought aid from foreign nations; but they said to him, 'Where is your courage , Sicilians, fight for yourselves!' The Verdian hero landed could be be Garibaldi. But Furlanetto, dressed in a black lightweight suit, open-necked grey shirt, could also be a modern exile, fighting for independence. 'Tell Elena and Arrigo, at last the hour of vengeance has arrived; if our land is free, I will die gladly!' Furlanetto was loudly cheered; and justified.
Arrigo and Elena's first scene is also impressive. 'One look from you will renew my courage', sings Arrigo of Elena. Elena cannot restrain her feelings, appeals to her brother in heaven: 'forgive me for I love'. Burkhard Fritz (Arrigo) has a wonderful tenor. 'Avenge my brother and I shall be yours!' He swears it; together their oaths are affirmed.
Arrigo is dragged off to the Duke; meanwhile French soldiers are attempting to abduct Sicilian women. Their bawdy chorus 'Long live war! long live love! Your beauties shall be ours!' is countered by the women, shamed but angry. Vienna's must be the best Verdian chorus outside Italy.
Montforte sings, opening Act 3, of how Arrigo's mother had despised him. In her posthumous note, she pleaded, 'spare him, he is your son'. Montforte's aria is reminiscent of Philip II's in Verdi's (later) Don Carlo. Poignantly he admits 'despite wealth and honours, my heart was empty'. Montforte now imagines a happy fate if reunited with his son. Gabriele Viviani's Montforte is well sung, but a little dull and automatic.
Better in the reunion between Montforte and Arrigo. Arrigo, hitherto conspired against him, is surprised to be set free. 'When I rescued him, didn't he feel anything? But, in their conflicting emotions, Montforte sheds tears. Montforte shows Arrigo the letter from his mother, proving Monforte his father. Arrigo rejects him, the spirit of his mother stands between them.'your name is cursed. If you love me, let me free!'
Arrigo's conflict of conscience is between blood ties to his father, and loyalty to his friends and Elena. In a key scene, Montforte's Ball (Act 3) Arrigo rejoins his friends. But Montforte sets Arrigo free, strips off Arrigo's conspirators ribbon. 'What a terrible blow! Shame on the traitor!', the Chorus accuse him angrily. And Arrigo prevents Elena's assassination attempt.
The staging, a dominant stairway, gives the action an epic quality- here used to divide protagonists. Soldiers are one side ; the Sicilians are clustered opposing them ; in the centre Montforte, and Arrigo problematised. Elena, shocked by Arrigo's betrayal, will leave Sicily.'Sing out, beloved fatherland, in sorrow and shame…'
A victim of fate, Arrigo in his Act 4 aria, bemoans his friends in prison, while he is free. He's lost everything; they scorn him; and Elena's contempt means death to him. He imagines Elena's come to curse him. But, when Arrigo reveals he's Montforte's son, she forgives him. Their duet is a highpoint of the evening.
Angela Meade is outstanding in her aria. He was innocent. Now she can forgive him ; she can die knowing she doesn't have to hate him. He thanks her for her forgiveness -a heavenly gift-and they pledge their love, even in death.
But, with everything planned for the execution, Montforte promises to release them – provided Arrigo recognises him as father. Arrigo eventually submits, but only when Elena approaches the block, the monks singing De Profundis. Montforte releases the Sicilians ,and announces Elena and Arrigo's marriage , 'What sorrrow; what joy!', the chorus, in counterpoint, again thrilling.
Procida, however, continues to plan the rebellion. He taunts Elena: 'Does her love of the 'Frenchman' mean more to her than the cause of freedom?' Her wedding bells will signal the start of the uprising. Elena, in a moving aria, appeals to God in her desperation: 'pity my bewilderment'.
In Act 5's classic Verdian trio- the three characters on separate stairs- Elena trembles before Arrigo- while Procido softly reminds her of her pledge to avenge her brother: 'think of your country' . Then Elena to Arrigo, invoking her brother's spirit, calls it off: cruel fate. Arrigo accuses her of deceiving him: farewell, false beauty. His contempt unbearable, she admits, she loves him, but can never be his. Yet Procida still curses her for betraying her country and friends.
In Verdi's time-bomb, Montforte insists the marriage go ahead. Elena, in a tragic dilemma, tries to warn him. The bells rings out: Arrigo sings of joy, Procida of revenge. The Sicilians storm in, the Chorus proclaiming it is the bell of vengeance.
Meade and Furlanetto were the stars. But the chorus are a key element in this splendid opera, and Vienna's was magnificent.
(12.09.12)
Photos: Ferrucio Furlanetto (Procida); Angela Meade (Elena)
(c) Wiener Staatsoper- Michael Pöhn