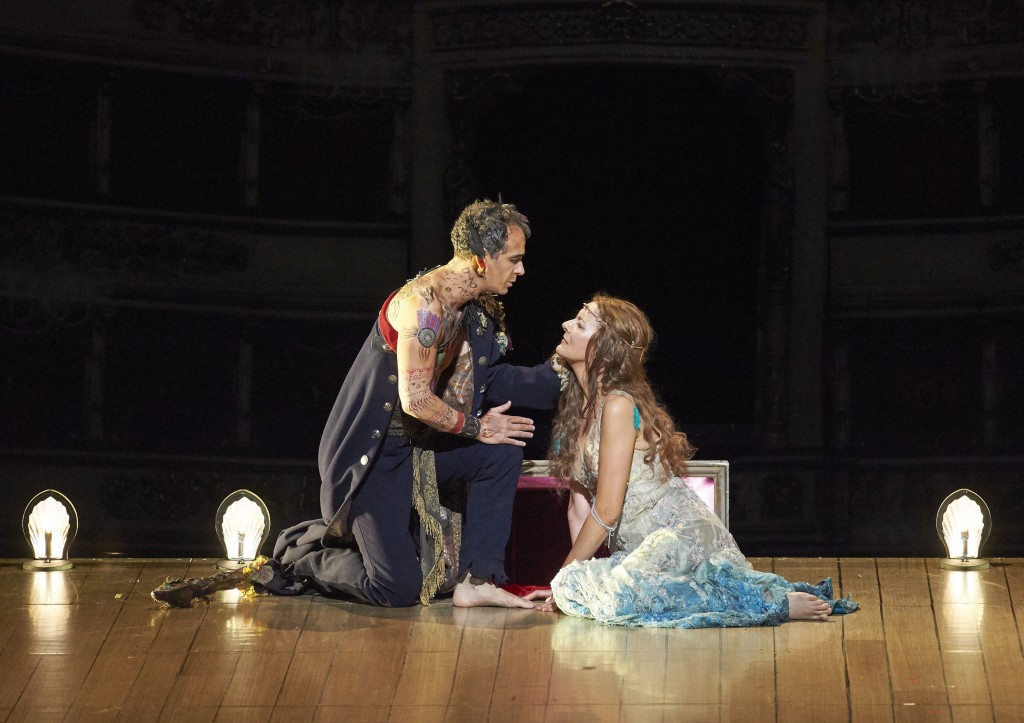 For an opera by a contemporary English composer, Thomas Adès, to be performed at Vienna State Opera is remarkable. The opera ,The Tempest, is based on Shakespeare's play, but Adès hasn't put Shakespeare's original text to music. Meredith Oakes' libretto is, it's argued, 'more singable', because simplified, without the 'more obscure and problematic words.' Adès' music is 'exciting, sumptuous, uplifting.' Fascinated by court music, Adès recreates Baroque forms; and, The Tempest being filled with magic, there's an incredible range of colours in the score . But the music in Shakespeare's play is in the poetic language. Adès' opera doesn't acknowledge its debt to Shakespeare's Tempest, its near-identical characters and plot transposed from five-Act play to three-Act opera.
In Vienna's co-production with the New York Met and L'opéra Quebec, the staging (Jasmine Catudal) is at first problematic: we face an opera house, as if mirrored, back of stage; a chandelier suspended; a miniature sailing boat foreground. Then a sensation: dangling acrobatically on the chandelier , a half-human figure, Ariel. Then a sheet, undulating, reflecting huge waves, the sea with bodies bobbing, fighting for their lives. ('None were lost, all were saved', so Ariel later relates.)
'Hell is empty: all the devils here , a young woman, Miranda (Stephanie Houtzeel) sings, joined by her father, Prospero. The ship is wrecked, it groans: is this my father's doing? – Miranda , you are my care : now listen to your father.' This Prospero, (baritone Adrian Eröd), ceremonial cloak over one shoulder, bare-chested, tattooed , delivers his ur narrative. I was Milan, I was Duke: he loved his books, and neglected his Kingdom. (We see, spotlighted, backstage the brother , King of Naples, who usurped him.) Miranda was cheated, his narrative continues, 'fierce the night , they were 'abandoned on a ship the rats had quit.' The text by Meredith Oakes, closely paraphrases Shakespeare's, frequently sampling from him. So why doesn't Adès use the original?
Eröd's Prospero looks like a deranged hippy, his chest painted like a Red Indian's, while Miranda (Houtzeel) sings of the storm with no wreckage . Why have you summoned such sorrow here? Whatever the text, Eröd and Houtzeel could hardly be bettered, although Eröd's light baritone seems youthful, and to quibble, Houtzeel is a mature woman, albeit beautiful.
Now Ariel descends on a suspended balcony, singing some indescribable bird song.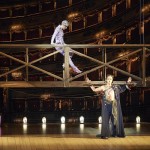 Audrey Luna's Ariel is a phenomenon, in a supremely difficult role that requires acrobatic dexterity, both vocally and, physically, in the body language . A whole set of movements require acrobatic skills. And, vocally, the American coloratura soprano is superhuman (in 'a part only three singers worldwide can handle.') She modulates from animal to human, reporting to Prospero the fate of the castaways .'They must not be harmed: I wish them charmed,' insists Prospero . Audrey Luna , in a glittering cat-suit, now sits on Prospero's shoulders.
By contrast, Caliban, all in black, and wearing dark glasses- like a Japanese WW2 guerrilla stranded on a Pacific island (no disrespect)- rather punky , his head marked by orange streaks. Thomas Ebenstein's tenor, for Caliban, has a surprisingly high range, but Ebenstein's tenor is one of the highlights. He sings the story of his mother's island. He came to save them ,'showed you all the island.' And he slept by her (Miranda's ) side : soon she'll be having 'little Calibans' , he taunts. Prospero, enraged- 'But if you loiter near my daughter'- threatens his superior magic –Filth that you are.
Ariel, have you revived them? Ariel floats by, as if swimming across the stage. 'Bring him (Ferdinand) to me .' – 'Shall I be paid?' Ariel, 'twelve years his slave', is soon to be free. 'Five fathoms deep your father lies,' Ariel's ditty haunts Ferdinand.
Ferdinand, (Pavel Kolgatin), literally rolls on stage: he has 'suffered a sea change.' Kolgatin, black-haired, moustachioed, in a white suit, sings 'as I sat weeping…' – a gentle-voiced, a lyrical tenor . Miranda rolls on to join him. 'Are you spirit, are you a shade?' He thinks he's the only survivor. She, Miranda , sings, 'I never knew a man could look like you' (-hardly comparable to Shakespeare's 'A thing divine, for nothing natural I ever saw so noble.') Prospero, observing them from above, now intervenes , putting the brakes on their romance. 'Is this your daughter,' asks Ferdinand. 'Stupid youth! What's the use,' replies Prospero in Oakes' clumsy text.
Opening Act 2 , courtiers sumptuously dressed, cross the stage, trance-like. 'Alive, awake! in some place, where the storm has left no trace.' The men are in evening dress. Unusually (for the The Tempest ) the Court includes women, in long gowns. Improbable. Front of stage, Trinculo and Stephano, in the sub-plot, the drunken sailors in Caliban's revolt against Prospero.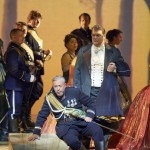 Prospero observes them all from on high. Ariel confirms Naples and his brother 'all safe on land.' Gonzalo, court philosopher, (the wonderful bass Sorin Coliban) counsels 'Sir, be cheerful, don't weep.' (Your son is surely in good hands.) Coliban, huge physically, is distinguished in a smart blazer, with a flower in the lapel- a Wilde figure, mocked by the courtiers (for his botanical interest in the strange island.) In his portrayal of Naples, Herbert Lippert, a very fine tenor, sings movingly , 'Oh, hear me, Ferdinand, I should have died not you.' The courtiers fall out amongst themselves, egged on mischievously by Ariel.
In the sub-plot, Caliban mistakes Stephano and Trinculo, for gods 'dropped from heaven.' Now Ebenstein's Caliban , squatting, in a black, distressed, feathery material, looks simian, chimpanzee-like. Looking on, entertained by this freak of nature, are the courtiers overhead. Caliban, (paraphrasing Shakespeare's great soliloquy,) sings, Friends don't fear, the island's full of noises … like playing a thousand instruments.' Beautifully sung by Ebesntein's lyrical tenor, and very moving. He sees innumerable riches , then 'I wake and cry to dream again.' The stage appears like an enchanted forest.
We see the sailors and Caliban running off with the sunken ship's booze. We see Ferdinand strung up -a Christ-like figure -singing, lamenting the dream he's had; only the thought of Miranda comforts him. (Prosaic lyrics.) Miranda approaches him : she sings, 'Why do I weep,' Houtzeel's performance is a triumph. Movingly, she cuts him free. They embrace, begin to make love. Prospero looks on omnisciently, but he's perplexed, disconcerted. He's a magician, faith-healer, but , he laments, he cannot rule their minds. Theirs is 'a stranger power than mine', he sings.
Act 3, the stage is now dominated by a four-storey scaffold of silver tubing. Side of stage, Eröd's Prospero, wearing a full-length great coat with medals of office- but still bare-chested- like an exiled general directing a battle scene.
The courtiers occupy all four levels, suggesting plotting amongst them: the conspiracy of Sebastian and Antonio to kill the sleeping King. Fantastically choreographed (Crystal Pike) , Ariel's nymphs (Ex Machina dancers) unearth a magical banquet. Ariel swoops down in a harness, sprouting huge cactus-like claws. They draw their swords, challenging these spirits. Gonzalo cautions , what they did years ago has come back to haunt them now.
Prospero descends, 'Souls in torment make your payment! He sings, in his aria, of the feats his magic has performed: 'With my art I've dimmed the sun, broken Jove's stout oak.' But 'Pride, pride, I'll down my books, break my stave. I'll rule in Milan beyond my grave' deferred to closure. (Shakespeare's 'This rough magic I here abjure' soliloquy, deemed his farewell to theatre, is broken up.)
Ariel sings of his feat, the spell works; and -beholding their suffering- 'My heart would break if I were human. Mine did.' Prospero confronts his brother and the court of Milan, and rights their injustice to him. Cleverly staged, Ferdinand and Miranda watch a projection of the courtiers, the wrongdoers. Now despair is past, reconciled at last, Eröd sings movingly, Prospero lamenting his lifework is nothingness. 'Our revels are ended …the globe itself dissolve. Nothing stay, all will fade. ' (Shakespeare's Act IV soliloquy truncated.)
In the subplot, a grotesque caricature of the Court intrigue, we glimpse the absurd sight of Caliban, dressed regally in a red cloak, with his 'retainers'. To be brought down by Prospero's magic forces.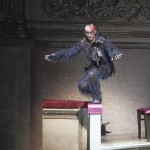 For the closure, it's Caliban , left on the island, who has the last words. 'They were human seeming'. Caliban, magnificently sung by Ebenstein, balances precariously on a tightrope ledge, his aria echoed by unearthly, celestial voices.
This cast is outstanding. Audrey Luna's Ariel is a miracle. The staging is effective, if mystifying (the tiered opera house backdrop.) But I wanted to tell everybody in the interval -this is not Shakespeare's text. (But how many native German speakers would know the difference. And how many English/Americans have seen, or read the play?) I may have my doubts about Adès' opera -but there's no denying the success of this, Robert Lepage's, production. Conductor Adès and his opera were enthusiastically applauded by a full house. PR. 27.06.2015 ©
Photos: Adrian Eröd (Prospero) and Stephanie Houtzeel (Miranda); Audrey Luna (Ariel) and Adrian Eröd (Prospero); Herbert Lippert (King of Naples)and Sorin Coliban (Gonzalo); Thomas Ebenstein (Caliban)
© Wiener Staatsoper /Michael Pöhn