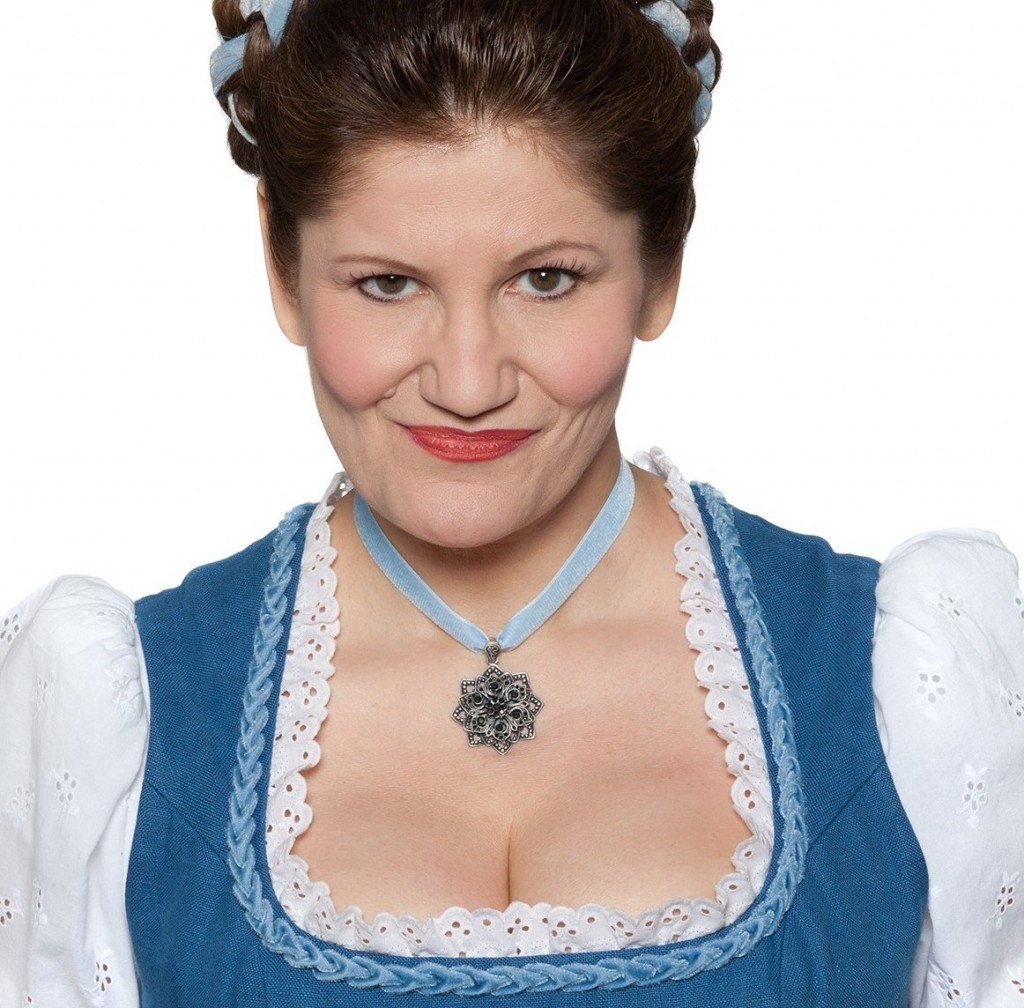 Ralph Benatzky's operetta Im weissen Rössl, about the lady innkeeper and her headwaiter, became a worldwide hit, as The White Horse Inn, 'the first European musical '.From a once popular stage comedy to lavish musical spectacular, it's success 'was Wunderbares' – wonderful indeed, as the love-infatuated Leopold sings in one of the hit tunes. Im weissen Rössl has at least five composers, including Robert Stolz, who sued in vain over the inclusion of his two songs.
Vienna Volksoper's stage is a snow-capped Alpine backdrop- kitsch! But clever, when the framed picture postcard, back of stage , shows this (clichéd) mountain scene with white t-shirted joggers. And the moving stage has hilarious jagged waves cut-outs, with rowing boats crossing. Out they come, the tourist schleppers, headed by their bossy tour operator (Helga Papouschek) . She addresses the audience, letting us in on her tricks. Now, you've seen it all , she gloats.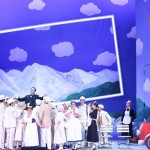 The bill please, Herr Leopold. Boris Eder, looking absolutely gorgeous in black, they in white- No need to hurry! he sings in his first number, offering them the menus. The sunshine is like the tips he's hoping to get. But, aside, 'What a rabble!'
He's in love with his boss, 'hotel' owner Josepha, who's not interested. Her entrance is preceded by a clatter of dishes, and a threatened slap. What's he looking at her like that for? Singing to Ursula Pfitzner's innkeeper, Eder delivers Benatzky's stand-out aria , 'It must be wonderful to be loved by you , Es muss was wunderbares sein (based on a song by Franz Liszt). For once, he wanted to tell her what's on the first page of his diary. She rebuffs him, 'You're here as a waiter not a Cavalier.' Then, getting on his knees, he repeats the refrain, It must be wonderful. Her guests are parched! Everything must be ready when the steamboat arrives. Pfitzner's soprano, in traditional dress, is pleasant, but not quite the dragon she's reputed to be. And roses in water for her favourite, lawyer Dr. Siedler, (who will fall in love with his opponent's lawyer Giesecke's daughter.)
The steamboat arrives , greeted by the parlour maids of the White Horse, in the first spectacular, 'It's the smell of the season, filling up the tills.' Giesecke , the underwear manufacturer (Bernd Birkhahn), turns out to be a pompous , arrogant Berliner. He sees a pretty young man , wearing one of his competitor's designs- a one-piece, in pink! – and kicks him off the stage. The cantankerous Giesecke is forever moaning , 'In Berlin they're glad to see the back of the snow!' He's insufferable, everything you love to hate about Germans. (The Austrian hosts love to ribald their German guests.)
Siedler arrives. Down comes this miniature plane-landing on stage, as Siedler (Carsten Süss) is greeted by Josepha , with the show's signature 'The White Horse Inn where happiness greets you.' Now at last the rather pedestrian dance routine bursts into hot razzmatazz (Vienna State Ballet). The rhythms let loose are jazz-influenced, but incorporating zither and lute Styrian folk music.
In a hotel farce reminiscent of 'Fawlty Towers', the lawyer Siedler insists on the room he's reserved which is taken by (his rival) Giesecke; but renounces his claim when he sees Giesecke's daughter Otillie (Renate Pitscheider). Meanwhile we see pleasure boats paddling across the stage, behind the commotion.
For Die ganze Welt ist himmelblau , The whole world is sky blue when I look in your eyes', the classic by Robert Stolz, everything is bathed in pastel blue, as Siedler (Süss) dances with Otillie.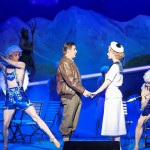 Around them waft cupid figures with wings, and carrying arrows. And a ballroom light reflects moonbeams. Outrageous camp. But as a send up, a Monty Pythonesque group of cowherds look down from the picture-postcard frame backstage . Yes, the whole world is sky blue- magically rendered by Suss and Renate Pitscheider. (Not everything works- the cowherds descend for a hillbilly number.)
Leopold is slapped by Josepha for asking for 'just one kiss' -and what a slap! He refuses to take flowers up to Dr.Siedler- What am I, a man of the night, he retorts- and she dismisses him. Cue for Leopold's melancholy, 'I can't bear to watch'. (If I don't play a part it breaks my heart.) But as if poking fun, so things don't get too serious, we see two mountaineers watching with binoculars (from the framed window above.) Boris Eder's (Leopold's) tenor hasn't a very high range, a crooner, more than adequate for operetta: but he has got personality. And it's very well acted, as in his advice to the cute bell boy, Never lose your heart to an ungrateful landlady. She, Josepha, in a reprise of the big chorus number, In Salzkammergut da kann man gut lustig sein ,(Once again the world is sunny)- another dance spectacular- she tries to persuade the grumpy Giesecke , standing side-stage, who'd rather be anywhere else. Pfitzner's is a very pleasing soprano.
In Act 2, the comedy mix up thickens with the arrival of a stingy German professor, (bargaining for the cheapest rooms), and his daughter with a lisp (Franzisca Kemna), who falls for Sigismund (Peter Lesiak), who's the son of Giesecke's business rival. (If you must know, Sigismund arrives, supposed to marry Ottilie, Giesecke's daughter; to patch up the legal dispute?!) Anyway, it's an excuse for 'Was kann der Sigismund dafür , das es so schön ist.
But, in the main plot, the principal romances , the highlight for me is the Robert Stolz number Mein Liebeslied muss ein Walzer sein. But when the violins play , my love song must be a waltz, sings Siedler sings to Ottilie . Carsten Süss is superb. And the song that says I'm yours can only be a Viennese waltz… Thrilling. Renate Pitscheider is also very good, and , of course , they break into a waltz, the centrepiece of waltzing couples.
In the plot, the Kaiser (Franz Joseph) is expected to stay overnight at the Inn. So Josepha schmoozes up to the drunken Leopold, to get him back. But on his terms. The Kaiser ( Wolfgang Hübsch) with his handlebar moustache like an old walrus, arrives , preceded by a brass band playing Strauss's Radetzky March. Leopold flunks his welcome speech. 'Good man, you seem quite addled- but I'm used to that from my Ministers,' comments the Kaiser. (The Kaiser's welcomed by a posse of 'Maidens of Virtue'- old bags- who faint with excitement.)
But Hübsch's Kaiser is a nice man and gives advice to his hostess Josepha , consoling her, when she realises Siedler loves Ottilie not her. Now she doesn't want Leopold to go after all. Leopold, singing the melancholy refrain, 'If I don't play a part', returns for his reference. So she dismisses him as her head barman , and hires him as her husband. Now I am the steed, he boasts. It ends – celebrating three engagements- with the show stopper Im weissen Rössl am Wolfgangsee, dort steht da Glück vor der Tür 'In The White Horse Inn, where happiness greets you.'
It's not quite an operetta, the central relationship is, dramatically, underdeveloped: rather an excuse for one song after another (many still vintage.) But this Volksoper production, directed by Josef E. Köpplinger, a reconstruction of the premier performance, is outstanding. Musically, Volksoper orchestra and chorus, under Michael Brandstätter, excelled. The cast too, although I'd liked to have seen the alternative leads. Especially commendable are the inventive sets and costumes (Rainer Sinell) . The classic musical, a mild satire on Alpine tourism, has been updated, with witty Monty Pythonesque sketches subversively commenting on the main action. The result is hilarious, a musical treat, unique to Vienna, authentically performed. © P.R. 14.09.2015
Photos: Sigrid Hauser (Josepha); Daniel Prohaska (Leopold); Carsten Süss (Dr. Siedler) and Mara Mastalir (Ottilie). Regrettably, photos of Ursula Pfitzner and Boris Eder were not available.
© Barbara Pálffy / Volksoper Wien