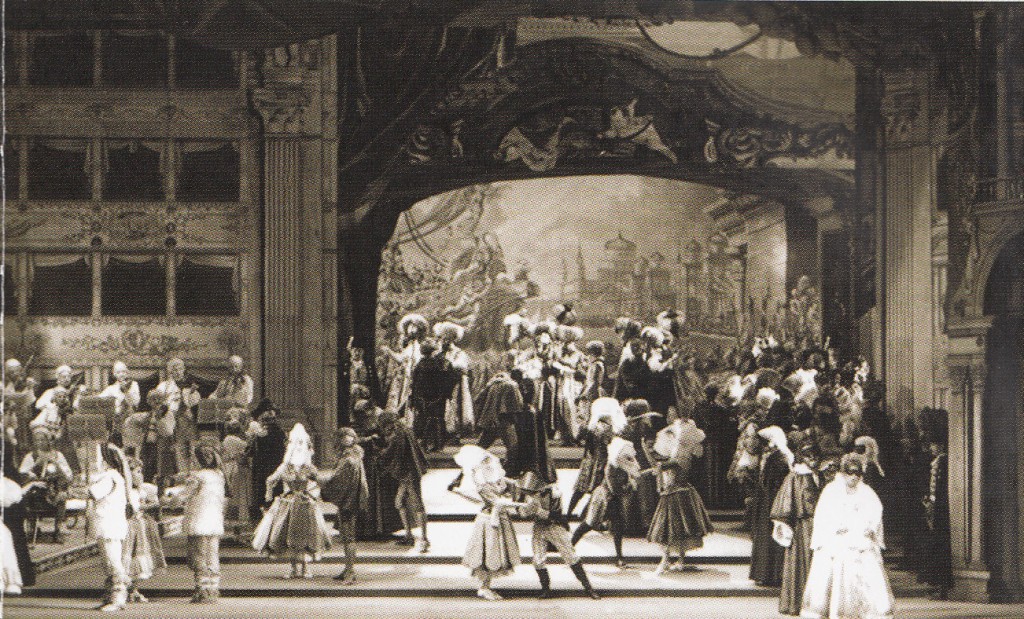 Cream moiré satin curtains invite us in as Vienna State Opera orchestra's plucked strings and flutes open Verdi's magisterial overture. But the proscenium arch within is only an antiquated stage set. The red drapes and stucco laurel garlands, as are the pillars in a brown green roccoco style, are obviously painted. Stale! This is the 83rd performance in this staging (Emanuele Luzzat), in Giannfranco de Bosio's production. Time for a change.
Fortunately, this cast, mostly new to me, are very good, Vienna State Opera Orchestra, and especially Chorus, excel under veteran Verdian conductor Jésus López-Cobos.
Swedish King Gustaf III, in his opening aria, sings power is only good if it seeks virtue in glory. Yet, immediately, he's thinking of Amelia 'and forgets all else.' Gustaf sings of his love for her, she, his best friend's wife.
Kamen Chanev (short black hair, rather boyish features) has a superb, sonorous tenor. The Chorus background -perhaps ironically- chant 'he thinks of nothing but our good.'
In his first scene with Ankarström (George Petean), Gustaf is warned he isn't safe there. The King sings of his duty: the love of his people protects him, and God is on his side. Ankarström (Petean a fine baritone) emphasises the lives of thousands depend on him. Will the love of his people always protect him? Hate is more vigilant than love. Here, Verdi underlines Ankarström's loyalty, thus making Gustaf's secret betrayal -he's in love with Ankaström's wife- more dramatically problematic. Petean -older looking, portly, sleeked black hair, goatee beard- effortlessly sustains impressive high notes.
We hear of the fortune teller Ulrica who the King saves from banishment. 'She tells beautiful ladies their fortune, but is in league with Lucifer'-according to the page boy Oscar (Hila Fahima) a high- pitched soprano. But the King will go in disguise.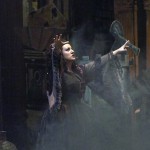 To strident chords, stabbing cellos, Monica Bohinek's Ulrica, witch-like, has long black tressled hair. It's the same dull set, now with a decorative oven and cauldron. Bohinec's mezzo has what it takes vocally, but in black lace, gypsy shrouds, so melodramatic! Is this the fault of Verdi's neo-gothic scene? (To a 'long live the sorceress', she disappears in a cloud of smoke.) But in her aria 'Where pale moonlight falls …where criminals breathe their last', explaining where Amelia's to find the herb she prescribes, Bohinec is lyrical, sings tenderly.
Amelia seeks a remedy for her dilemma, her love for Gustaf the King. Amelia's plea 'purify my heart and find peace' is sung with ardour and feeling by Sondra Radvanovsky- overheard by the King in disguise. The trio of Gustaf left, Ulrica, and Amelia right stage is a wonderful Verdian moment.
In the publically staged fortune telling, The King , in sailor's disguise, seeks to know 'whether the sea and my beloved are true to me'. This is a dream role for a tenor, and Chanev, glorious, over-confident- but Ulrica knows bold words will end in tears- is a virtuoso display of the tenor's art. 'Know you will die by the hand of a friend. Thus it is written', sings Ulrica, but Gustaf treats it as a joke, and bounces around mockingly. 'And the first to shake his hand today' is the hand of his most trusted Ankarström. But against a terrific Verdian chorus affirming their King- the voices of the conspirators, their time will come- Gustaf will defy his fate.
Un Ballo in Maschera is classic Verdi with a surfeit of big moments. And the music is ravishing. Such as Amelia's aria 'This terrible place has both crime and death' (at the executioner's ground). 'Though I may die here, I must do it.' Radvanovsky, who's previously sung Amelia here, is excellent, powerful in her wavering. 'But what if the herb erases his image from my heart?' The aria sung to a plaintive oboe, Sondra kneeling, was well applauded.
Then the duet with Gustaf, where Amelia sings to him, she must end the torment. But he pleads, does she know that his heart, ever in pain, will cease altogether. How many sleepless nights he's prayed she would hear him. She- Heaven help me. Go! Say no more! But Gustaf persists, he would give his life for a single word… And she demures.'Yes! I love you! Protect me from my heart.' Kamen Chanev responds with a heavenly cry, a sustained top note, 'You love me! Nothing remains but love.' She'd rather die than never be his. Amelia, do you love me? Yes! These two are resplendent.
Ankarström arrives, ironically to protect the King from the plotters. Amelia, far stage, is disguised in a veil. Veils are inrinsic and instrumental to the plot, however curious that may now seem to us. (While the King escapes in Ankarström's cloak, Ankarström offers to lead the mystery lady to safety, the two silent, looking askance.)
End of Act II, Chorus and ensemble are masterly, typical of late Verdi. Chorus sing mockingly, Ankarström is having a secret assignation with his wife. (Amelia sings, the man I adore has dishonoured me.) The mocking Chorus, reminiscent of Falstaff (Chimes at Midnight), chant 'the tragedy has turned into a comedy that will amuse the city'.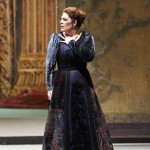 In the complex Act 3, Ankarström threatens to kill Amelia, who begs that she see her child for the last time. In her aria, that her son should close the eyes of the mother, Radvanovsky intensely moving, soars to the highest notes. But she's also pleading for clemency. Ankarström, surely moved, pities her tragic plight, decides another's blood must play. Petean's baritone impresses in another terrific aria. It was he who destroyed his happiness! This is no way to reward the loyalty of a friend. A flute accompaniment leads into a lament of the bliss no longer his with Amelia in his arms. It is all past. Ankarström joins in a pact with the conspirators, their rousing march 'Revenge, Unite!' reminiscent of Don Carlo and Rodrigo's oath. (Amelia appears opportunely as the conspirators are drawing lots to assassinate the King.)
Now a screen depicts the interior of the palace. Gustaf resolves to give up Amelia, and to send her and Ankarström to their homeland. Chanev, with his beautifully rich tenor -but eschewing vibrato and false emotion- sings that he has signed his own sacrifice.(Does he have to do it all! Verdi's familiar unenviable sovereign.) But forced to leave her he will never forget her. Indefatigably, he'll go to the ball anyway. He'll see Amelia for the last time and his love will be kindled by her beauty. Sung by Chanev with consummate prowess, thrilling!
The masked ball: the curtain rises on the cleverly painted sets, the trompe l'oeil galleries, leading into a recessed ballroom area. But the costumes are for real: splendid, spectacularly colourful. The black-cassocked Gustaf confers in earnest with a masked Amelia. We see his black-clad figure, with a blood-red patch, falling. Verdi's strings parody the ball's minuet theme background. Gustaf dying, forgives Ankarström, admits he loved his wife, but didn't violate her honour. Ironically, tomorrow she was to leave. The Chorus, no longer ironic, sing 'God save his noble heart.' And what a rousing Verdi chorus- Oh! night of terror!-Vienna State Opera's forces inspired under Jésus López-Cobos. P.R. 13.O9.2013
Photos: Monica Bohinec (Ulrica); Sondra Radvanovsky (Amelia);
Featured image: Monica Bohinec and Mihail Dogotari (Christian)
(c) Wiener Staatsoper/ Michael Poehn